December 8th marks the end of my 5th year of blogging. Five years y'all. That's half of a decade. Wowza.
Some of my favorite blog posts have been the ones I've written during the holiday season, but if you are new around here you probably aren't going to go digging through my archives to find them. So, I'm going to share them here in one tidy list.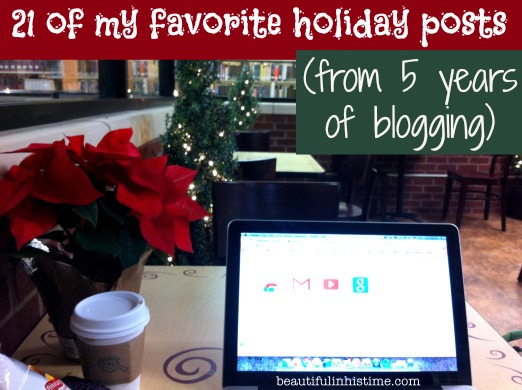 The Wives Who Wait (A Christmas Poem for Military Wives)
My Favorite Christmas Cookies Recipes

The Best Christmas Present I Ever Received
What the First Christmas Means to Me (a surprise military homecoming story)
The Perfect Military Spouse Care Package
The BEST cranberry sauce recipe you'll ever find!
When real moms cook Thanksgiving Dinner
When Toddler Boys Cook Thanksgiving Dinner
Choosing joy when the Christmas spirit is broken
What if Mary were a mommy blogger?
Our Christmas Ornament Tradition {with Personalization Mall}
When real moms and toddler boys bake cookies
"Breath of Heaven hold me together…"
How Christmas has changed for me
Dear Moms at Christmastime ~Love, a mom who "doesn't do Santa"