Beautiful in His Time is a participant in multiple affiliate marketing programs. The author of this blog may receive commission for purchases or clicks made through links on this website.
---
Back by popular demand!!!
(I've always wanted to say that…)
In all seriousness, this was one part of blogging that I was considering passing over going forward. I wasn't sure that you all really cared to see posts full of 20-30 photos of all of the mess of my life, but almost every single person who filled out my reader survey said that they wanted to see MORE of Beauty in the Mess! Color me shocked!
For those of you who are new around here…first of all, WELCOME!
Beauty in the Mess is a blog series that I publish monthly (ish). It is a very personal, honest look into my life through photography (a mix of iPhone, Instagram, and my lovely Canon Rebel). But more than that, it is a personal challenge to me to see God's beauty in my everyday, messy life; wonder and love in the mundane.
For this edition, I have so much to share that I am going to split December into two posts – one Christmas and one not. 
Beauty in the Mess ~ A Christmas Edition
Can I be honest with you for a moment?
(Thank you.)
I am so incredibly glad that Christmas is over…
I'm honestly not sure what my deal was over the whole Christmas season, but I was in a serious funk. My fatigue levels were very high, I fought depression, and the few Christmassy things that I did do felt forced.
There are definitely some other factors. Like Russ having to work a full shift on Thanksgiving, Christmas Eve, and Christmas Day. And our Christmas decorations being in storage and my not really wanting to hassle with dragging them out and back and forth from the apartment to the storage unit multiple times in a month's time.
I got the flu on the day that my parents were able to stop by for a visit…the cough lingered through that weekend and I was unable to sing in our church's Christmas Cantata which was a big bummer.
I think I was also suffering from a little bit of "intentionality guilt." This is a concept that I am shamelessly stealing from Marian at a la mode. Basically, it's that thing that happens you see everyone else doing all of these wonderful intentionally-focused Jesus-y Advent-y things with their kids and you panic because you are not. And at first that was me. But then I was all like, eh, I don't even care. Ain't nobody got energy for dat. And then I felt guilty that I didn't care. And that's sort of where I stayed until it was all over.
Our Christmas was one of a lone string of Christmas lights around the screen door, Christmas music on Pandora, a few cheesy Netflix favorites, and a stack of wrapped Christmas books that we finished in January. We did a few other things (which I will share momentarily), but…
I just wasn't feelin' it this year. 
(I think I experienced so much of that last year to make up for this year, so if you want some of that, you can go read my December 2012 archives…)
P.S. I still love Jesus. 
But amidst the depression and the guilt and the general meh of it all, there was still beauty.
There was beauty in Pinterest fails like this one. (Hint: it's supposed to be a Christmas tree.)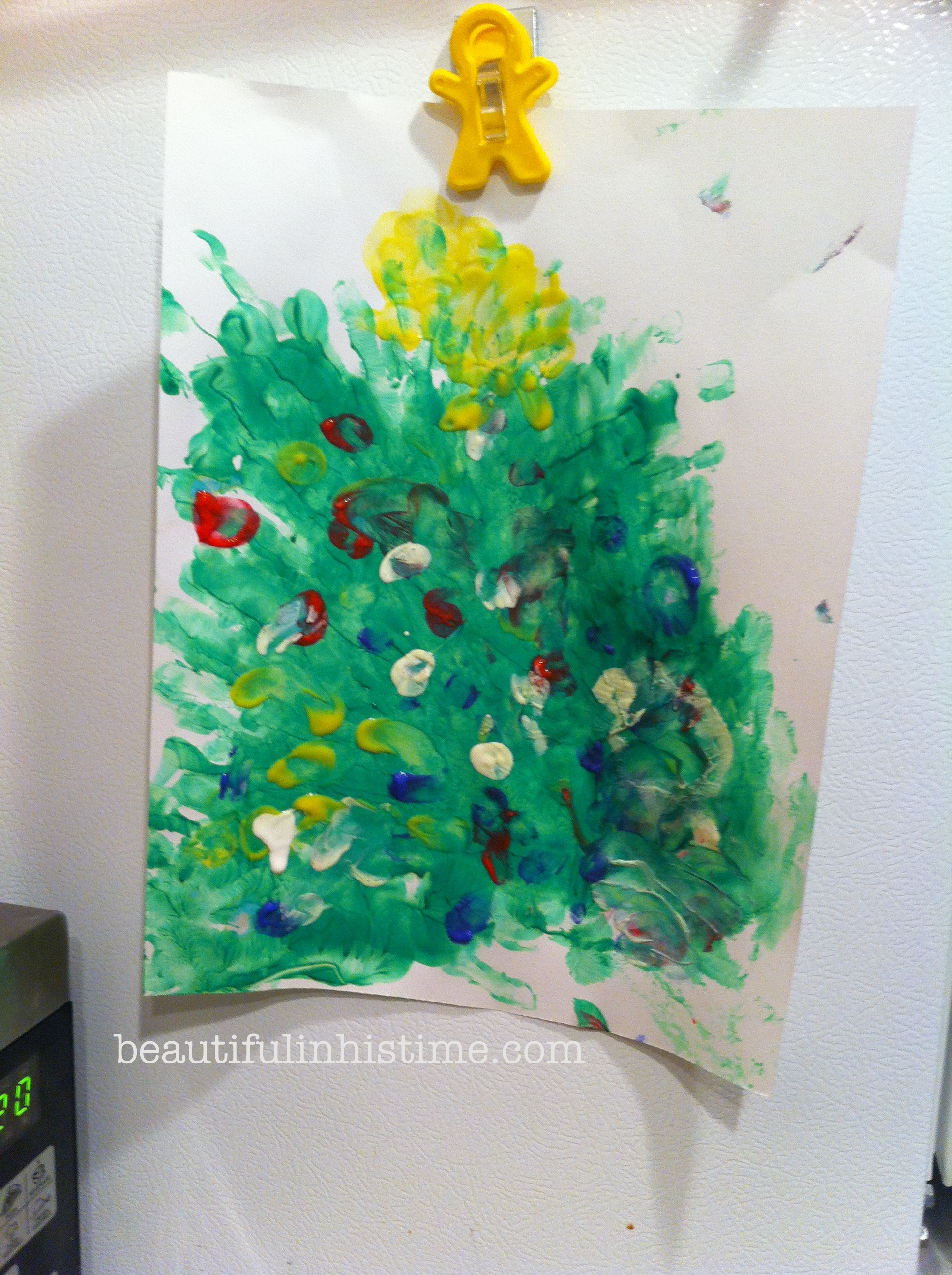 There is beauty…oh so much yummy beauty…in finally (after two years of allergy-free cooking experimentation) finding a wheat-free, rice-free, gluten-free flour that I can substitute cup for cup, no fuss, to make my all-time favorite Christmas cookies!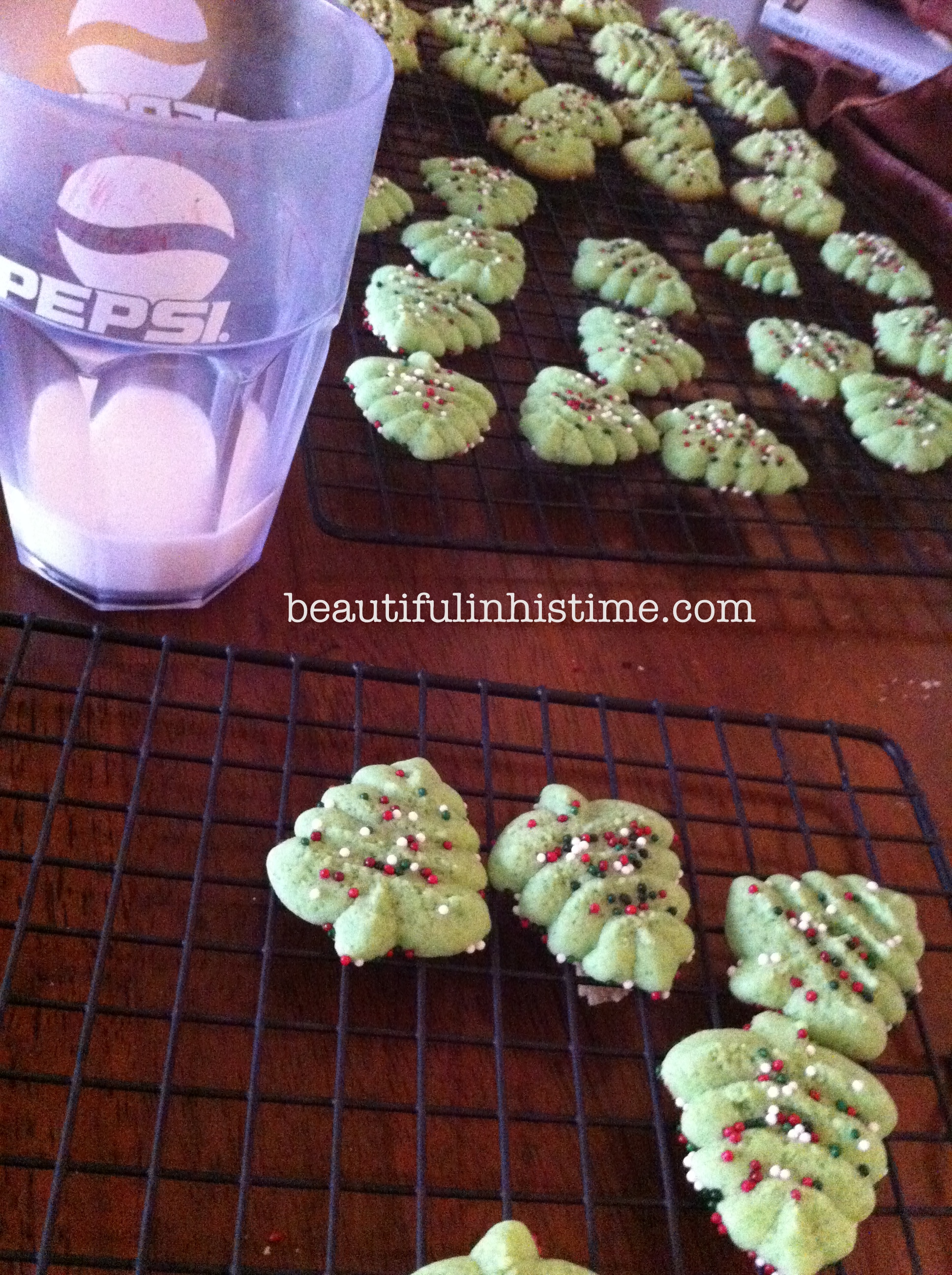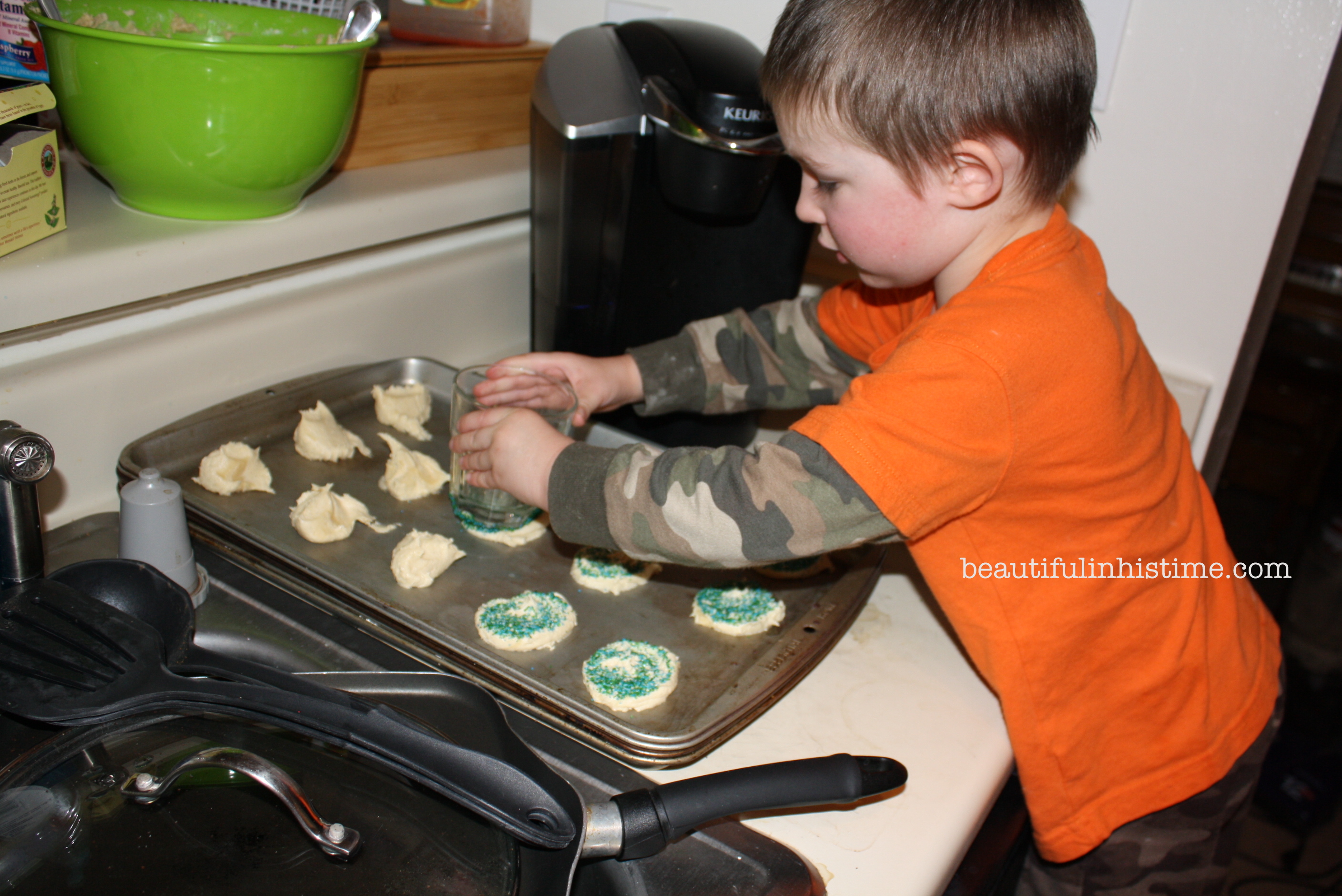 There was beauty and a whole lot of excitement about our church's Journey to Bethlehem outdoor walk-through Nativity production. Some of the drama was a little bit above him, but the live animals made it SO worth it!
Here is Ezra with his census card: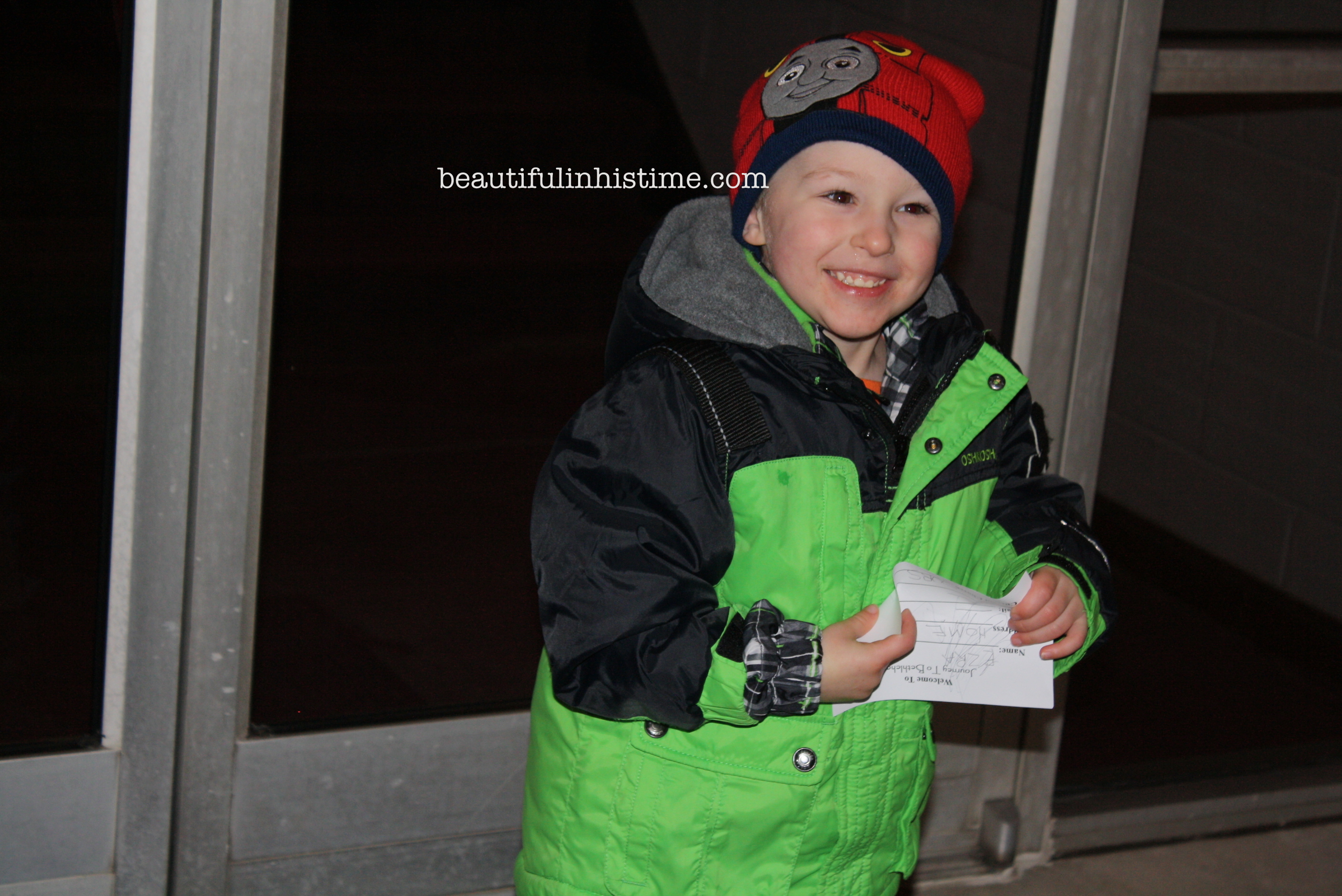 Meeting Baby Jesus: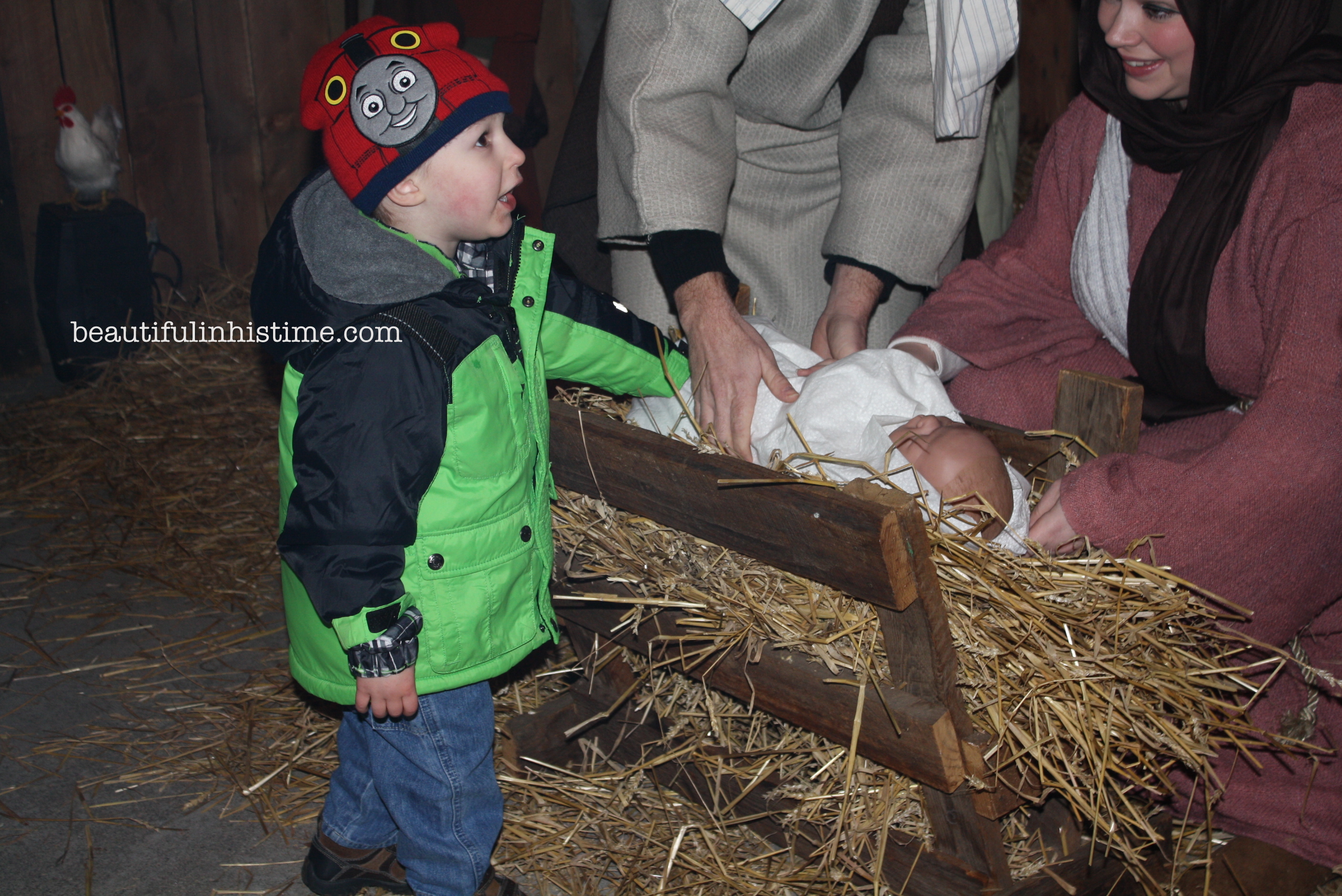 Sitting on a horse and meeting a Roman guard: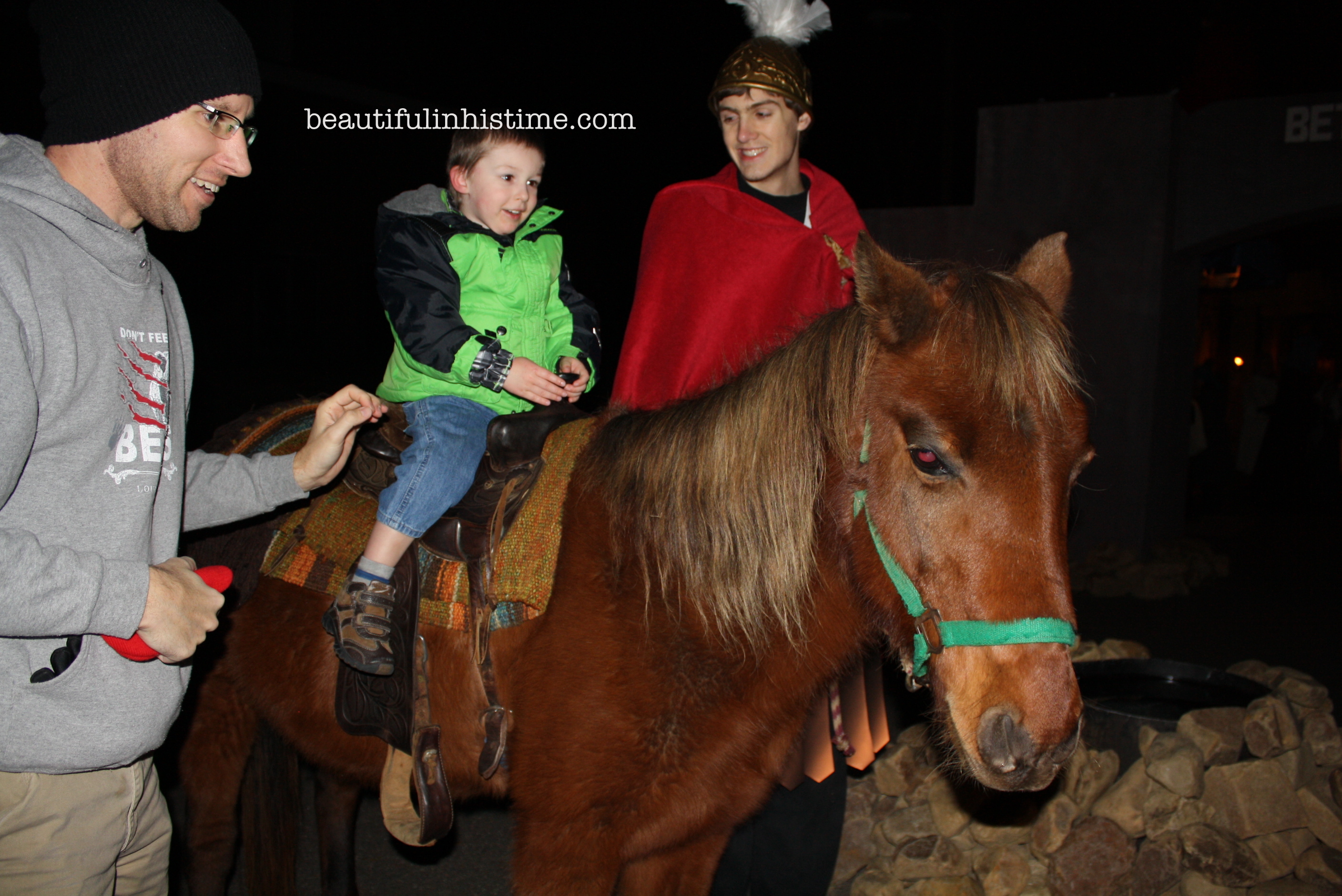 And the highlight of everyone's evening, Ezra being a flying angel!
There is beauty in peacefully (surprisingly) decorating the Christmas tree at the in-laws as a family! Russ normally doesn't participate and last year this was a very stressful event for us, but this year we all pitched in, even if only for a few minutes, and the tree was beautiful! (We didn't put up a tree at our house.)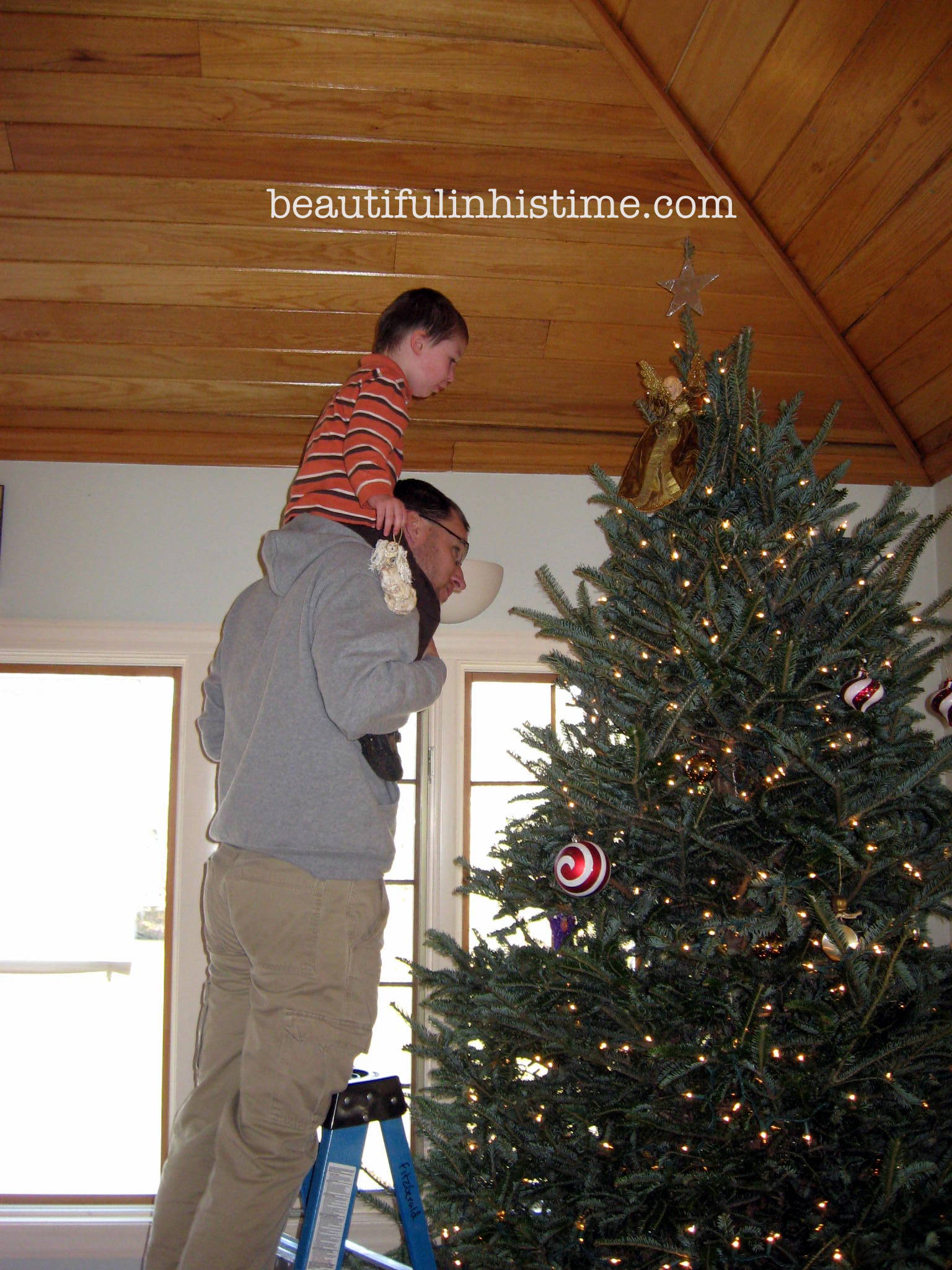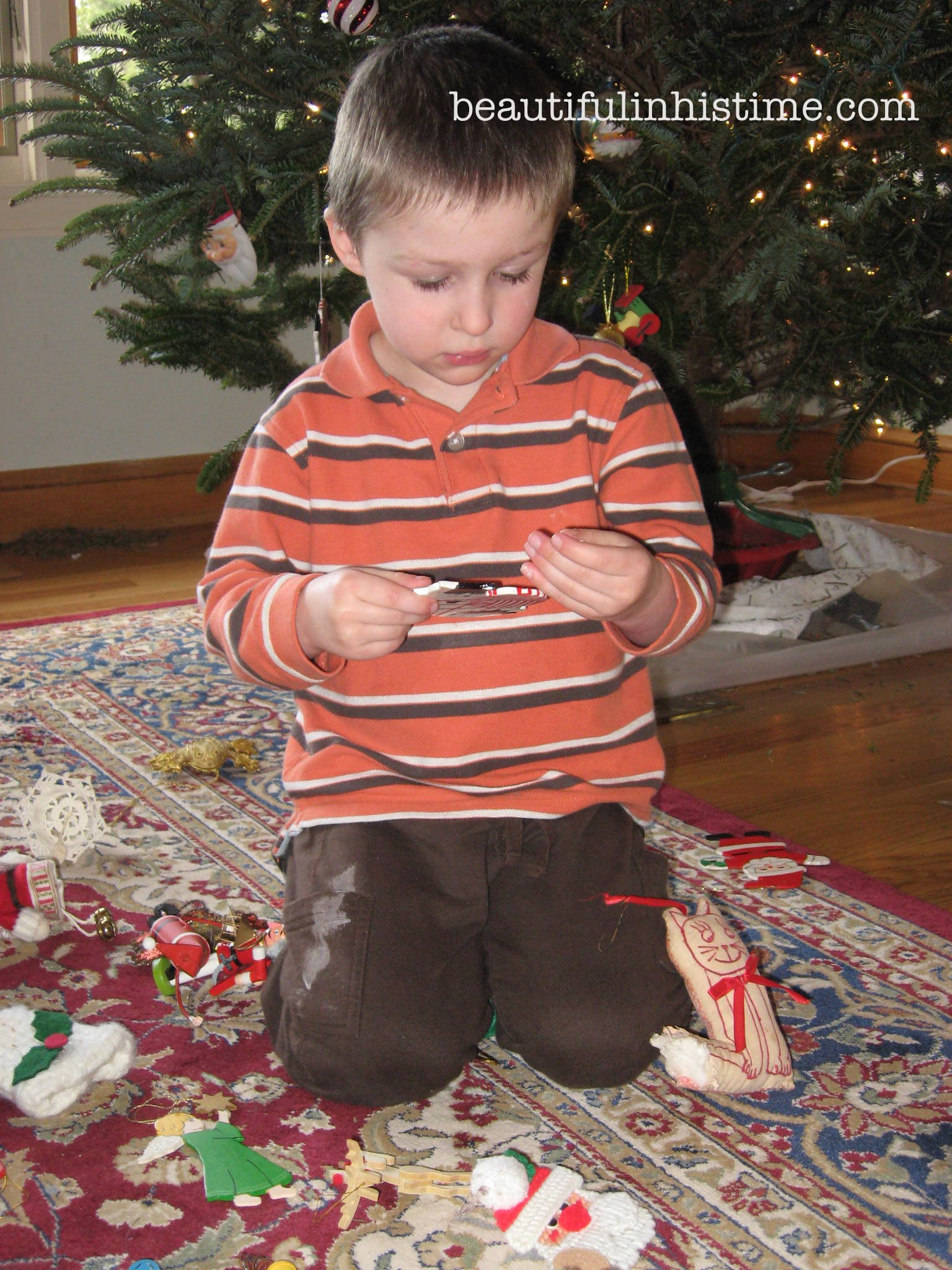 Ezra's mad-crazy decorating skills: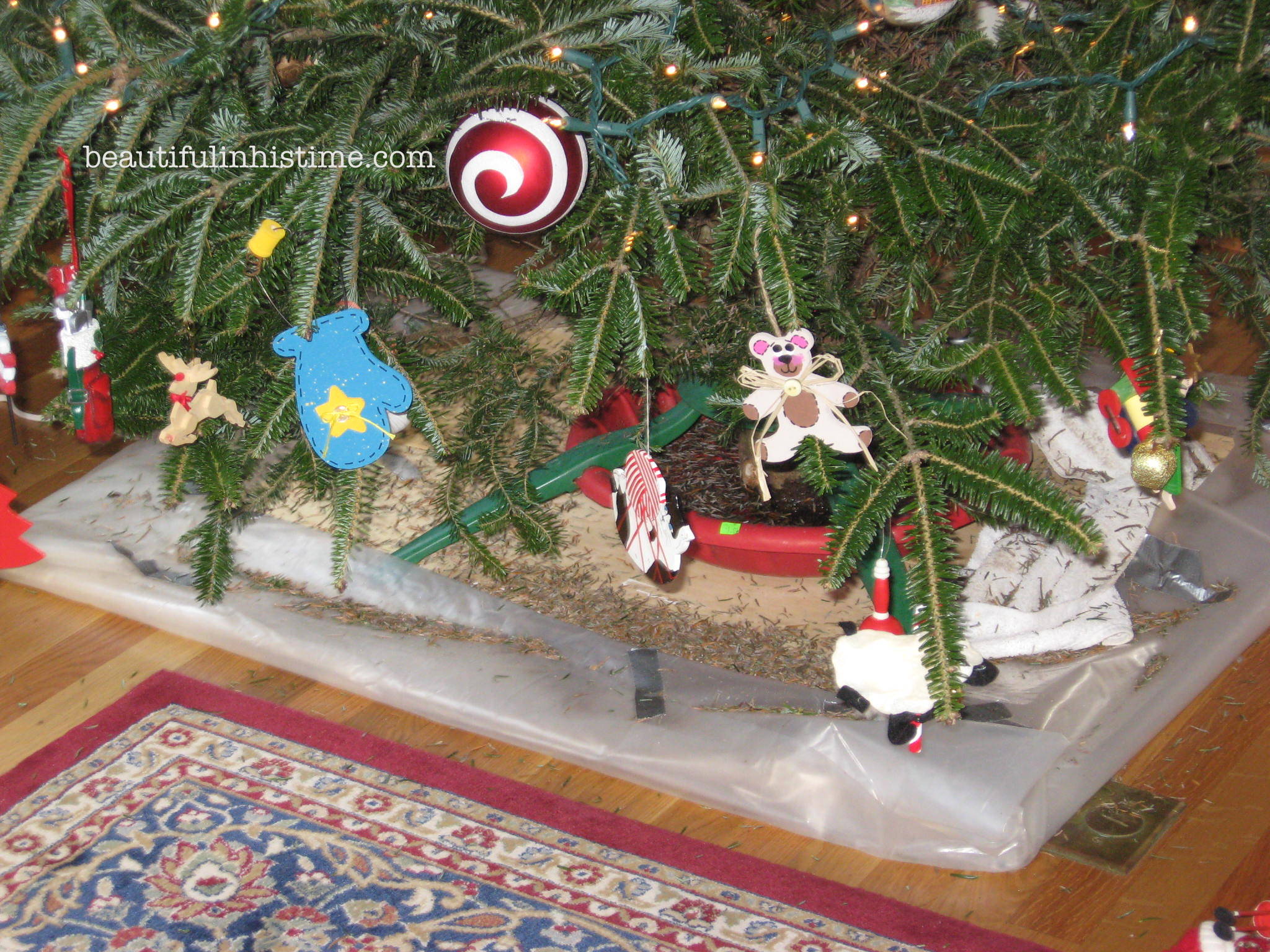 Someone was in Gramma heaven…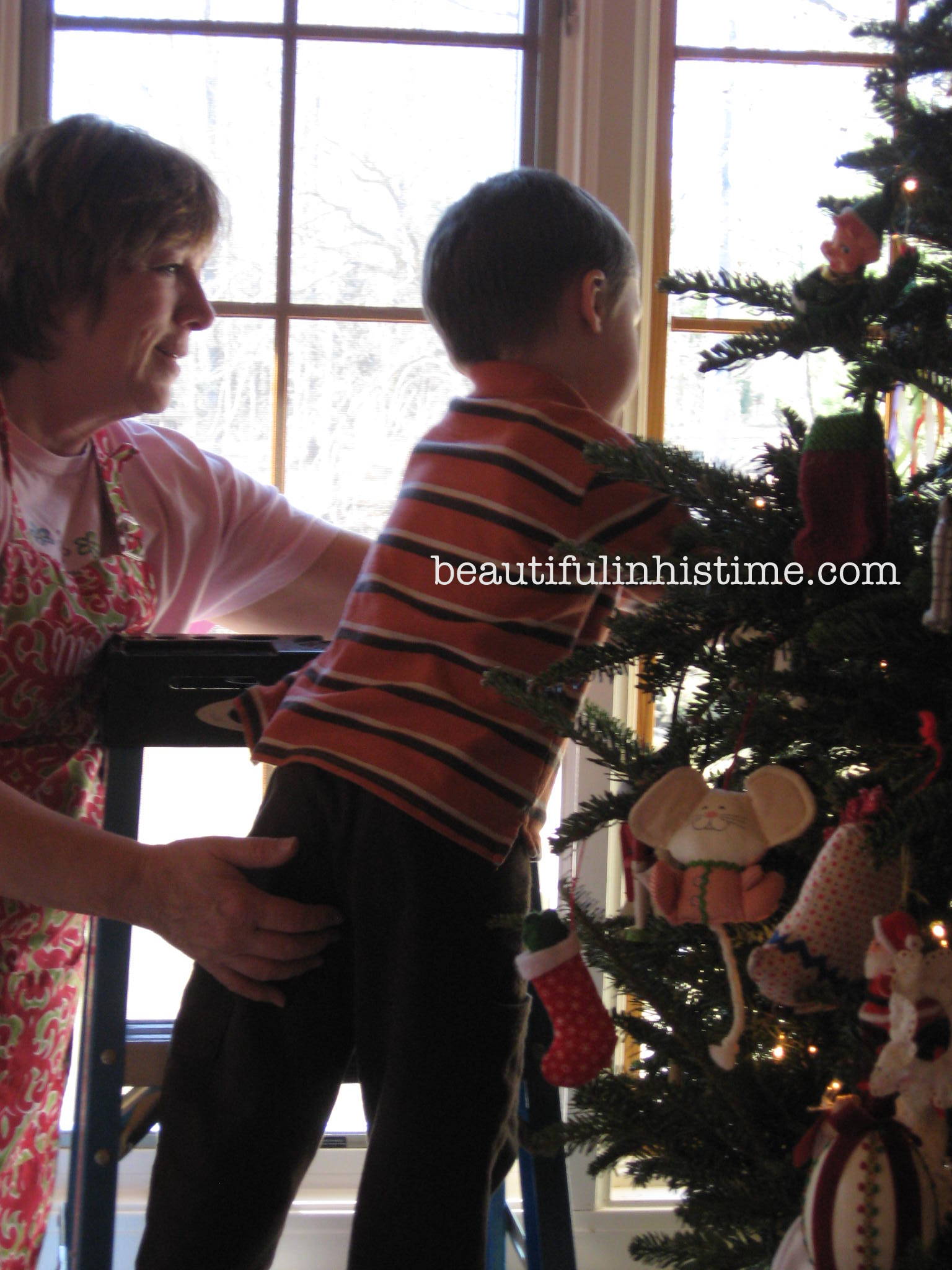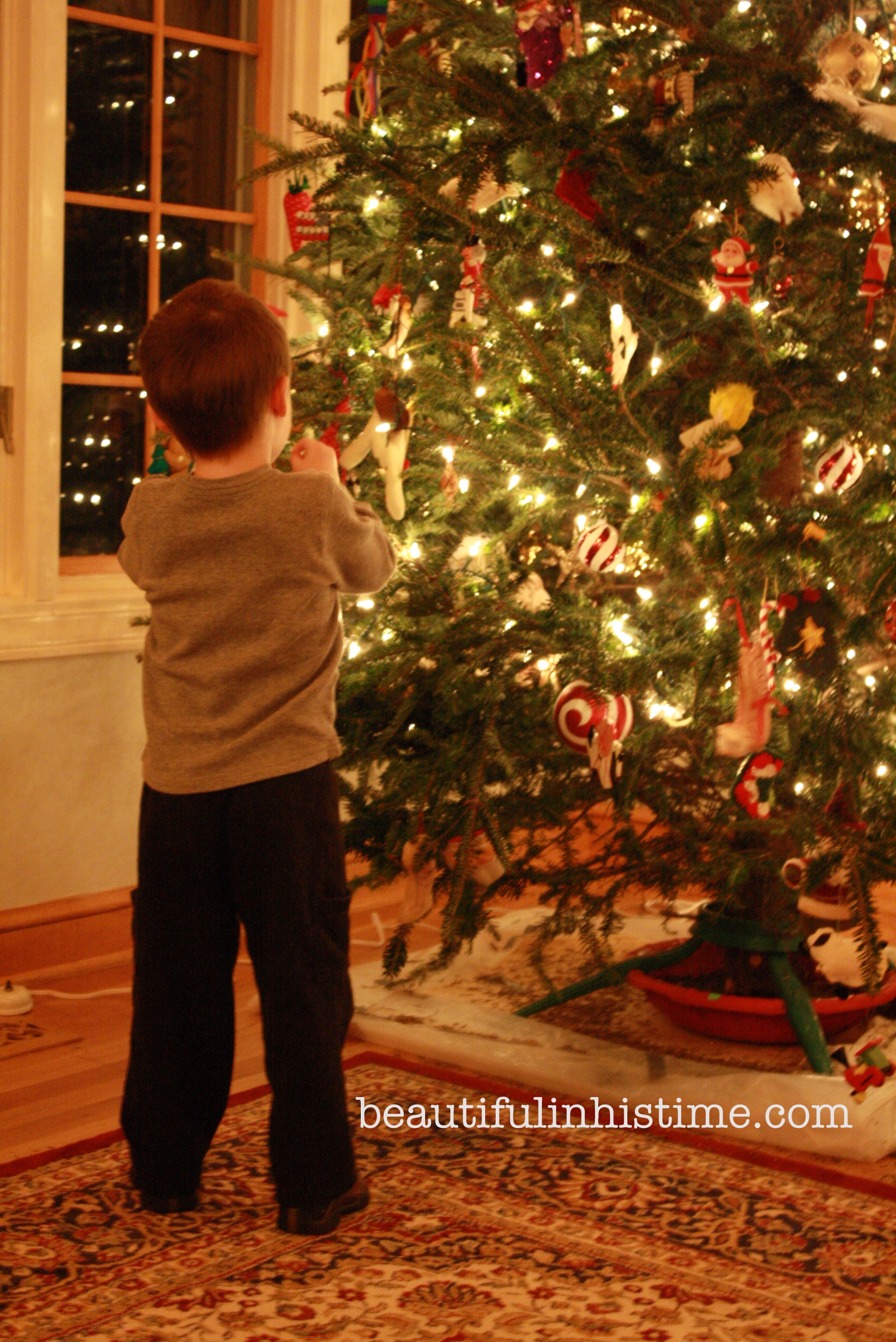 Our yearly ornament from Personalization Mall!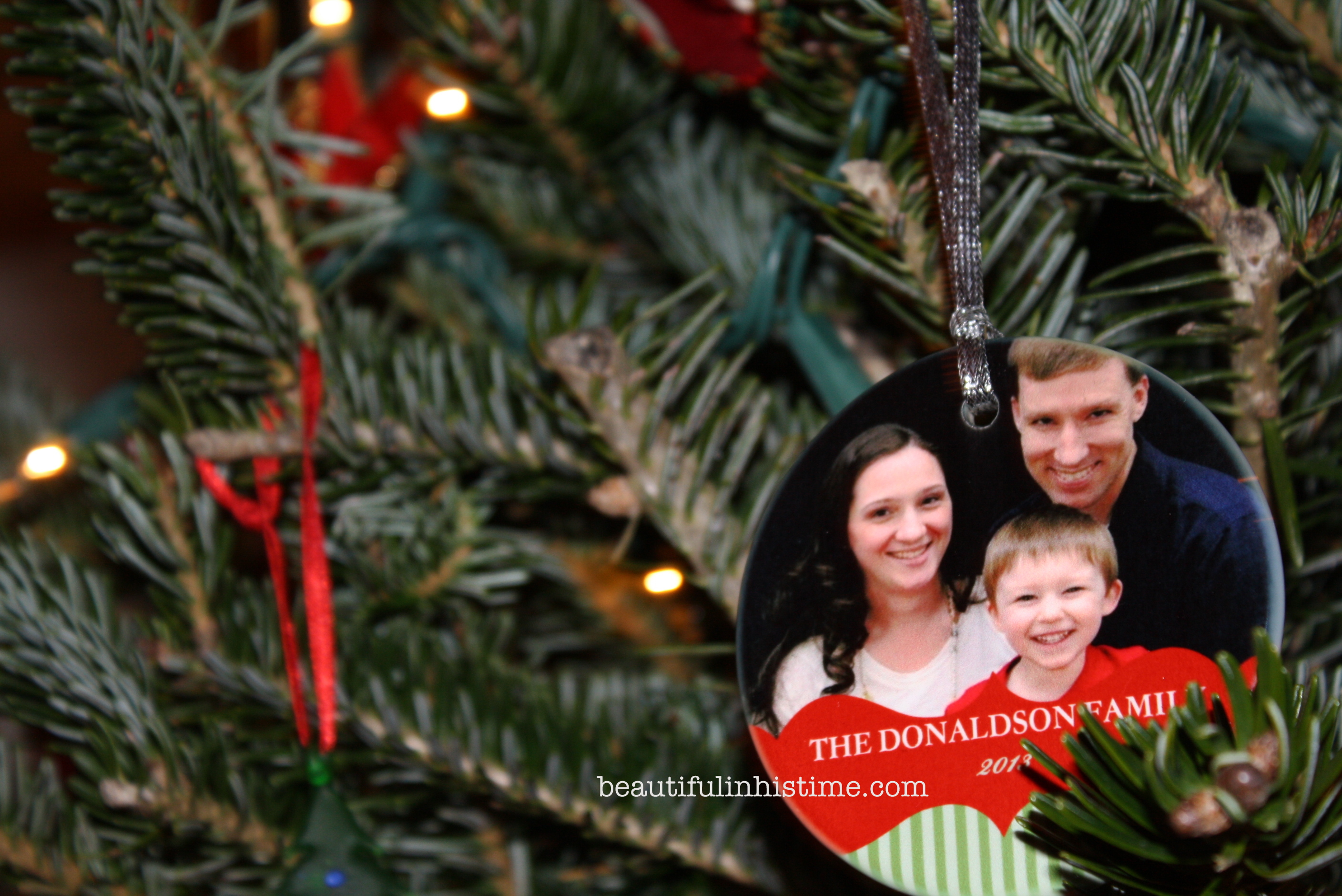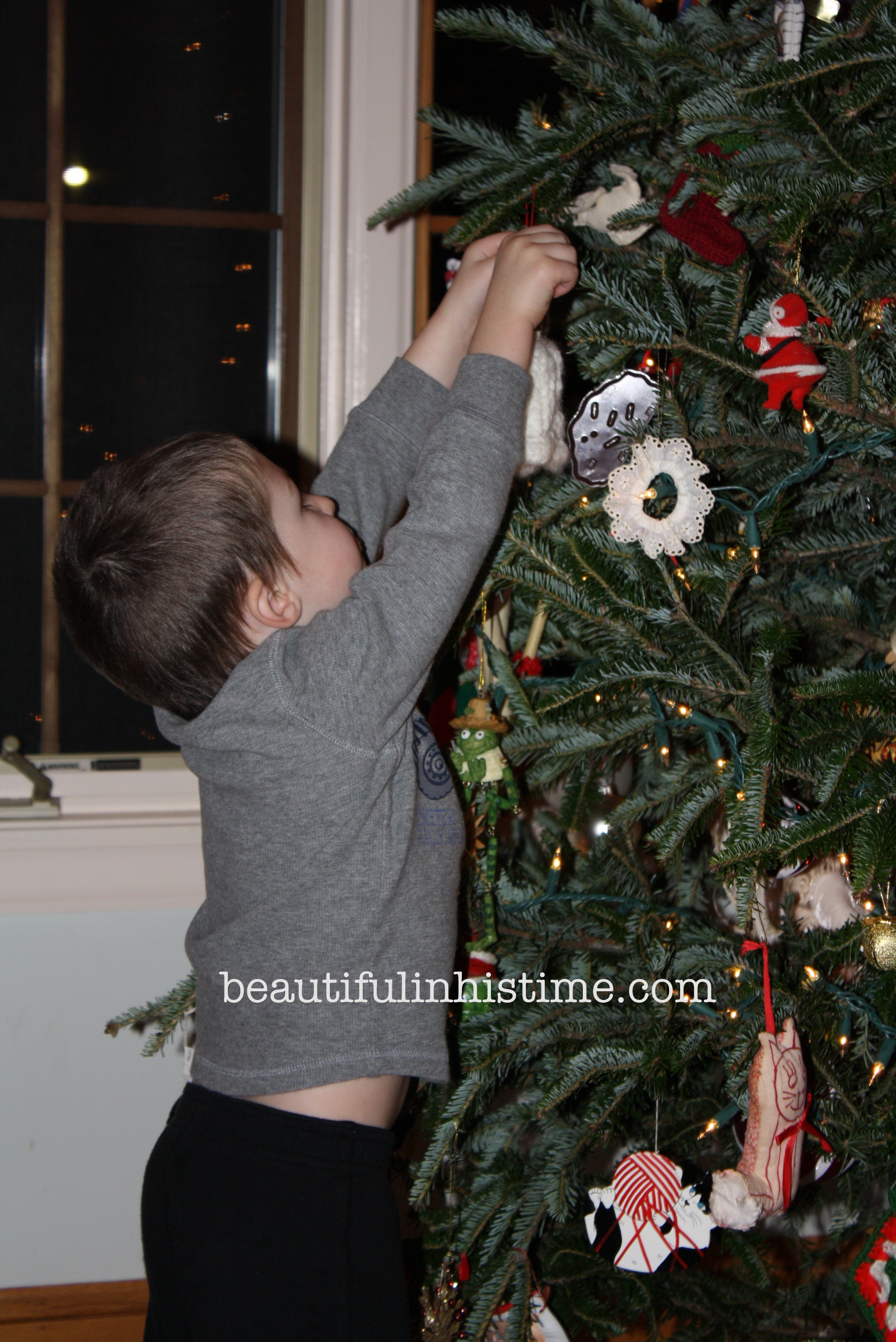 There is beauty in these boys being goofy together and having Christmas fun…especially in the moments where they are being peaceful with each other!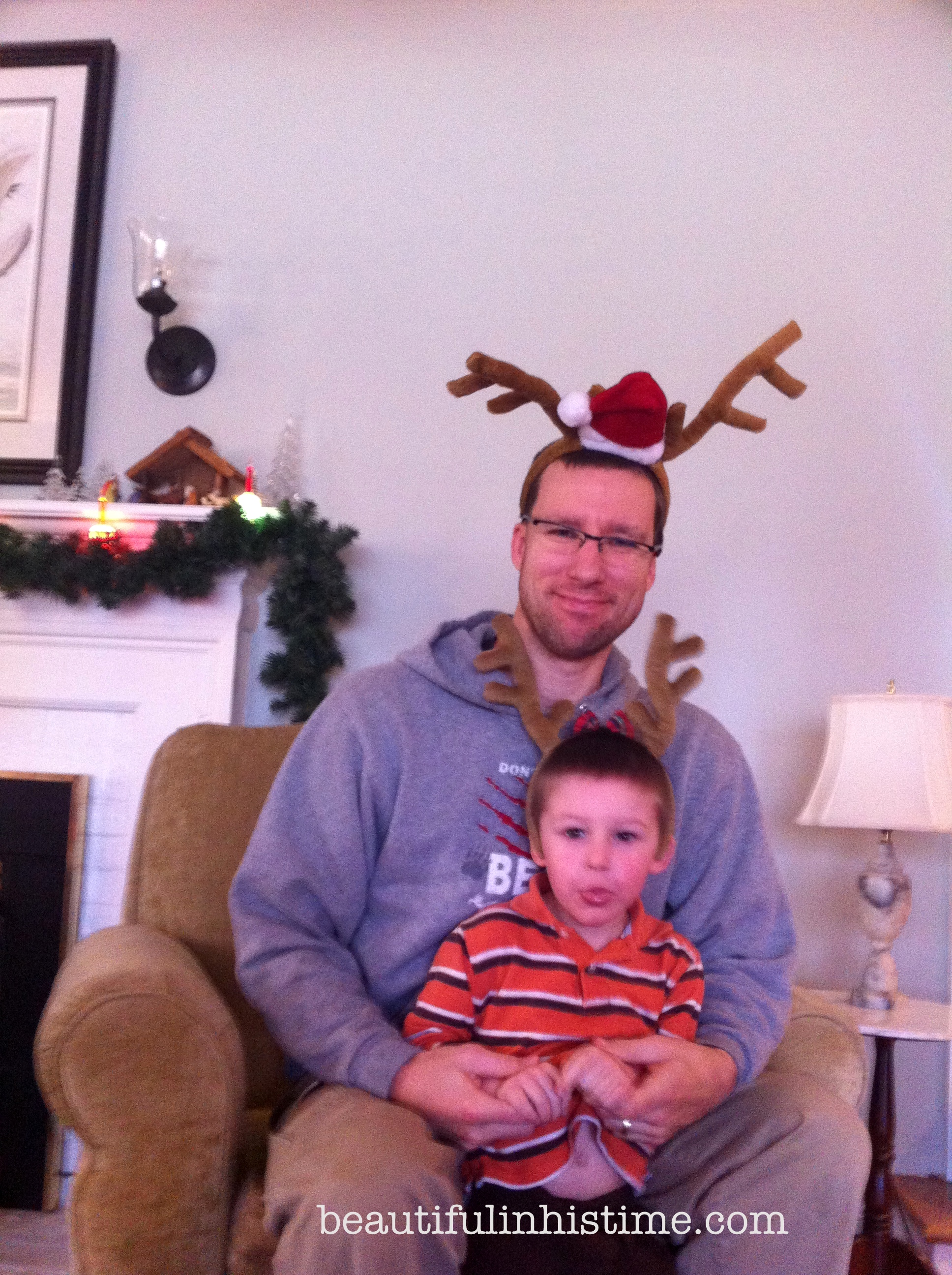 There is beauty in buckeyes, my other favorite Christmas cookie, spur-of-the-moment peppermint bark with the leftover chocolate…and, well….laundry. Because when momma's in the kitchen nothing else gets done.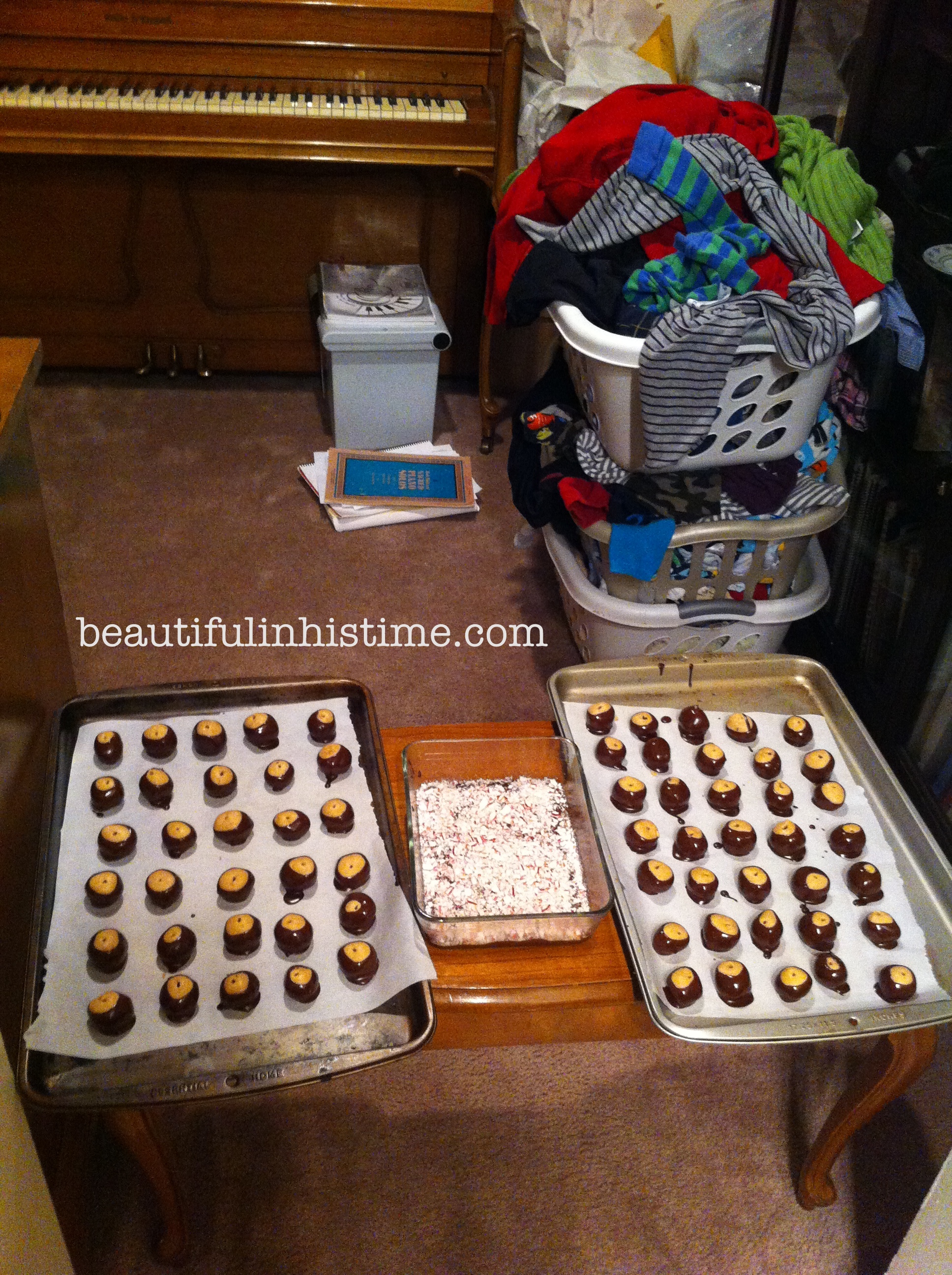 And there is beauty in the Christmas gifts that you buy for yourself: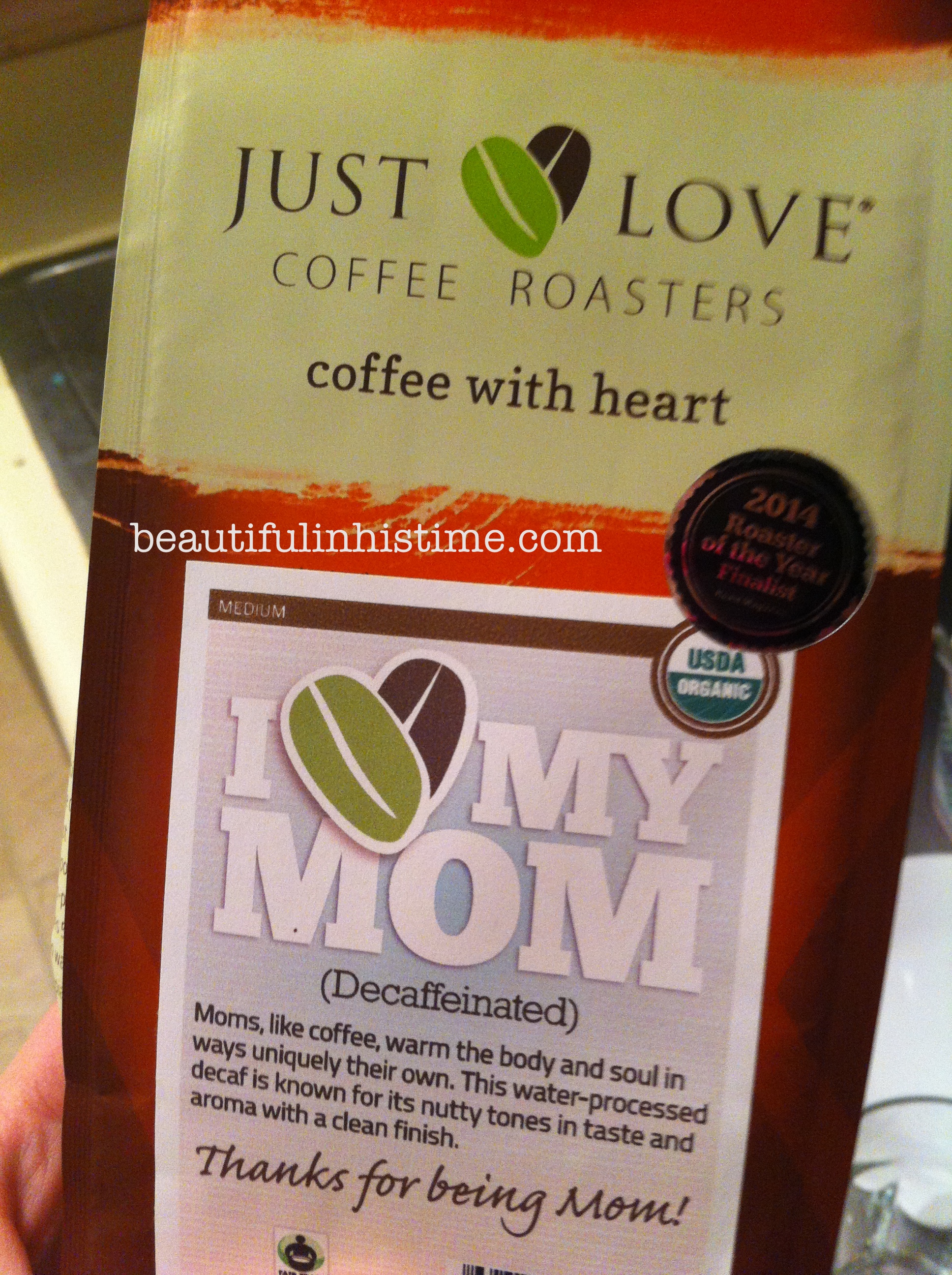 There is beauty in a Christmas light train ride with Ezra's other grandparents: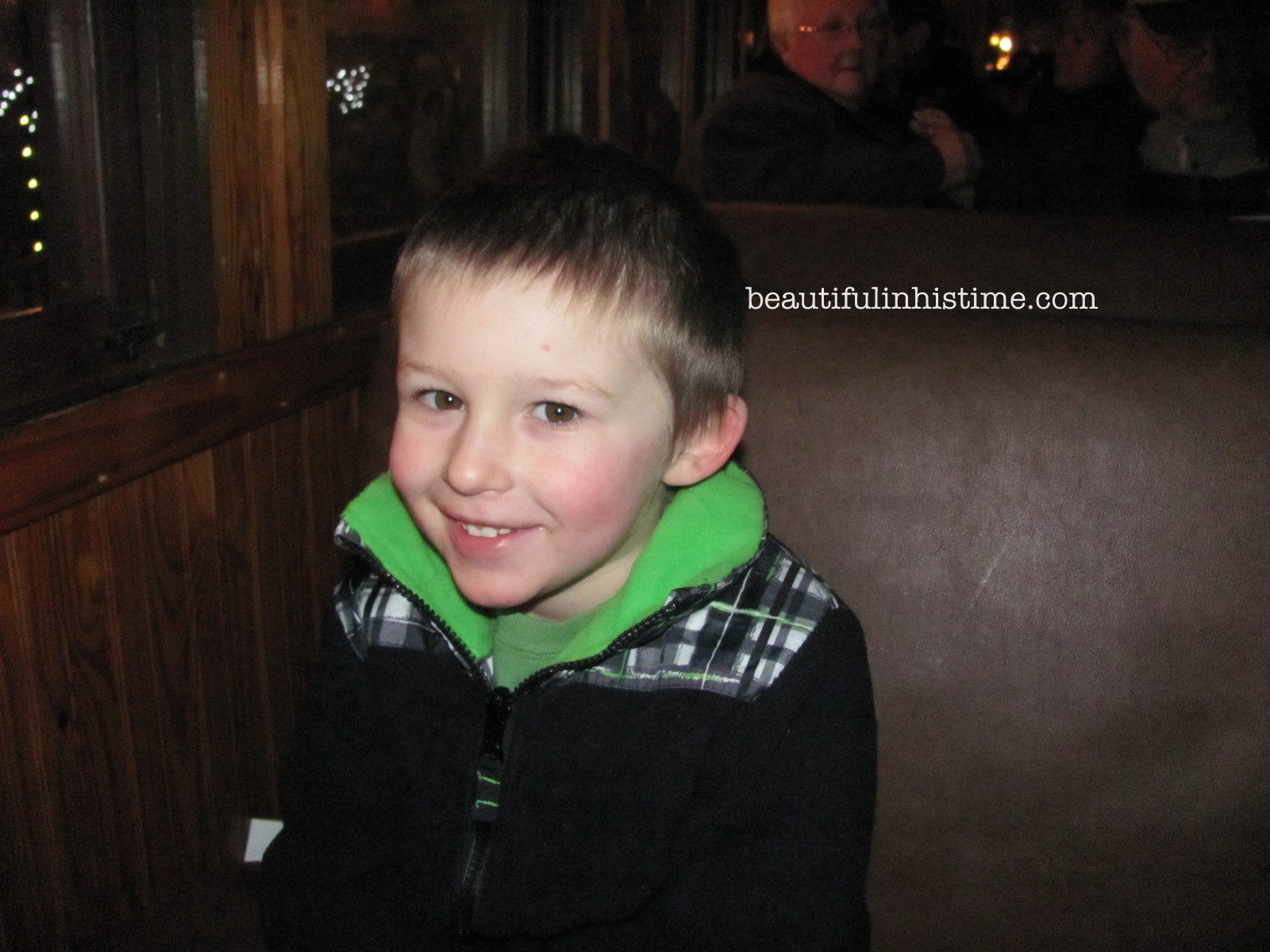 And a brand-new scooter for the little boy who still refuses to ride a tricycle.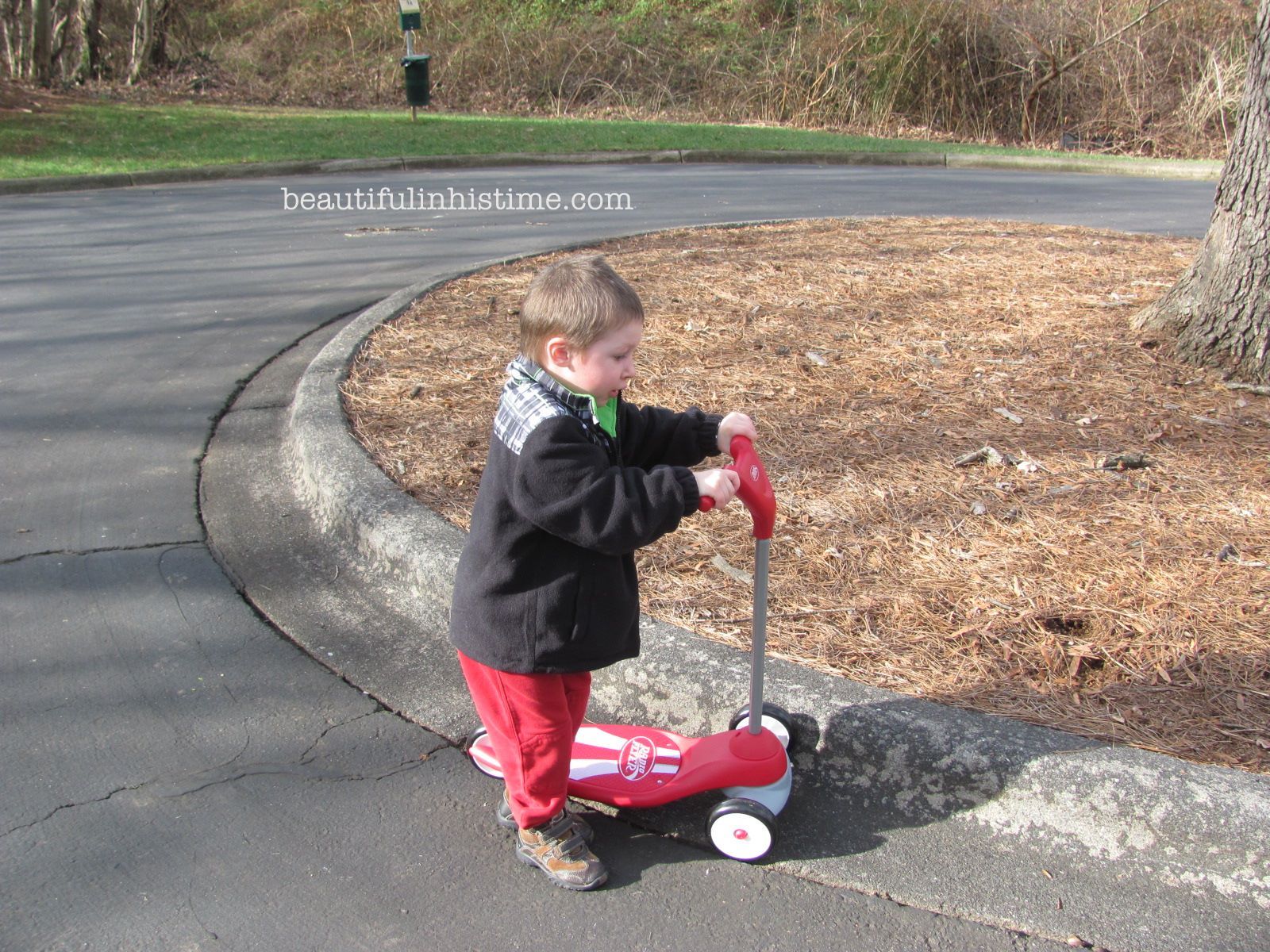 There is beauty in Christmas gifts for my kid from new friends who are just sweet like that: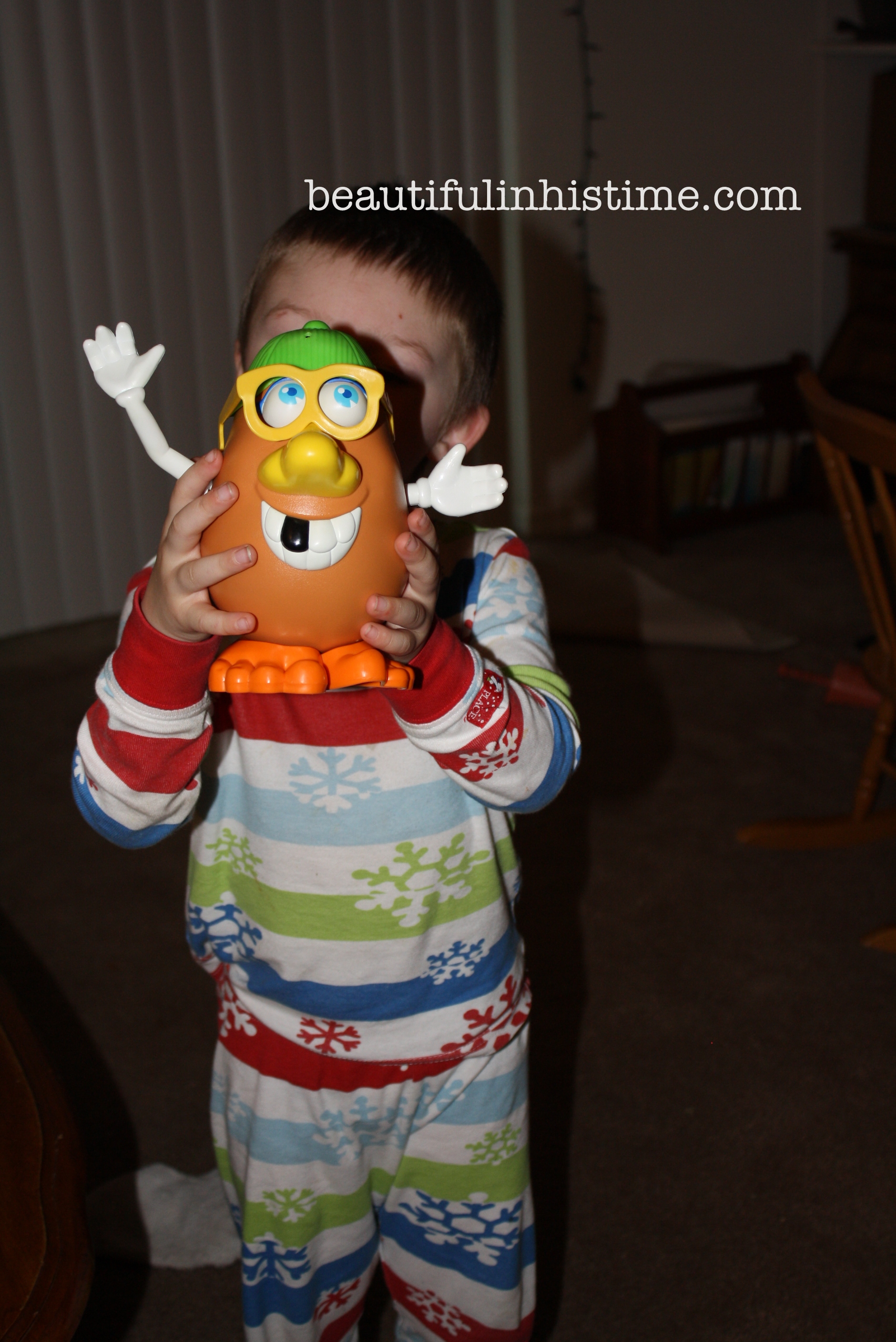 There is beauty in Christmas with family (celebrated two days early):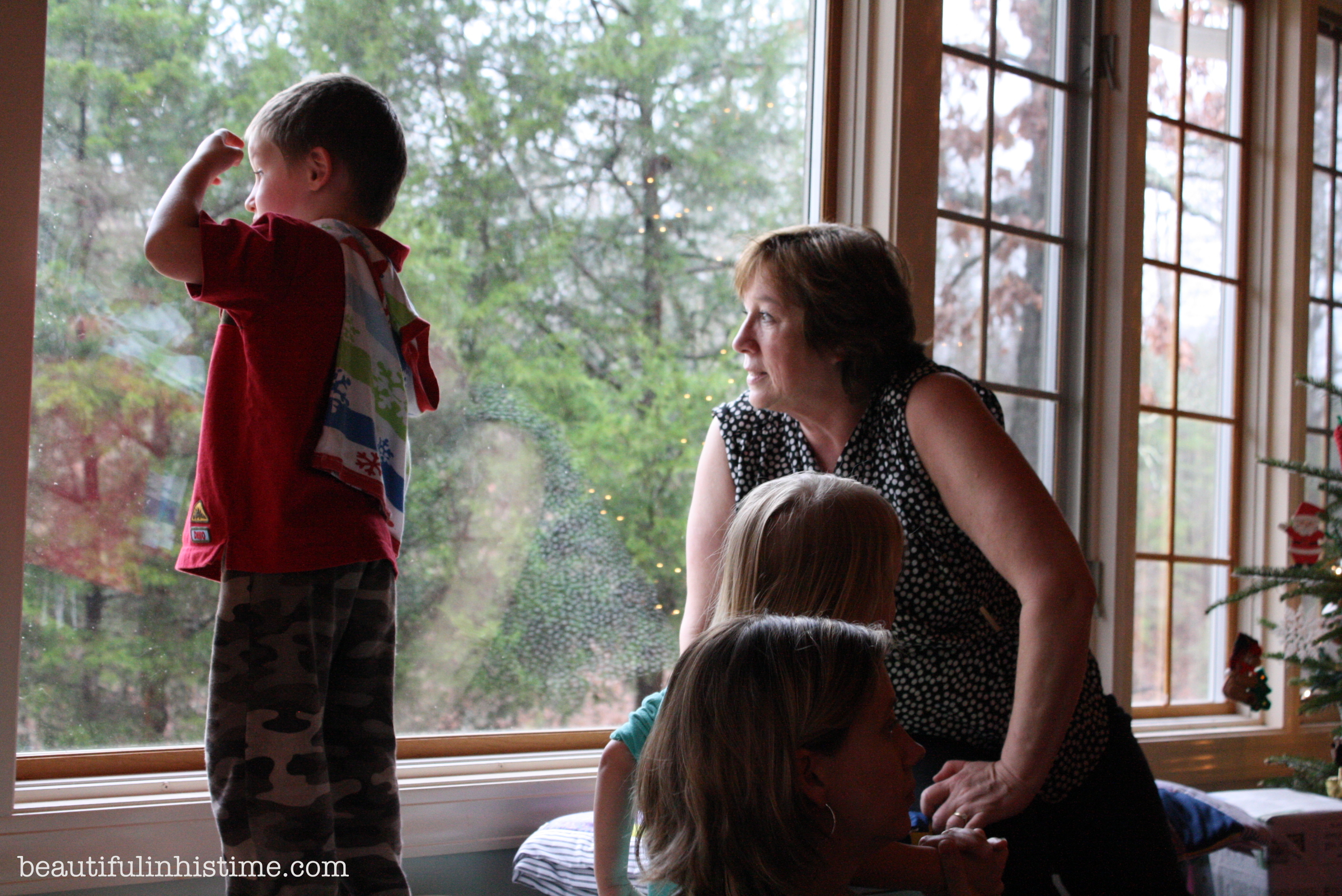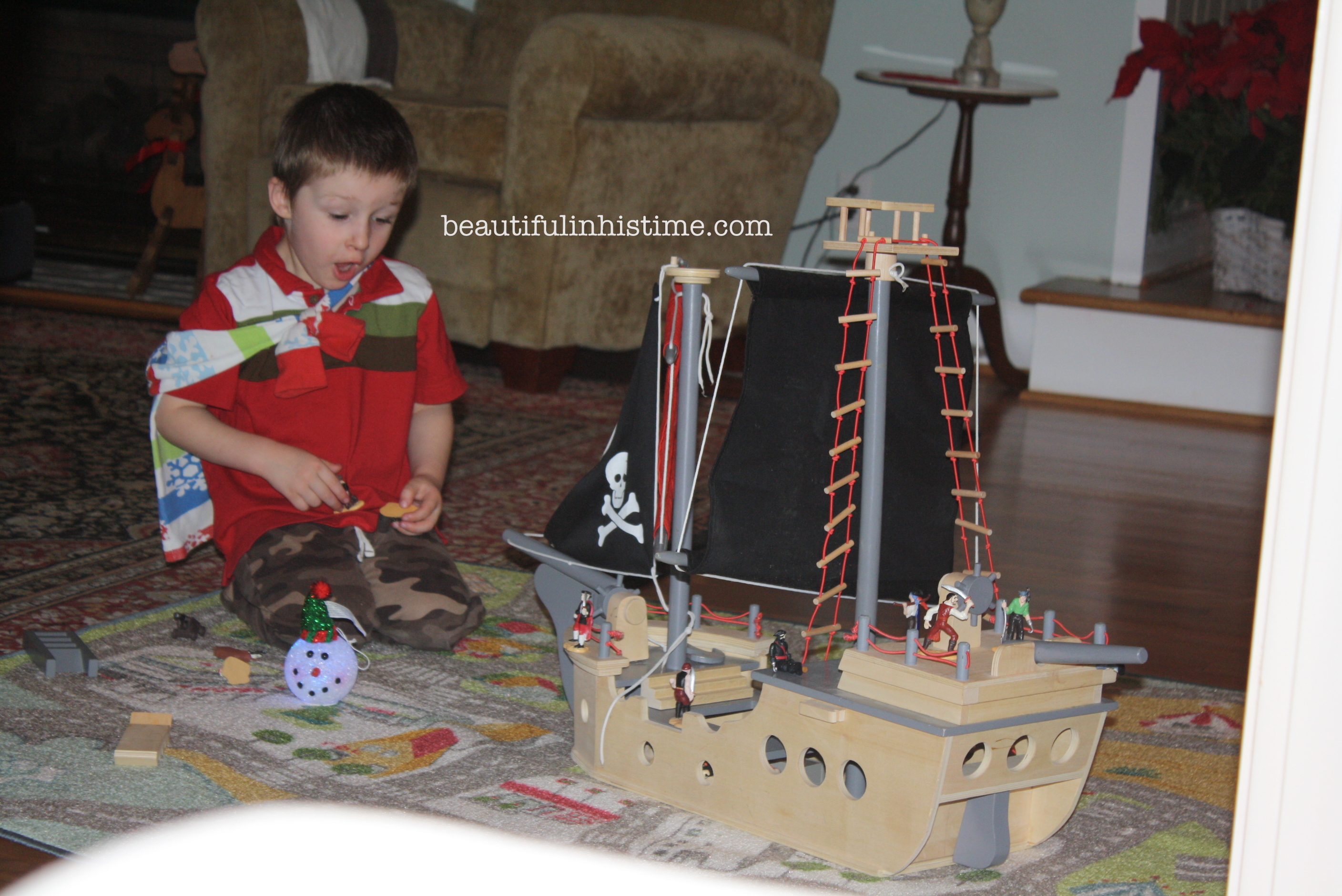 In monster trucks that used to be Daddy's: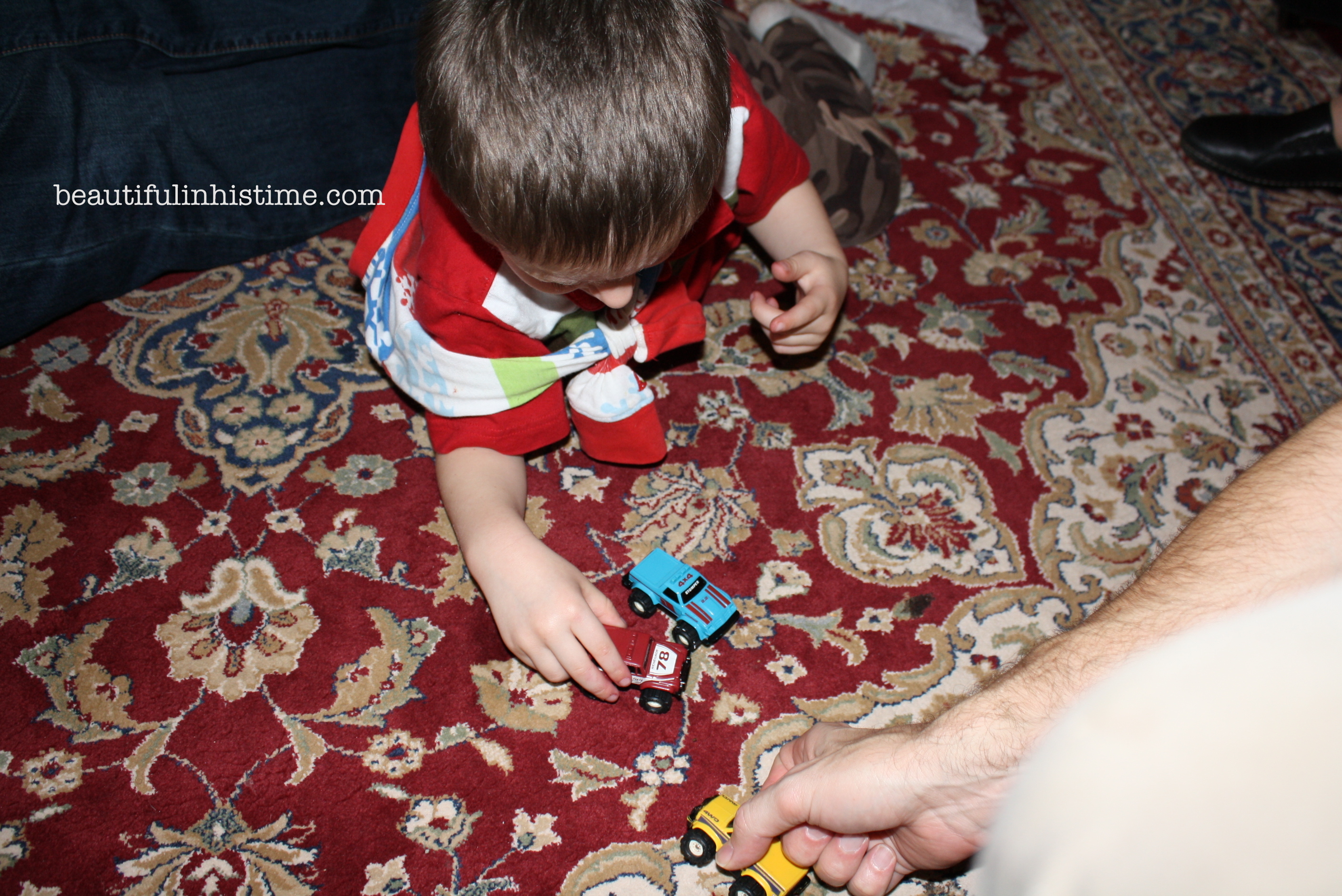 There is beauty in this totally awesome, HIGHLY-mom-approved Kidoozie racetrack from two people who have only met Ezra a few times! (Seriously…this thing can be rearranged or picked up and moved from room to room without disassembly!)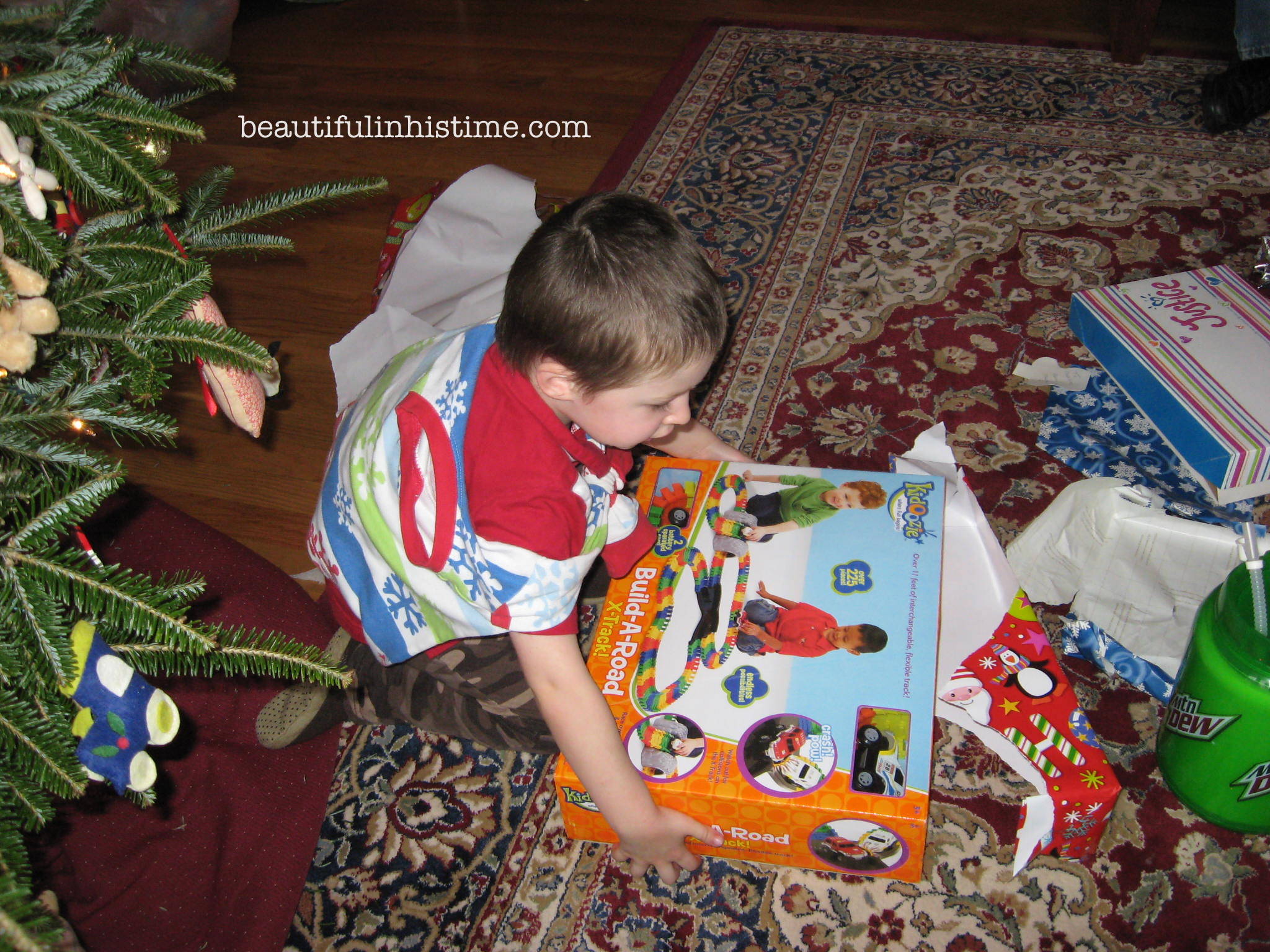 There is beauty in Salted Caramel coffee…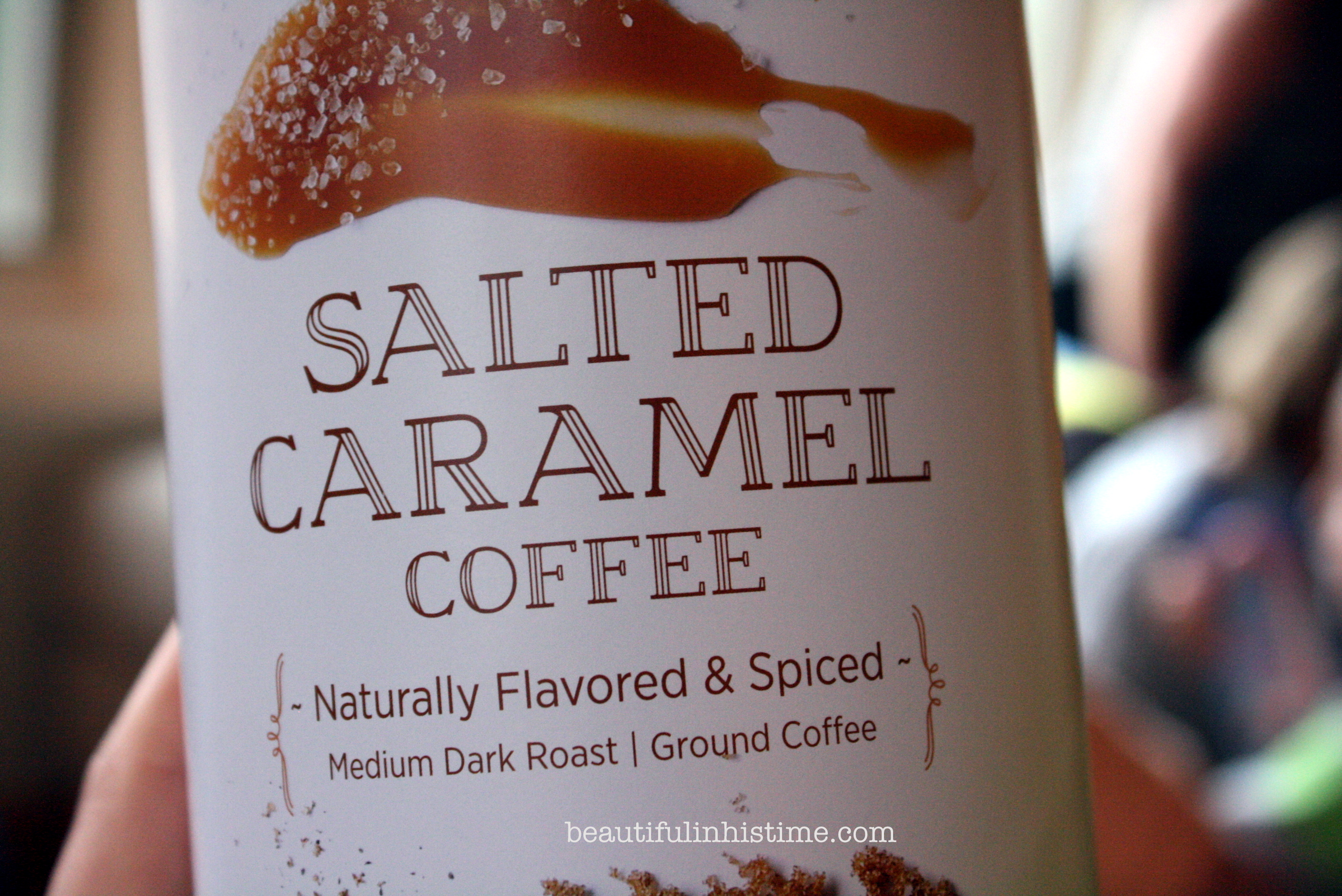 And "Normal Is Overrated" bracelet pictures in which I accidentally capture bokeh for the first time!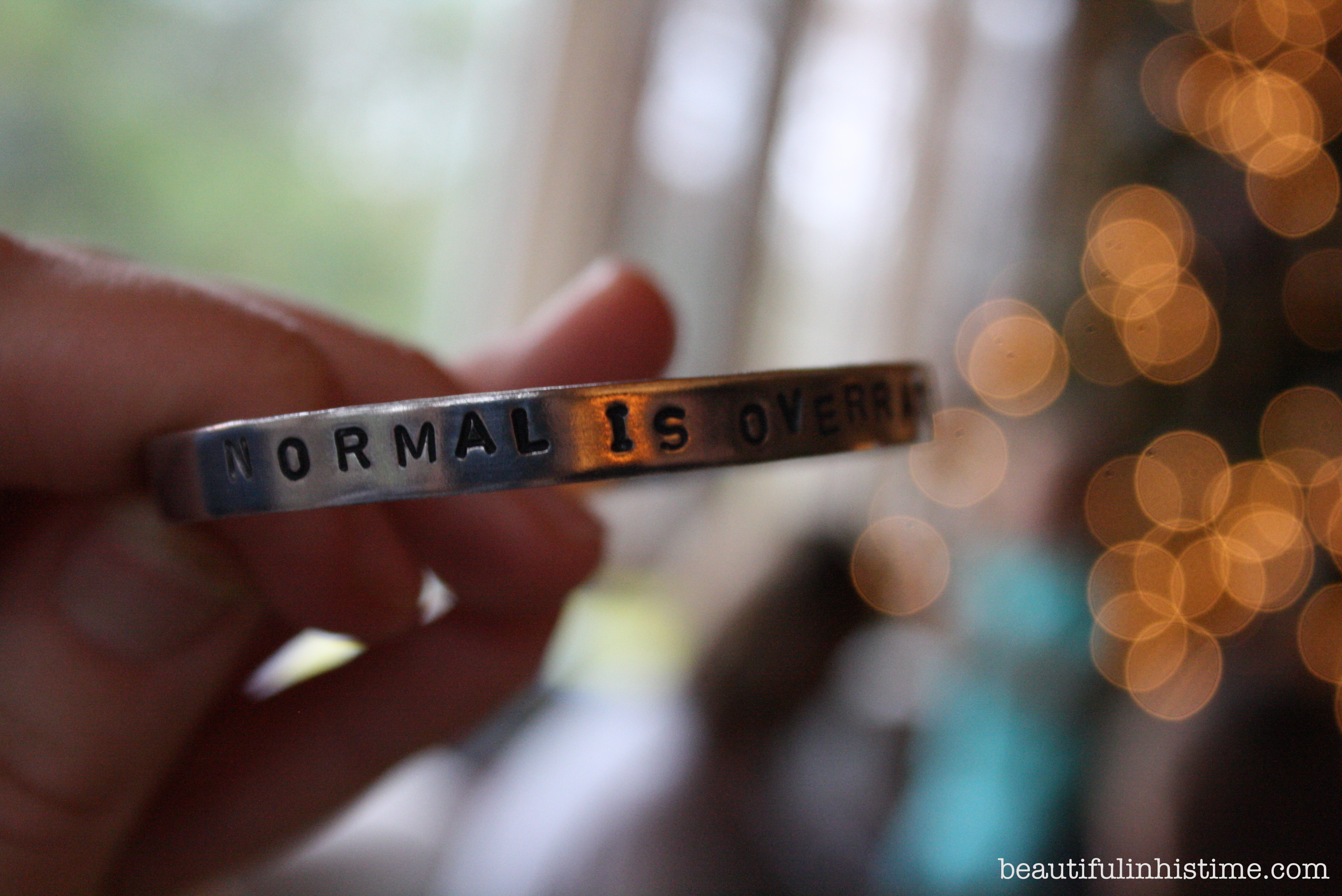 There is beauty in rambunctious superhero pirates: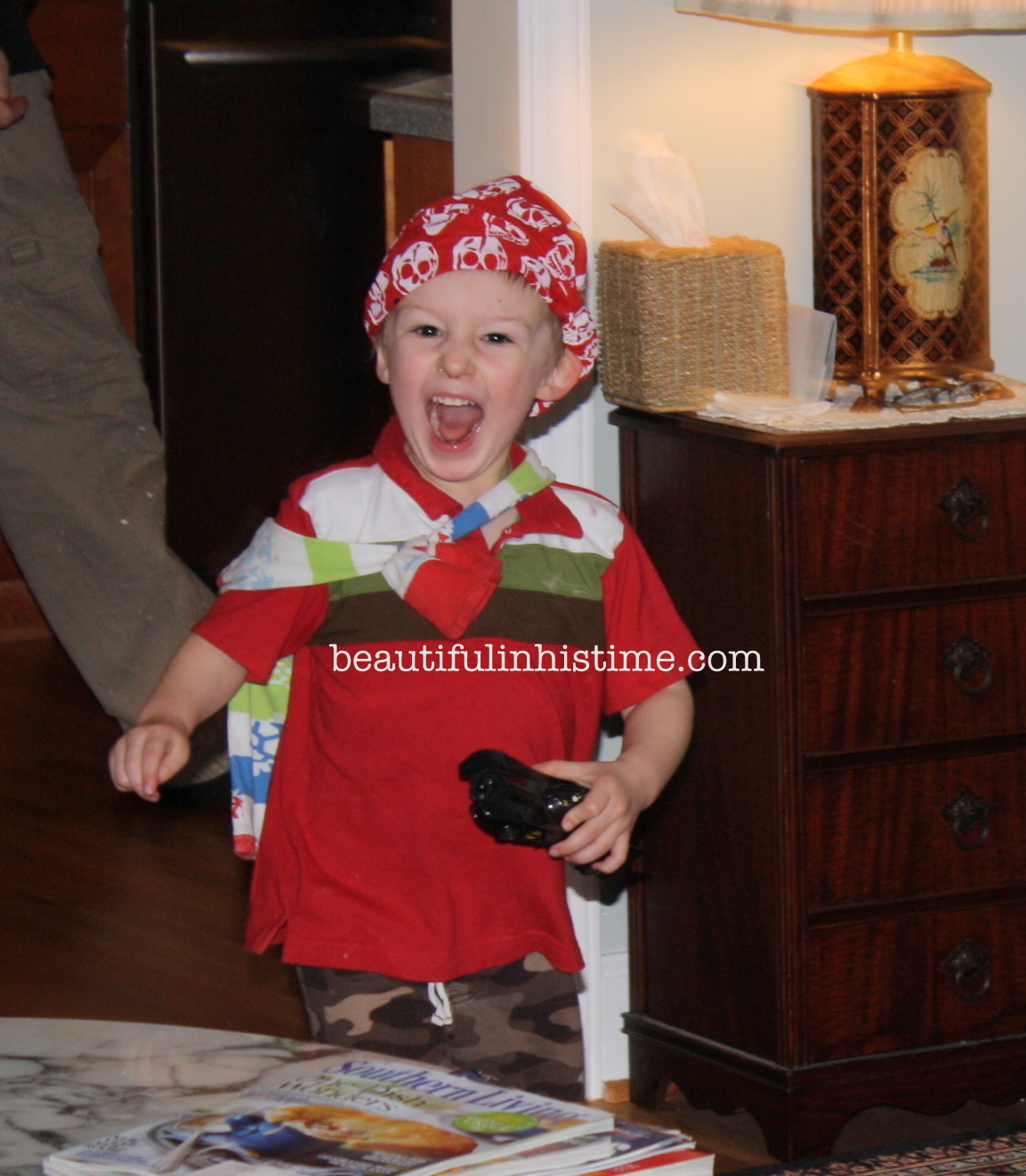 And sweet couple-time on the porch with my love: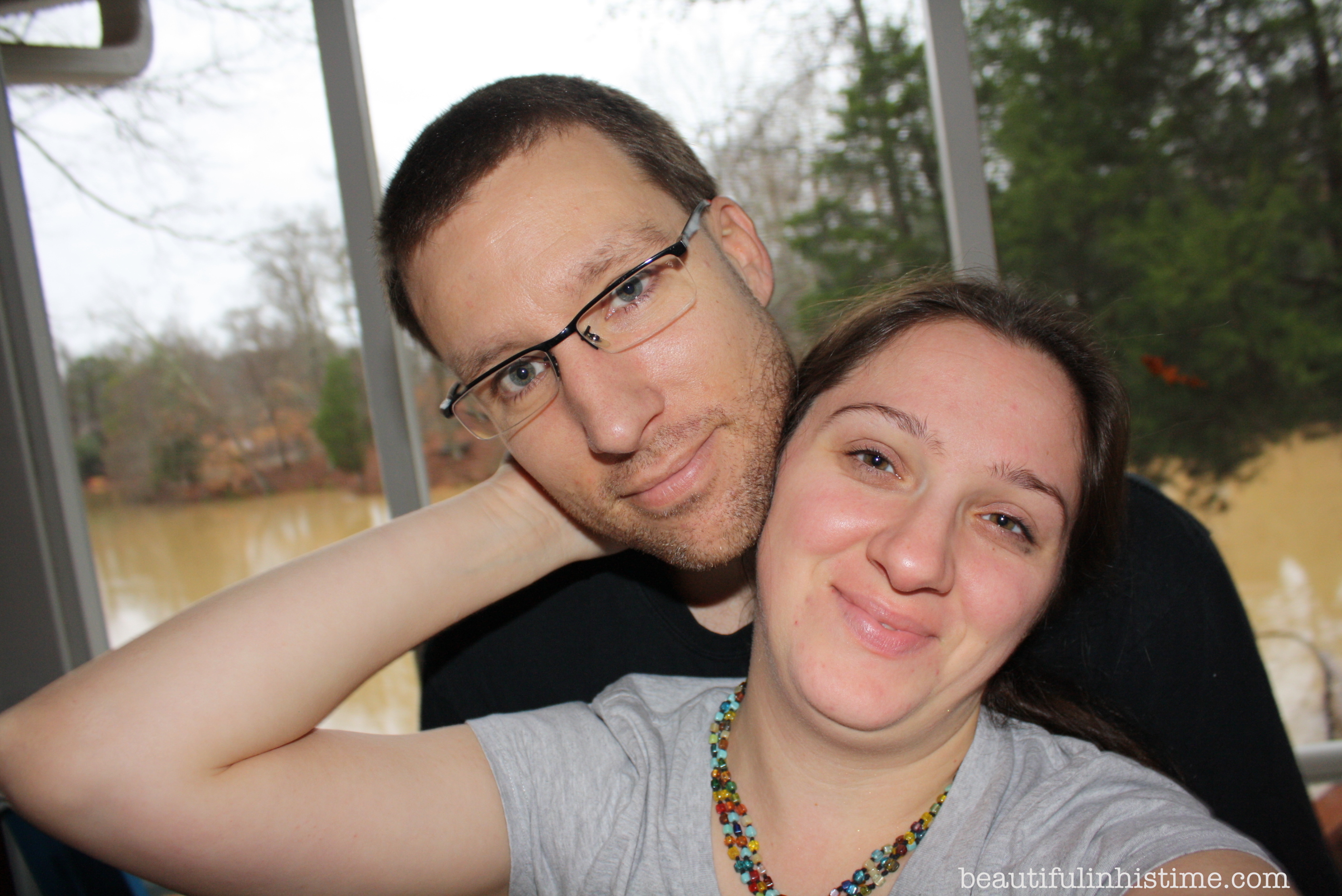 There is beauty in a just-the-three-of-us gift exchange at home on Christmas Eve night.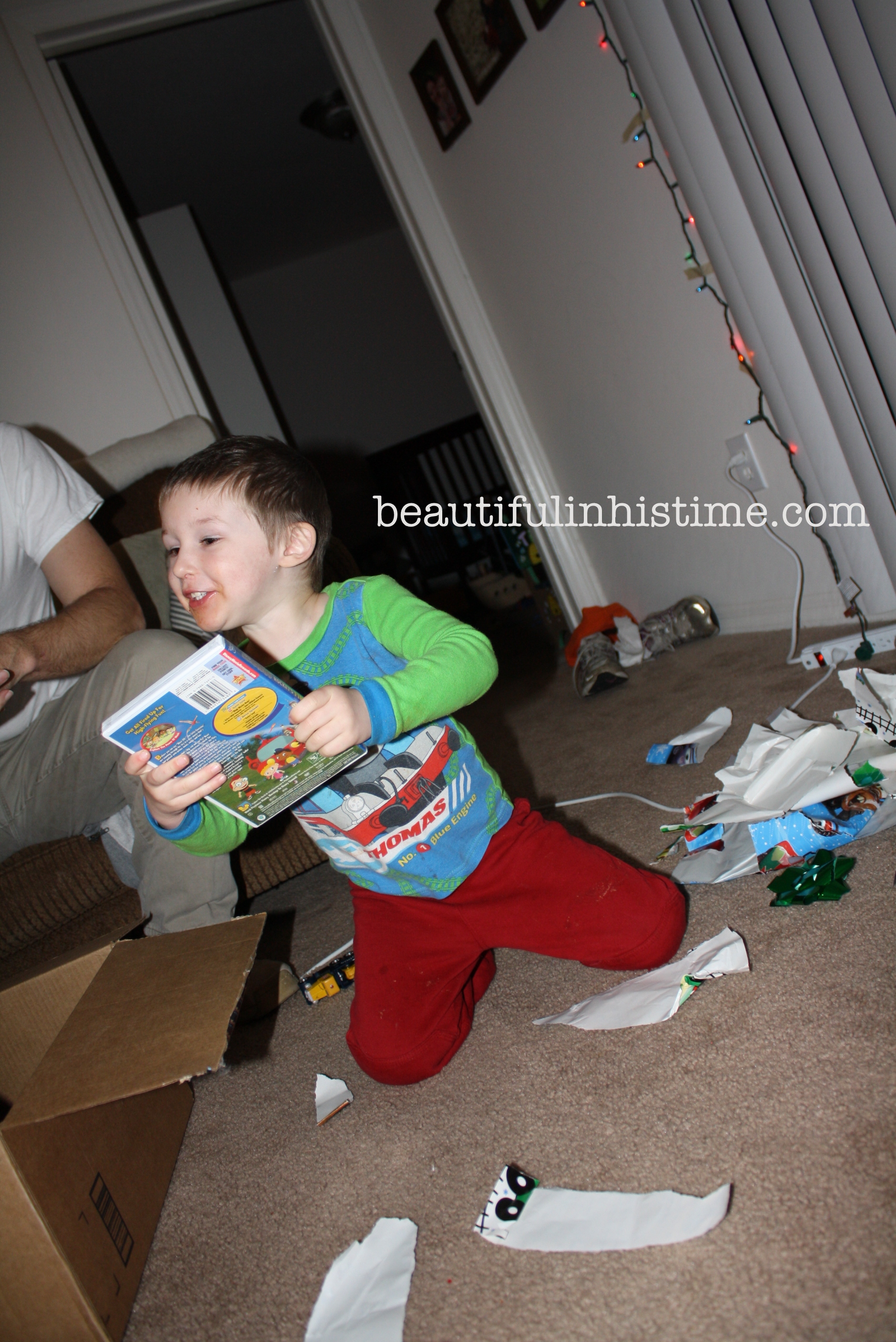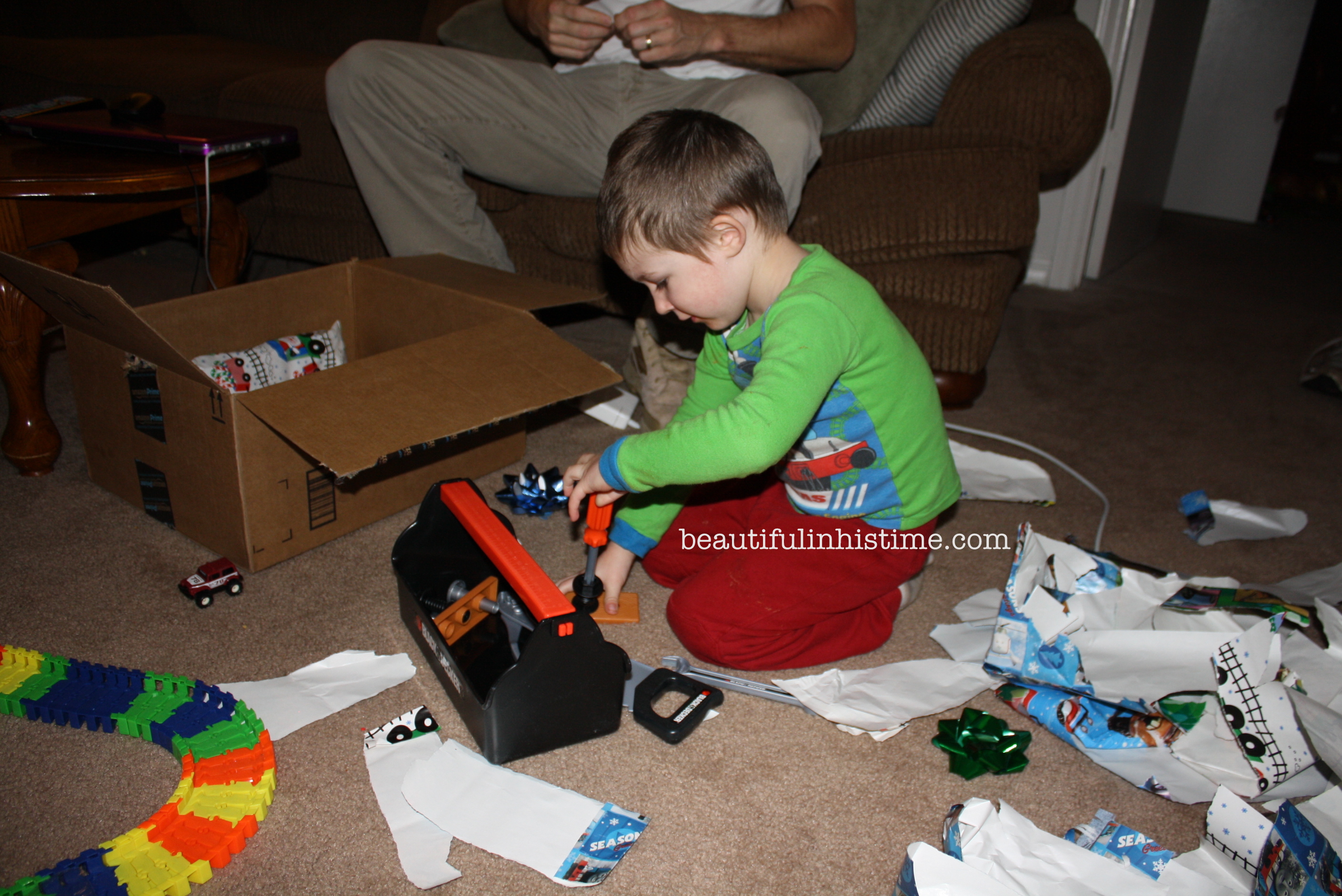 And there is beauty in Doctor Who t-shirts.
And a goofball husband who uses mirrors to check for weeping angels behind him: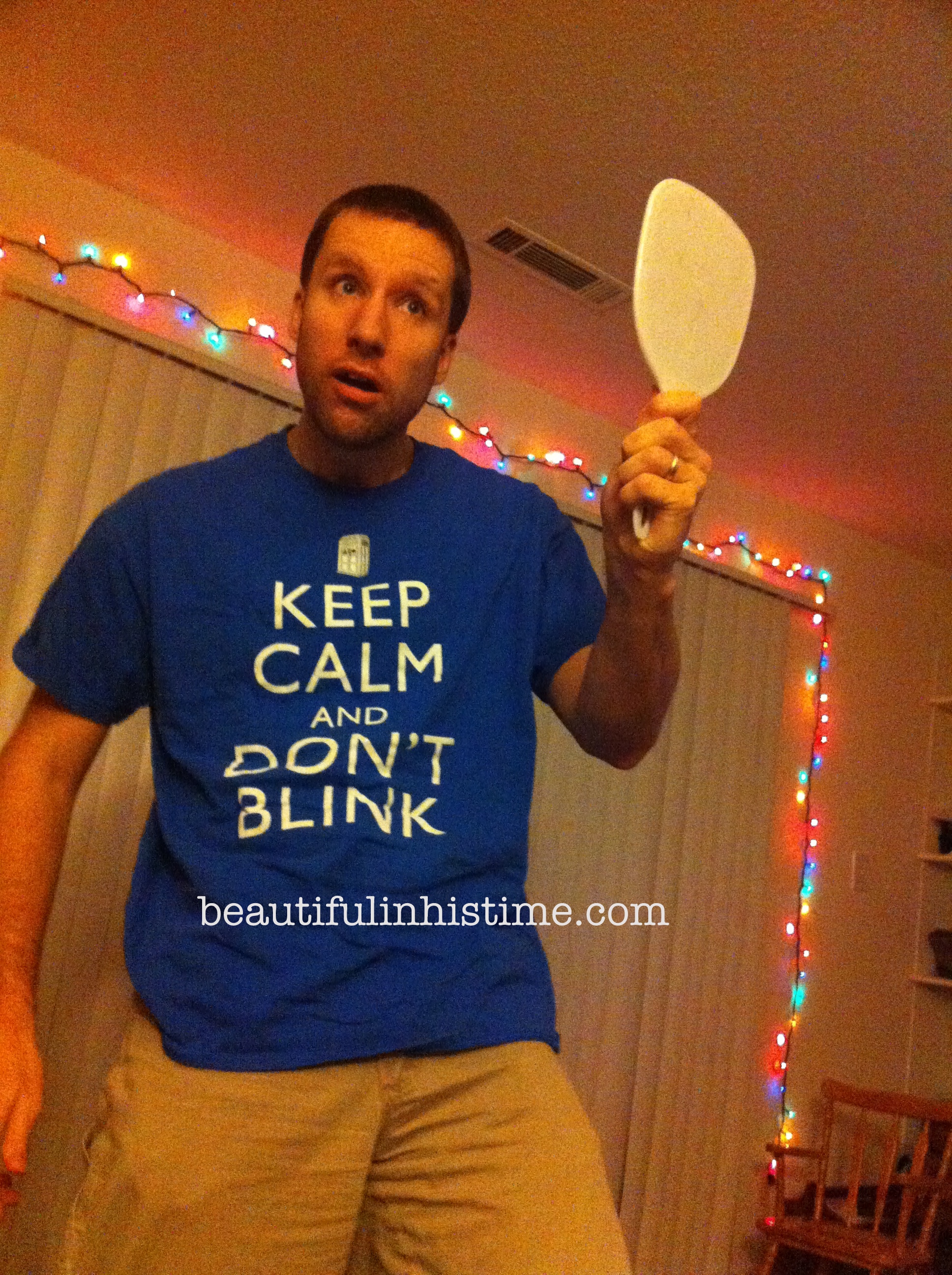 And finally, there is beauty in God showering us with gifts in this Christmas. I take back everything I said about not having a lot this Christmas. Between family, friends, and even total strangers – we received $687 in Paypal donations and gift cards. And that's just the money. I also had a few people send me gift packages in the mail and I so appreciate those as well!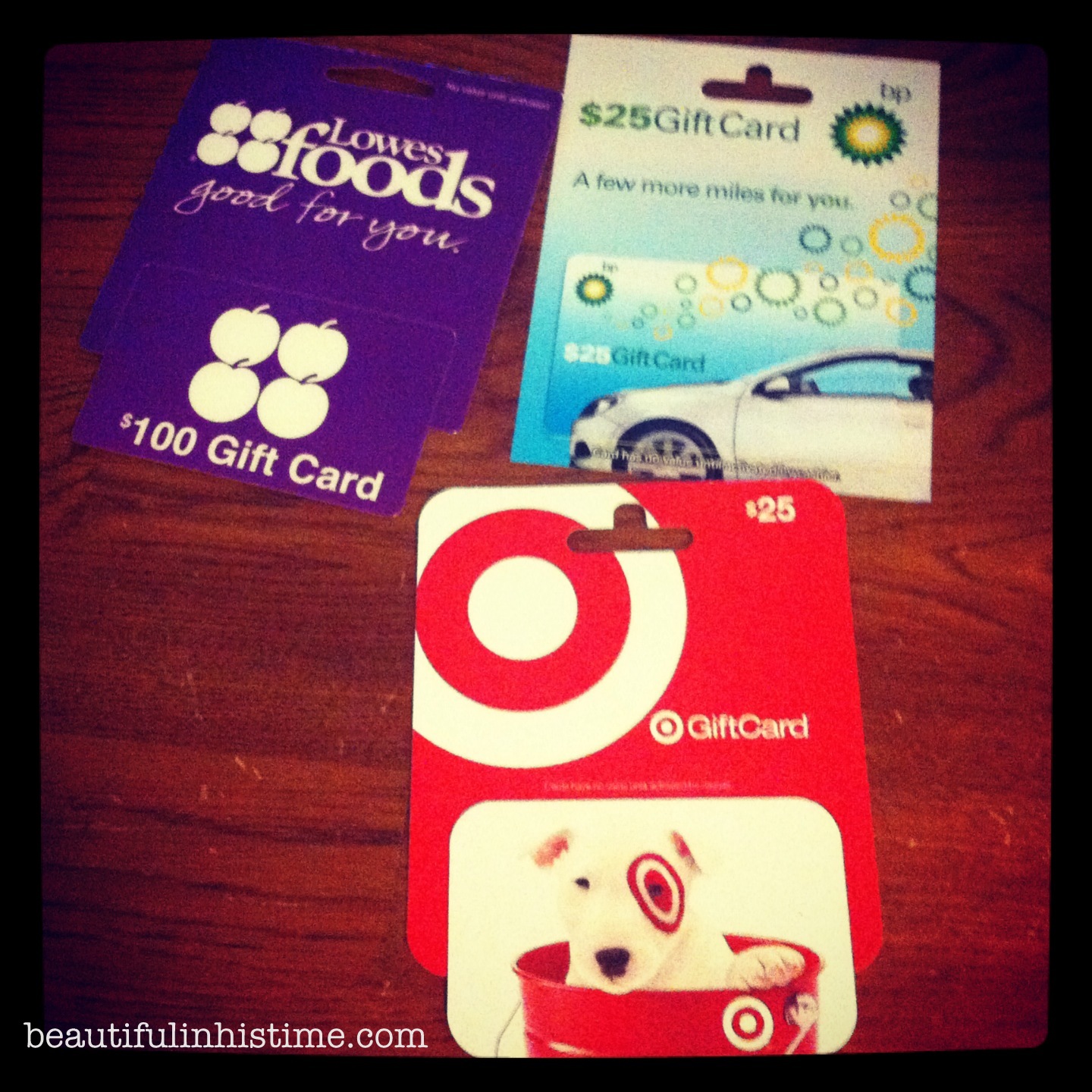 While this definitely wasn't the most perfect, intentional, awe-worthy Christmas, we were oh so blessed the entire month long. And writing out this post has reminded me of all of those ways.