This is post #3 in a blog series entitled At-home preschool resources for the very tired, non-creative, really busy mom. You can view all of the posts in the series here.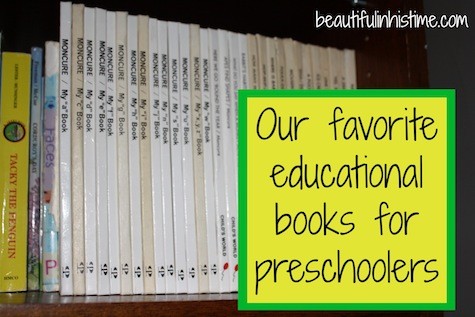 I have a confession. I'm a bit of a children's book buying addict. Whenever I venture into a consignment sale, Goodwill, or Once Upon a Child, I will invariably walk out with a stack of children's books purchased at far below their value. I now have gathered quite the collection of books that I use on a regular basis to teach Ezra basic concepts at home.
To start off, we love these books by Jane Moncure. I've acquired them over time, picking up new ones almost every time I go book shopping. I love her alphabet books, which highlight letters and letter sounds (great for teaching phonics). Her other books cover a variety of different educational topics and social skills. Nanny Goat's Boat focuses on rhyming words. One Tricky Monkey Up On Top is a book about counting. Ice Cream Cows and Mitten Sheep is all about animals (and the products that we use that come from them). Here We Go Round the Year teaches the months. Apes Find Shapes teaches shape recognition. And our favorite, Yes, No, Little Hippo is all about safety and listening.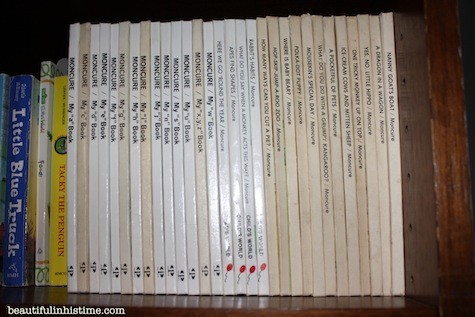 Of course, you simply can't go wrong with Dr. Suess and PD Eastman books. Do I even have to mention these? Dr. Suess's ABC is my favorite, and Go Dog Go is a special favorite of Ezra's that has gotten us through many long hours of potty training.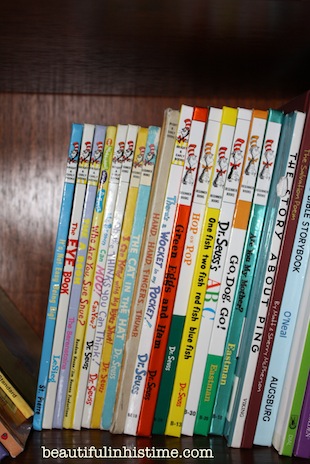 Honorable mention here goes to It's Not Easy Being Big, a book about spatial relationships that has Elmo, who is a preschool favorite!
If you have younger toddlers, I highly recommend these Christian board books that put growing up skills in incredibly positive terms with a Biblical basis. Yea! I Can Say! discusses manners like saying please and thank you. Wow! I Know How! is about actions like personal grooming and other milestones. Hooray! I Obeyed! is my personal favorite because it doesn't demand obedience, rather it celebrates it! It also takes obedience beyond the home and demonstrates children obeying teachers and other relatives. It's True! I Love You! is just some sweet icing on the cake to strengthen the bond between parents and children.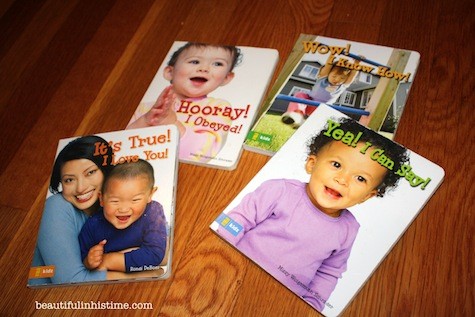 Probably the best early literacy resource that I have found I picked up at Once Upon a Child for about $3. It was a brand new set of Bob Books, a great set of early readers that focus on the bare bones of basic phonics and simple letter sounds. Ezra has actually read the first few of these all by himself!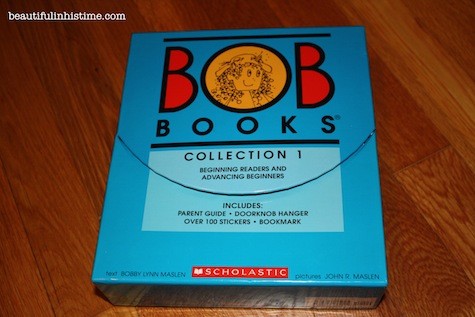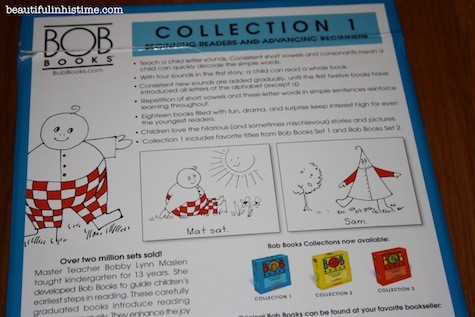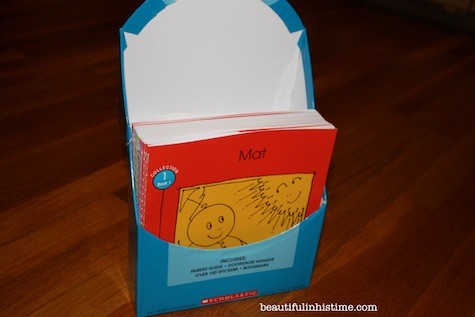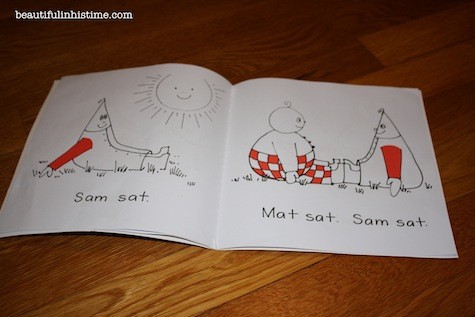 Congratulations to LeeAnn Taylor for winning this giveaway! To end this post, I'm going to offer a giveaway of four of our favorite children's books that we somehow ended up with duplicates of (thanks to my compulsive spending habit). Offered are two letter books by Moncure, 5 Little Monkeys Jumping on the Bed, and The Little Red Caboose – pictured below.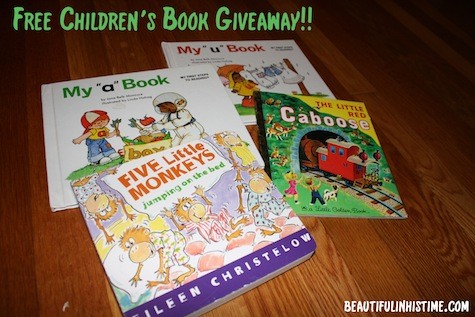 To enter to win, leave a comment below with your favorite children's book, and on Friday, July 11th, I'll pick a winner!
To see more posts in this series, check out the landing page – and make sure to subscribe or follow on Facebook to make sure you don't miss any of the rest of the posts!