Patriotic Preschool Unit Ideas and Resources for the 4th of July!
Beautiful in His Time is a participant in multiple affiliate marketing programs. The author of this blog may receive commission for purchases or clicks made through links on this website.
---
I have been doing unit-study style "preschool homeschool" with Ezra since early last fall. I don't usually blog about it. But this patriotic preschool unit was so much fun – I mean SO MUCH FUN! –  that I just had to share everything we did! I think I enjoyed it even more than Ezra did, and that's saying a lot! 
We started out with a very simple cookie-cutter painting activity that I found on Preschool Crafts for Kids.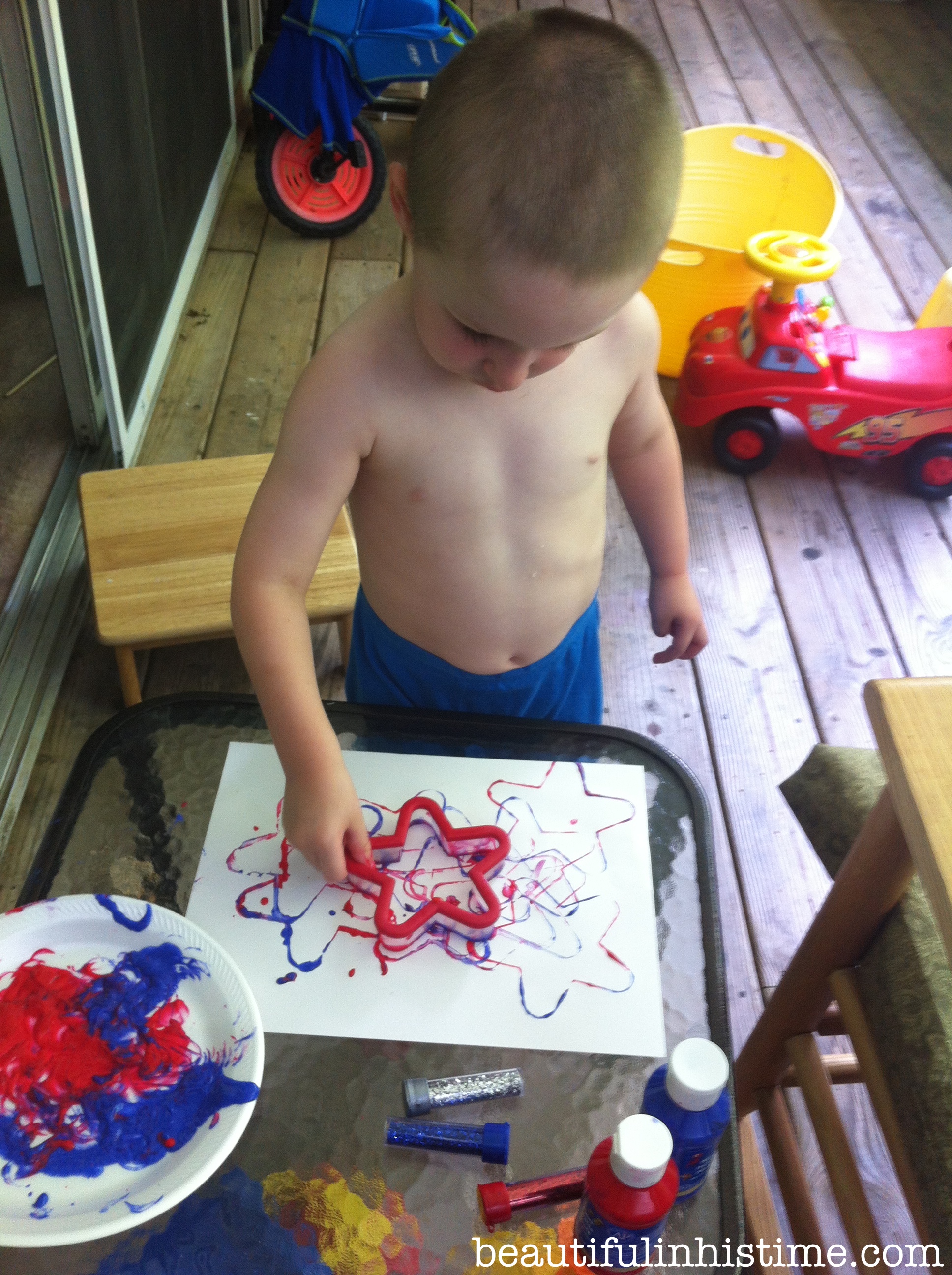 We added glitter to ours: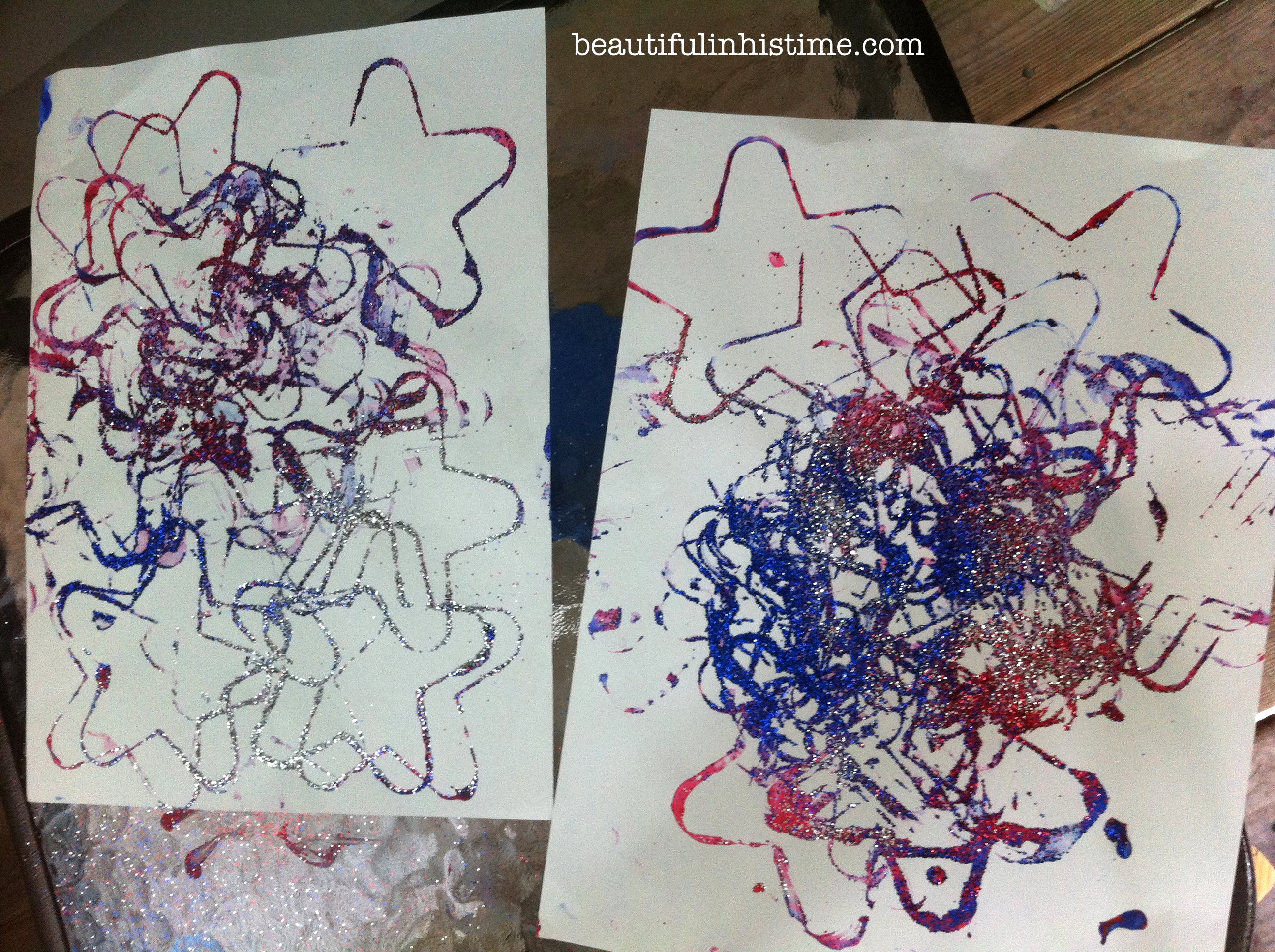 We got some patriotic books at the library: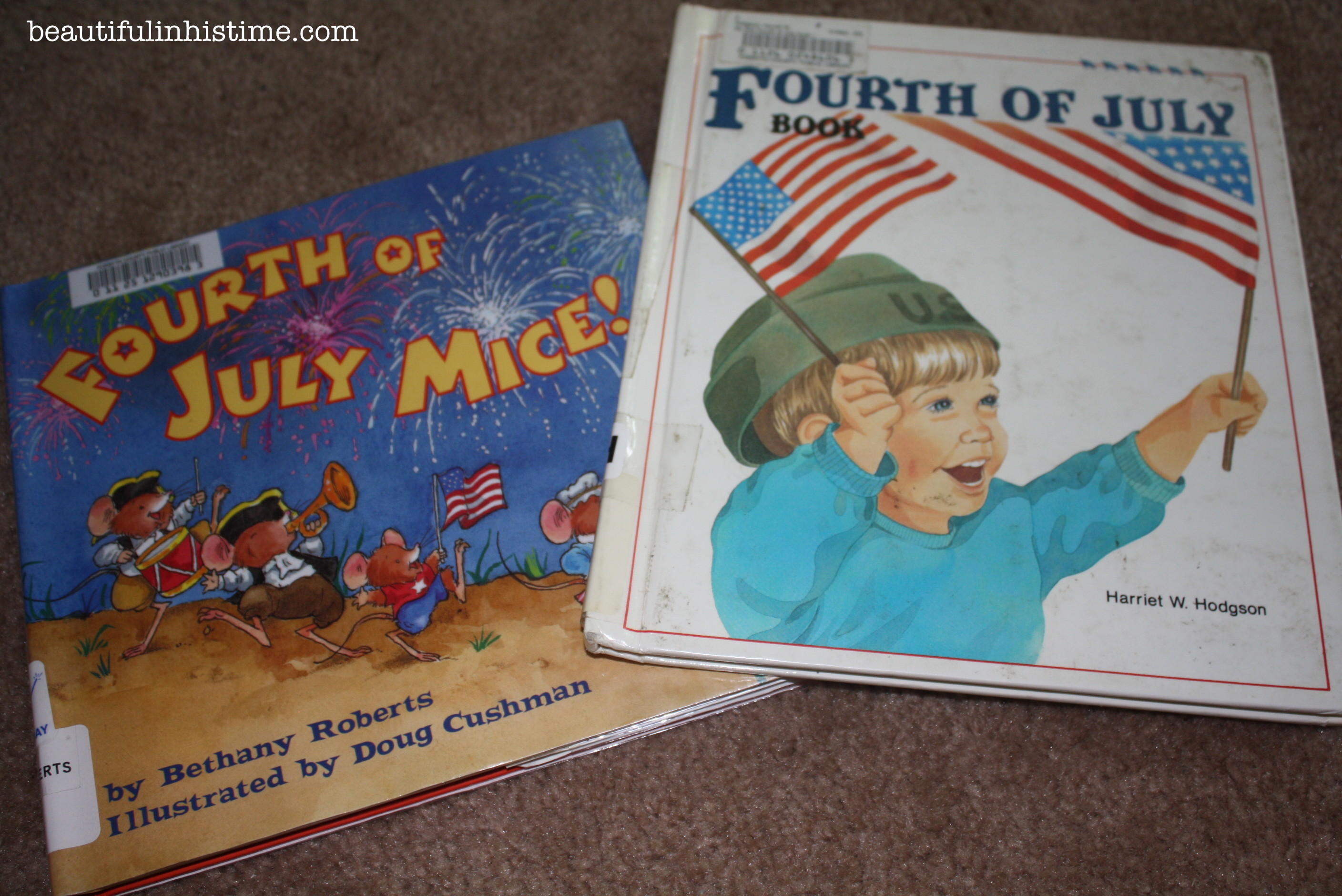 Pictured: Fourth of July Mice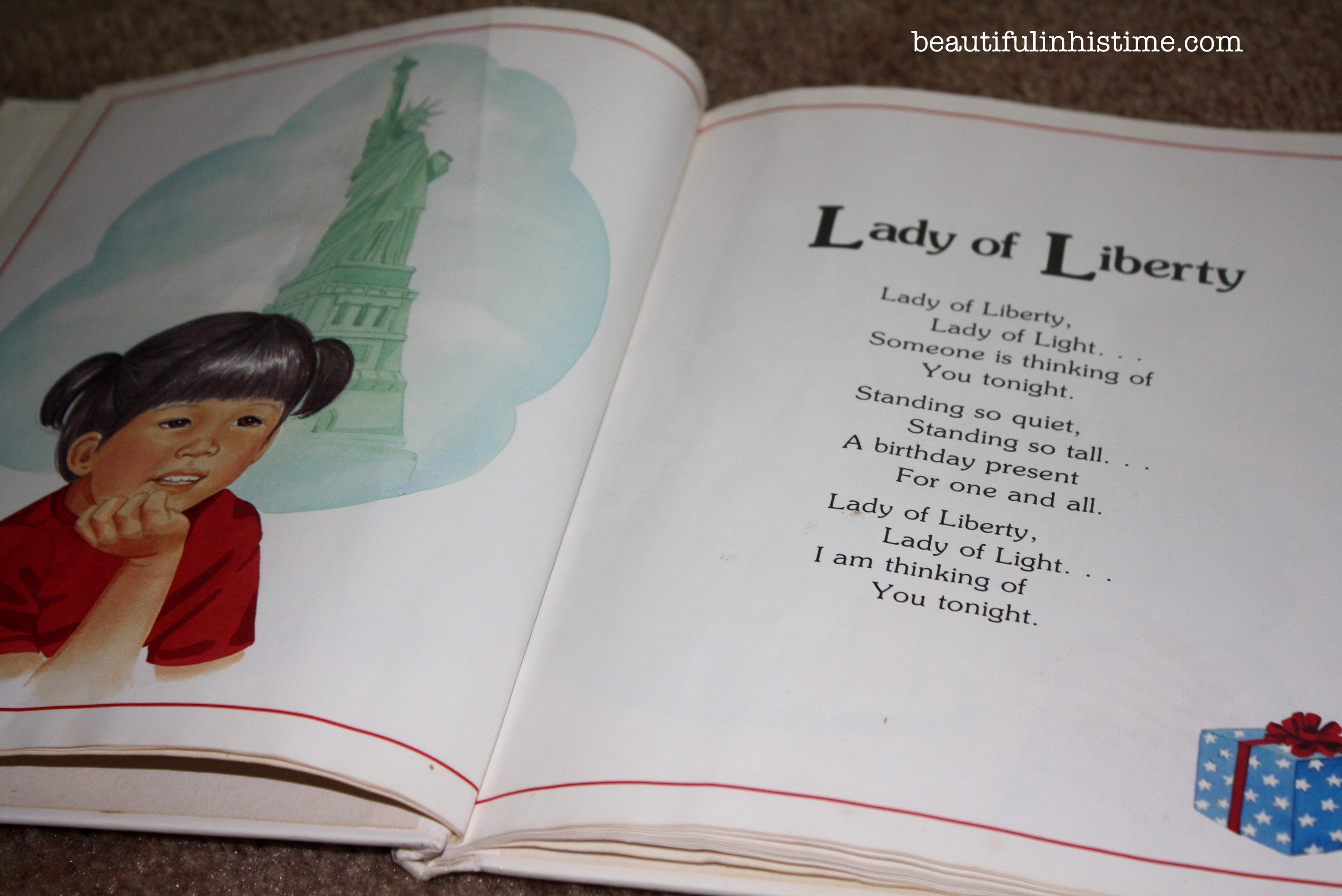 I totally loved this book about the Pledge of Allegiance, which explains all of the words in the pledge and what they mean! By reading this book and a lot of review, we were able to teach Ezra the whole pledge within about a week's time! I did not at all plan this ahead of time, I just ordered a few books from the library randomly, and this happened to be one of them! It's such a great book! (You can see the video of Ezra saying the pledge here on Facebook.)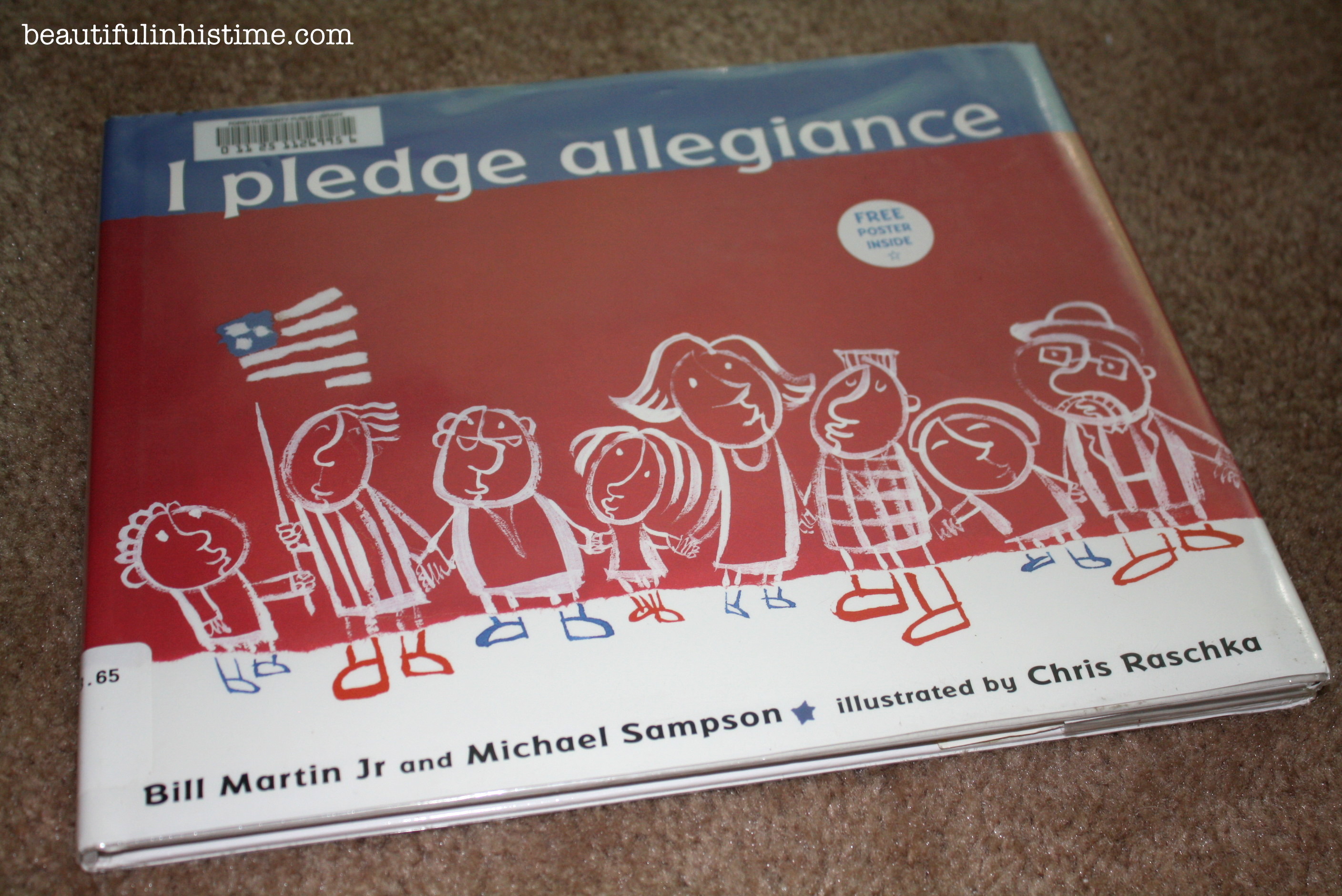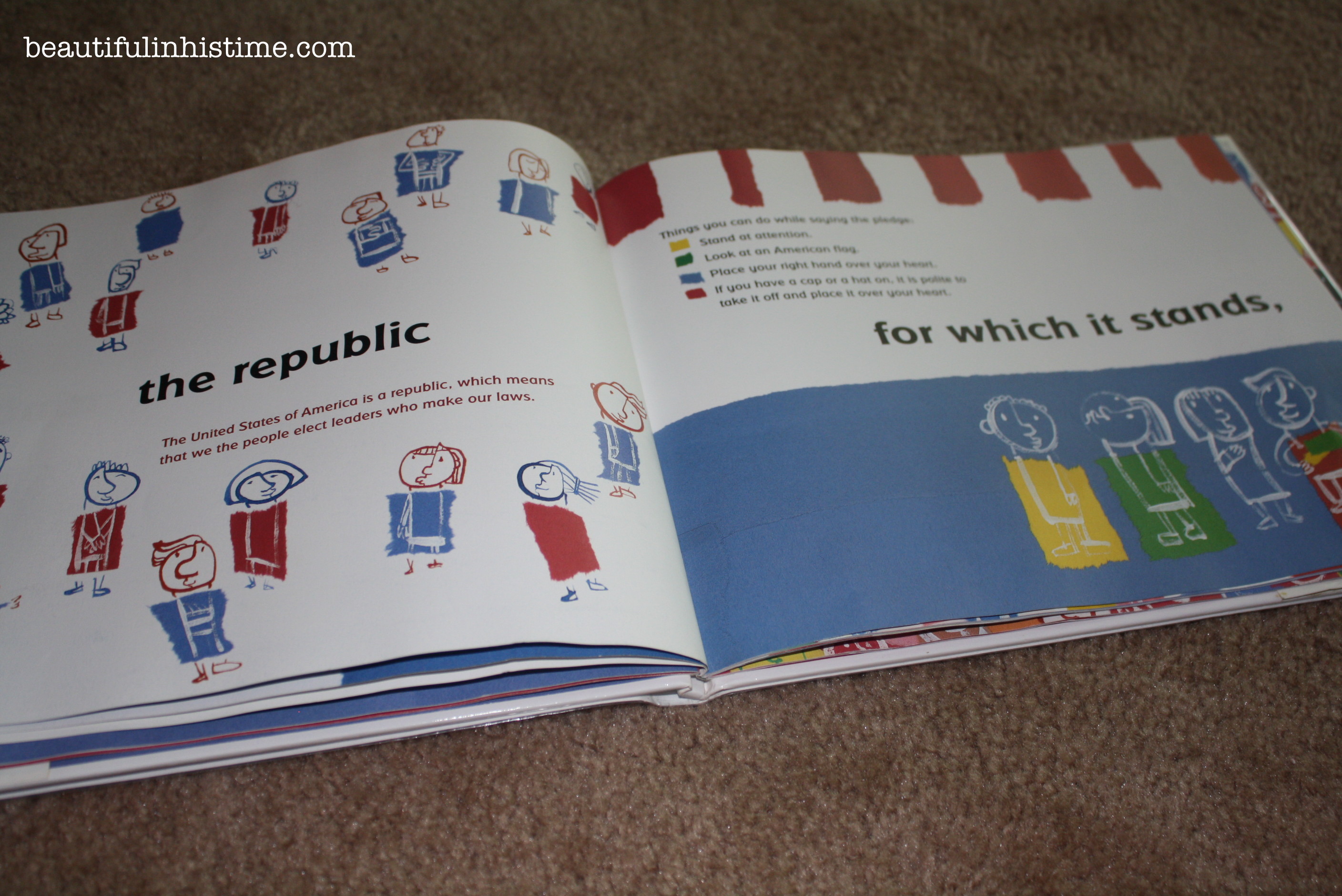 We also got this God Bless the USA CD at the library and put it on repeat during Ezra's naptime/quiettime. It had the Pledge of Allegiance on it which I think helped reinforce the pledge in Ezra's memory.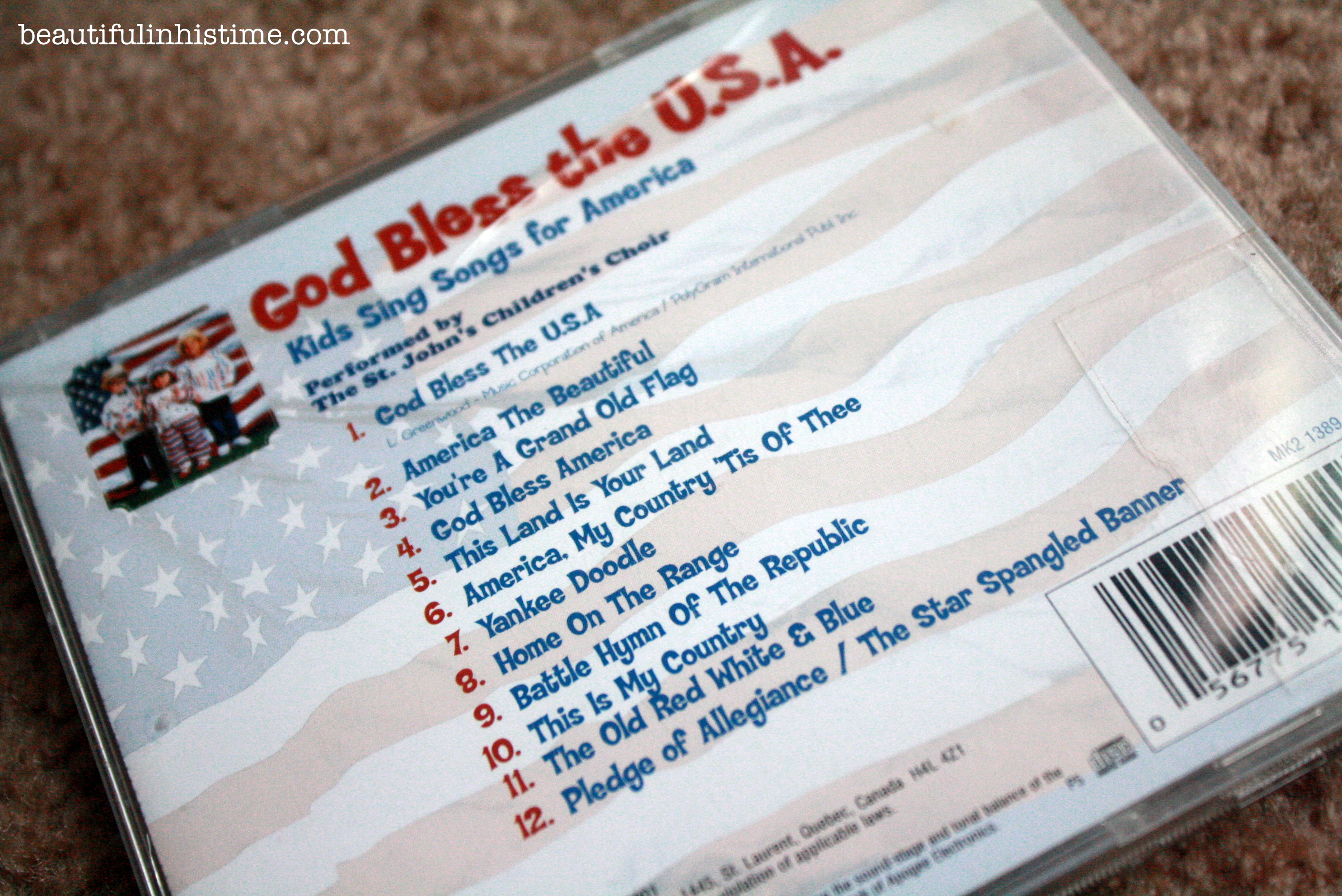 We made star-shaped red and blue jello blocks, following the directions on the box: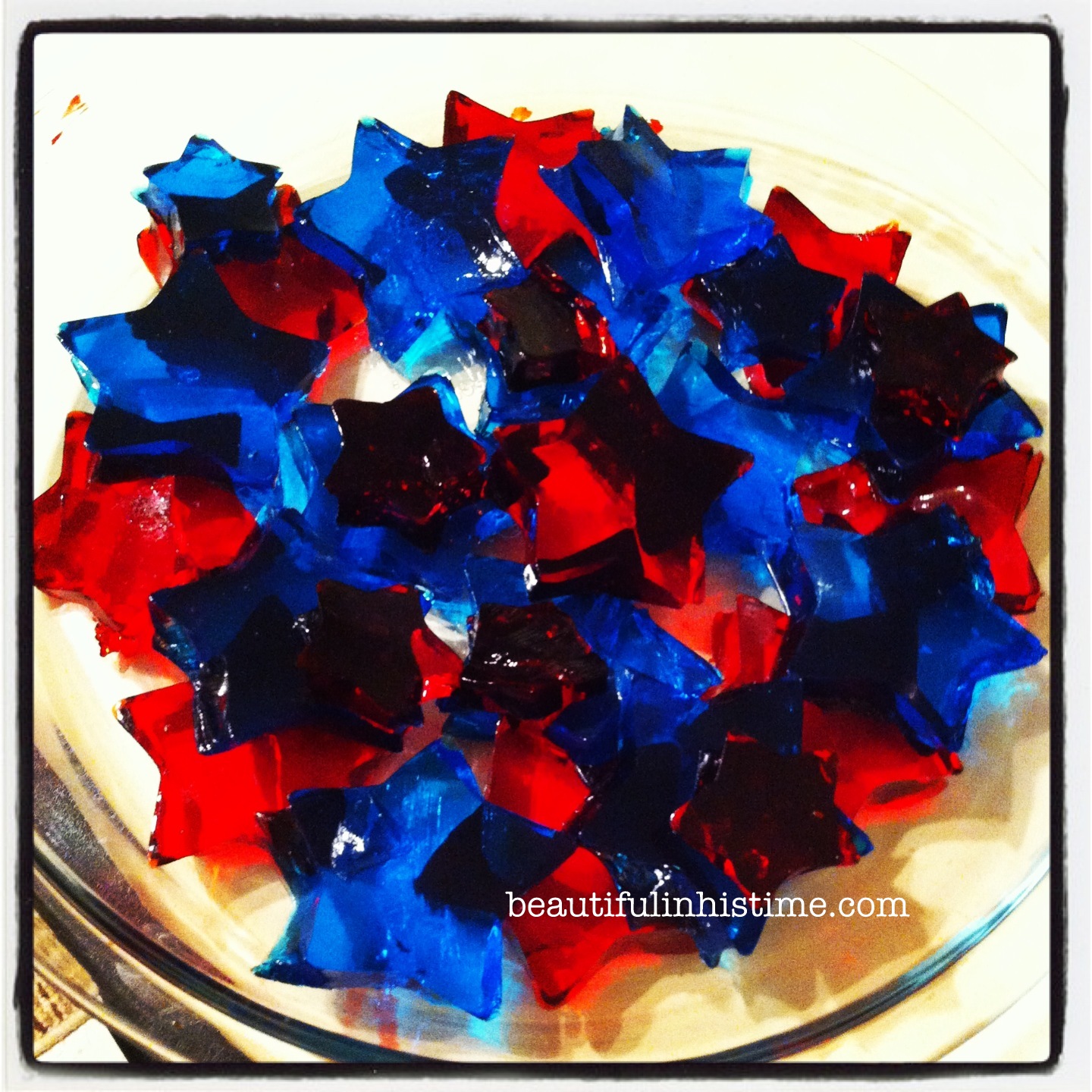 Ezra was definitely a fan!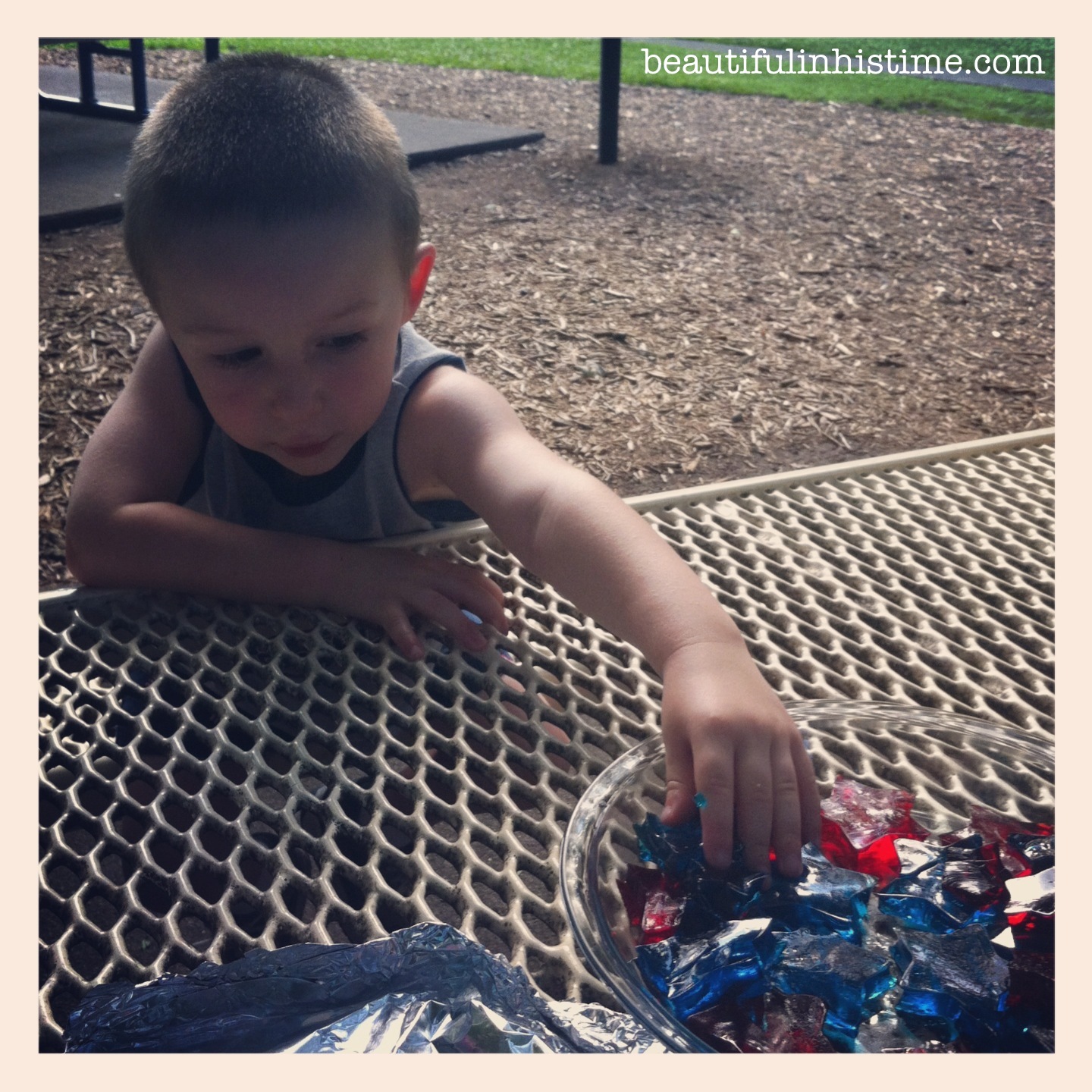 We had two different sensory baths. For the first, I filled the tub with red, white, and blue glow sticks and cherry-scented red water balloons from the dollar store. (It was a lights-out bath, so I didn't bother taking any pictures.) For the second sensory bath I froze red and blue star-shaped ice cubes (water died with food-coloring), frozen ahead of time, then added that to a simple bubble bath with as many red, white, and blue toys (and a few other colors that got thrown in there!) as I could scrounge up from around the house.
[For some more great sensory bath ideas, head on over to Growing a Jeweled Rose and read her post about 4th of July Bath Fun!]
We did this Patriotic Sensory Bin and Color Sorting Activity: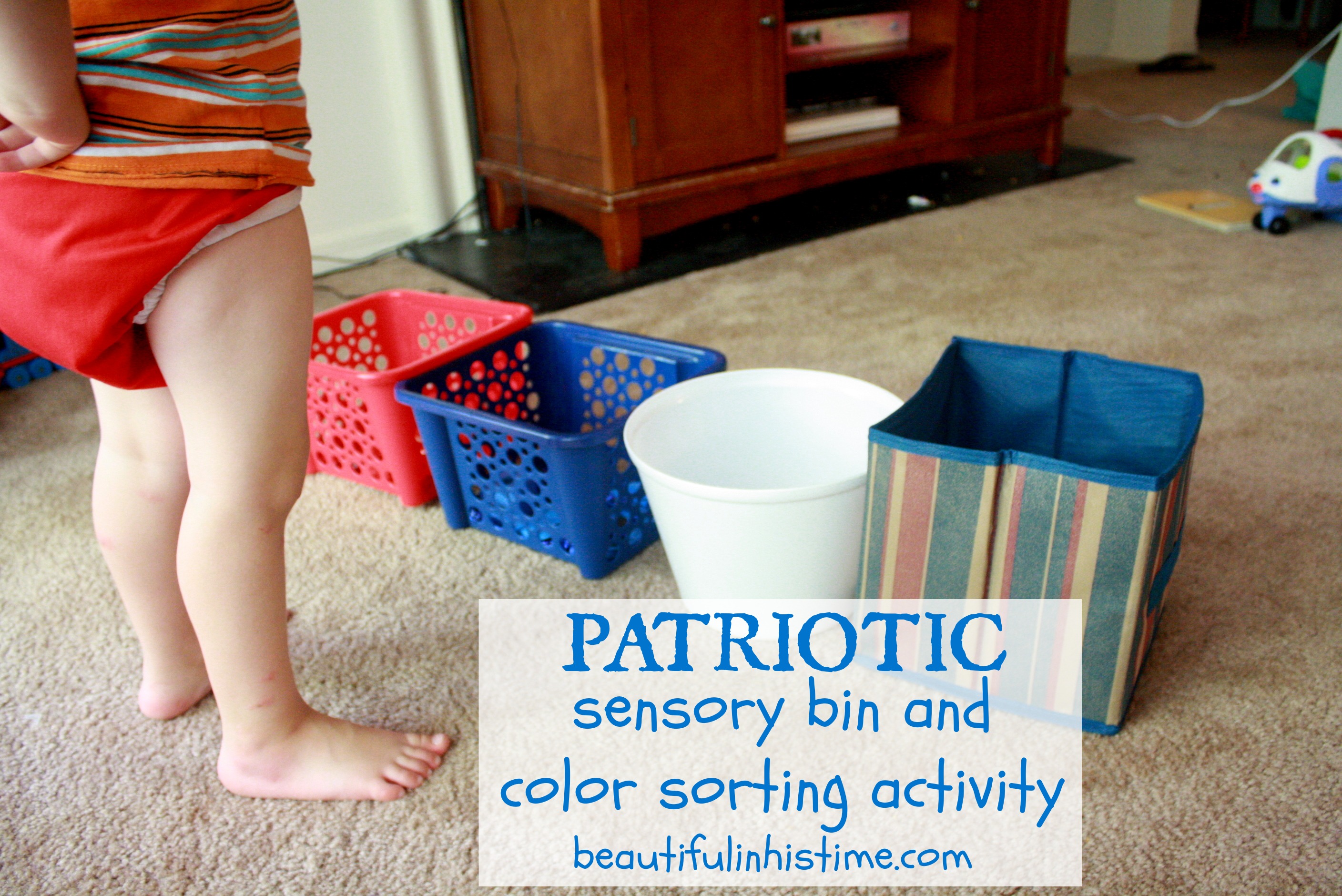 And now for all of the educational resources we used:
I absolutely LOVED this U is for USA Mommy School Packet from Oopsey Daisy! Her pack had so much more than just printables, and her printables were so unique! She included craft ideas, activity ideas (such as having a birthday party for America!), a book list, food ideas, finger plays and patriotic ditties to sing, and more!
Alphabet letters for letter identification and letter sounds: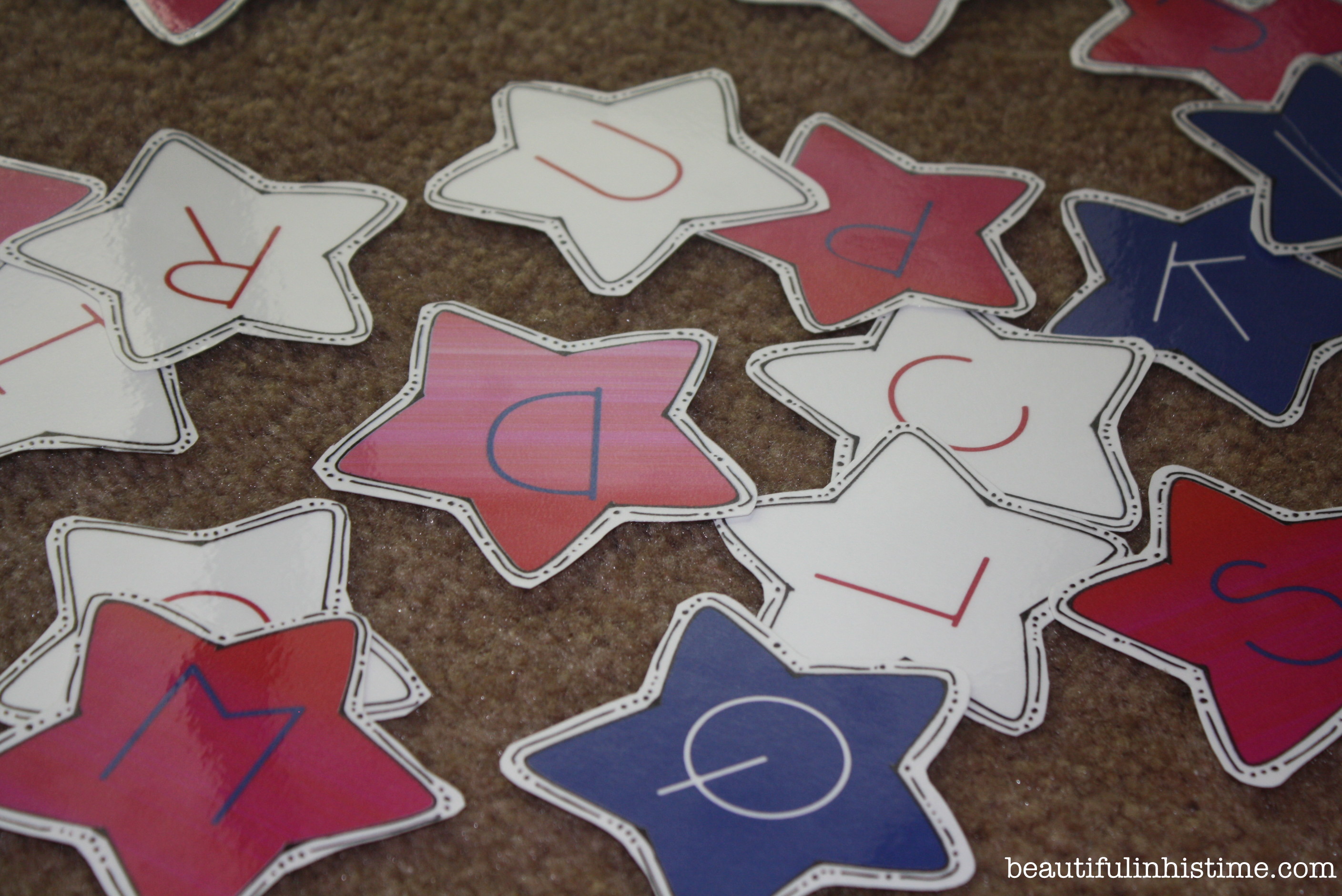 American Symbols flashcards that we used to teach about America's history and play a match game: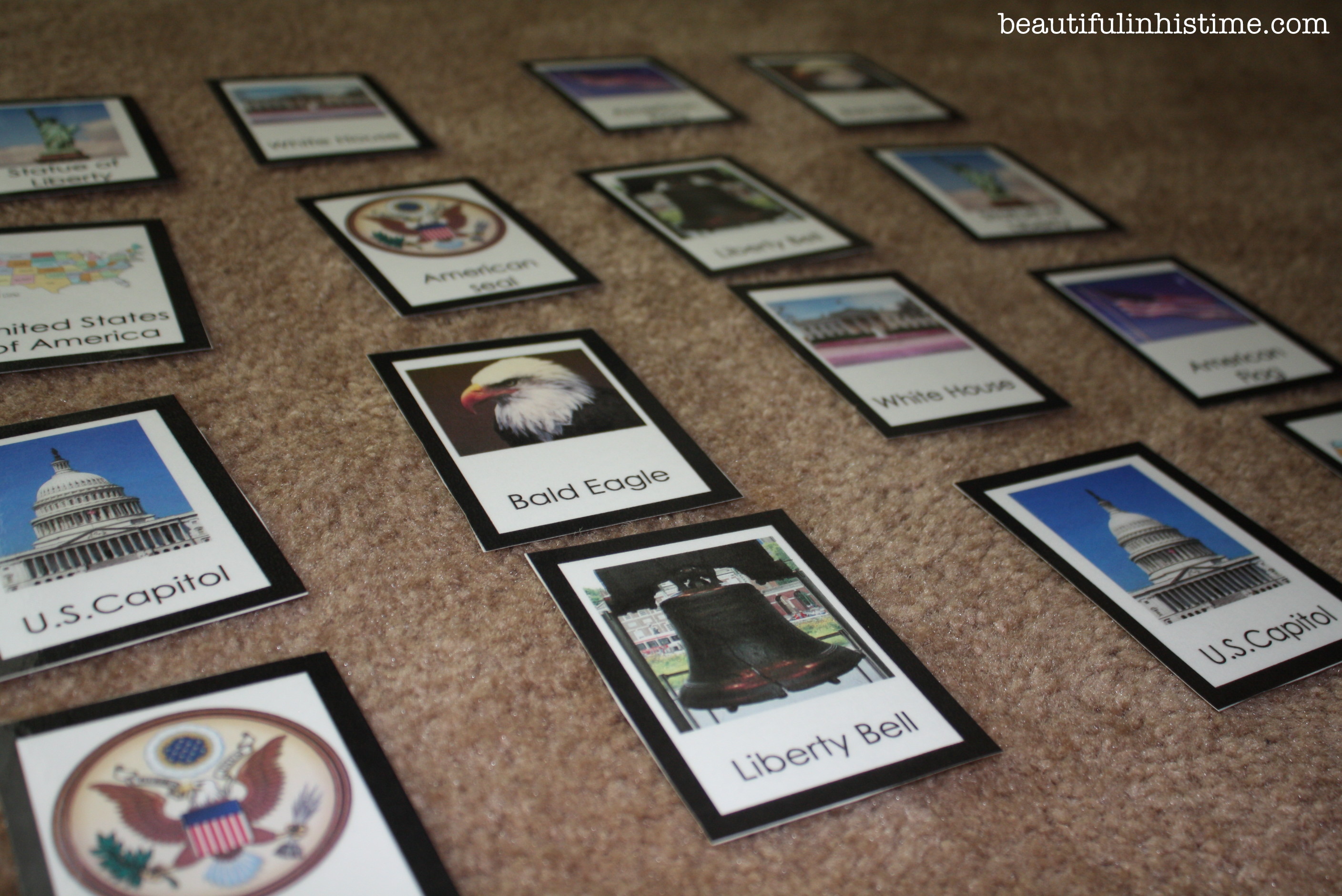 And these I LOVED – ACTION CARDS! (Although I misplaced half of them and found them buried on the hutch a week later! Boo!) Some of the other actions were "March like a soldier" and "Hold your torch like the Statue of Liberty." I love having active but educational things for Ezra to do!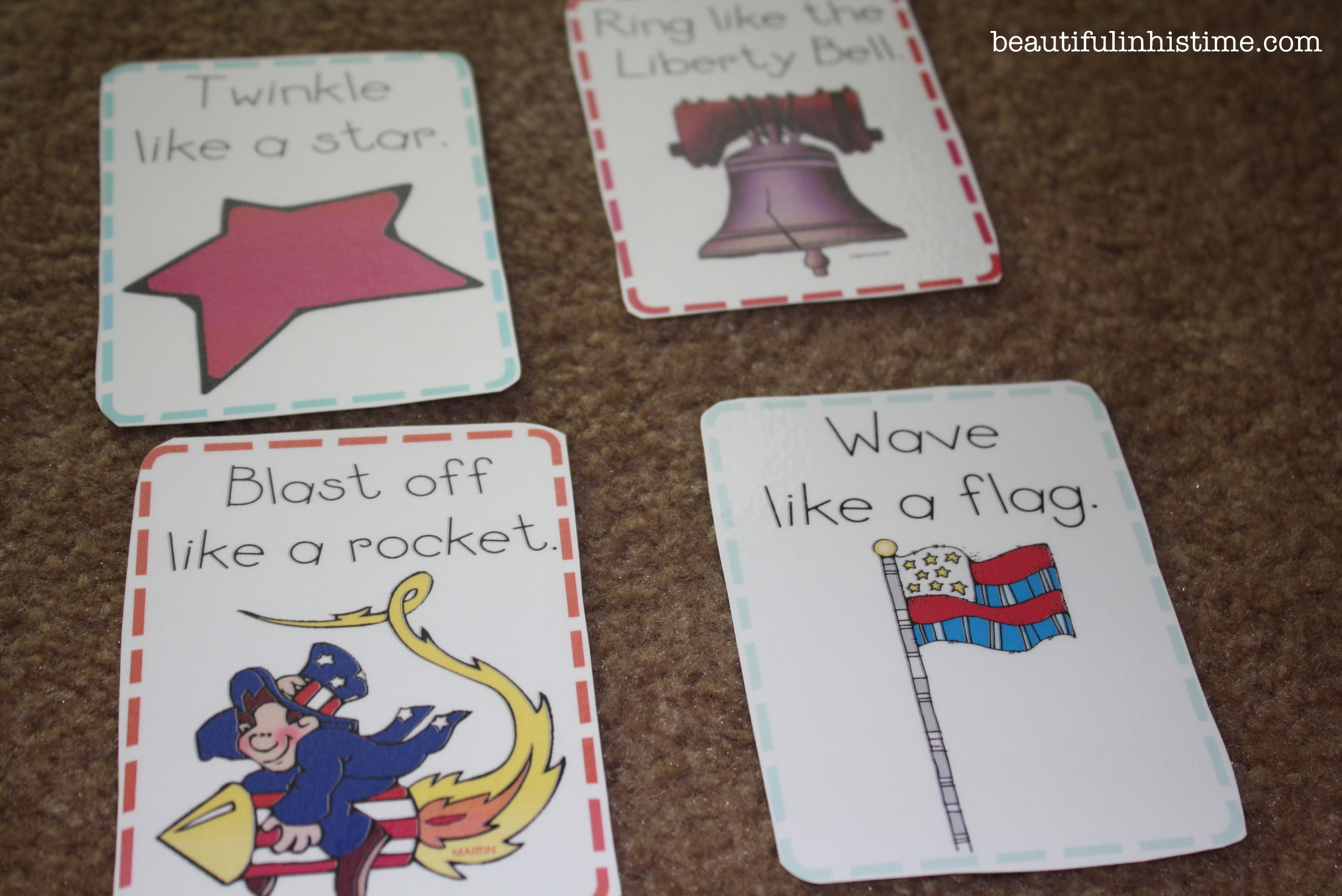 We used a lot of material from this 4th of July Pre-K Pack and 4th of July Pre-K Pack Expansion from Over the Big Moon:
Memory Game: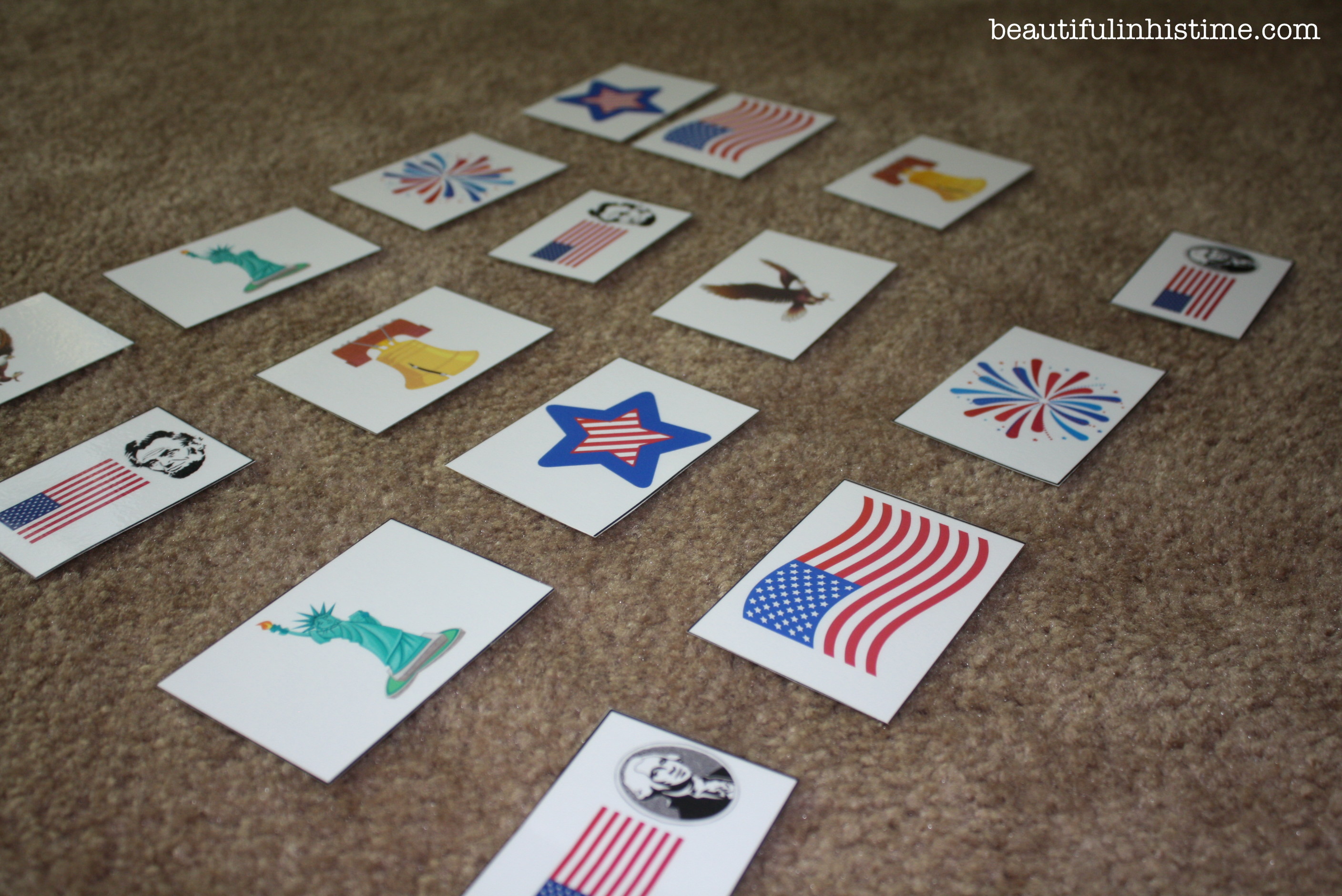 At least one of these dot pages came from that pack: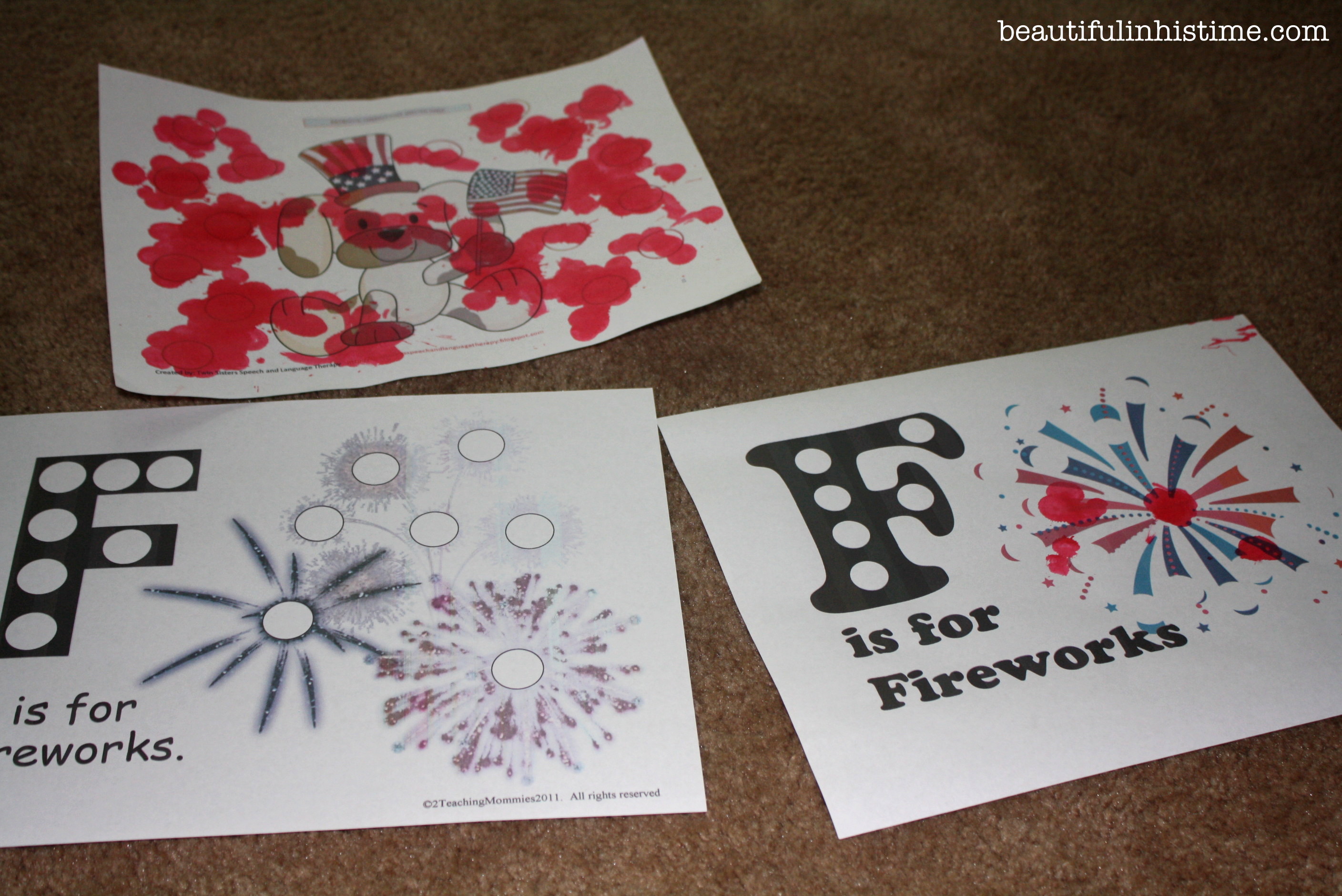 For this dot page from the Pre-K Pack Expansion, instead of using dot markers we used washable paint and q-tips, an idea I grabbed from Leigh Ann at Intentional Homeschool. Ezra had the most fun mixing the colors to make purple…oh well.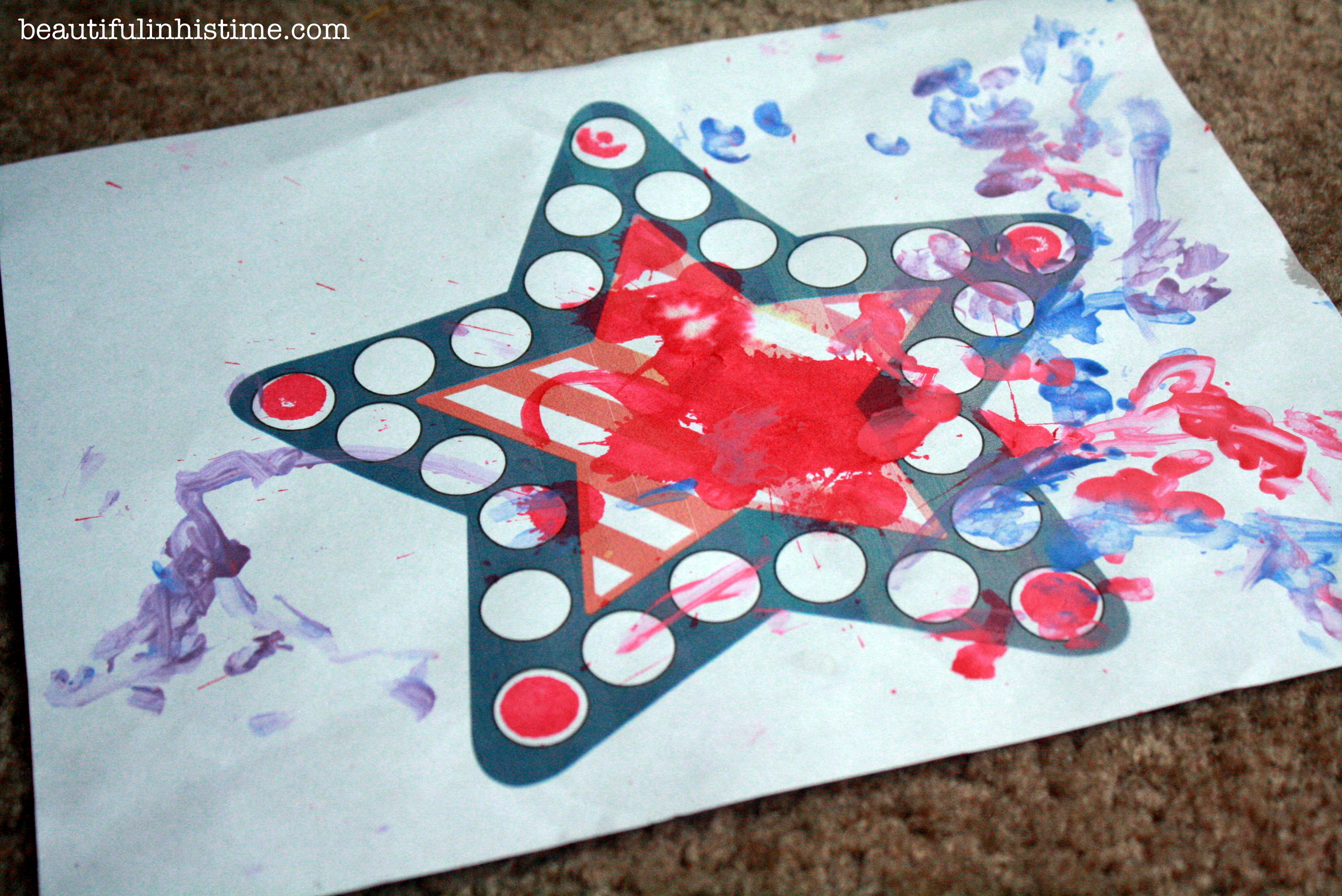 [Additional 4th-of-July themed dot pages can be found here at Free Homeschool Deals via 3 Dinosaurs.]
We used this 4th of July Preschool Unit from 2 Teaching Mommies, which included dot pages, letter sound clip cards, and a lot of prewriting practice sheets!
We used these flag count cards from Preschool Powol Packets (downloaded via teachersnotebook.com) to make a number train, teaching number order 1-10. We also grabbed the Lincoln and Washington cards from the set and added them to some other graphics for the memory game shown above.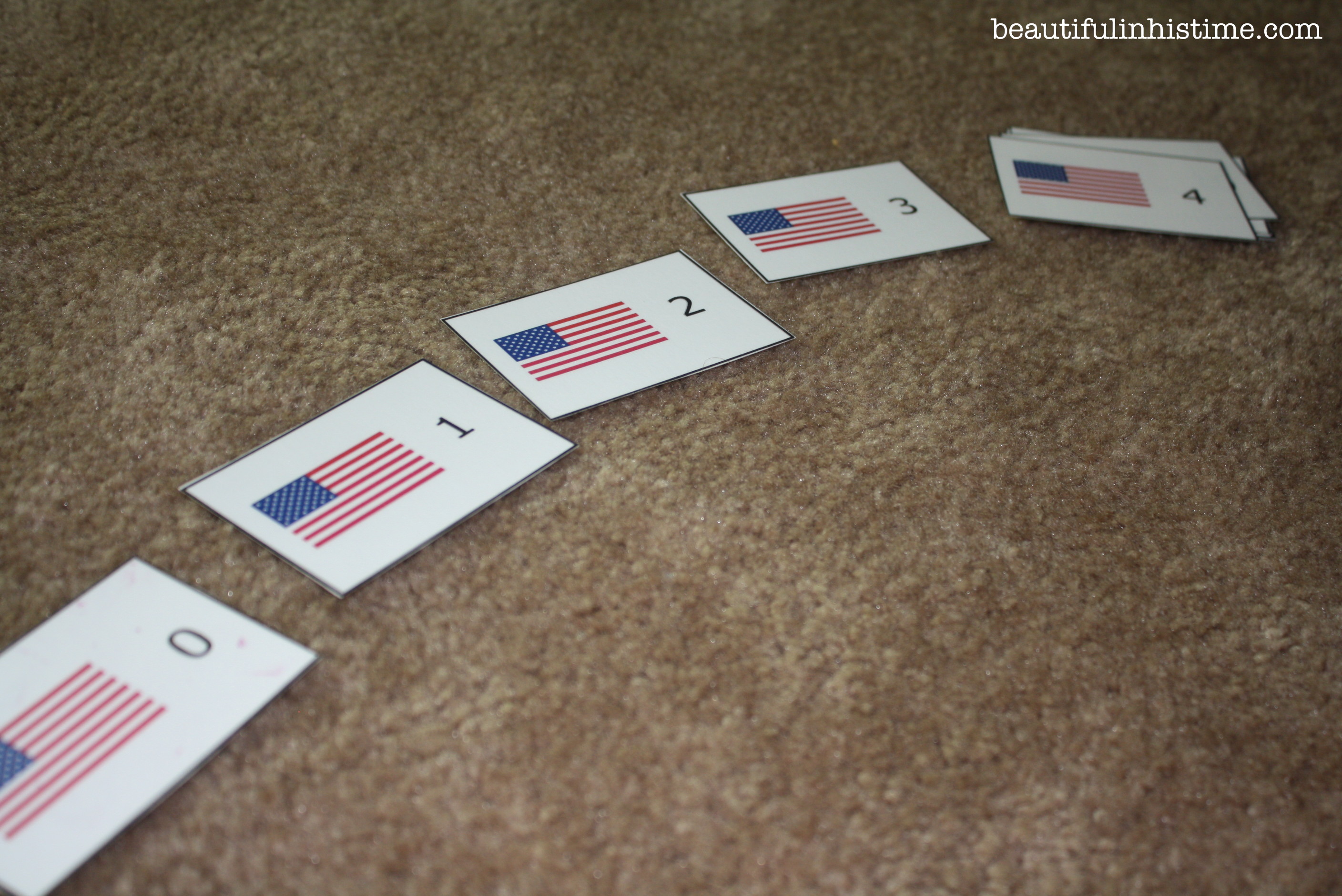 And then, my personal favorite, this set of Patriotic Pronouns and Prepositions from Twin Sisters Speech & Language Therapy! I honestly never thought to teach pronouns and prepositions to Ezra until I saw this! It really goes a step beyond what most preschool packs offer, and Ezra loved it. He memorized all of the prepositions almost immediately, but struggled with the pronouns, which I thought was fascinating.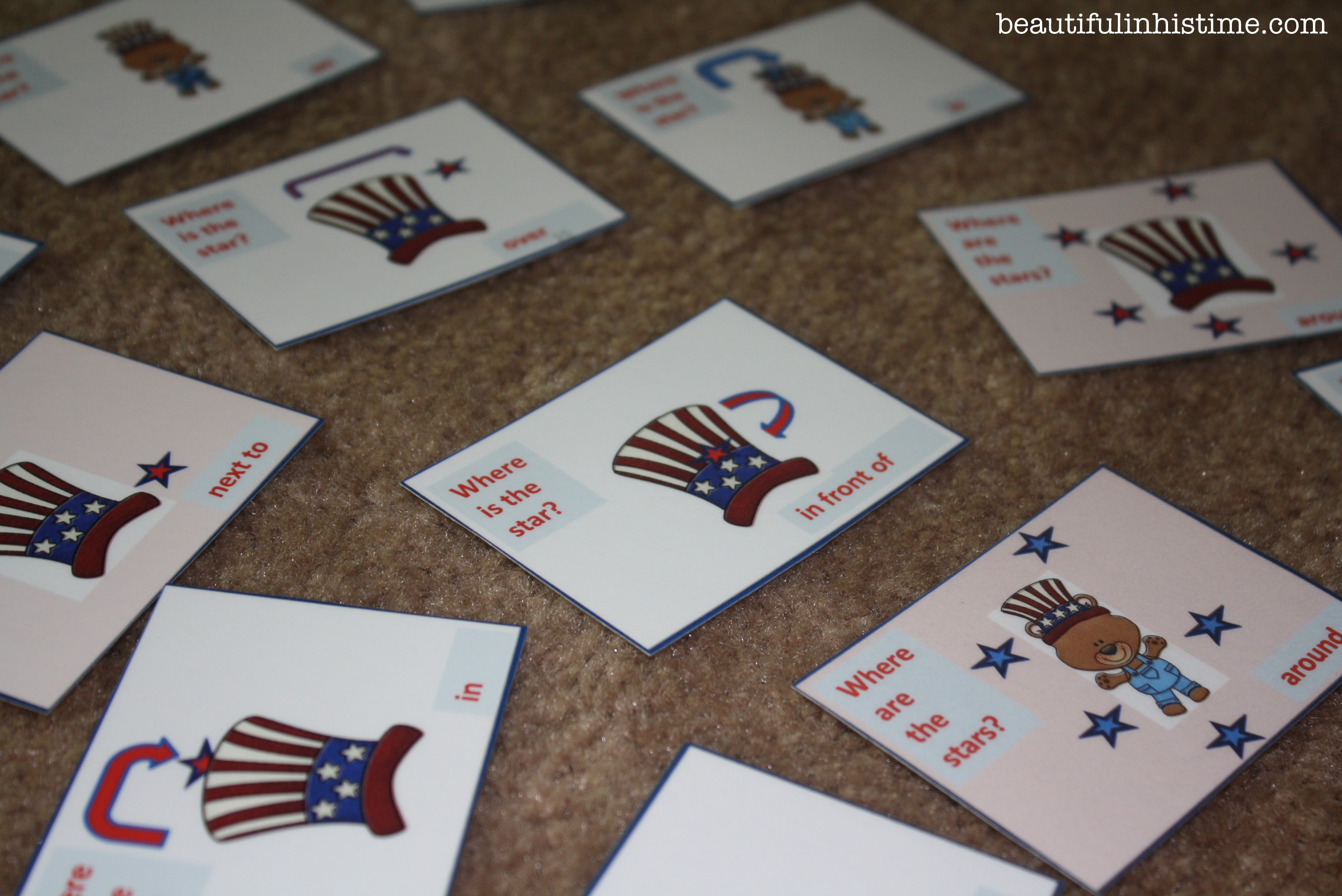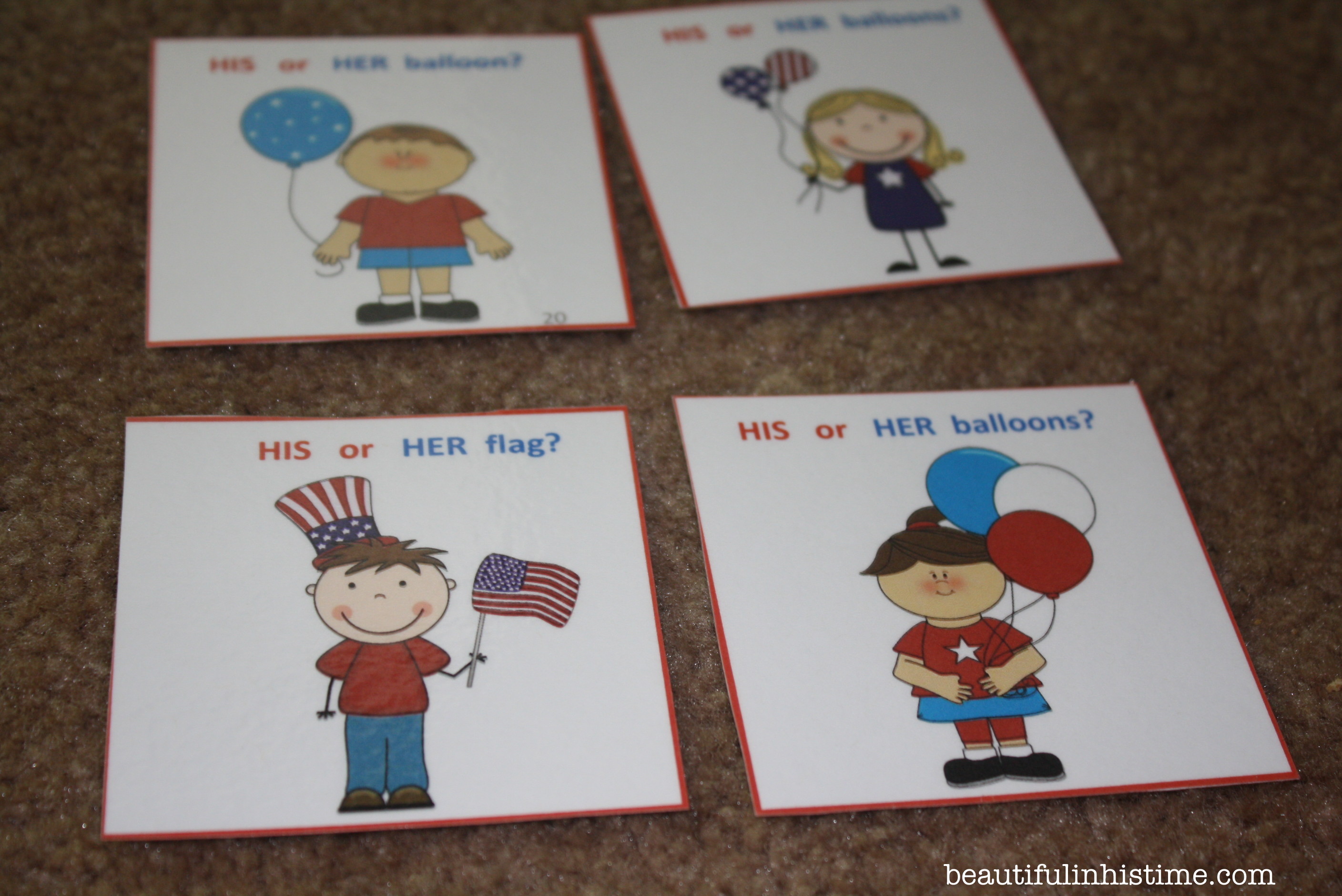 [Additional 4th of July Packs can be found here at Our Country Road and Little Adventure's Preschool. I downloaded these but didn't actually use them material because I already had so much printed, and a lot of it was repetitious to what I already had, but they are both great packs with super-cute graphics!]
It wasn't all work and no play. We also took Ezra to a Preschool Parade (which I thought was a FABULOUS idea!). I know not every town offers this, but if you got enough preschoolers together you could probably put one on yourself!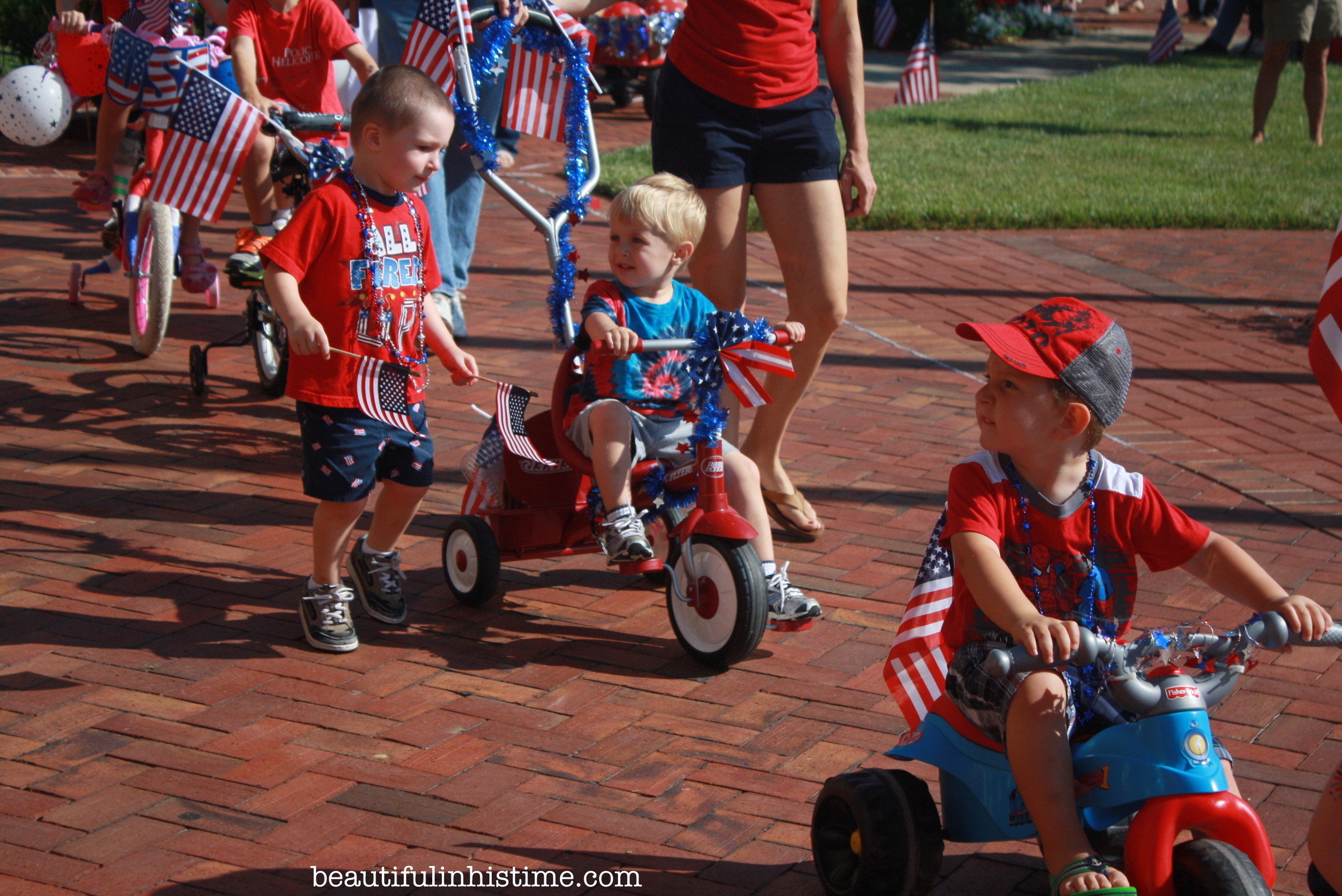 And we took Ezra to a traditional 4th of July parade: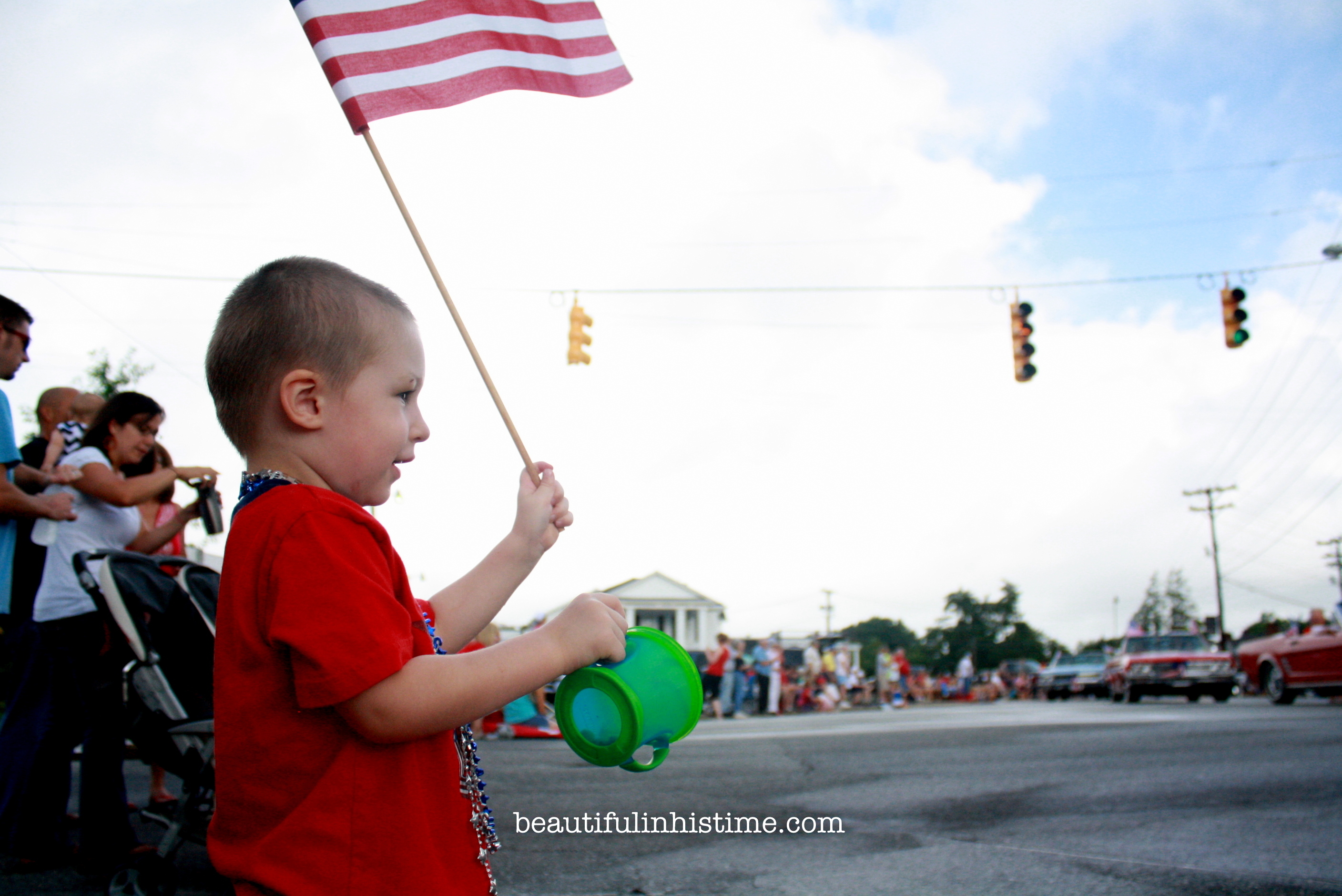 Then, we went out big with a birthday party for America, complete with cake, candles, balloons, and FIREWORKS!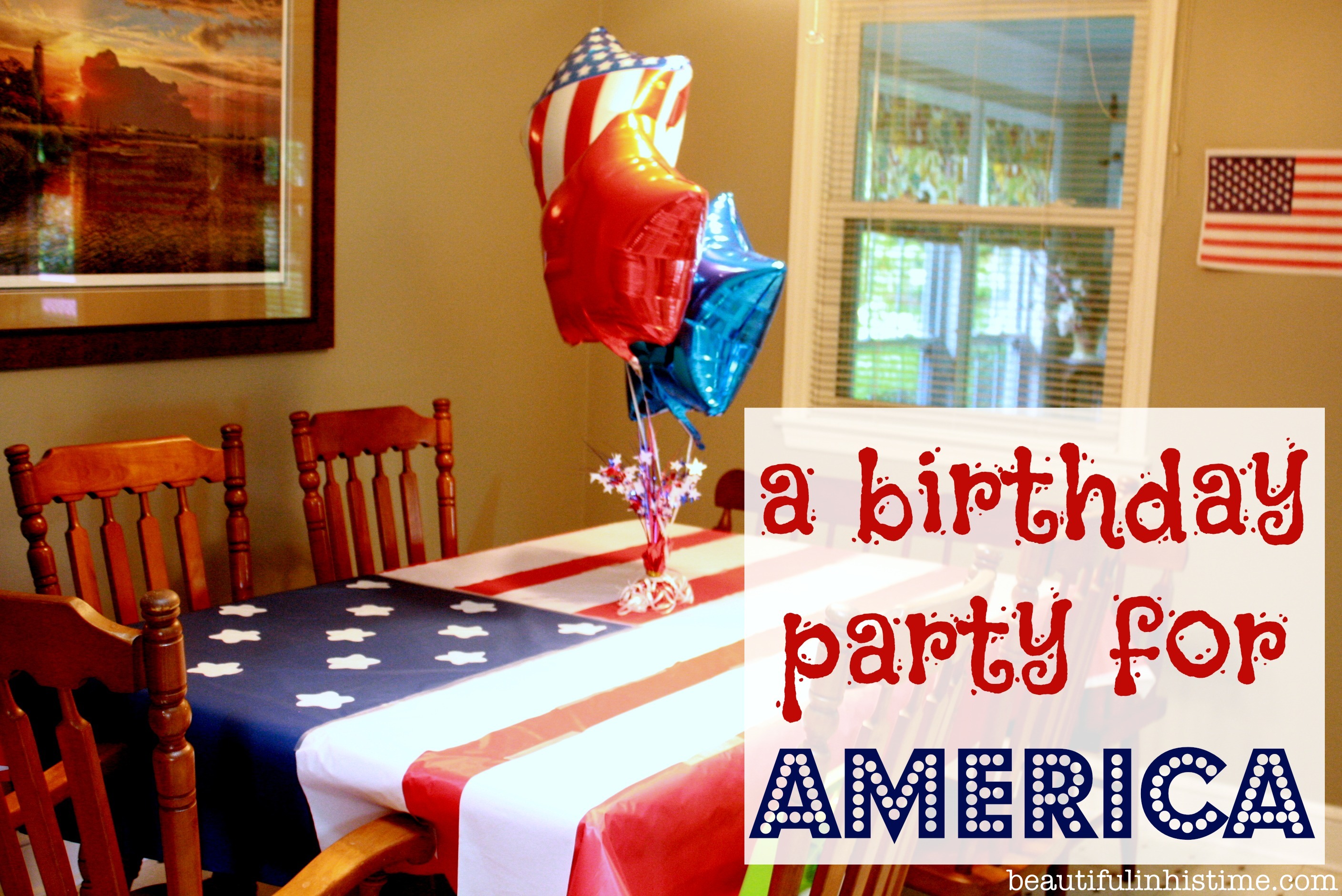 We seriously had SUCH a fun time celebrating America's birthday! I hope you did too!
Did you do anything patriotic for your preschooler? Do you know of any other resources or preschool packs that I've missed? Please share in the comments!