10 things my Allume roomies should know about me
Beautiful in His Time is a participant in multiple affiliate marketing programs. The author of this blog may receive commission for purchases or clicks made through links on this website.
---
In just a little under two months from now, I am going to be attending my first ever blogging conference, known as Allume! Here is just a short little blip about what Allume is and what the conference is all about:
"Our goal at Allume is to minister to the woman, the blogger, the story teller. We want to love well, encourage, and spur women on to shine the Light that lives within them. We want to serve you in ways that cultivate the Light of Christ in you, help you expand your influence, use your influence well (in your home, your community, or around the world) and encourage you with stories of those who are living out that Light."
Between now and Allume, I am going to be doing 2 things:
1) Taking an extended blogging sabbatical. Working on my most recent blog series really took a lot of time and emotion. Now, I need some time to focus on my family, rest, breathe, and prepare for what God wants to do at Allume. I will probably still post occasionally during the next two months, but there will also be a lot of quiet moments on the blog as well.
2) I am going to do a small series of post about Allume and the preparations I am making for the conference, what my fears, goals, and dreams are for the conference – and anything else conference-related that I may choose to share.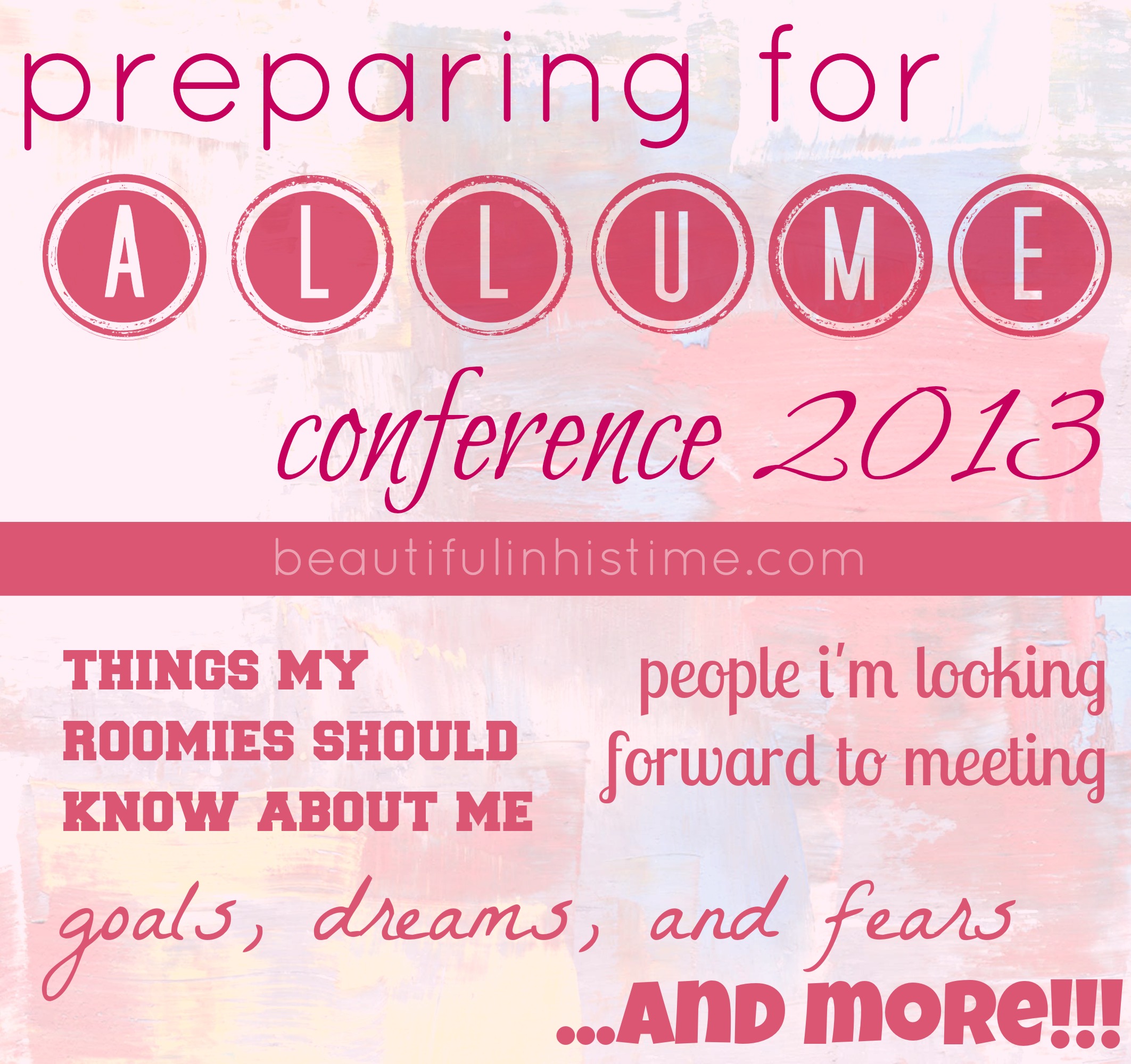 I was going to wait to do this post until much closer to the conference, but I heard that the official Allume website is doing a linkup this weekend for all of these "10 things my roomies should know" posts, so now is the time!
I started planning for Allume about a year ago, "behind the closed doors" of the Facebook private message sections with my dear friend and fellow blogger – Leah. Leah and I have known each other for 10 years now. We met in 2003 when she was my camp counsellor at summer camp at the college we both attended. We haven't seen each other since 2005 and we weren't even really friends until much more recently, united through Facebook and our Blogs. She blogs at Embracing Grace.
Leah and I both began praying about having the opportunity and money to be able to attend and God has worked to answer those prayers. We agreed at that time that if we both could go, we would be roommates!
The conference is being hosted just under three hours from my home and we now live close to family that can help care for Ezra (and his daddy) while I'm gone.
Leah and I both bought our tickets and paid for our hotel room back in the early spring and started planning for the conference, imagining our room as a nice quiet introvert haven.
But then, there was a little bit of a hotel crisis with the conference and those in charge begged and pleaded with those who already had room to "scoot over some" and make room for others in our rooms so that EVERYONE who had a ticket could also have a hotel room!
I felt convicted that, as we did have space for more in our room, we should help out, but I was nervous to ask Leah, as I know she and I were both looking forward to having a very quiet space. Finally, I broached the subject with her and she shared that she had been thinking the same thing but was afraid to ask me! Sooo glad that we were on the same wavelength!
We "scooted over" and offered to host two more girls in our room and God has brought some AMAZING girls to fill those spots: Whitney from Beauty in the Mess, who not only shares my passions for finding beauty in the mess, but also happens to live less than an hour from me; and Jamie from Brown Paper and Strings, a fellow recovering people-pleaser who loves the Sound of Music and happens to share my passion for grace!
I couldn't be happier for God's choices in bringing this room together the way it has. I think that we will all get along well and have a great connection with each other while we are at the conference.
Now, it's time to share the 10 things that I feel Leah, Whitney, and Jamie need to know about me to survive four days in a hotel with me:
1) I fidget a lot, especially when I'm falling asleep. I also often get up once or even twice after I've gone to bed to use the bathroom or drink some water. Once I'm asleep, though, I normally don't move around too much.
2) I don't snore, but I do randomly have night terrors where I wake up screaming and terrified of I-have-no-idea-what. I shake it off, feel silly, and go right back to sleep – and many times I barely even remember the next morning that it even happened. It only happens a few times a month, but it's worth mentioning in the off chance that it does happen at Allume. There's nothing that you all need to do, other than know that I'm okay. You don't have to try to comfort me or get me anything. If I wake up screaming, chances are that I'll be back out in about two minutes and won't even remember the incident in the morning.
3) I'm fairly low-maintenance when it comes to getting ready, and I'm not a bathroom hog. Aside from brushing my teeth and showering, I don't need to use the bathroom to get ready and can do everything sitting on my bed with a handheld mirror stuck between my knees (a skill I mastered in college). I do, however, take slightly longer than normal showers because my hair is so long, but still shower as quickly as possible, especially when I know I have to share the water supply.
4) I'm definitely an introvert, so may get overwhelmed from time to time. I have to say though, that last year I attended a conference with over 1300 women in attendance and only freaked out a few times, so I'm honestly not that worried about getting overwhelmed at Allume. I may need some quiet time and moments to myself, but I also crave kid-free-girl-time, so it's far more likely that I will talk your ear off than ask you to go away. If I need to stop talking, just tell me. Seriously.
5) While I know that chocolate and coffee are conference staples, and recommended to bring for your roommates, and yes, I LOVE them – my heart is highly sensitive to caffeine. I drink strictly decaf coffee and have to keep chocolate in VERY limited quantities. So, if I turn you down on sharing your MnM stash, it's not personal. (It's actually torture… lol – no really, you feel free to enjoy your chocolate all to yourself.)
6) I have a plethora of food allergies and sensitivities and am on a very specialized diet. (If you really want to know, I can't have any grains, especially wheat, corn – and I avoid products with corn syrup, tomato, and soy.) A lot of people who know about my allergies get confused and try to oh-so-wonderfully-kindly give me or even make for me gluten free products thinking that I'm simply gluten-free, and I feel terrible to have to tell them that I can't even eat what they've gone out of their way to make for me. I'll be bringing a huge stash of my own snacks and just praying that the conference meals will have enough options that I don't starve.
**Just as a quick note about #5 and #6. It is so so SOOOO tempting when I get around girlfriends and am having "me time" to want to cheat on my diet. I tried that at the conference I attended last year and I ended up getting VERY sick on the way home. Thankfully I didn't miss any of the conference happenings because of it, but I was still very miserable and got home a few hours later than I should have because I was so sick. So, if you see that look in my eyes where I'm about to eat something I know I shouldn't, please don't let me. It's not worth it.
7) I'm not really a morning person and don't really feel awake until about 10am. But, since I will not be having to deal with poopy diapers, wound-up-almost-3-year-olds-jumping-on-me, or making sandwiches or eggs at 6am, the morning version of me that you get will probably be a lot less grouchy than the version my husband and child get on a daily basis. Don't worry, I won't growl if you look at me or talk to me.
8) I am bringing a smartphone to the conference, but it's in two phones. I have the "smart" iPhone that is no longer a phone – but rather works like a mini-iPad. It can only connect to the internet when there is wifi, so if there is no wifi, you won't see me doing any Tweeting or Instagramming at the conference and I will be one sad girl. Then I have an actual phone, a flip phone cell phone, and I do have texting. So no, you aren't seeing things, I actually am toting around two phones.
9) Just in case you were wondering, my name isn't pronounced that differently. My mom emphasizes the "ill" sound rather than an "ull" sound, but it's so slight that most people can't hear a difference. Say it like the month and I'll answer.
10) I think that the person I portray on my blog is pretty true to who I am in real life, but perhaps slightly more polished. I'm sort of a mess in real life and often say things awkwardly and then realize "Wow, that came out totally wrong!" But I'm transparent and real, what you see is what you get. I don't mind answering questions about my life, so don't feel awkward about asking me anything – whether it's online via email or Facebook or in person once we get there.
If you want to know more about me, make sure to check out the "About" section here on the blog, and if you are really adventurous you can also read 26 things you probably didn't know about me! I've also included a video introduction below – nothing important, pretty much just saying Hi to everyone!
I look forward to meeting you, my wonderful roomies, in October, as well as so many other people I can't wait to finally meet and hug in person!