My French Onion Soup Recipe (-ish)
Beautiful in His Time is a participant in multiple affiliate marketing programs. The author of this blog may receive commission for purchases or clicks made through links on this website.
---
French onion soup is one of my all-time favorite comfort foods! It's warm and simple. Easy and inexpensive to make. Light but still somehow filling. And it's FULL of health benefits!
I'm always surprised at how many people I run into that haven't had it or have never tried to make it. It really is so easy.
I honestly don't remember ever even learning how to make it. I am going to assume it's something that my mom taught me and I just don't remember – because I know she made it several times when I was growing up and I ALWAYS loved it! Once I got married and my husband deployed, I ended up making it all. the. time. as an easy single-serve meal for me to eat.
Once I had to revamp my diet and eliminate grains, I became even more thankful that I could still eat french onion soup and now make a big pot of it several times a month!
I never really use a recipe. Therefore, this post is a little informal as far as measurements and such. But let me assure you, it's really hard to mess up.
What you'll need:
Onions. It doesn't matter what kind, but different onions do have slightly different flavors. I've used every imaginable kind, and I still can't pick a favorite. 
Butter 
Garlic or garlic powder (if you have it. I've made it without plenty of times but definitely prefer it with.) 
Beef broth, beef stock, or water and beef bouillon
Worchestershire sauce
Pepper
Cheese of choice
For this batch, I raided the cupboard and pulled out whatever onions I had left:
Your quantities for the rest of the ingredients will depend on how many onions you start with and how big they are. Just estimate and go by what looks good. For this batch of 4 medium sized onions, I used 1 stick of butter.
Slice the onions and garlic and cook them on low-medium heat with the butter, stirring every few minutes: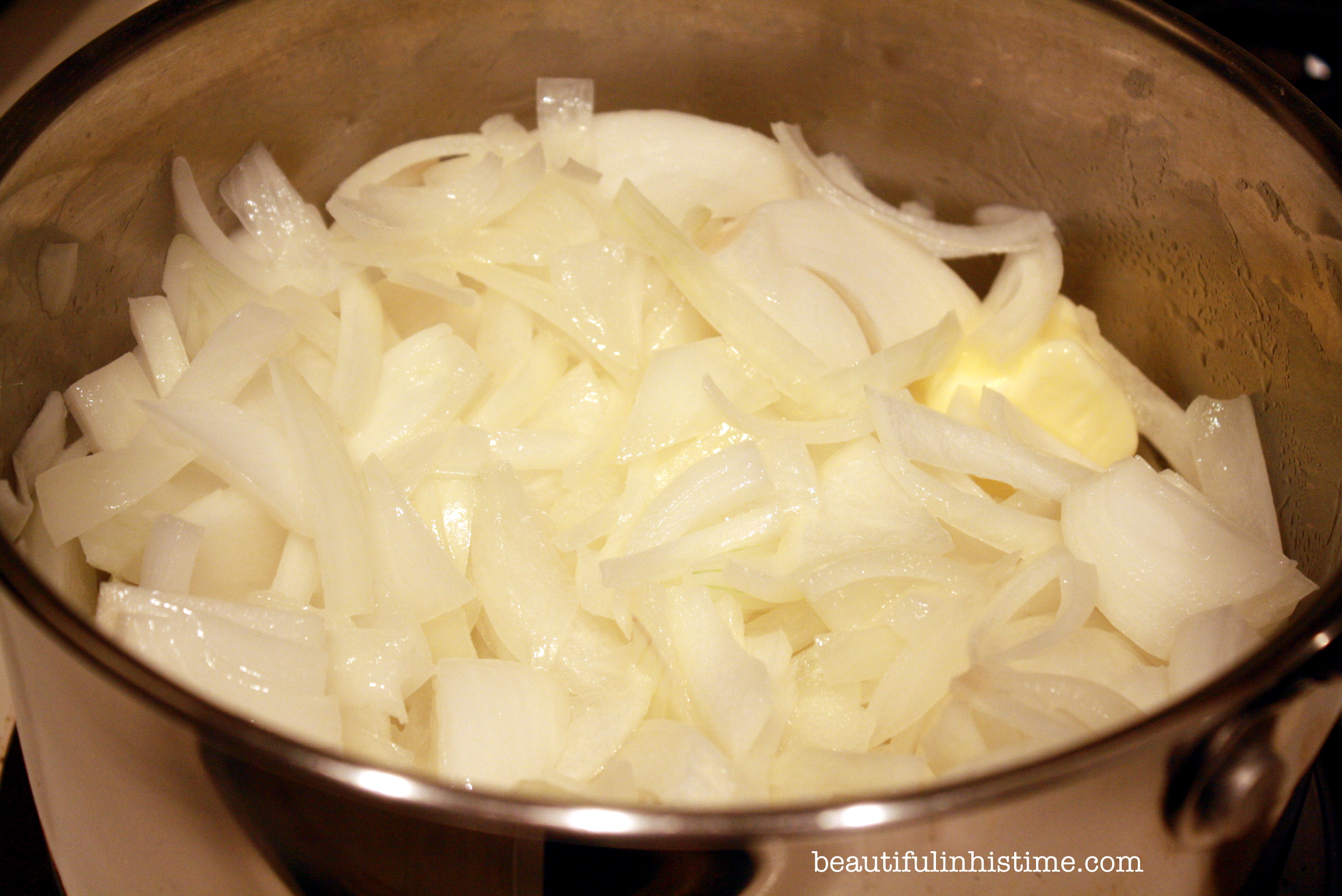 The longer you cook the onions the more flavor they will have. If they stick a little (or even start to brown or burn), it gives it a nice brown flavor. I had been making onion soup for years before discovering that this process is actually called "caramelizing." If you are in a hurry, it's not the end of the world if the caramelizing gets rushed. I'd say normally I let the onions cook for 20-30 minutes. So yes, it takes a bit of time, but you don't have to stand in front of the stove non-stop. You can work on other things while they are cooking.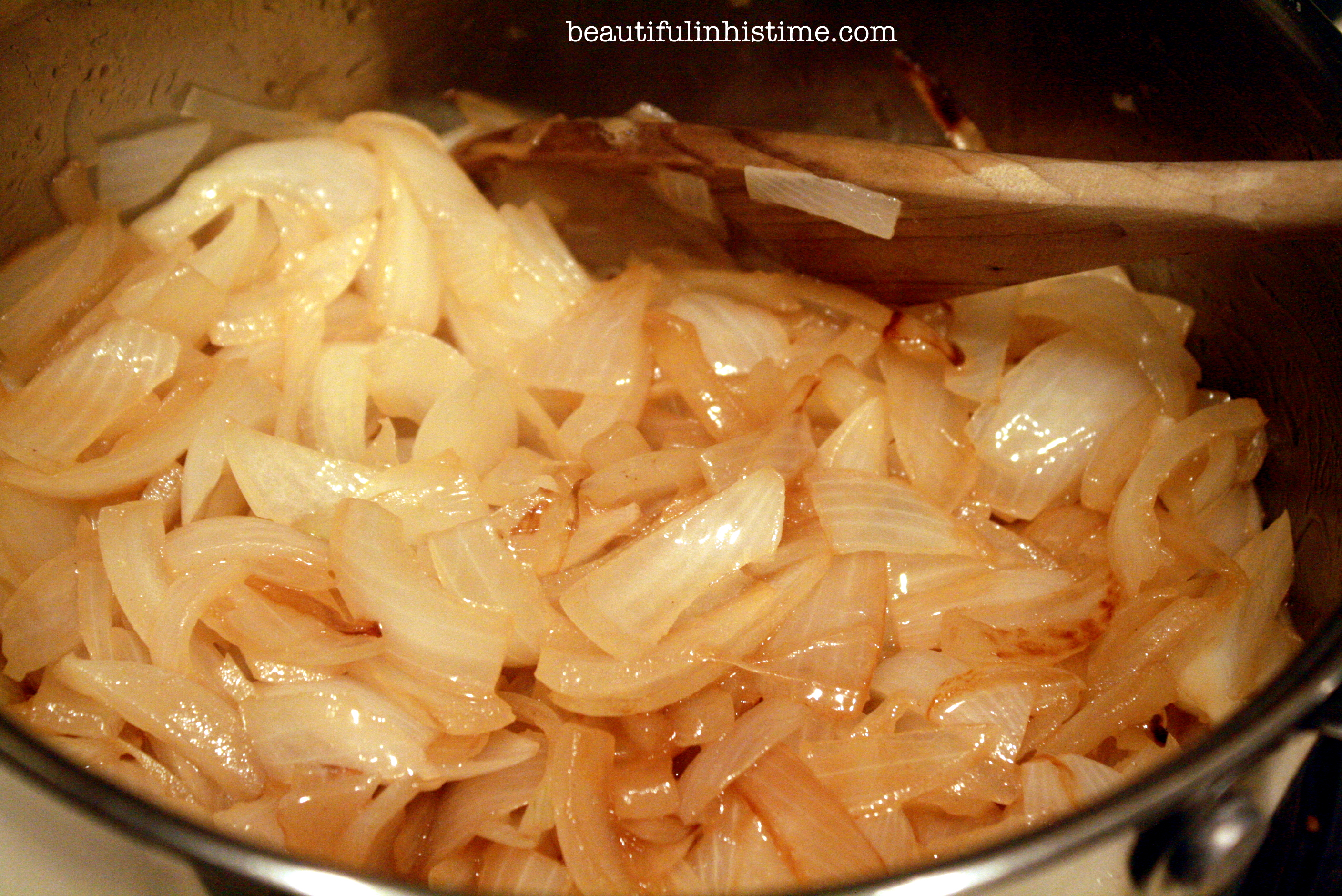 The onions really cook down in the caramelizing process. Don't be alarmed, that's normal!
Add your beef broth or stock. In a pinch I've even used water and beef bouillon cubes. These days, I'm actually making my own homemade beef broth with organic beef bones, which you can actually get for VERY cheap! Homemade bone broth has a TON of other benefits like healing your gut, boosting your immune system, and helping your skin! You can also use whatever is your store-bought beef broth of choice.
For this batch I used my homemade broth – about two Gladware containers full.
Once the broth is added, add your Worcestershire sauce and pepper. I normally don't measure, but this time I used about 2TBSP of the sauce and it was just about perfect. Taste it, if you want more, add it. Let it simmer for a bit, then go ahead and have a bowl!
I usually keep mine on low or warm heat for a few hours to let the flavors mingle even more, but I never wait more than about 10 or 15 minutes to have the first bowl, because I'm impatient like that.
I always add cheese to mine – any white cheese like mozzarella, provolone, or Swiss. Swiss is definitely my favorite! The cheese gets all melty and helps to make the dish just a little bit more filling!
French onion soup lasts in the refrigerator well for several days and tastes better the longer it sits! It freezes amazingly in both big batches and single serve portions (yet another reason I ate so much of it during deployments)!
I hope that you enjoy it as much as I do. (Or not. No one else in my family eats it which means more for me!)