Beautiful in His Time is a participant in multiple affiliate marketing programs. The author of this blog may receive commission for purchases or clicks made through links on this website.
---
I really enjoyed planning Ezra's birthday party this year.
We first found the book Little Blue Truck at the on-post library when we were still at Fort Knox. It was one of those books that Ezra just loved right away. He loved the animal and car sounds and all the catchy rhymes! We would keep the book for WEEKS on end.
[For those of you who have never read the Little Blue Truck, take a few moments to see someone reading it with full-size images from the book here on Vimeo!]
Ezra had the book almost memorized, and we would often catch him reciting it in the backseat of the car, even though we hadn't read the book for a few months! When we moved here to North Carolina, I happened to find the book on sale for $4 at Home Goods, so I picked it up for his birthday.
Around July, I started asking Ezra what he wanted to do for his birthday and what kind of cake he wanted. Out of the blue he said, "A BROWN birthday cake!" and it just stuck. In the months between then and his birthday, whenever I would ask him, the answer never changed.
So my wheels started turning (pun intended). I decided that if he wanted a brown birthday cake, then that would be perfect for a Little Blue Truck cake, in which the dump truck gets stuck in the mud!
While I was looking for Little Blue Truck party ideas on Pinterest, I found a blogger who made her son a Little Blue Truck playset! She beautifully hand-painted a box and filled it with trucks, dump trucks, and farm animals for her son to act out the book. I knew immediately this what what I wanted to do for Ezra's birthday!
I scoured eBay looking for decorations for the cake that could also be used as toys for a Little Blue Truck playset. It took a lot of time and a little more money than I originally wanted to spend, but it was so worth it! I bought a vintage die-cast blue truck, a roughed-up used metal dump truck, two or three sets of play farm animals, and these frog finger puppets. (You know you are a dedicated mom when you spend a whole afternoon looking for a "BIG GREEN TOAD"!!)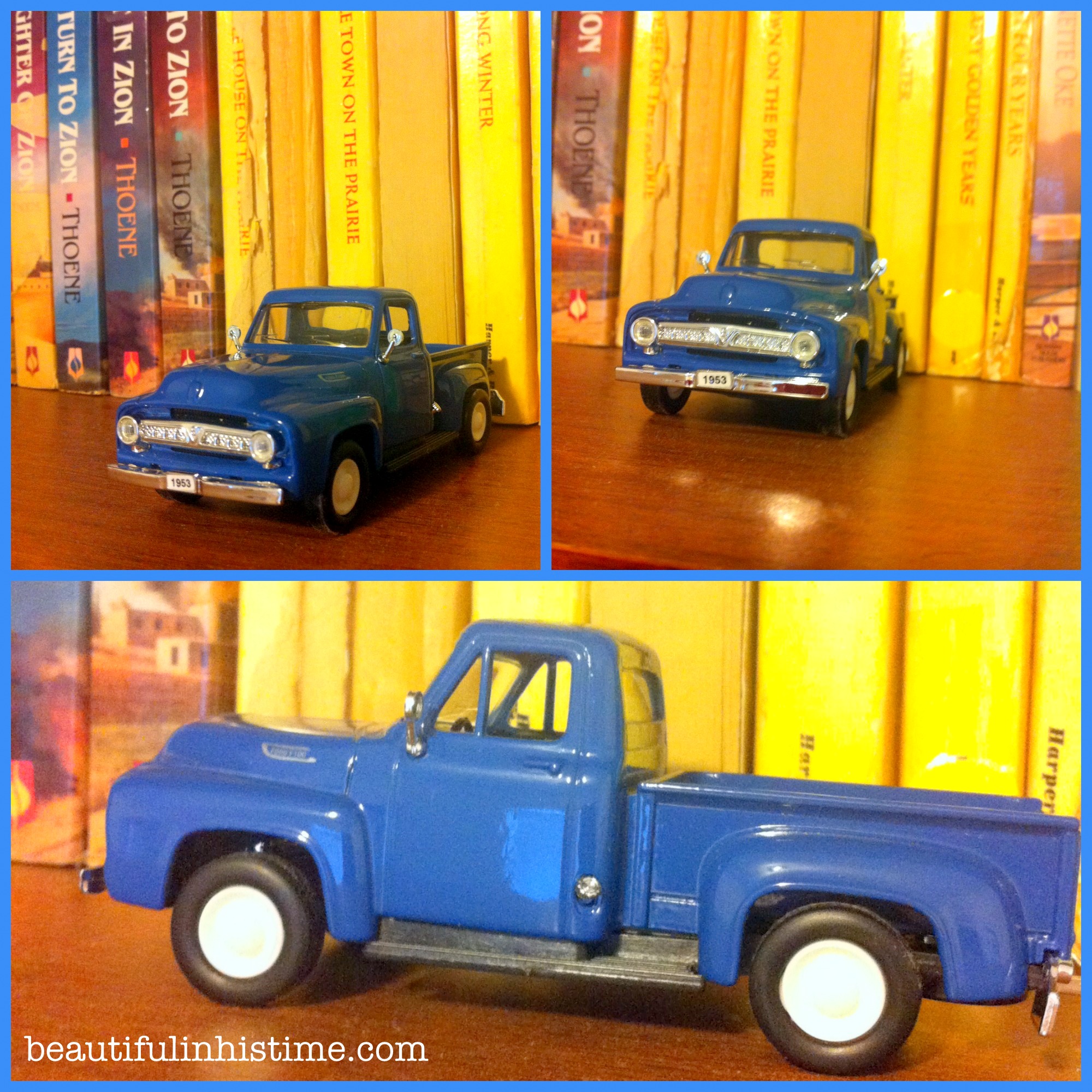 As I am NOT a painter, I decided on decoupage and spray paint for the box:
(PS this is my first decoupage project ever…thank you Youtube!)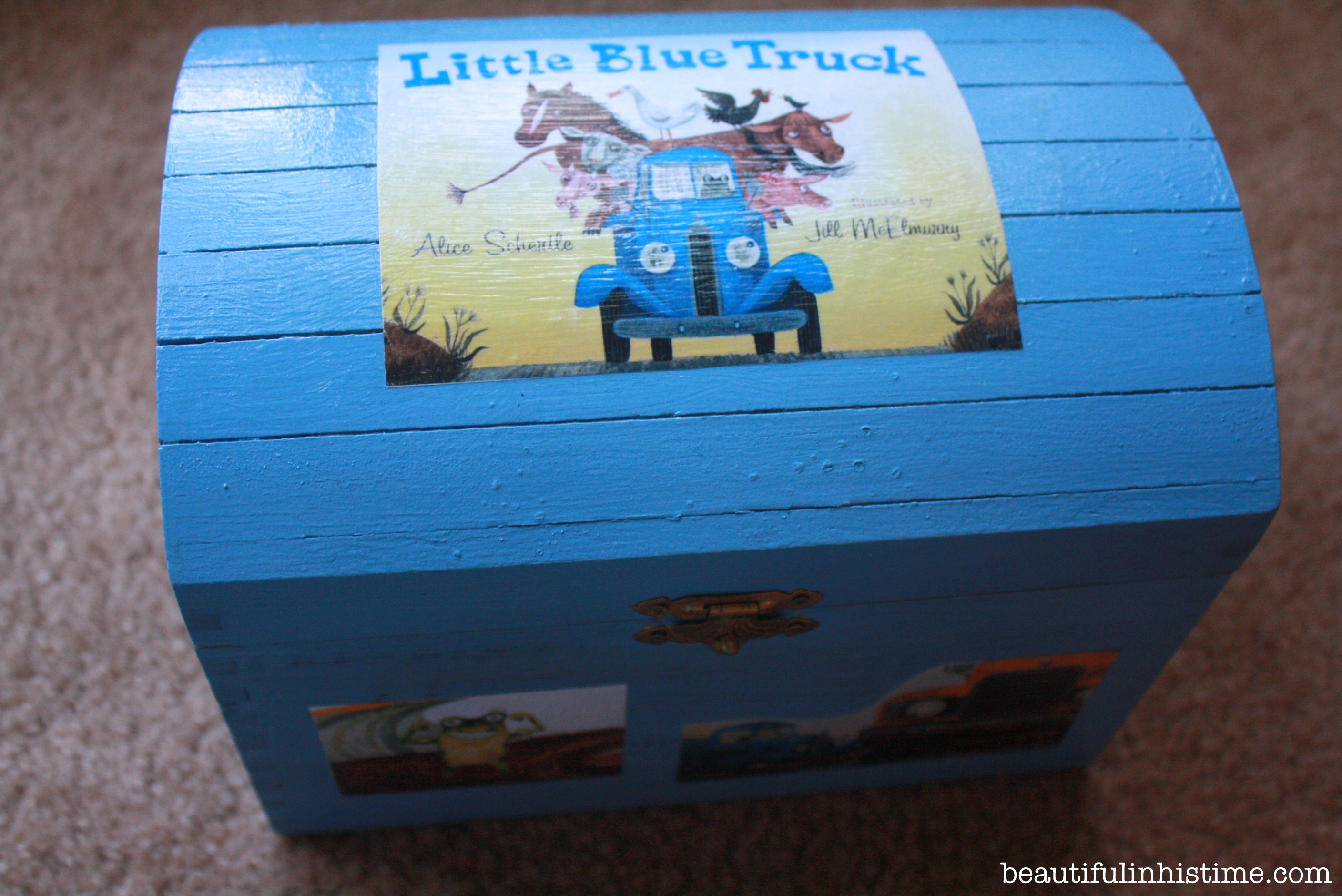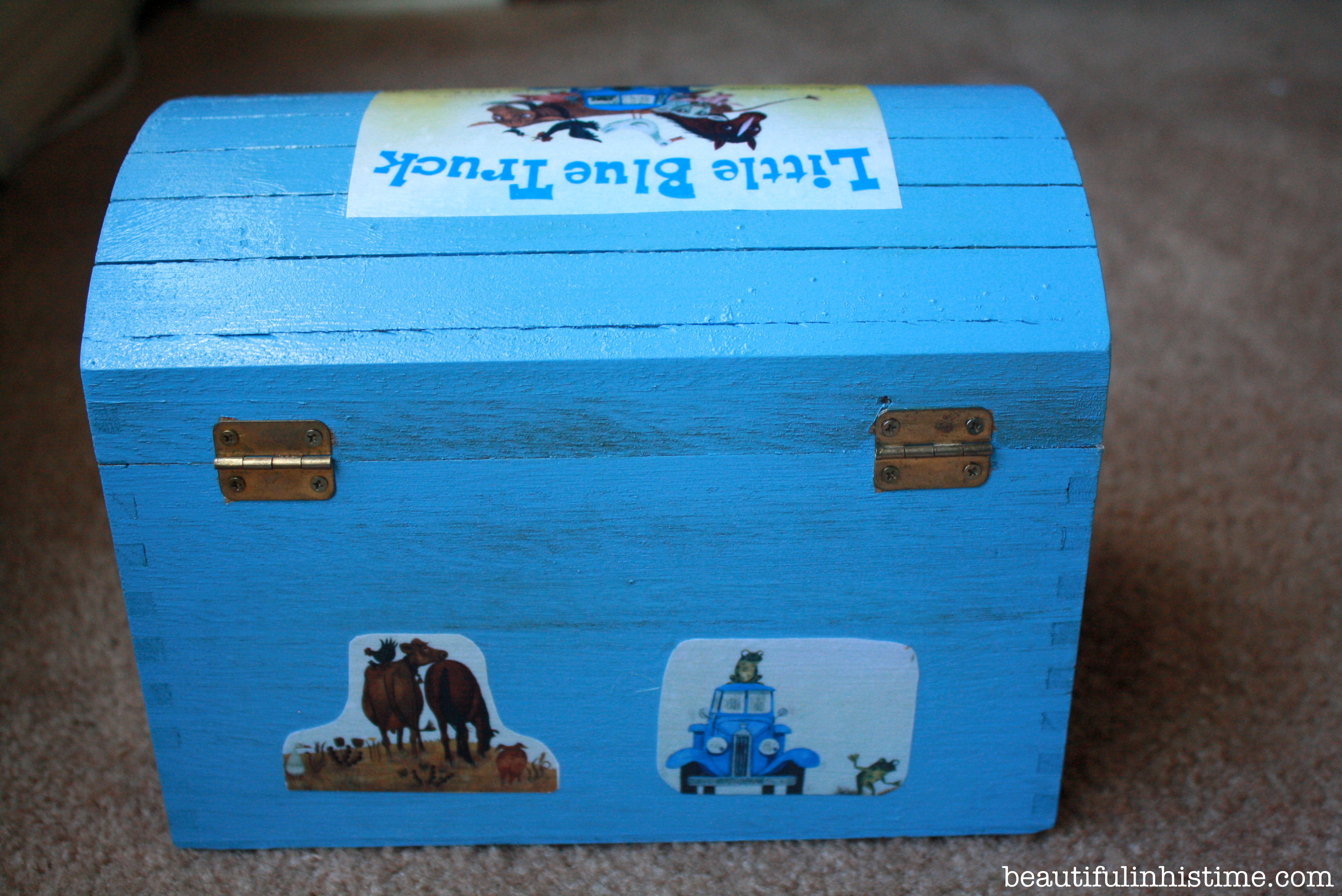 For Ezra's Little Blue Truck cake:
I used a store-bought chocolate cake mix; store-bought chocolate frosting; and chocolate, green, and shaved silver sprinkles. I simply frosted the cake, smushed the trucks and the animals down into it, and covered the rest with sprinkles. The peas and carrots you see pictured in the trucks were a bag of Jelly Belly candies that my mother-in-law gave me. Confession: it was so incredibly easy. 
I didn't bother with any other party decorations other than simple blue napkins, balloons, and streamers – which were all left over from his first birthday party!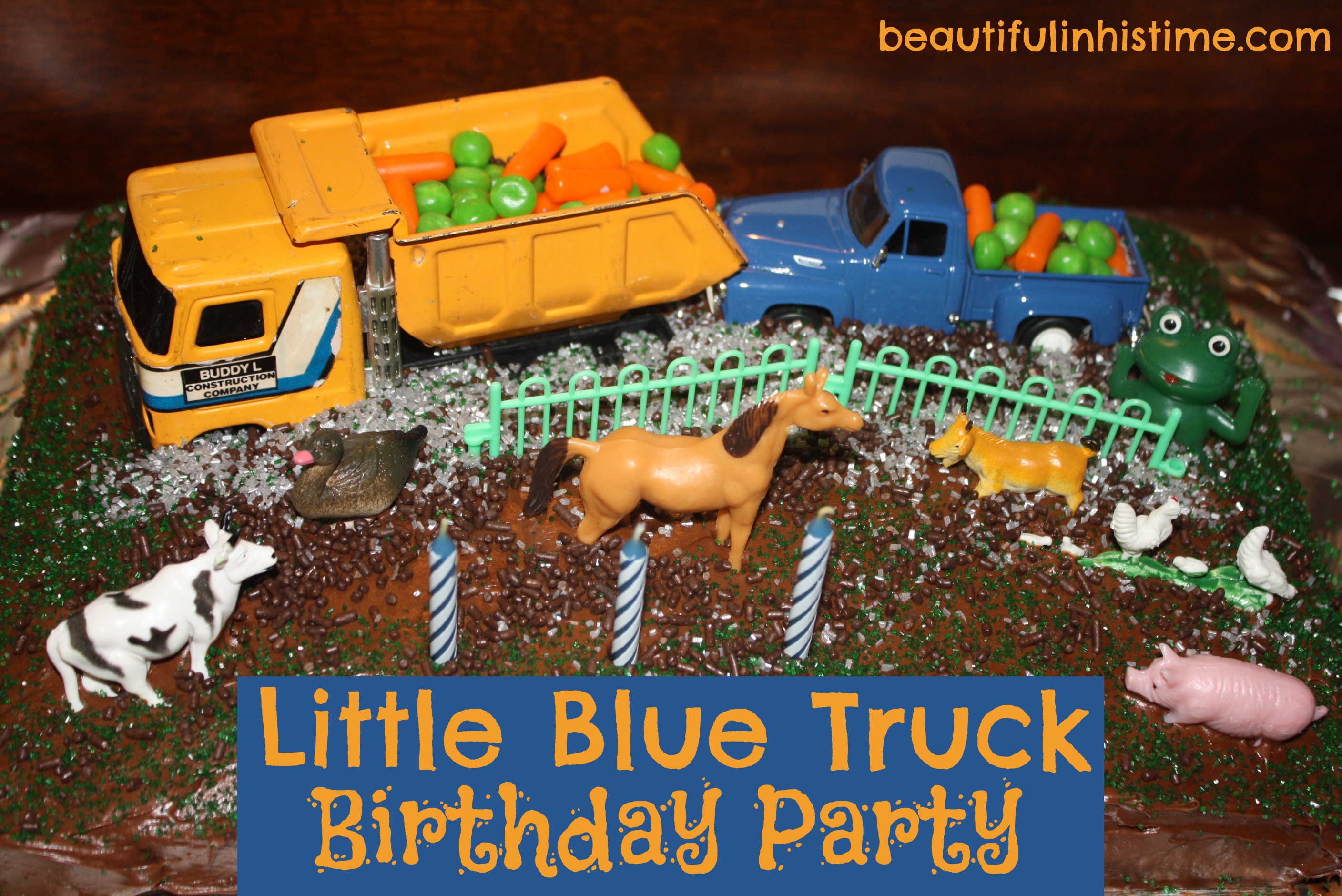 Ezra absolutely loved the cake. He stood there just looking at it and talking about it and immediately made the connection to the Little Blue Truck book!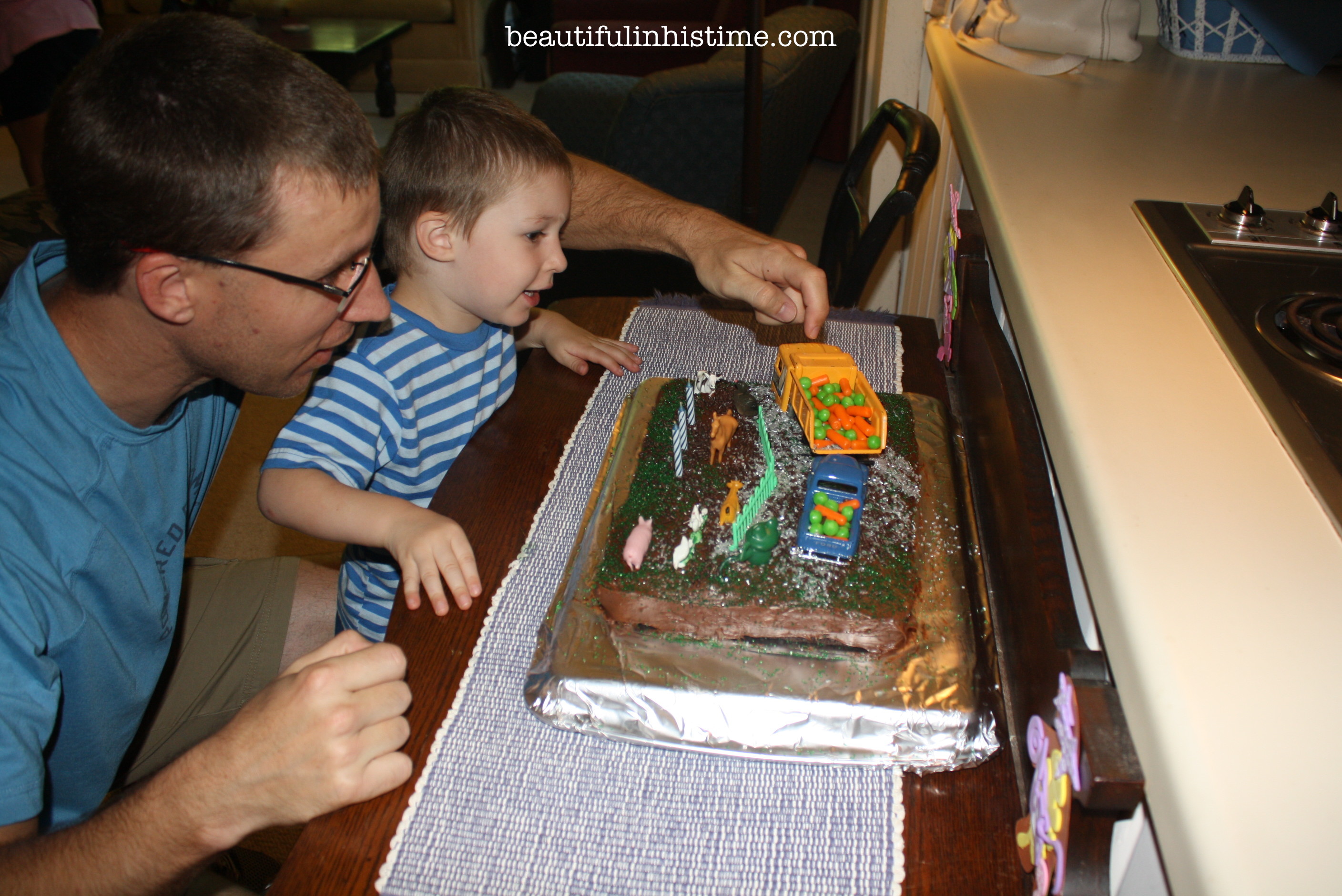 He even said, without prompting, the line from the book that says,
"The goat jumped over the fence, of course!"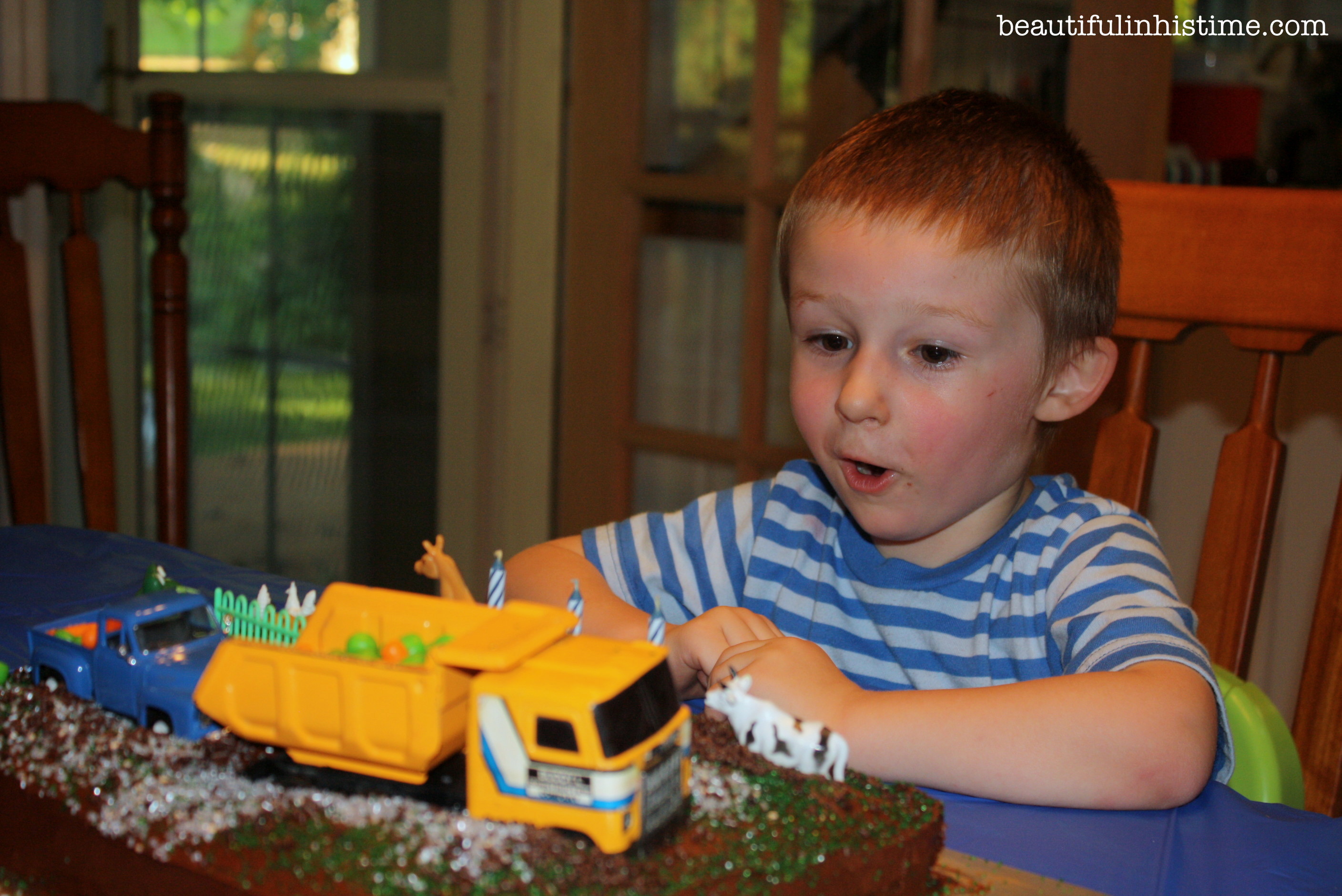 We had to light his candles twice because he immediately blew them out before we even had a chance to sing to him!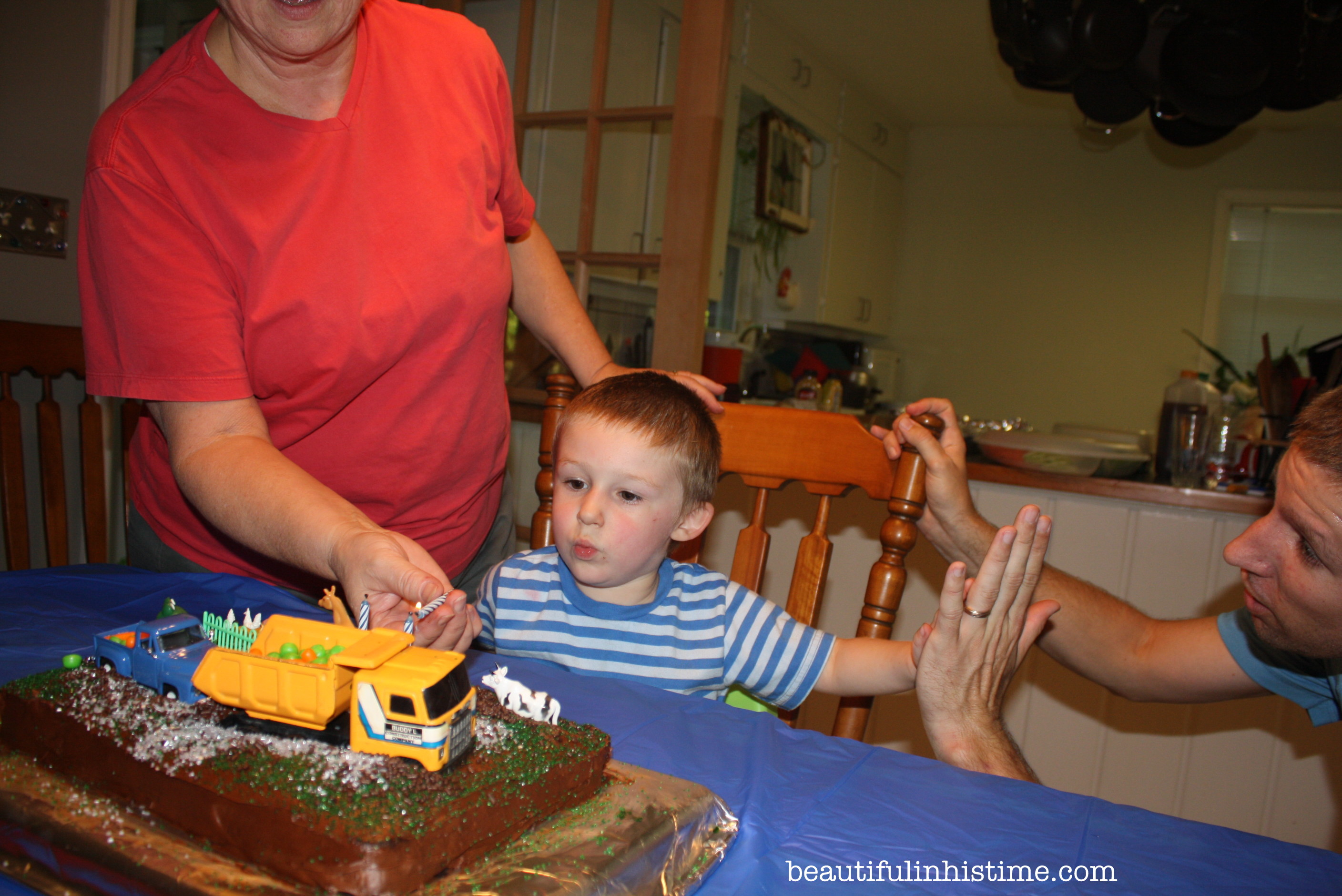 Ezra said at the end of the day that his favorite part of his party was his happy birthday cake and when we sang happy birthday to him. You can see from the pictures that he was enthralled!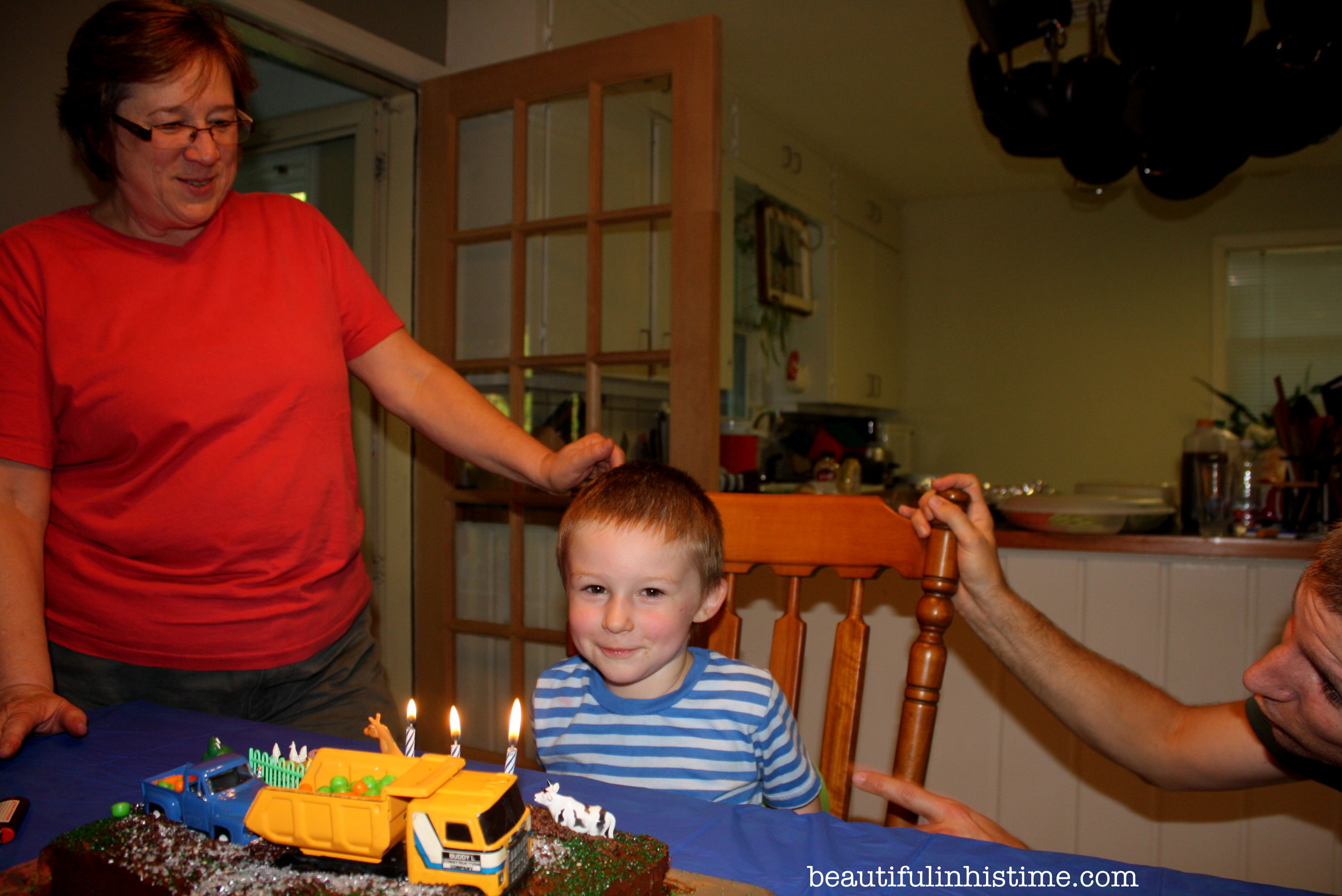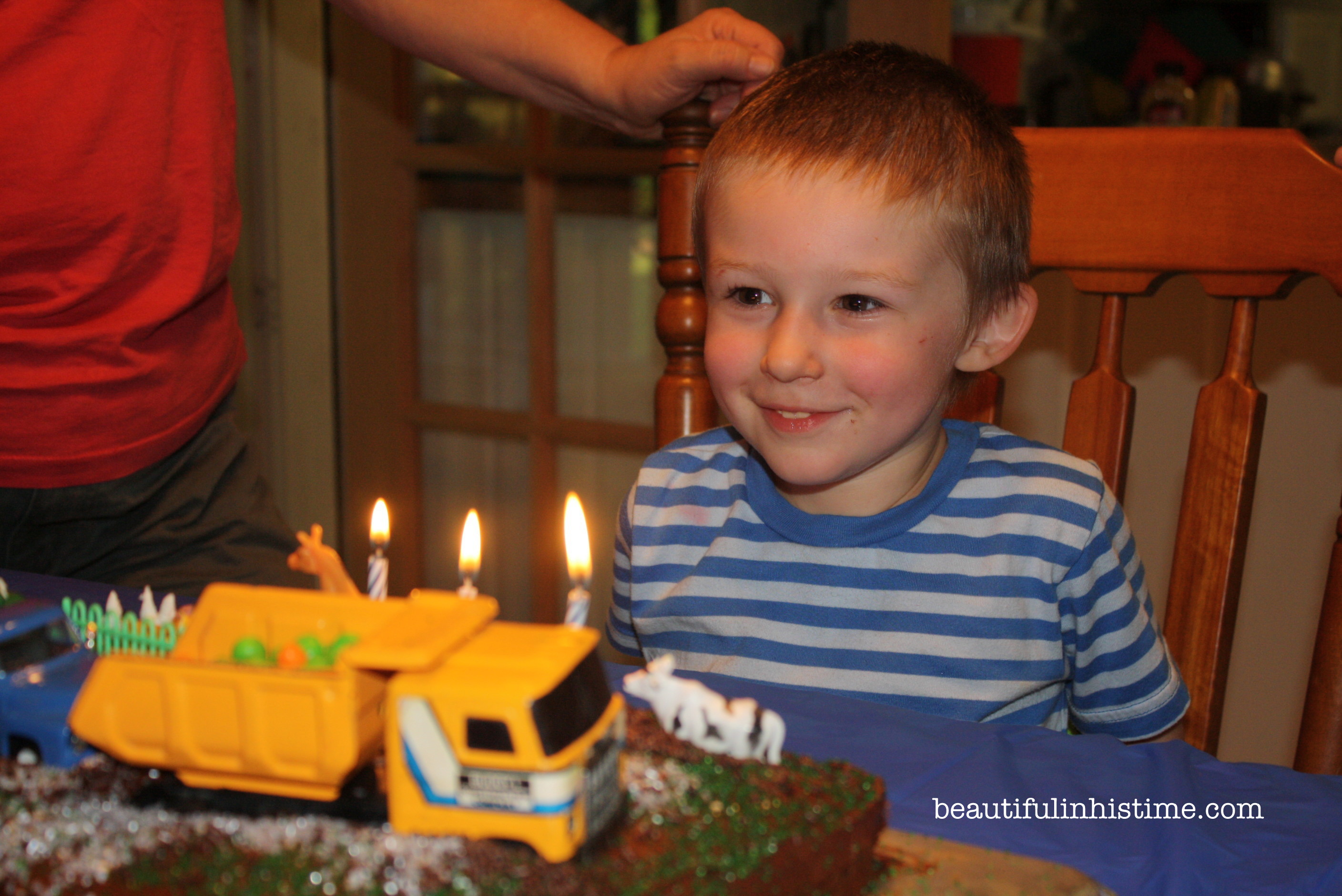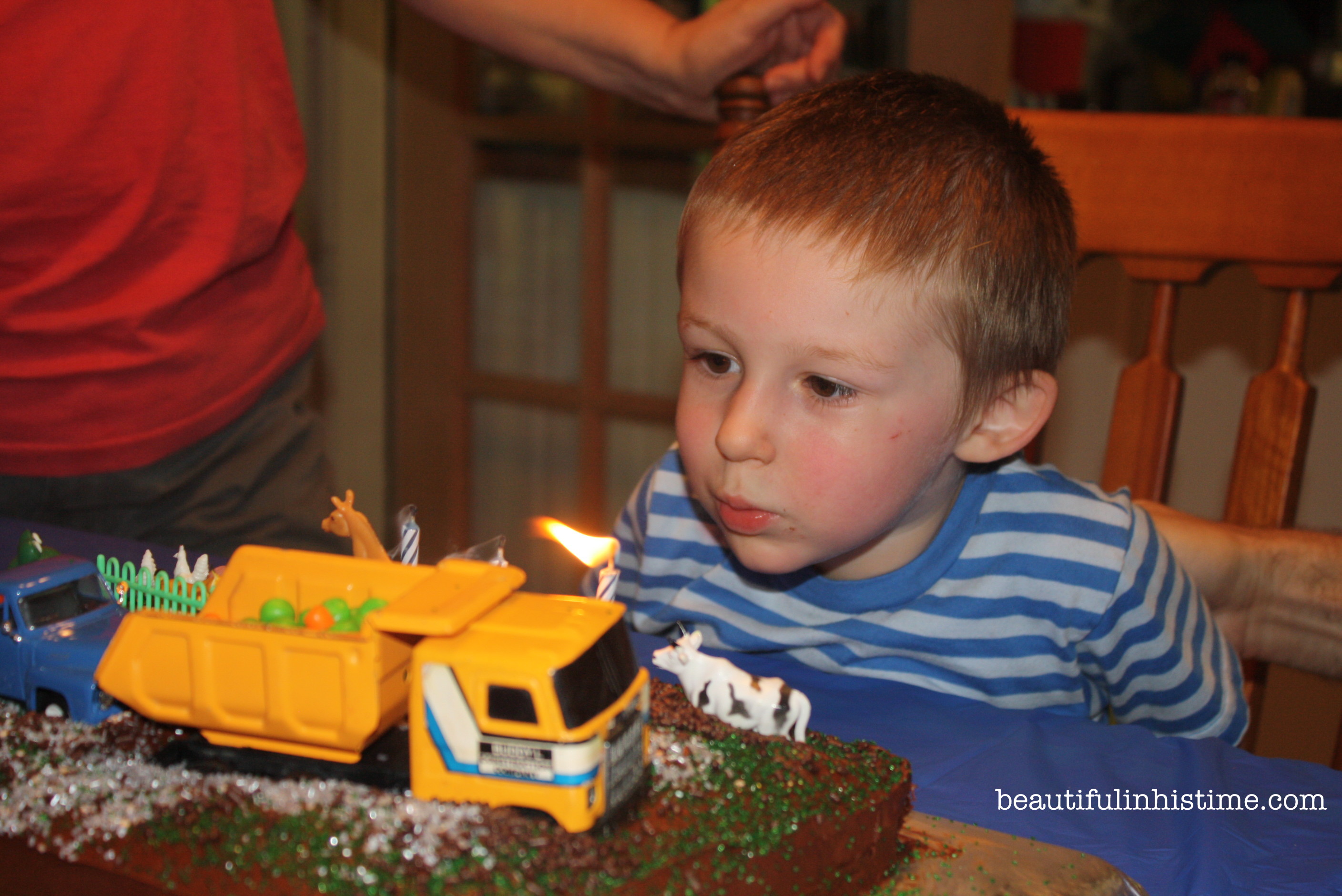 Ezra was also very happy with his Little Blue Truck gifts and the books.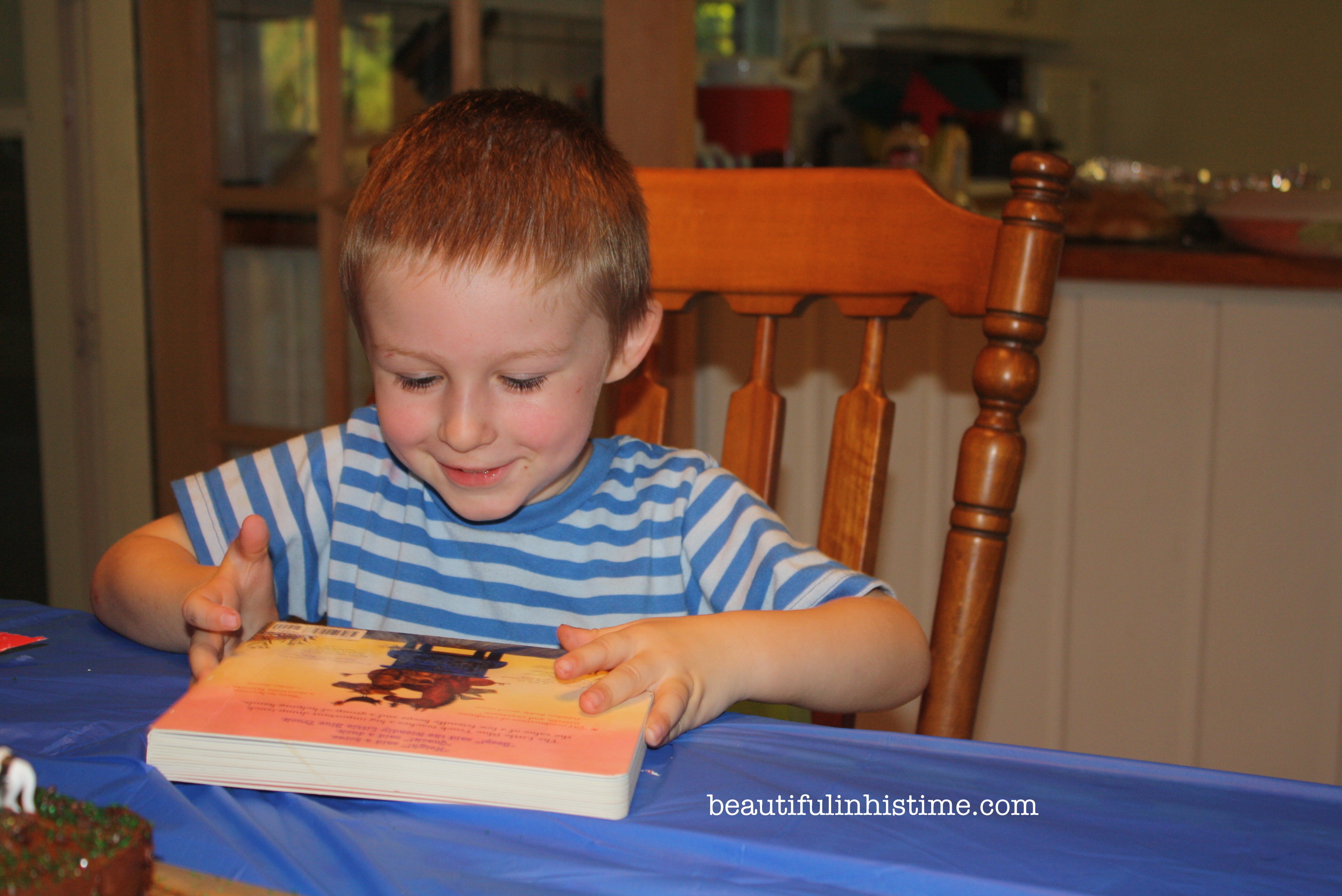 He received Little Blue Truck, Little Blue Leads the Way, and the Little Blue Truck sticker book!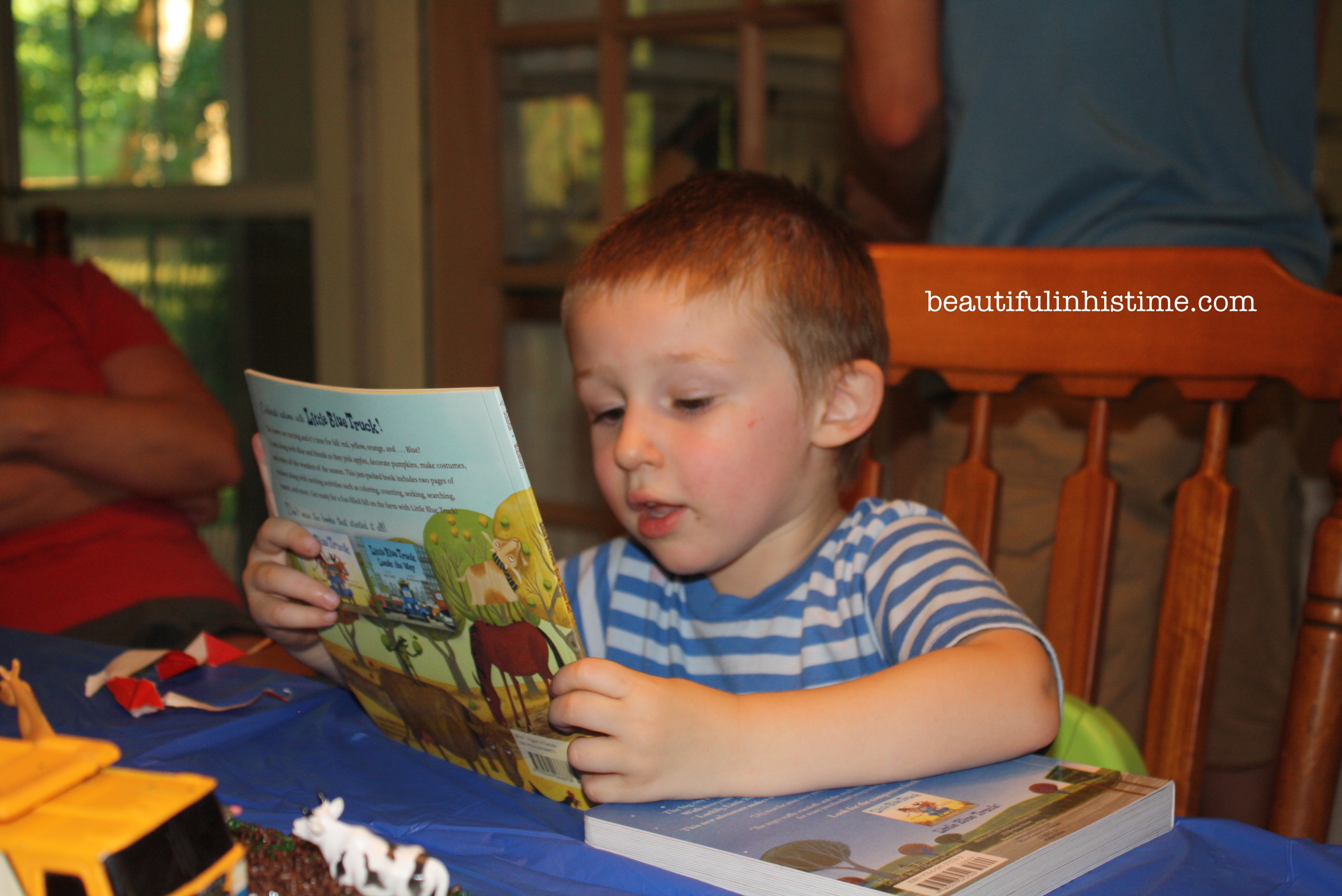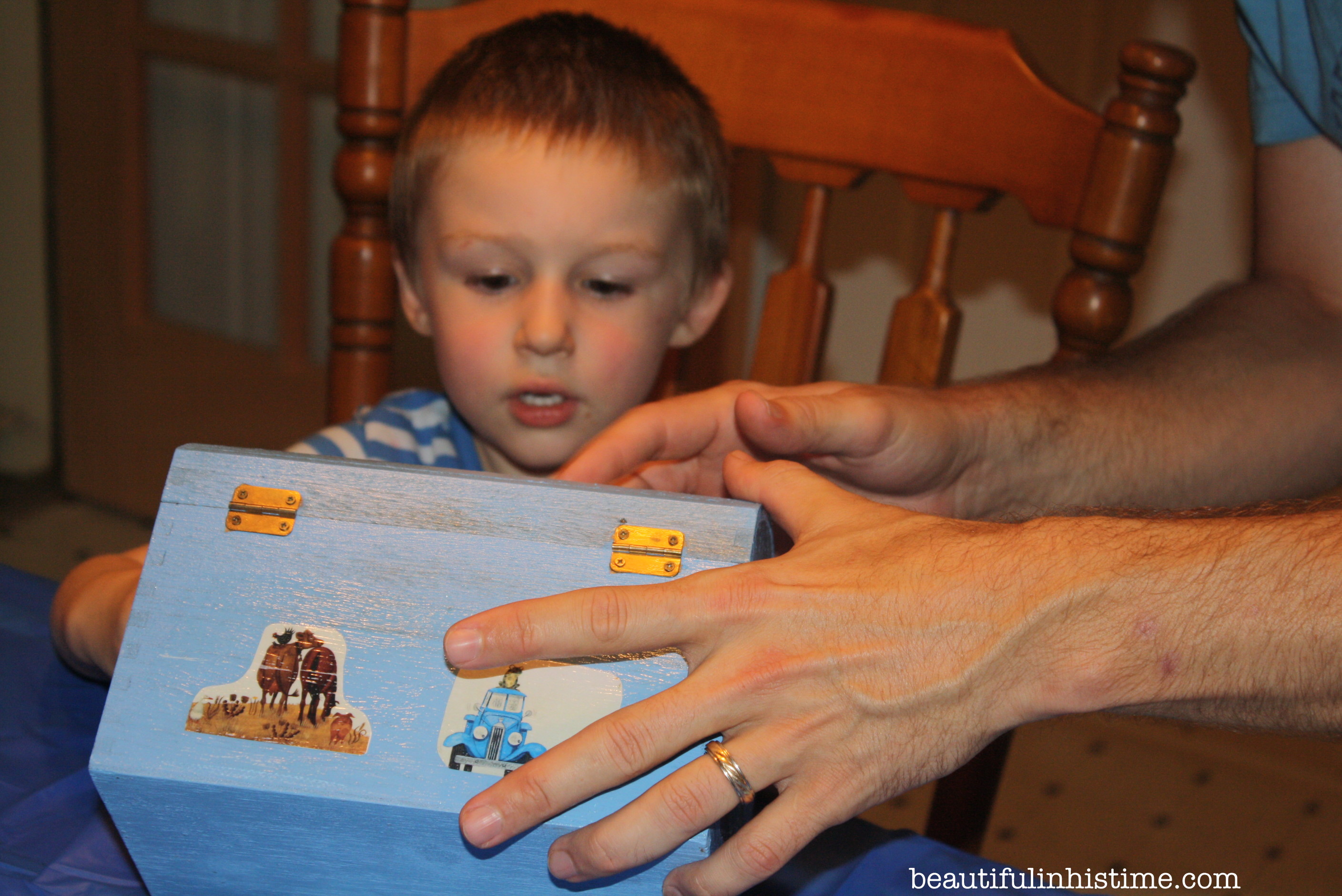 The funniest thing is that he didn't eat any of his cake. He put his piece in his dump truck for a while, but I rescued it when I realized what a mess that would be!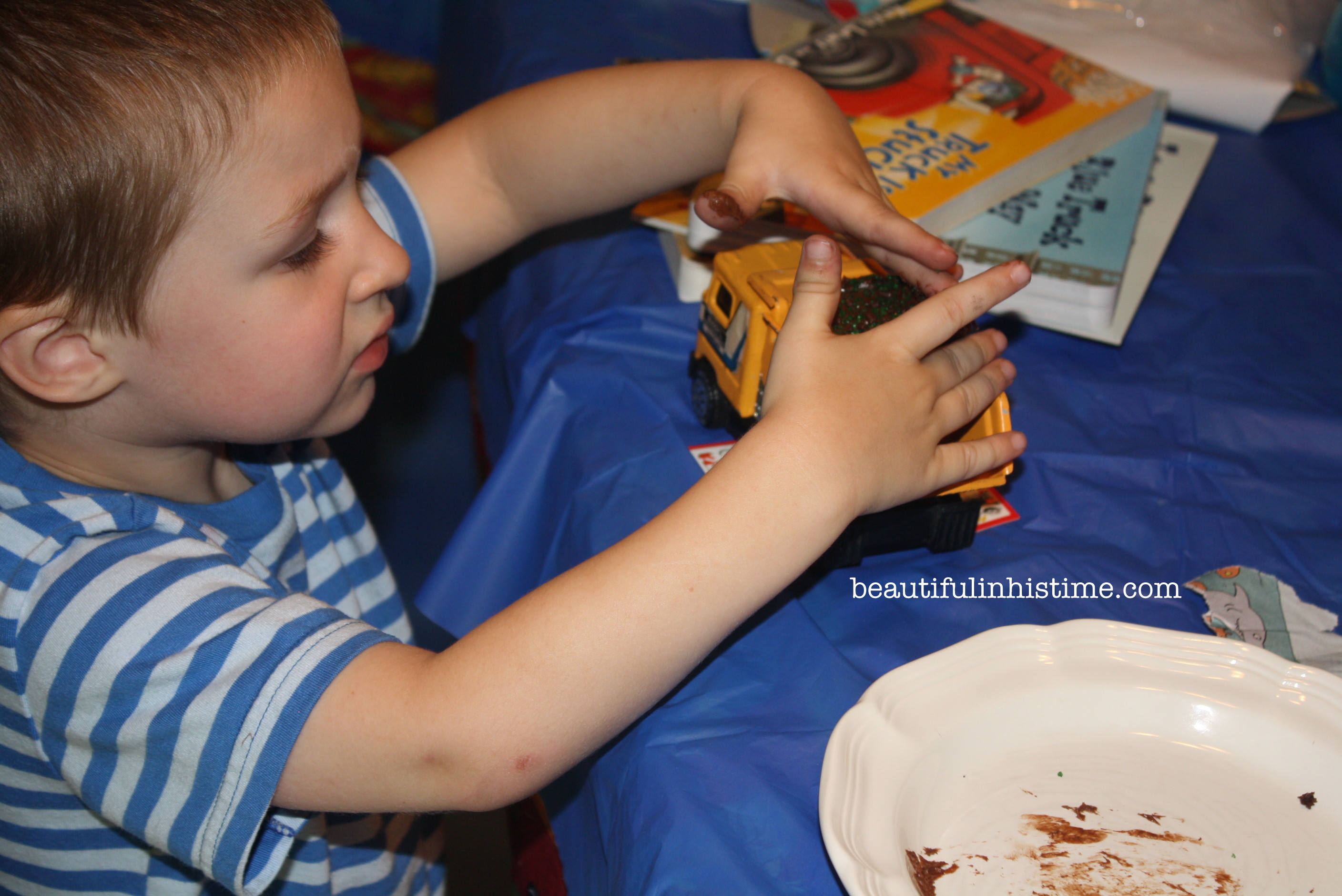 Instead, he asked for yogurt! There was no fussing or crying though! And when we ask him about his party, he STILL says that his happy birthday cake was the favorite part! No complaints from Mommy here!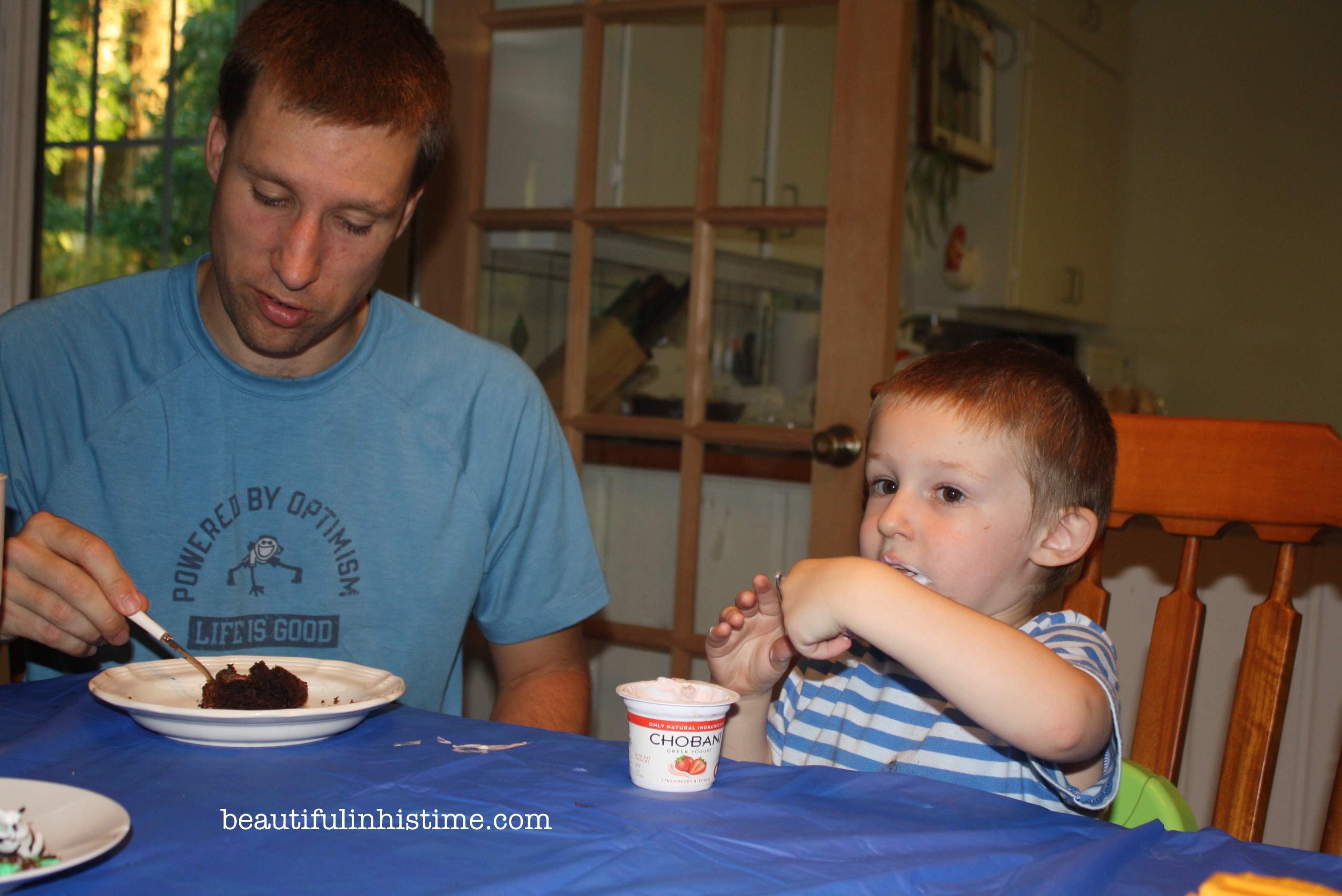 Aside from the several hours on eBay finding the items for the cake and playset, this party was so easy to plan and Ezra loved it. It was so nice to have a theme that he loved without having to go overboard with the stress of planning! Win win all the way around!
More Little Blue Truck Party Supplies!
Invitations and Thank You Notes
Little Blue Truck Themed Birthday Invitation – Burlap
Little Blue Truck Birthday Invitation
Little Blue Truck Invitation – Digital file YOU print
Little Blue Truck Birthday Invitation Personalized, Printables
Little Blue Truck Invitation + Thank You Note – digital download
Little Blue Truck THANK YOU CARD
Little Blue Truck Thank You Notes
Little Blue Truck Thank You Tags
Little Blue Truck Birthday Envelope
For the Birthday Kiddo
Boys 1st Birthday Little Blue Truck Burlap Party Hat
Little Blue Truck- Birthday Shirt
Little Blue Truck Inspired Birthday Outfit
Girls Little Blue Truck Inspired Birthday Shirt
General Decor
Little Blue Truck Birthday Garland
Little Blue Truck birthday sign
Little Blue Truck Themed Chalkboard Signs
Little Blue Truck Cupcake Toppers
Little Blue Truck Birthday Food Labels (Buffet Cards)
Other
Little Blue Truck Party Favor Stickers
Little Blue Truck Bottle Labels
Little Blue Truck bath towel and washcloth