Beautiful in His Time is a participant in multiple affiliate marketing programs. The author of this blog may receive commission for purchases or clicks made through links on this website.
---
I was 21 and nervous. There were no signs or symptoms, no charts or basal body temps. I was just a girl who was late.
He was playing basketball on post, and I told him I was going to go grab some snacks. In reality, when I came out of that shoppette on Fort Hood, my first pregnancy test was hidden in the bottom of the bag. Somehow I snuck it into the house, under the bathroom sink.
I didn't know anything about hCG levels or evaporation lines. I got the digital test. The one that spells out the word for you.
And six years ago, today, Wednesday June 18, 2008, I found out I was pregnant.
I climbed into our bed – the one we had only shared for three months – and when his watch beeped to get up for PT at o-dark-whatever, I told him the news. No cute announcement. Just the news. And then he was off to PT.
Later on that morning we grabbed coffee at our favorite little coffee van on post. I had an amaretto latte and asked for decaf, because…pregnant.
We got an appointment at the post clinic where they did another urine test and confirmed the news. We sat in a little office and my worried husband told the nurse that all he knew about babies is that they are like lasagna – you stick them in the oven and wait for them to be done. The nurse smiled and laughed and said, Yes. There's really not much else a husband can do. Your wife will be fine. We'll take good care of her while you're gone. 
Somehow the nurse allayed my husband's fears enough that as we left the clinic, the excitement set in.
On our way home we called all of the family – our parents, our siblings – everyone. That evening we announced the news to our entire church body. When we got home, we told our friends on Facebook.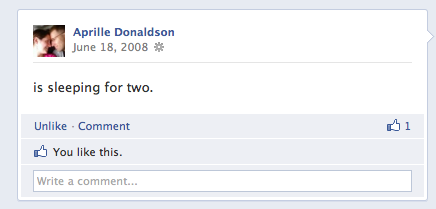 He talked with his chain of command about getting RnR in February so he could be home for the birth of our first child.
The baby was due on my birthday. 
Thursday and Friday were a blur. Then I woke up Saturday morning and there was the proof that something wasn't right. I called my mom who called a friend and they said it could be normal…it might not be. See if it stops.
But after a few hours it hadn't stopped. So we went to the ER.
I sat there in the waiting room – tired, scared, awful cramps – while watching The Little Mermaid. We waited for a long time between triage and getting a room. A few hours later we finally got to see a doctor. They took my blood and did an ultrasound. The results, inconclusive because it was so early.
They gave me a paper that said threatened miscarriage…
One third of first time pregnancies end in miscarriage… he tells me
Come back on Monday and we will draw more blood and check your levels… 
It was a long weekend, but the bleeding never stopped and I knew the truth before I ever stepped foot back in the hospital. I had to go to the OBGYN clinic for the retest – where there were posters of babies and I was surrounded by pregnant moms while I waited.
And just like that it was over. A six-day whirlwind that somehow managed to leave imprints on my heart that can never be erased.
We didn't really have time or space to grieve. We fought because he didn't cry. Two weeks later he left for Afghanistan.
And I didn't really have a choice. I bought a remembrance necklace with the baby's due date engraved and birthstone attached – but that was it. I had to move on, to survive. Sending my husband away for a year and being without him, completely alone, in a state nearly 1000 miles from the closest family – that was even harder than losing a baby that I barely even knew I had. I felt relief that I wasn't pregnant – and then guilt that I was relieved.
There have been moments in the last six years that I have sobbed, cried, screamed – and somehow in there, grieved the loss of this life.
But this year, as the days fall in sync with the days six year ago, I don't grieve. Rather, I feel love and gratefulness. I can happily remember these moments of joy when for three days our baby was loved and rejoiced over.
I'm thankful for the word pregnant on an EPT. Because that was mine, and no one can ever take it away from me.