Beautiful in His Time is a participant in multiple affiliate marketing programs. The author of this blog may receive commission for purchases or clicks made through links on this website.
---
It happened multiple times during the four days at Allume. That moment when, upon meeting someone whom I have "known" via the internet, my very first thought (forgive me) was, "Wow, I didn't realize how old she was!"
*dodges rotten tomatoes*
Avatars hide wrinkles, that's just the plain truth of it. 
(I promise there is a lesson here, so please stay with me.)
One of my goals in attending Allume was to receive confirmation from God about the if, when, and how to write a book. I was pretty sure that His answer was going to be "no" or "wait." But I have read several posts where women come back from writing conferences and God has given them a fabulous book idea or connected them with a publisher or an agent, and the conference was the miraculous catalyst that brought it all together. I kinda sorta hoped that would happen to me, but knew that I was probably silly to think so.
In this day, blogging is easy. Everyone and their sister calls themselves a writer (myself included). And, if you have some semi-decent content and know of someone who can work magic with Adobe, pretty much anyone can self-publish an e-book.
Within the last year, I've have had three very close blogging friends pursue and even accomplish publication. While I know comparison is not the road I should go down, well, I'm human and it happens.
I also had multiple people telling me I needed to take the series I wrote this summer about my journey from legalism to grace and turn it into an e-book.
I started wondering if I needed to jump on the book-writing train.
God, is this what you want or is this just…me…wanting to be like everyone else? 
(As it turns out, according to recent studies, 80% of the population shares this dream.)
So back to Allume…
I got my answer in the faces of these women. There were wrinkles, but that's not really the point. When I looked into the faces of fellow bloggers, writers, and some of them – even published authors – it hit me:
At twenty-six, I'm still super young. 
In their faces I saw years lived. Experiences had. Lessons learned. Identities forged.
And it's probably that last one that got me the most.
I attended Sarah Markley's session on "How to Find Your Writing Voice in a Noisy World," and she made the point that your voice has to emerge from confidence in your own personal identity.
Some notes from her session: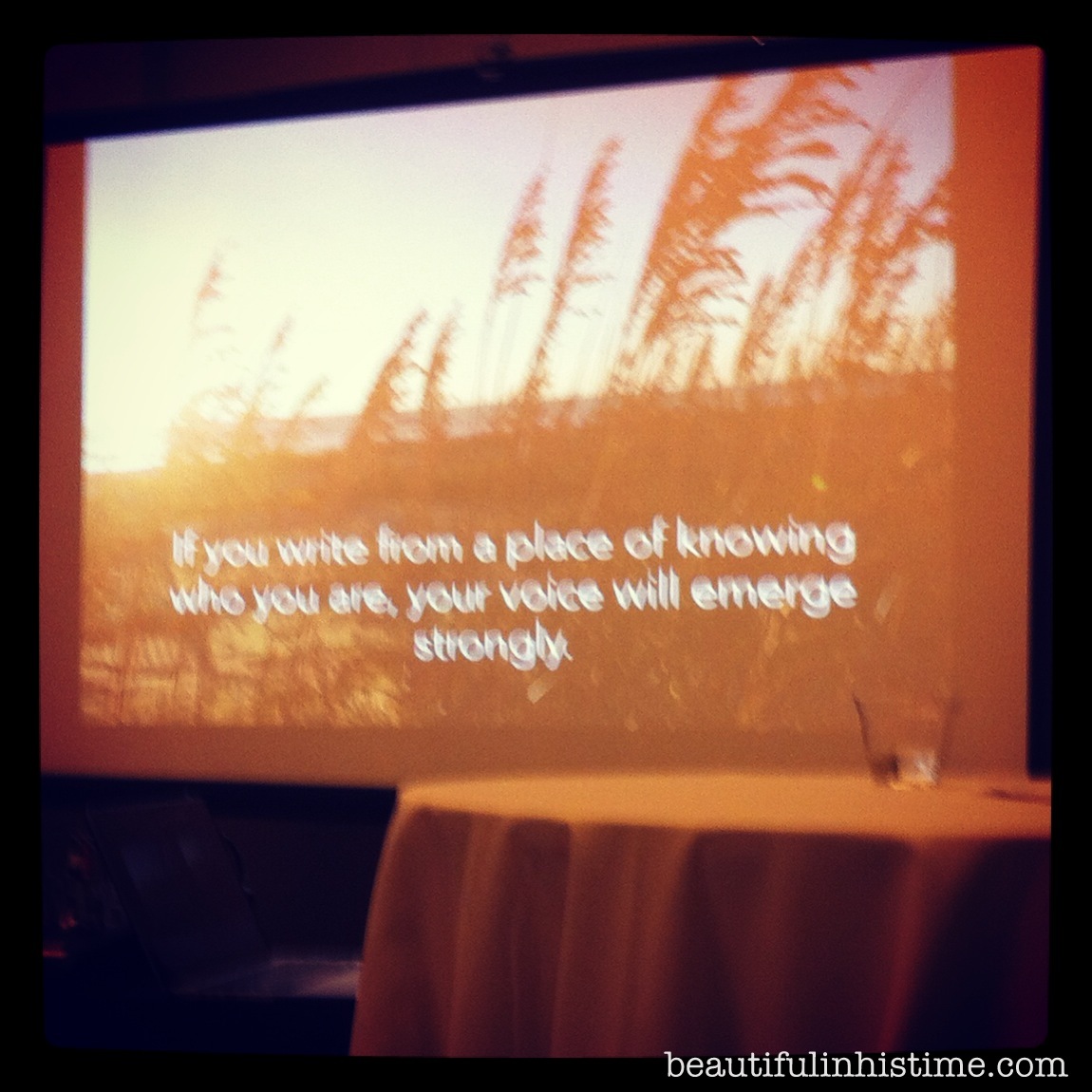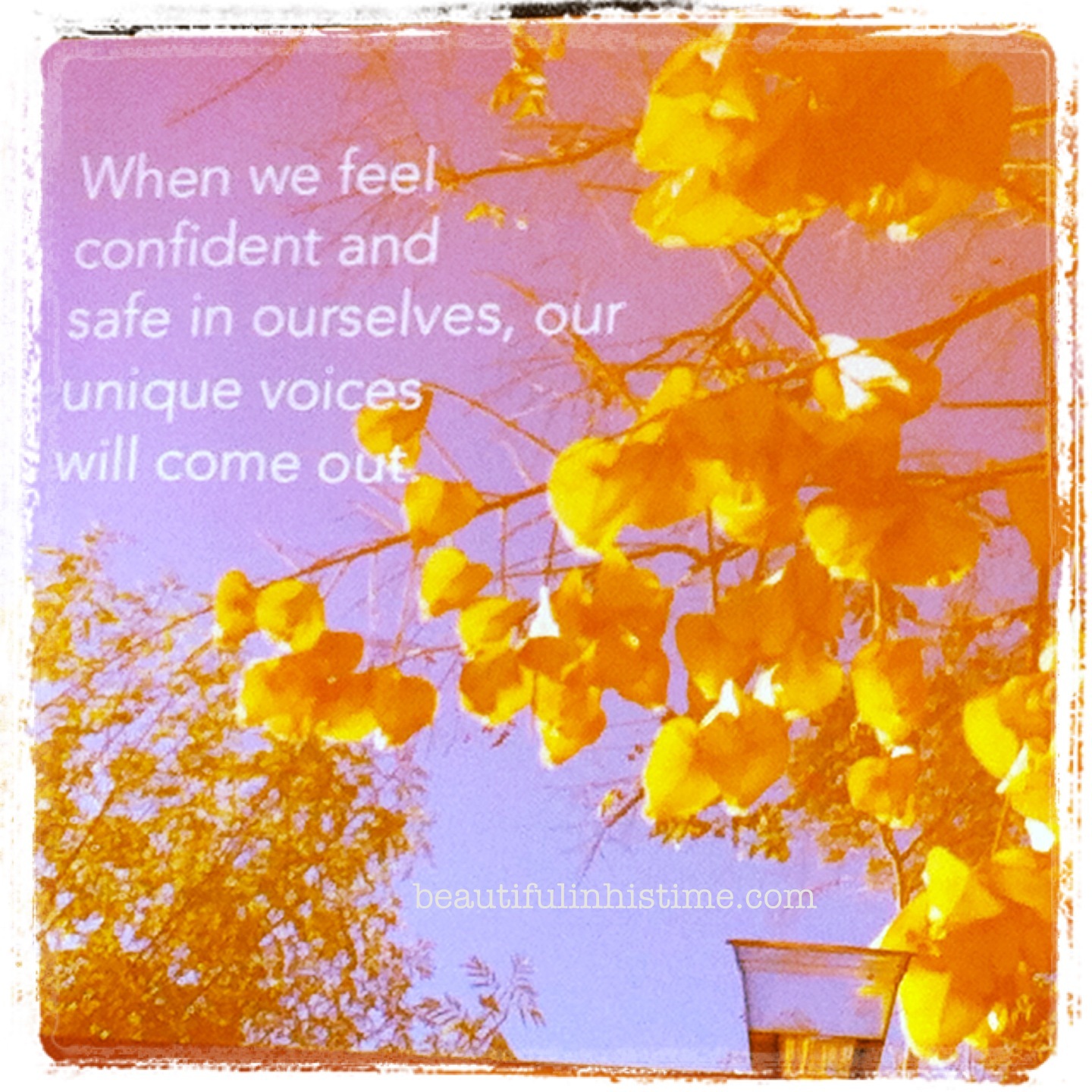 The truth is I don't feel confident and safe in myself because I'm still trying to figure out who that is. My twenties have been the "terrible twos and threes" of my adulthood. There's been a lot of mistakes. A lot of learning who I am with others – and apart from them. A lot of asserting my own independence while struggling with my longings for codependence with others. A lot of temper tantrums and tears and "that's MINE!"s – and a few times I've just had to put myself in time-out and take a nap.
I've spent five years of my twenties writing through all of that mess. With each passing year, my writing has morphed to reflect where I am along that journey. Sometimes I don't even recognize myself in my earlier posts because the writer is not the same girl I am now.
I definitely won't be writing a book anytime soon. I don't want to look back on a book pushed out for the sake of writing a book that's written from a place of insecurity and developing identity.
I need to get myself figured out first. There are some hurts that I desperately need healing from. There are relationships in my life that need some work and restoration. There is a marriage that needs some life and love and Jesus breathed into it. There is a baby boy who needs loved on and tended to.
And for the first time, that doesn't frustrate me. Because – getting back to the wrinkles – I realized that I have a lot of life left to live. A lot of experiences left to have. A lot of time left to develop both my identity and the voice that comes out of that identity.
My stories can wait to be told until I'm mature enough to tell them well.
_____
To read more about my Allume experience, please check out my conference landing page: