Beautiful in His Time is a participant in multiple affiliate marketing programs. The author of this blog may receive commission for purchases or clicks made through links on this website.
---
"Sarah!"
I came up behind her, calling her name to get her attention. For one and only one reason:
This woman, (author of multiple e-books, co-author of one book in print, co-founder of Allume), told me to. Well, not me specifically, but all of the Allume newbies. "I love newbies! And I want to awkwardly hug each and every one of you! So come find me!"
I don't regularly read her blog. She wasn't on the list of people that I wanted to make sure that I hugged. She was one of those "celebrity bloggers" that I didn't care to even try to say hello to because, well, it's not like she's going to remember my name anyway, so what's the point?

But instead, I found myself saying, "You told me to come find you for a hug, so here I am!" 
She wasn't kidding about the awkward part. She embraced me readily. I returned the favor and then, as most normal hugs go, I pulled back. But she held on tight. And while she held me she said, "I am going to hug you for six seconds. Because research shows that if you hug someone for six seconds, chemicals are released and you are bonded to that person. So now, you and I are bonded for life!" 
Yep. Sarah Mae and I. We are bonded.
It was one of the most humbling moments of my entire Allume experience.
_____
Later on that evening I made my way to the live Five Minute Friday Party, taking a seat near the front right by the microphone because it was an open seat with people I knew.
Lisa Jo Baker was there, but it wasn't the first time I had seen her. Actually, I saw her from the elevator within about 10 minutes of entering the hotel! "Oh, there's Lisa Jo right there!" I said to the girl I was with, a little surprised, as if I didn't expect "people like her" to be wandering around the hotel just like "normal" people like me.
But again, she wasn't on my list. While I participate almost weekly in the Five Minute Friday party and I do follow her blog, again I dismissed her as "one of those big-name bloggers" that I didn't really care to meet.
(Are you noticing a trend here?)
The truth is that I have nothing against Sarah Mae or Lisa Jo or Ann Voskamp or Emily Freeman or any of the other key-note speakers, authors, and truth tellers. I just don't like to obsess about them for the big reason that everybody else does. My default is to go against the grain, against the crowd. If the crowd is mobbing so-and-so, I'd rather head the other direction, simply because I don't want to be a crowd follower. (Even if, in my heart of hearts, I would really love a chance to meet her or get my picture taken with her.)
I tell myself that these "big-names" that others rave about are simply over-rated. They have 8,000 or 12,000 or 85,000 Facebook fans and people hang on their every word. So what? I read a lot of blogs and that girl with 300 followers has just as much good things to say. She's just a woman, just like me, just like her…good grief she's human!!
(I may or may not have had a dream a few days before Allume where I stood on my chair during the live Five Minute Friday Party and yelled such things to the entire room of women…)
But as I was there and I watched Lisa Jo Baker flit through the room, smiling and hugging people, "over-rated" was the last word I would have used to describe her. Her very presence radiated with joy and the beauty of a woman who loves Jesus and wants to make a difference in the world with the gifts she has been given.
If you read my Five Minute Friday post from Allume, it probably sounded like I was star-struck, being all like "Lisa Jo Baker is standing five feet from me and she picked my word," but star-struck wasn't how I felt. It wasn't my proximity to her that overwhelmed me, it was the humbling experience of being a part of a community so much bigger than me that was borne out of her simple idea. It was the energy of being among women whom I get to interact with on a weekly basis on Twitter and hearing their words read, live. It was the spirit of stillness as we all wrote, together, for five minutes. It was almost as if we were one organism, one being, with Lisa Jo as the leader, creator – or maybe more like the momma who gave birth to the community and has gone on to nurture it for three years.
I was relieved when she shared how she's never usually ready with the prompt and her husband has to bug her about it, while she fumbles around the house in her messy hair and junky clothes. Because, well, that's how I usually am around my house on Thursday nights.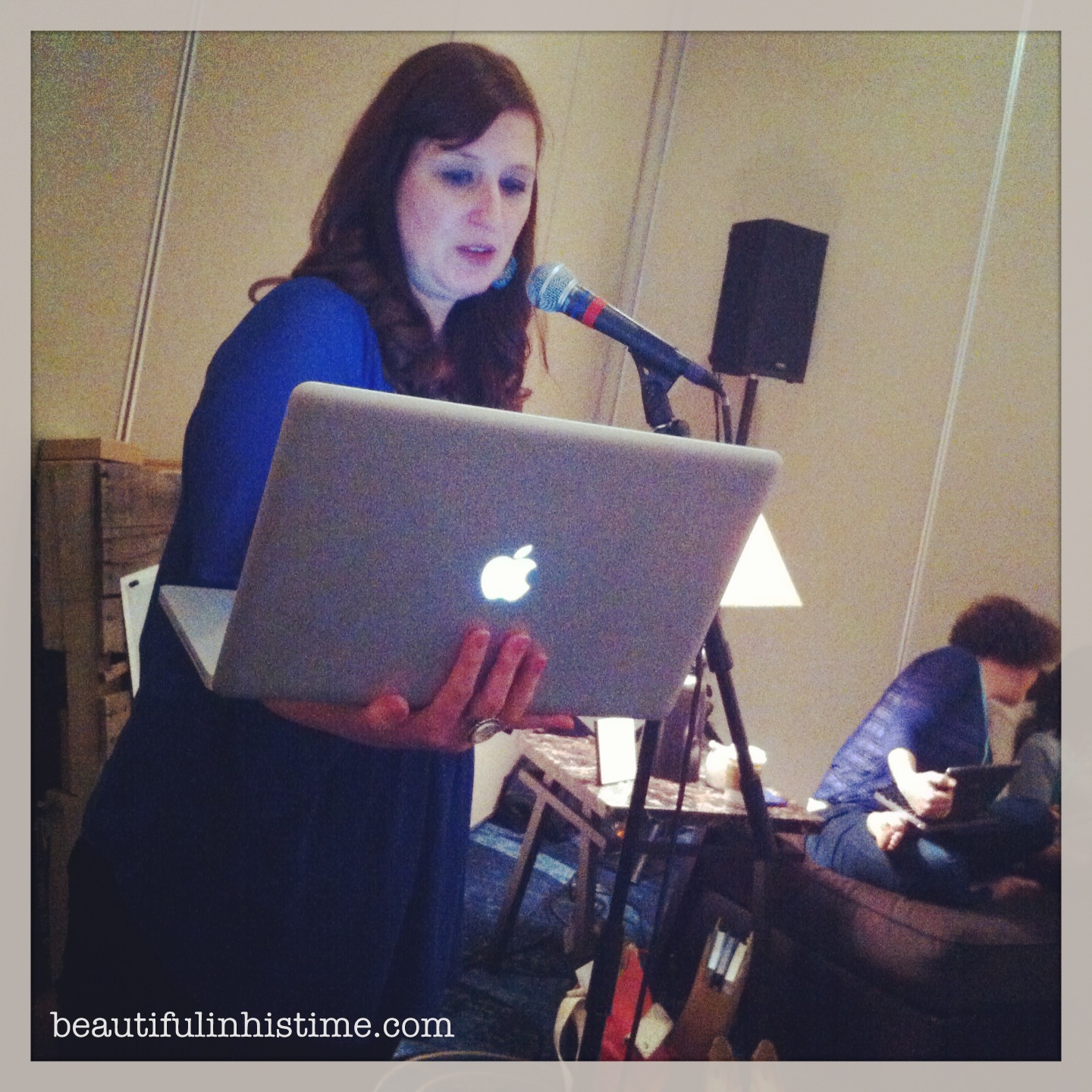 And I WAS honored that she selected one of the words I submitted as a suggested prompt (as I had sent a list of 13 words, and I'm sure others had submitted words as well). Humbled because it was such a perfect word for the spirit that was in that room that night and even the spirit among the girls on Twitter who couldn't be there.
Then she approached me afterward with a little box in hand that held a silver necklace with that very word, Together, on it. I don't know how God orchestrated it all. I had no idea when I submitted my word that Lisa Leonard Designs and Dayspring, the parent organization of (in)courage who was sponsoring Allume and the Five Minute Friday Party, had a necklace with that word on it. I don't know if that's why Lisa Jo picked that word or if it was just some coincidence. I don't know if she brought it specifically to give to me or just had one in her bag because she is an (in)courage contributor.
All I know is that there she was, giving me this necklace.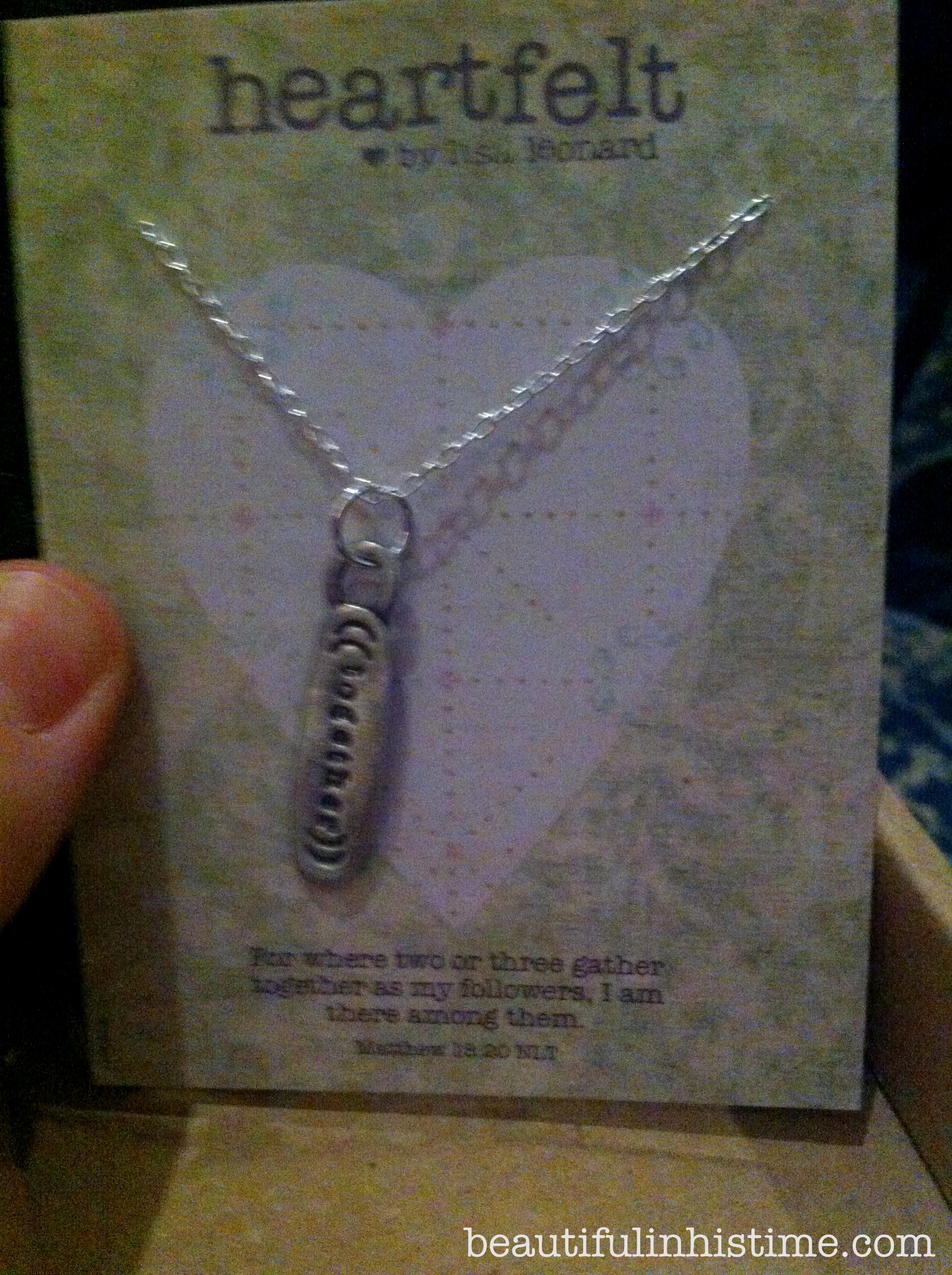 And so I asked her for a picture. Not so I can show all of my friends and readers that OMG I got a picture with Lisa Jo Baker!, but because she is a beautiful person with a beautiful heart and she took the time to make me feel important and cared for. Because her community is a generous, inspiring, and unique sisterhood. And because she radiates Jesus.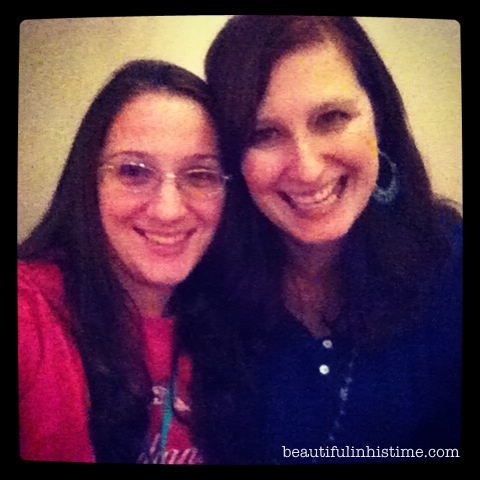 Maybe you are reading this and you didn't get to go to Allume and you are thinking that I just really lucked out to have these experiences. Let me tell you this:
That woman that you admire and follow and Tweet at and quote in your posts, hoping that maybe she will notice you? She's a woman just like you. Yes her words are inspiring and yes God is doing amazing things through her ministry. But as I stood there in front of her, humbled as she gave me a necklace, an awkward hug, I didn't see a star – I saw a sister. 
I doubt that either of these women will remember me for very long, if at all. I'm sure that they hugged and took Instagram photos with many other women just like me. But that's okay. Because in the brief moments that I spent with them, they didn't see another star-struck fan, another follower. They saw me as a person worth taking the time to notice and hug and bless.
And that is why they are all kinds of beautiful.
_____
For more posts about my Allume experience, please check out my landing page here!