Dear Moms at Christmastime ~Love, a mom who "doesn't do Santa"
Beautiful in His Time is a participant in multiple affiliate marketing programs. The author of this blog may receive commission for purchases or clicks made through links on this website.
---
I'm sitting here with aching knees because I've just spent the last hour on the floor wrapping up 18 Christmas books for my son. We are doing a different kind of "advent Calendar" by reading our way to Christmas.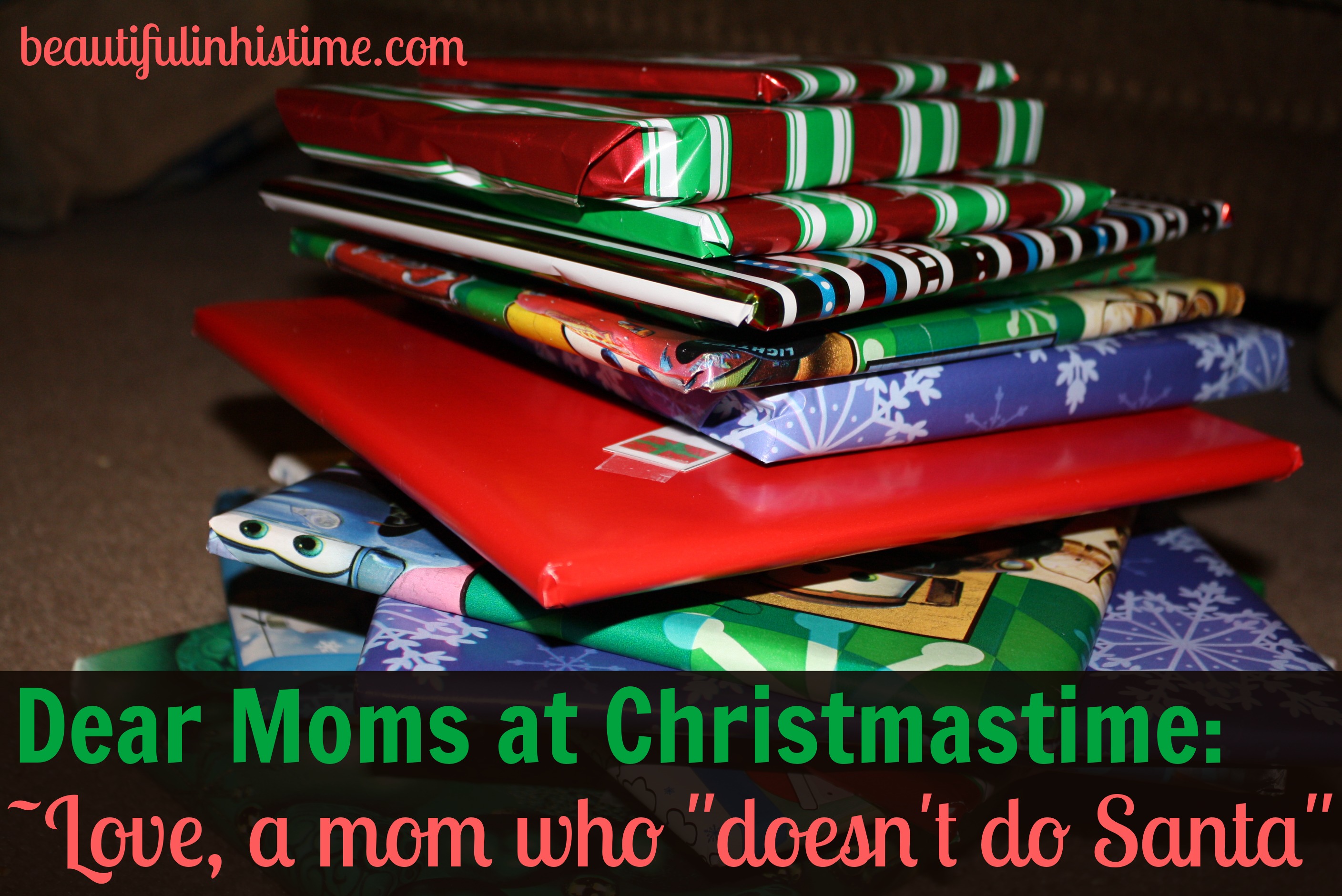 I have Christmas music on and the songs come one after another. Here Comes Santa Claus, Santa Claus is Coming to Town, and more. I'm wrapping up a great variety of books, including Rudolph the Red-Nosed Reindeer and Twas The Night Before Christmas.
My husband and I have decided not to "do Santa" with our three-year-old son. But by that, I simply mean that we aren't going to buy him presents and tell them that some guy in a suit is giving them to him.
As to why? I could give you a "standard answer" about how "we don't lie to our kids" but the logic of that answer doesn't hold up and here's why:
We have lied to our child before.
When Ezra was about a year and a half old, after watching Thomas, Percy and the Dragon about a million times – he was waking up scared because he saw a shadow on his wall. He thought it was the dragon from the show. So, we concocted an elaborate story about the nice dragon, complete with showing Ezra the castle where the dragon lived.
We've also taken Ezra to see Thomas the Tank Engine – a big blue steam engine that doesn't really exist or talk or do anything like he sees on TV –  but all he knows or cares is that HE got to ride THOMAS!
Have you seen the story about these parents who made November a month of dinosaur fun? I thought it was so awesome I shared it on Facebook. Other people who read the article seemed disconcerted that parents would lie to their kids in such a way.
And that's when it hit me. Because, while "we don't do Santa," we do dragons and big blue engines and think that pretending toy dinosaurs are wrecking your kitchen is pretty cool.
For some reason, Santa is where we've quite arbitrarily chosen to draw the line in the sand.
All of this is running through my head while I'm listening to Santa songs and wrapping Santa books…and I'm starting to realize that I'm a pretty big hypocrite – but at the same time I realized that I'm okay with that.

I have a long and complicated history with Christmastime. I've actually not celebrated Christmas for four years of my life. I've had Christmases that were strictly about time with family and nothing else. Christmases in my teen years where my family partook of communion on Christmas Day. Hard Christmases and happy Christmases. Christmases where my faith in Jesus was refreshed. And yes, even Christmases of my early childhood where I wondered if I heard Santa's Bells outside my window.
Each Christmas has been beautifully precious to me in its own right.
I'm not going to lie. I am still a very young mom and often struggle with being completely secure in my own parenting choices: doing what works for my family while still learning and gleaning from others – ignoring what other people do or don't do when it doesn't work for me. This is a skill I'm learning, but I'm totally not there yet.
I see moms over here doing Jesse Trees and Truth in the Tinsel and over there I see moms with their Elf on the Shelf and photos of their cute kiddos with the fat Santa at the mall. There's moms who put up a Nativity Scene instead of a tree to make sure to "keep Christ in Christmas" and then there's moms who can't wait for their kids to help them put out cookies for Santa.
The internet is flooded with posts from moms defending their choices or urging other moms to make the same choices that they do. It makes me sad and frustrated. Every mom seems to have her own opinions on the holiday and with all of the opinions, sometimes it's hard for me to hear my own thoughts. I start feeling guilty for this or frustrated that I don't have energy for that or feeling less-than because I'm not doing that other thing.
Maybe it's just me and no one else sees this kind of stuff happening or feels this frustration. But I wrote this on the off chance that other young moms are struggling like I am.
I really don't want how another mom chooses to celebrate Christmastime or Advent with her children become just another thing fueling mommy wars or another thing that makes us feel insecure about our mothering.
Christmastime is an amazing time of year. It's warm and bright and cheery. It's the one time of year you can hear songs about Jesus on the radio and in the grocery store and it's okay. It's a time of family and food and happy music. It's a time of silent nights and newborn babies and the wonder of God. With. Us.
And that's something worth celebrating with your kids.
How I celebrate Christmastime and the Advent season with my family might look different than how you celebrate Christmas with your family. And, in my humble opinion, that's okay.
Celebrating a holiday this special and making it special for my family is so much more important than me worrying that Sally-Sue is telling her kids about Santa or that Jamie-Jo is taking pictures of her Elf on the Shelf or to roll my eyes at Lora-Lee and her upside-down Jesse Tree because I think she's being holier-than-thou.
Dear Moms: We need a little more Joy to the World and Peace on Earth and less judgment and drama.
Do Santa, don't do Santa. Have your Elf on the Shelf. Do Truth in the Tinsel and Jesse Tree or read Christmas books to your kids every day. 

Just please, enjoy your Christmastime, your Jesus, and your family. Whatever that means for you. And let all of the other moms who are enjoying their Christmas in their way do the same. Don't feel threatened by the choices that she makes, and please don't feel like you have to defend the choices that you make.
Love,
This mom who "doesn't do Santa" (but doesn't mind if you do)