If you don't have a lot this Christmas: Hope for the Financially Strapped
Beautiful in His Time is a participant in multiple affiliate marketing programs. The author of this blog may receive commission for purchases or clicks made through links on this website.
---
This Christmas…I'm a little less than "jolly."
I just spent the last ten minutes writing checks totaling $130 addressed to the county "tax collector."
Earlier today I was looking into health insurance (for my currently uninsured self), swimming in words I barely understand like "subsidies" and "deductibles" and wondering what we will be able to afford or if we should just take a fine instead.
And this morning? My mother-in-law gave us gift cards – so we could buy Christmas presents.
We don't have a lot this Christmas. 
We are still so blessed. I could tell you about the gift cards and Paypal donations that have been given me by sweet friends and family. The double pay for the day my husband worked on Thanksgiving. Little things that have helped us get ahead.
But then I could tell you about $130 worth of unforeseen "vehicle property taxes" (which, apparently are different from the taxes that we paid back in August when we registered our vehicles) and the unforeseen car repairs that my husband is currently across town trying to fix for far less than the $1600 quoted to us.
We have this dance thing going on. A little dance forward as we have received many little blessings like gift cards and double pay and profit from stuff that we've sold on eBay – then few steps of a dance back as more expenses seem to pour in.
And I'd be lying if I said I wasn't grouchy about it. Grouchy about a small apartment which has forced us to put our Christmas decorations in storage (which I'm honestly too lazy to cart out of storage for three weeks of Christmas festivities). Grouchy about a dwindling savings account. Grouchy about cars that seem doomed to give us fits.
But in that moment when my messy print wrote the words "tax collector" on our blue checks that my mind drifted to the Christmas story.
"And it came to pass in those days, that there went out a decree from Caesar Augustus that all the world should be taxed. And all went to be taxed, every one into his own city." (Luke 2: 1, 3)
I thought about Mary and Joseph. Poor, pregnant, and having to travel to be taxed. And when they arrived at their final destination, they were homeless to boot.
That doesn't really sing joy to the world does it…
So maybe you don't have a lot this Christmas. Maybe you can't justify spending $60 on a Christmas tree. Maybe someone else is paying for your Christmas presents – or maybe you aren't giving gifts at all. Maybe you can't seem to get in the "Christmas Spirit" because seeing red instead of green in your bank accounts isn't the kind of "Christmas cheer" you are going for.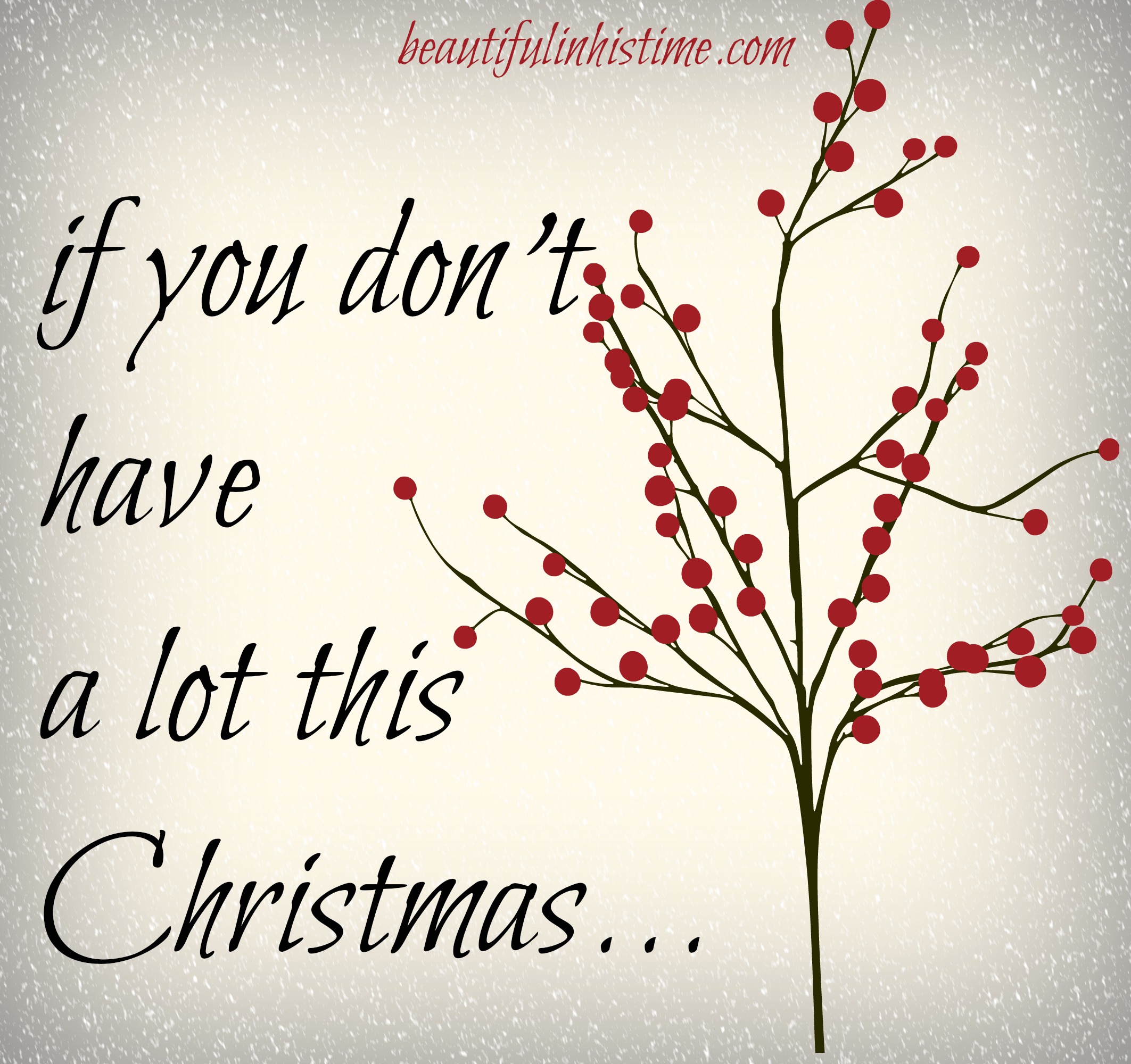 Just remember during this Christmas season…
Jesus was poor too. Take comfort in His poverty.
"Who, being in the form of God, thought it not robbery to be equal with God:
But made himself of no reputation, and took upon him the form of a servant, and was made in the likeness of men:
And being found in fashion as a man, he humbled himself, and became obedient unto death, even the death of the cross.
Wherefore God also hath highly exalted him, and given him a name which is above every name:
That at the name of Jesus every knee should bow…" (Philippians 2:5-10)
Related: TO THE PARENTS WHO ARE BROKE AT CHRISTMAS
12 Days of Christmas for the Hurting