Beautiful in His Time is a participant in multiple affiliate marketing programs. The author of this blog may receive commission for purchases or clicks made through links on this website.
---
Once again I find myself a little bit "late" on getting this posted when it's "supposed to be." But I'm okay with that as long as you don't mind putting up with a little bit of an excessive photo dump. No? Okay, good. Let's get on with it then. 
The Mess
I feel like to fill this space with my mess and struggles would be slightly redundant. I'm starting to really get a complex about being the-most-depressing-Christian-mommy-blogger-ever. So instead, I'll direct your attention to that post where I talk about being chronically mentally overwhelmed, the most depressing anniversary post you will ever read, that post where I talk about marriage not always being amazing, that post about mothering through chronic fatigue…you get the picture. You're welcome.
The Beauty
Now, to share the beauty. Because in spite of all the mess I have spewed forth recently, my life really is pretty blessed.
I have proof. 
Let's start off with some mischievous blackberry-faced cuteness: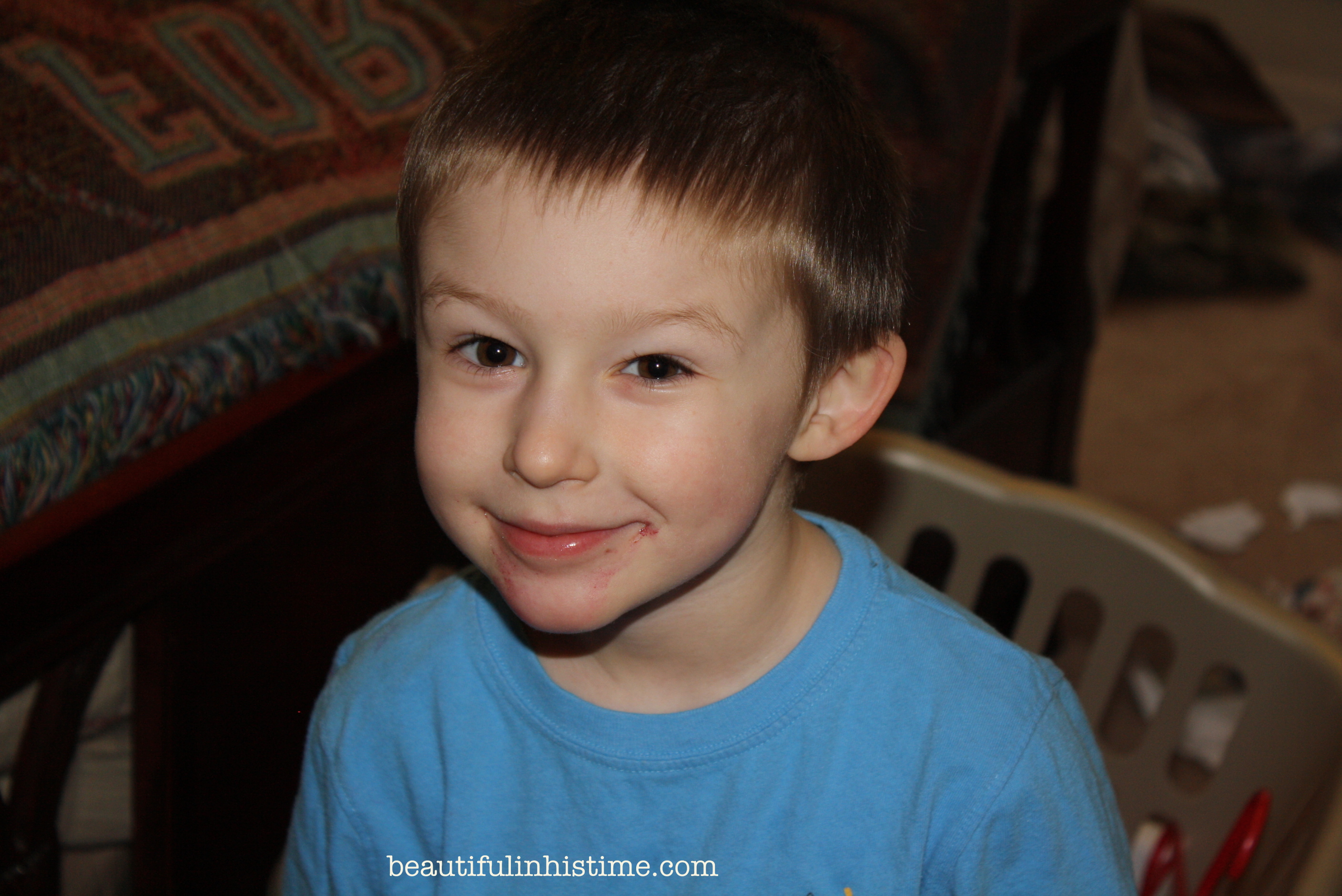 Now, let's talk about Valentine's Day. Ladies, here's what you do.
Step 1: You make sure that it snows so bad that your husband has to stay in a hotel by work the night before Valentine's Day because it's not safe for him to come home and his car is stuck at work. (Absence really does make the heart grow fonder.) Also, make sure that he plans to work overtime on Valentine's Day so he gets home an hour and a half later than normal.
Step 2: Make sure that school is CANCELLED both the day before Valentine's Day and the day of.
Step 3: Make sure that 3-year-old wakes up at 4:52 AM. 
Step 4: Make sure snow melts enough for you to go to the mall so 3-year-old can run off some energy and you can spend some money at the dollar store
Step 5: Keep 3-year-old up without nap, while you clean and decorate and get stuff at the grocery store like flowers and chocolate and sparkling grape juice. Create the atmosphere that YOU want and know you both can enjoy.
You get bonus points if you can do this without losing your temper with said child multiple times. (I failed).
Step 6: Throughout the day, send your husband CLEAR text messages about exactly how you expect your evening to go. He can't read your mind and men don't do hints.
Step 7: Feed and bathe child early while you shower and curl your hair.
Step 8: Start rocking your child 15 minutes before you expect your husband home, so that when he steps in the door the house is quiet and you can enjoy your evening together – ALONE.
I'm not kidding. While the circumstances surrounding this Valentine's Day were not ideal, this was probably the best Valentine's Day we have EVER had.
Also, make sure that your 3-year-old doesn't feel left out. Give him gummy bears for breakfast the next morning.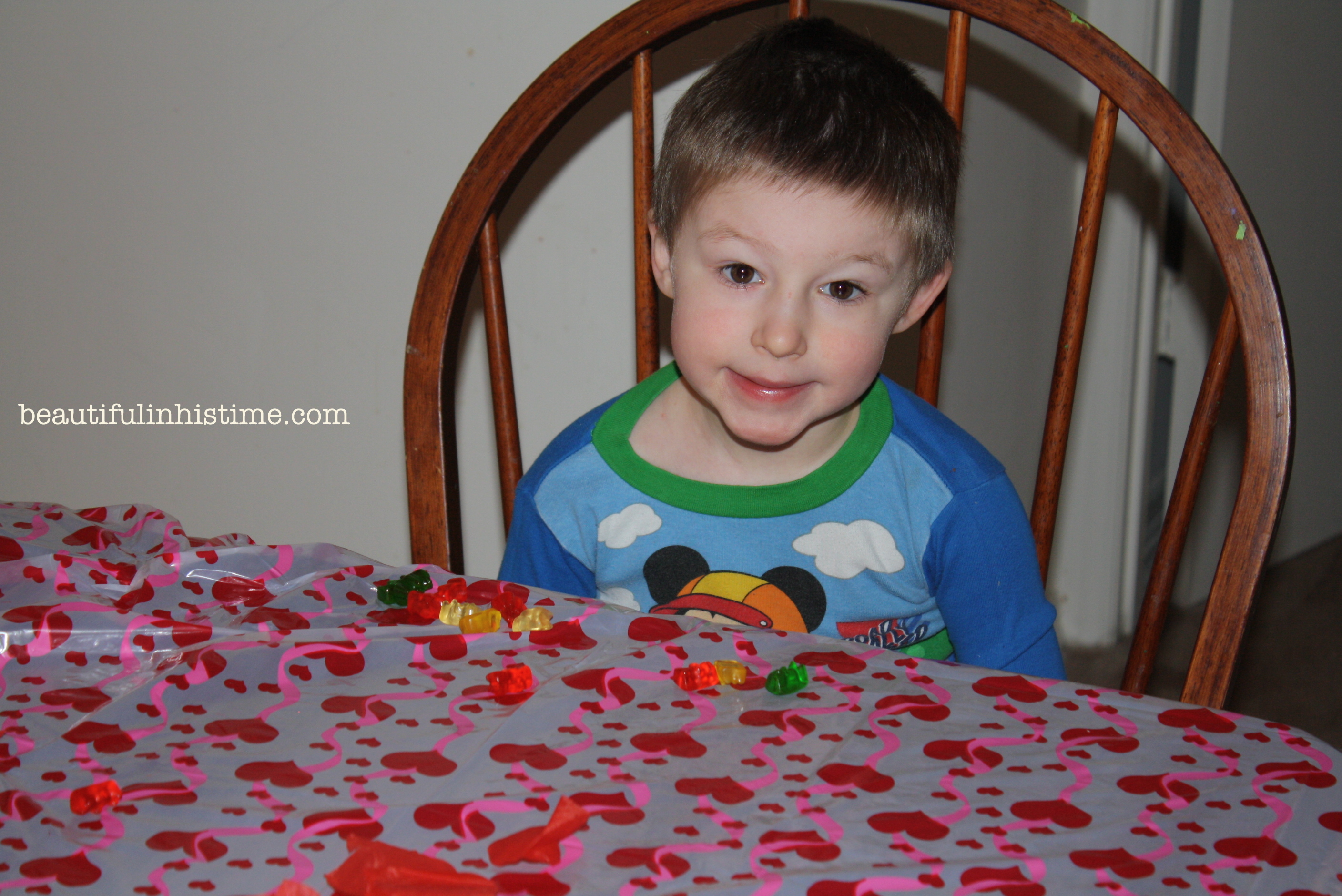 Here are the Valentines gifts Ezra and I made for his classmates, which he had to take to school the following week because of the snow!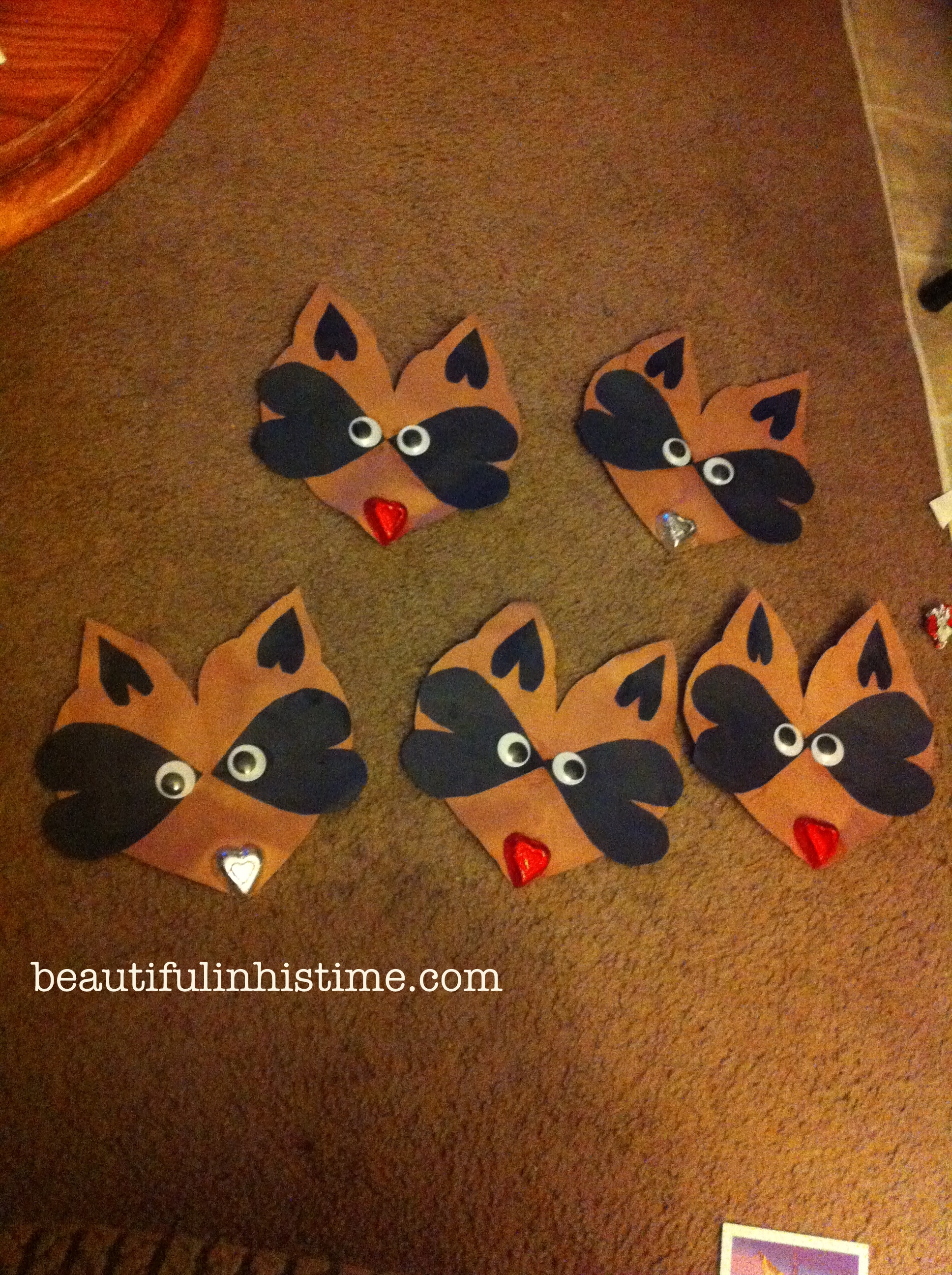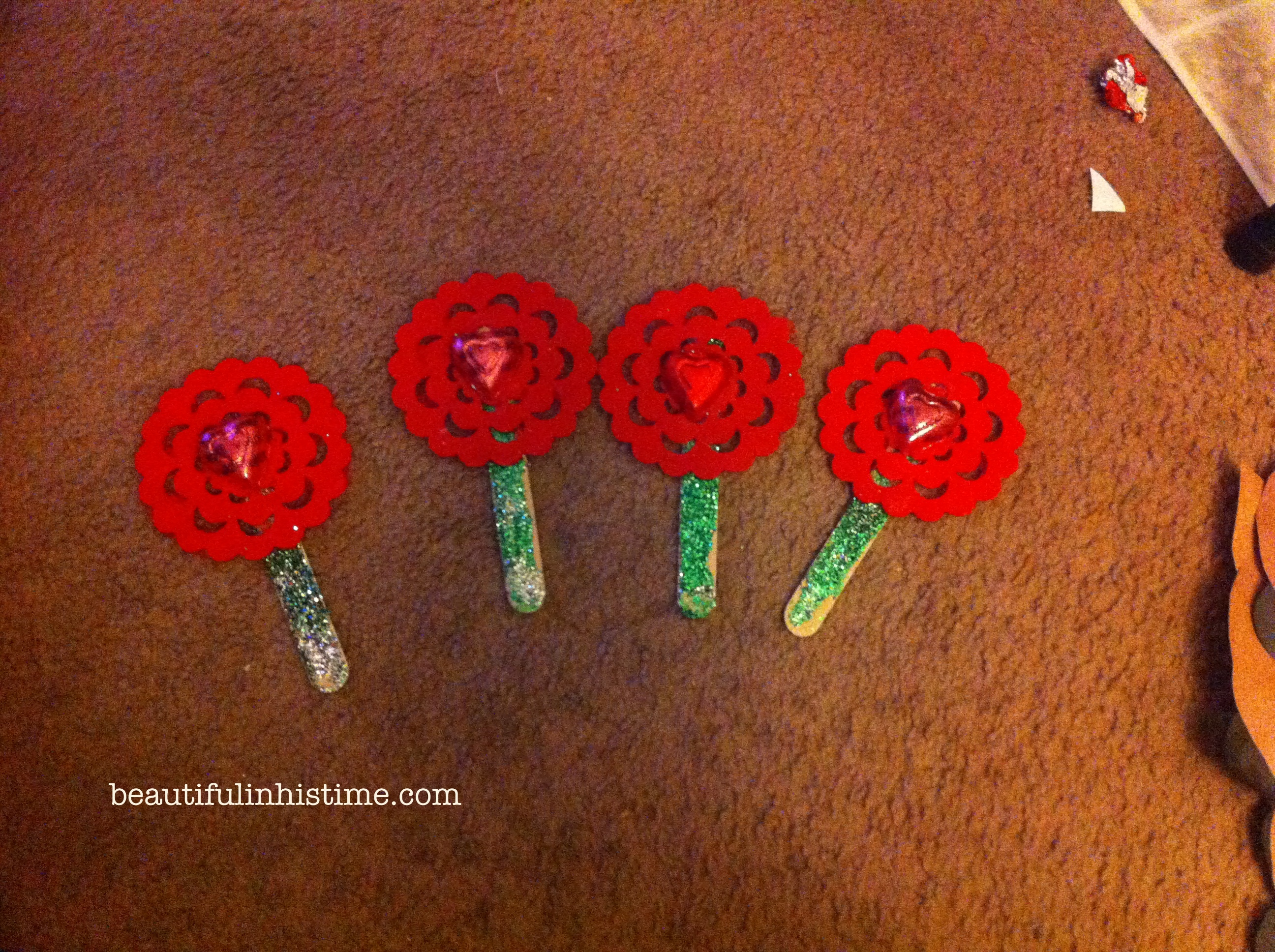 Speaking of snow, we got a lot of it.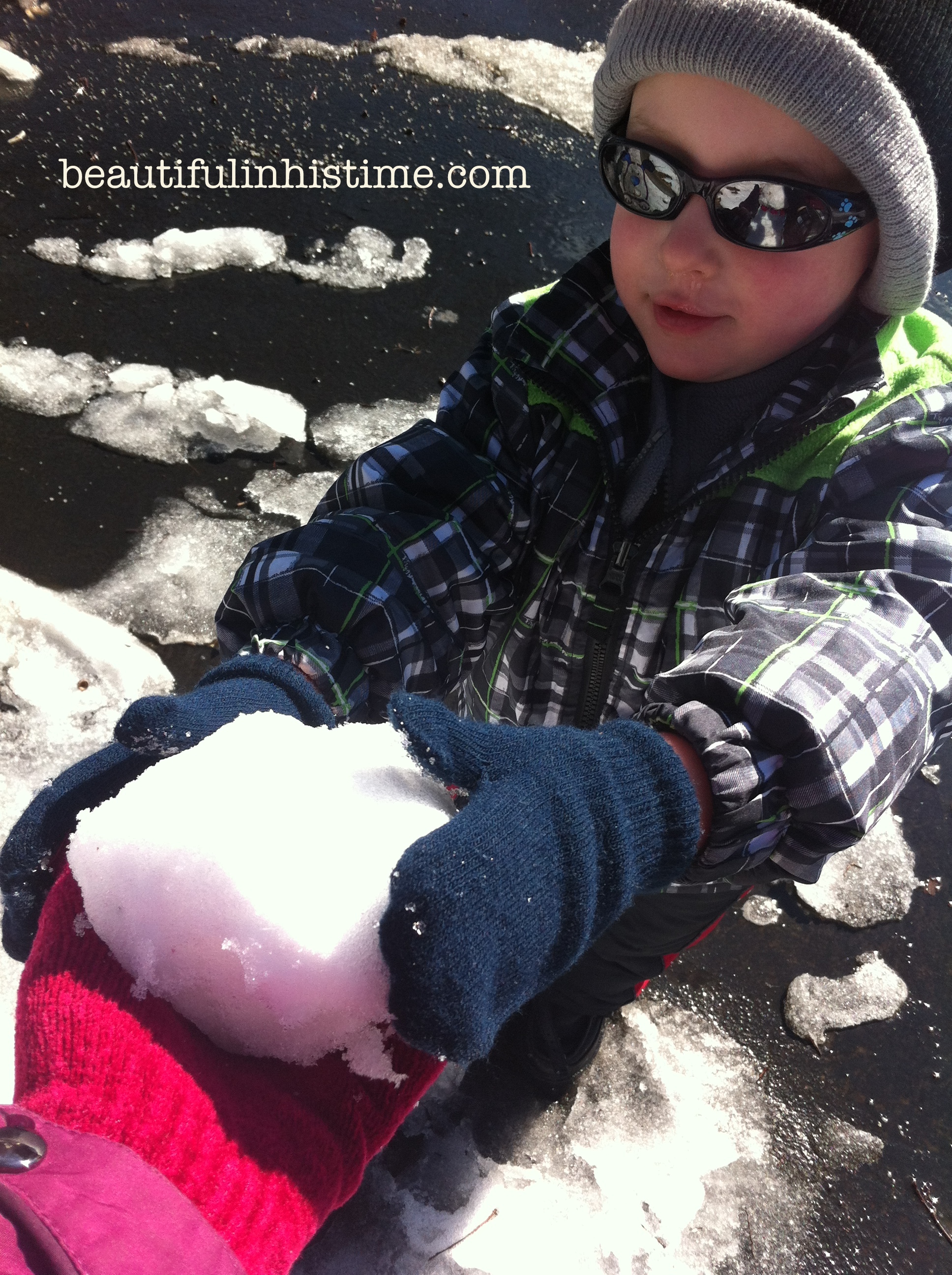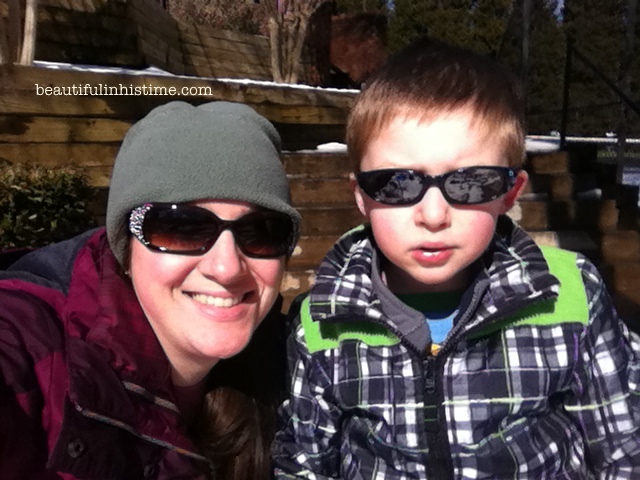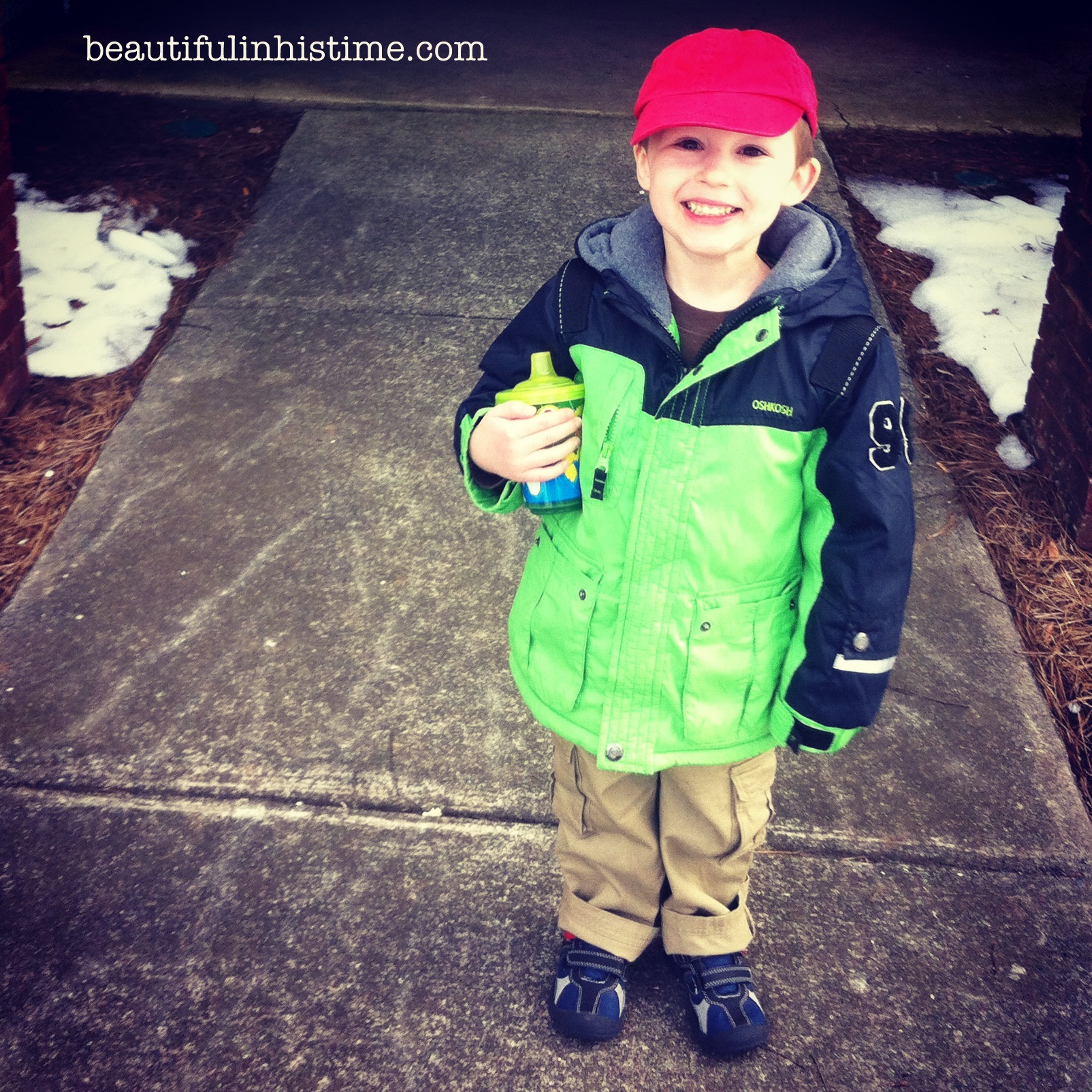 Then it got really warm and we were out playing in it in nothing but sweatshirts. #februaryinNC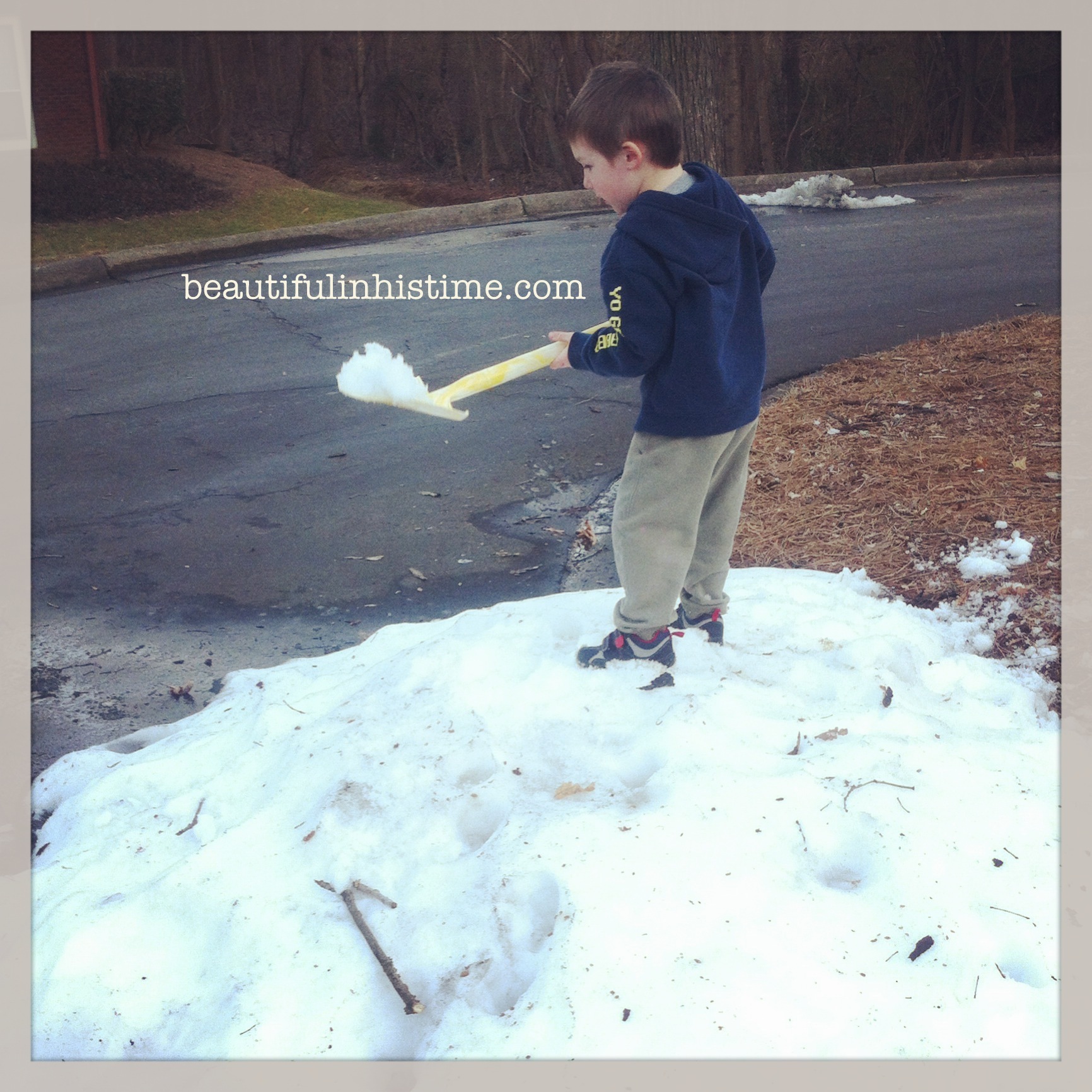 The week after Valentine's Day and the snowpocalypse, I turned 27. I celebrated with a haircut: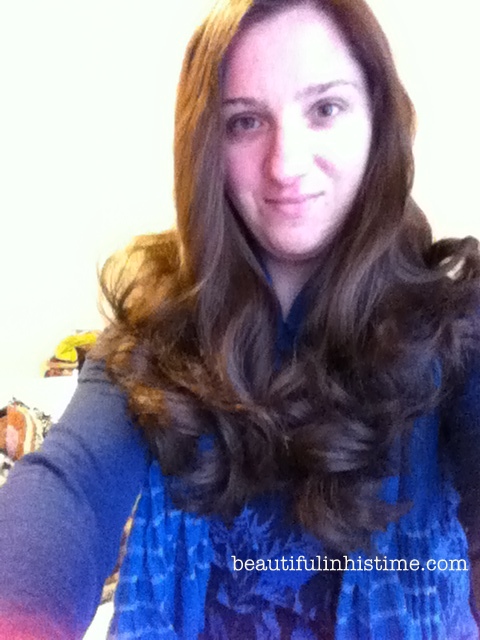 And a massage from a friend. P.S. Friends like Kayla are the best. P.S.S. Send me a spafinder gift card I will probably love you forever and ever amen. I need more massages in my life.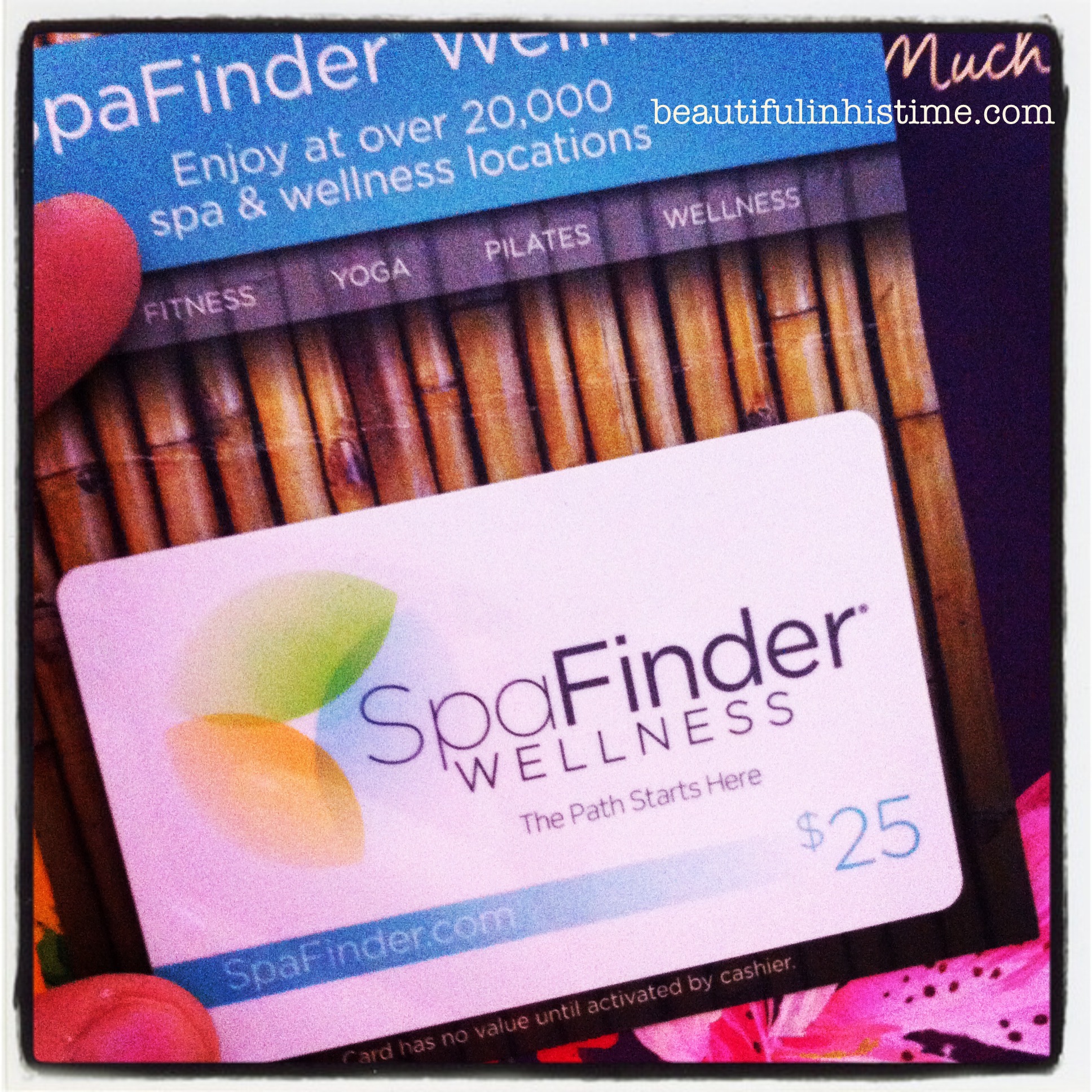 I also got treated to lunch by my MIL, which meant caesar salad, french onion soup, and creme brulee!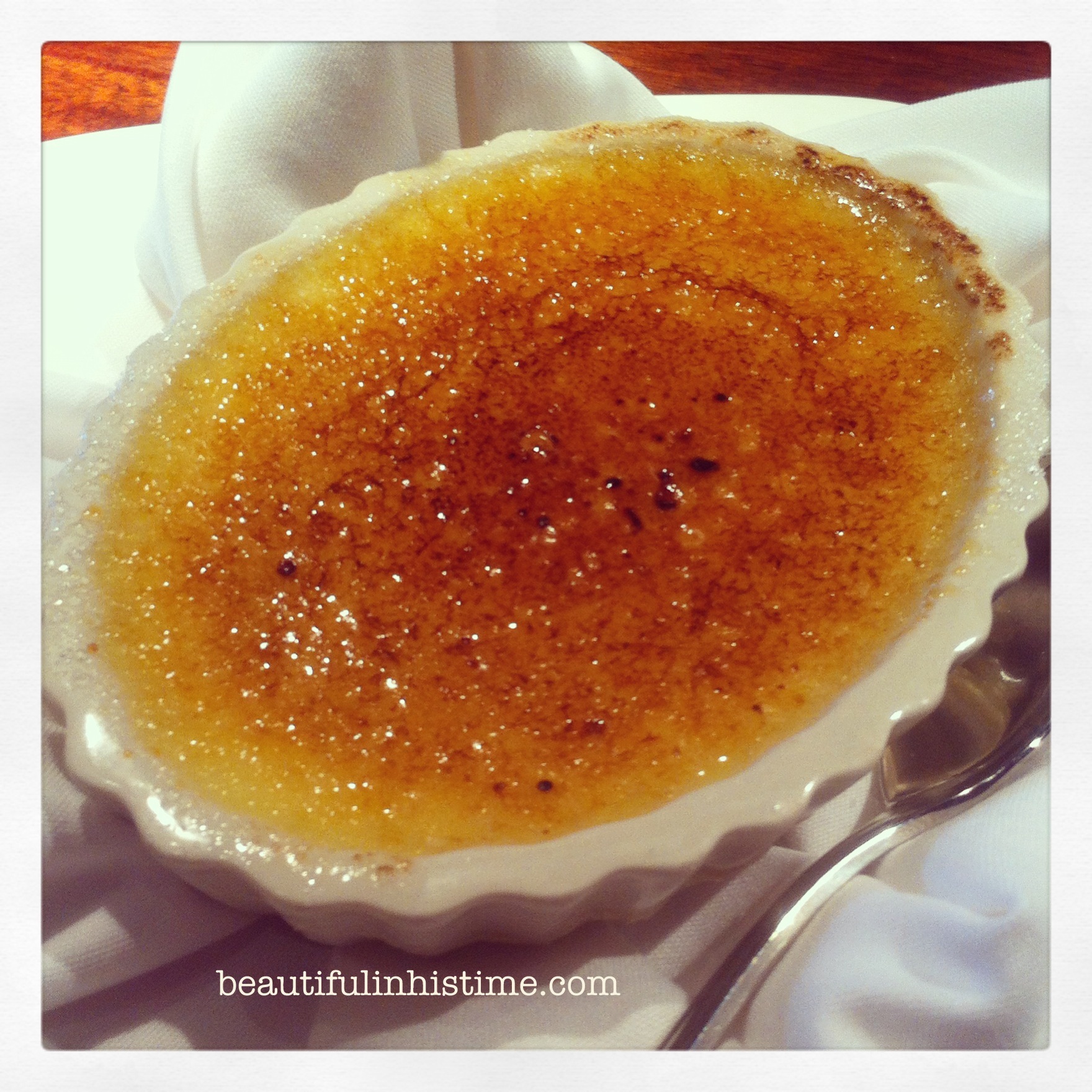 My in-laws also had us over for (steak) dinner (thank you Steve) and ice cream cake: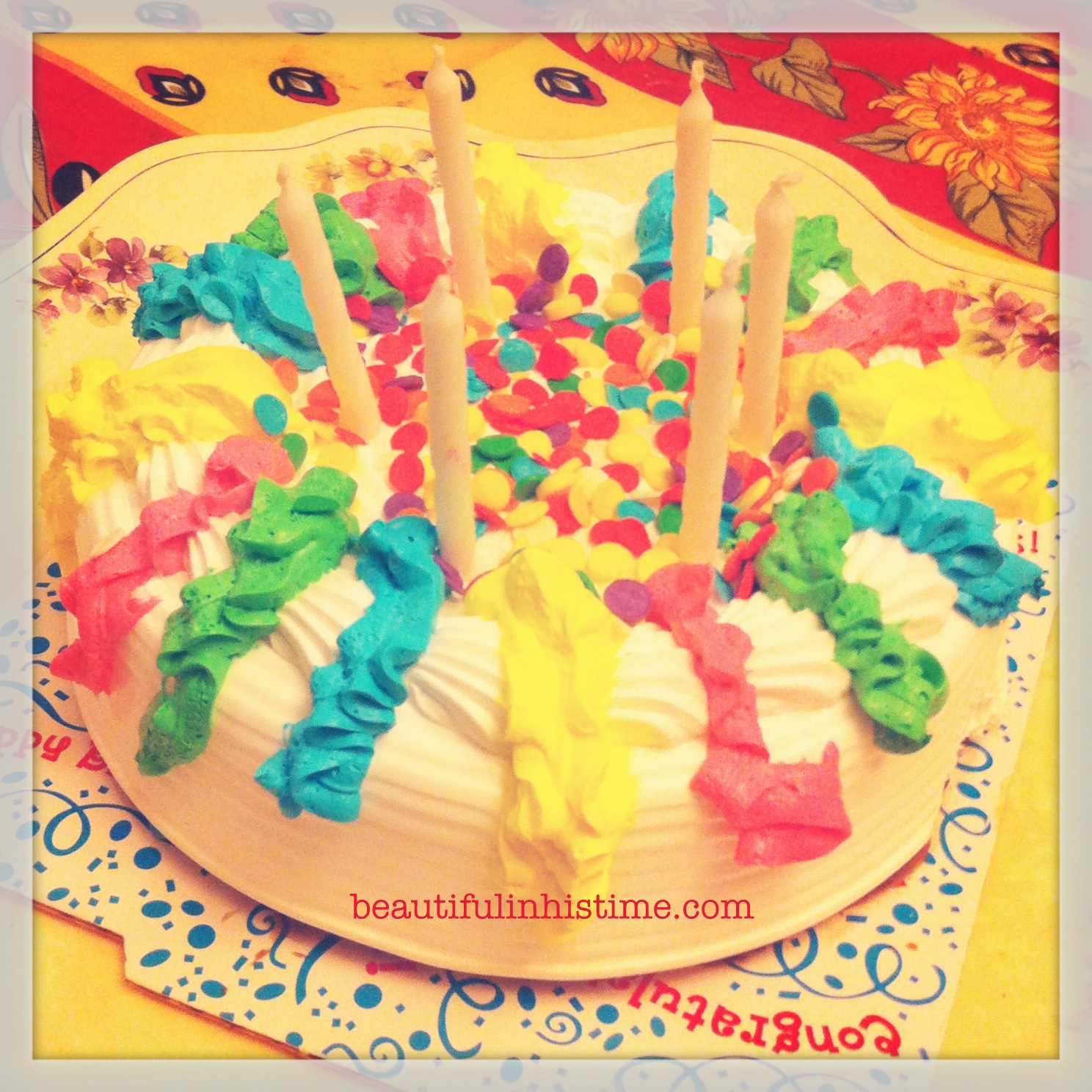 Happy Birthday indeed!
When Ezra isn't home because of snow days, or ice days, or "Spring" break, I've been trying to catch up on life and prepare to move to our new house.
So, the first day I went over to work at our new house, it was a pretty warm day so I was wearing a t-shirt. But because it had been cold and the heat was off in the house, the inside of the house was frigid. I figured that instead of turning on the heat I would scrounge around for a sweatshirt (my in-laws still had a quite a bit of their belongings in the house at the time.) I went digging around in the basement and found a PT sweatshirt that belonged to my husband when he was in the Air Force (when I was between the ages of 9 and 13). He didn't save much from his time there so I was surprised to find it. It had his initials and social in the tag and everything!  It's stained but I don't care! He's an Air Force veteran and I'm proud to be his wife!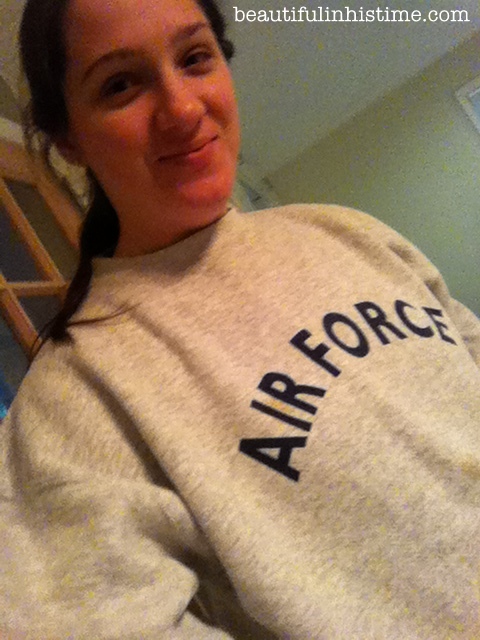 We are moving our belongings over to the new house very slowly. This was the very first addition – to the guest bathroom. The existing paint just happened to match my color scheme: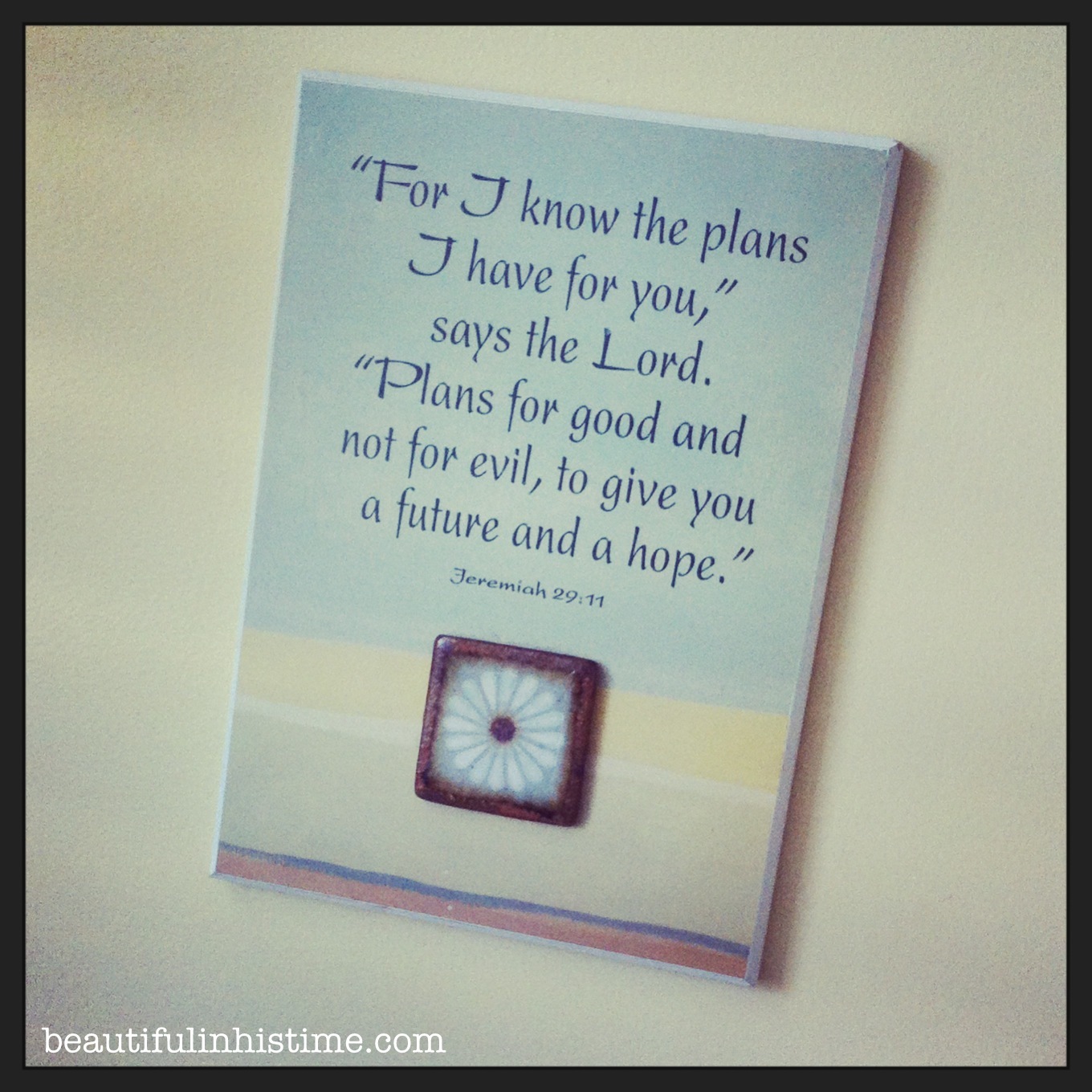 We've also stayed busy working in the yard clearing leaves…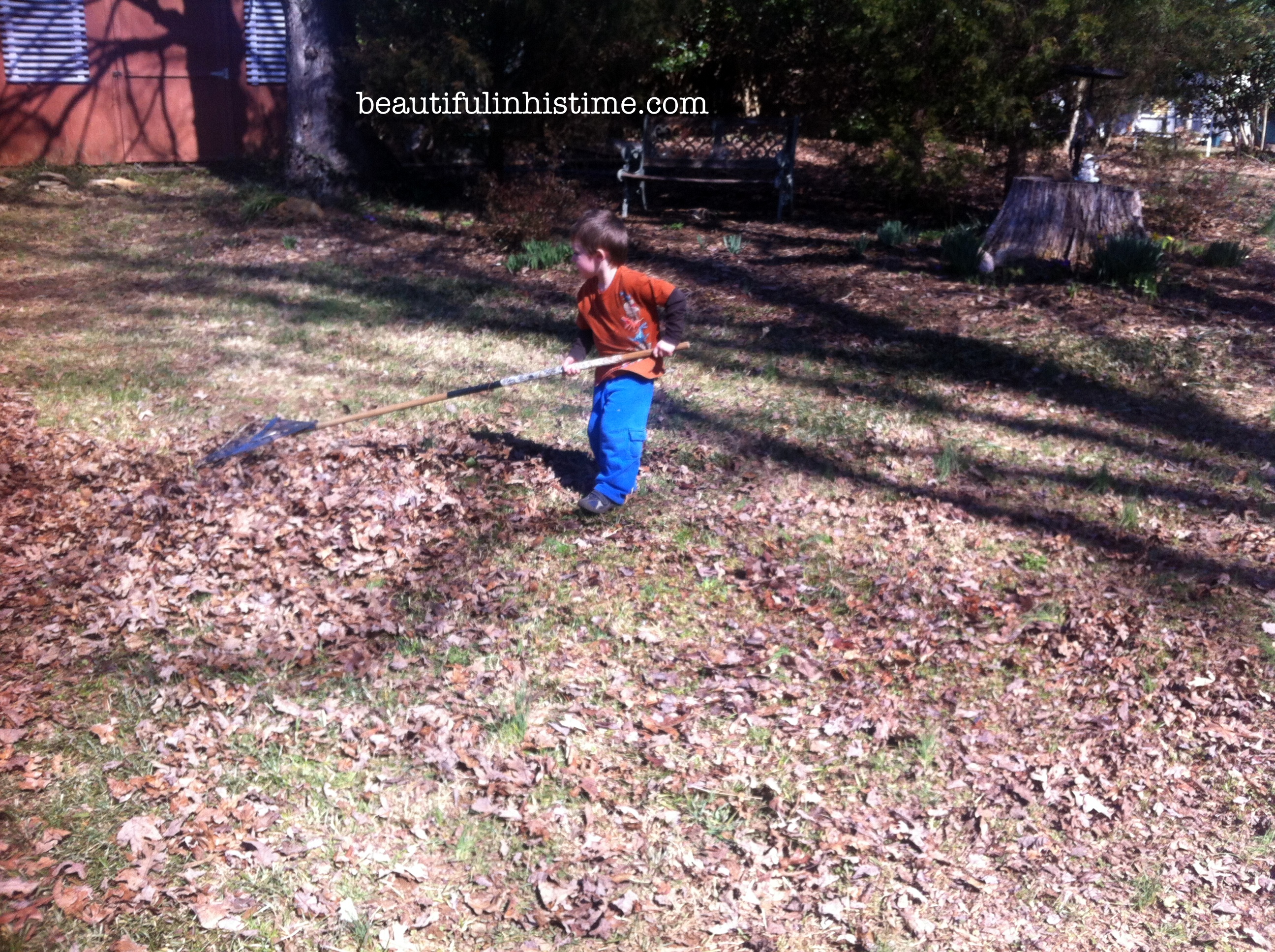 Bought a new kitchen table and chairs on Craigslist: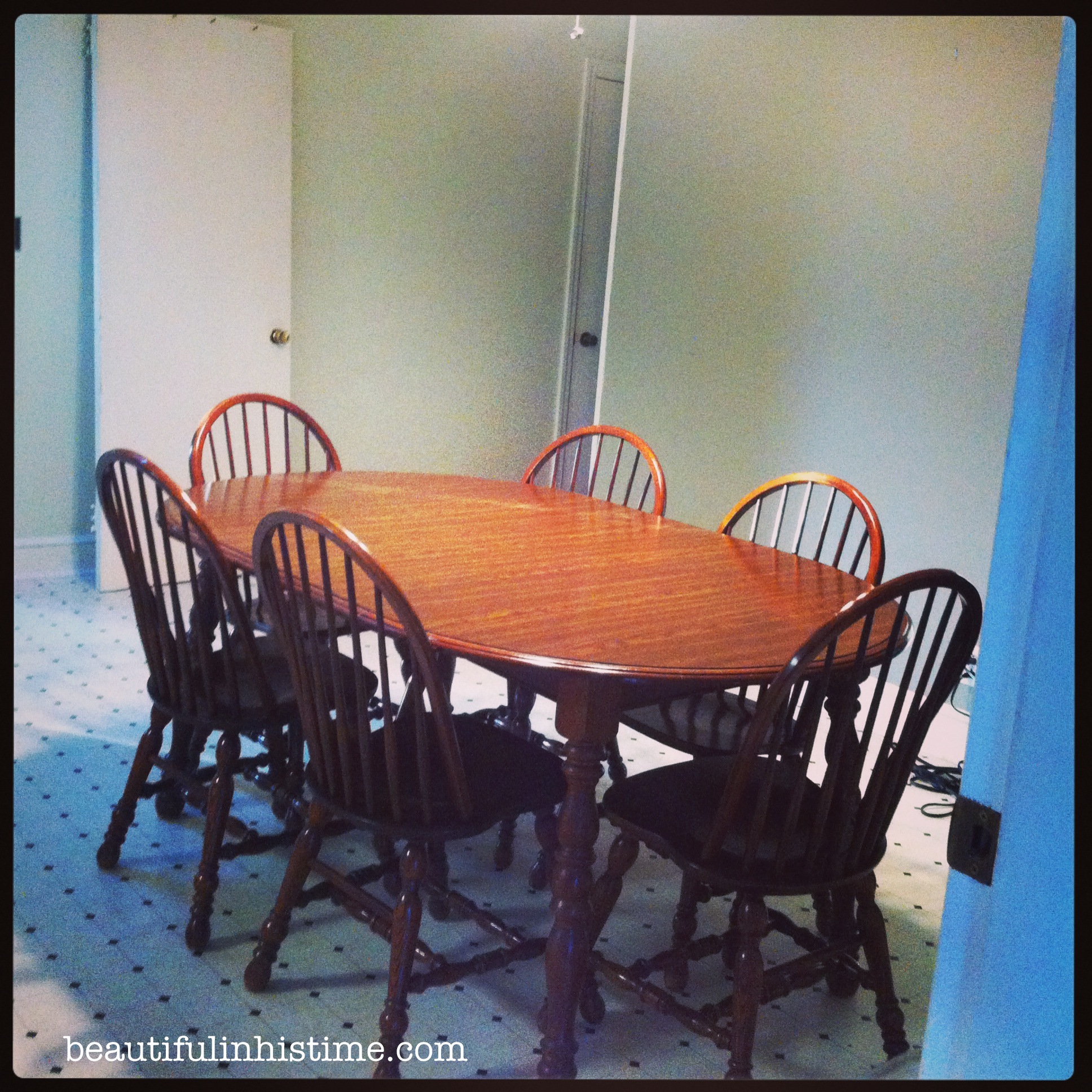 And got an area rug for our living room: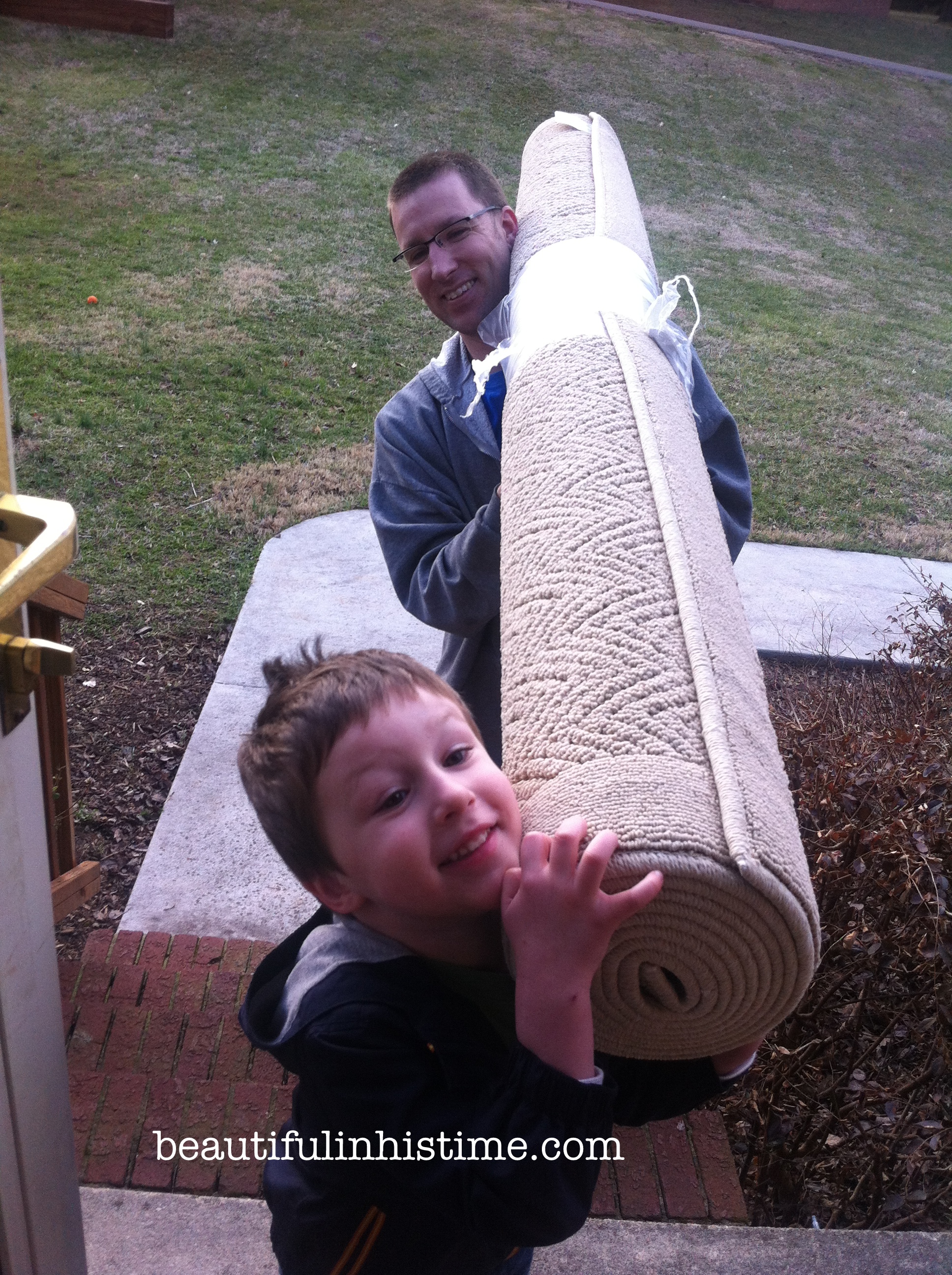 Last weekend we celebrated our anniversary. Our plans were slightly thwarted because our in-laws, who were going to keep Ezra overnight for us, didn't have power due to the ice storm.
But, they did keep him for a few hours so we could have a fancy dinner together (hotdogs for him, salad for me) and decorate our anniversary cake.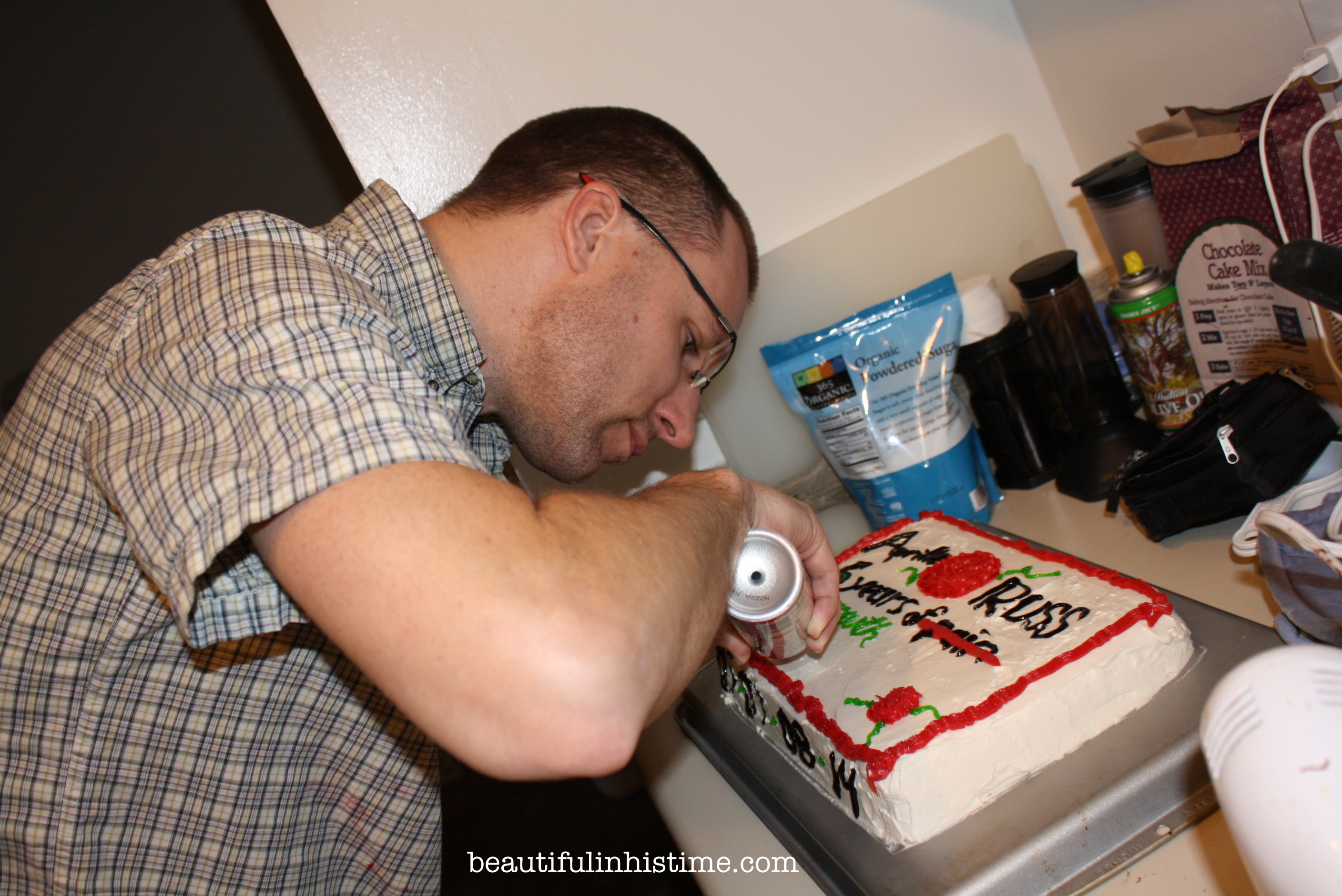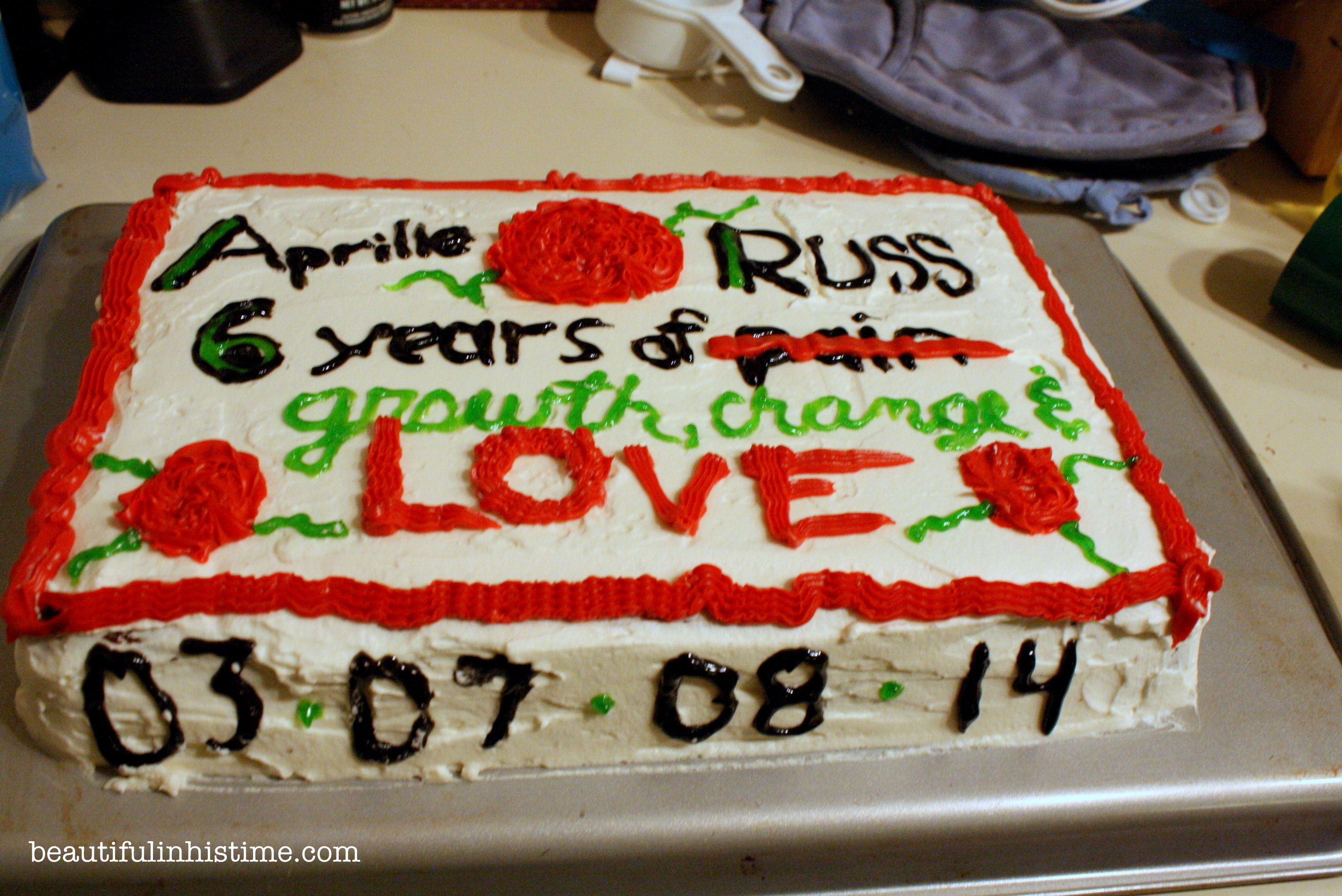 We also watched the Princess Bride, which is a kind-sorta March 8th tradition at most, significant movie to us at the very least.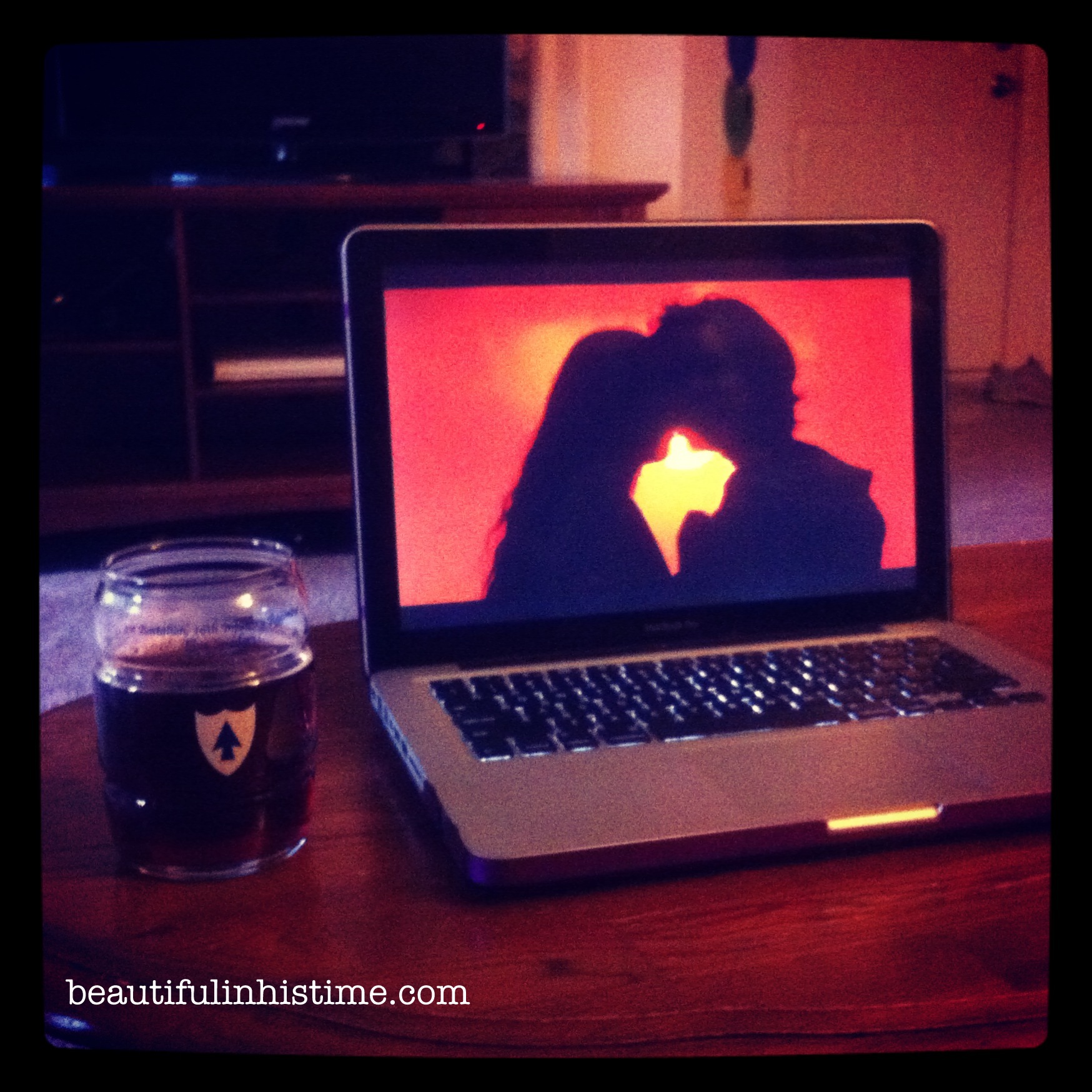 Now, for some random beauty and cuteness and love and all of that stuff…
Wake up child at 6:30 and tell him it's time to go to school. He says he doesn't want to go. By 7 he's eating breakfast WITH HIS BACKPACK ON!
This month we found Signing Time on Netflix. I love this show. Except when I don't. Seriously, it needs a parental warning. "Caution: Annoying songs will get stuck in your head for weeks."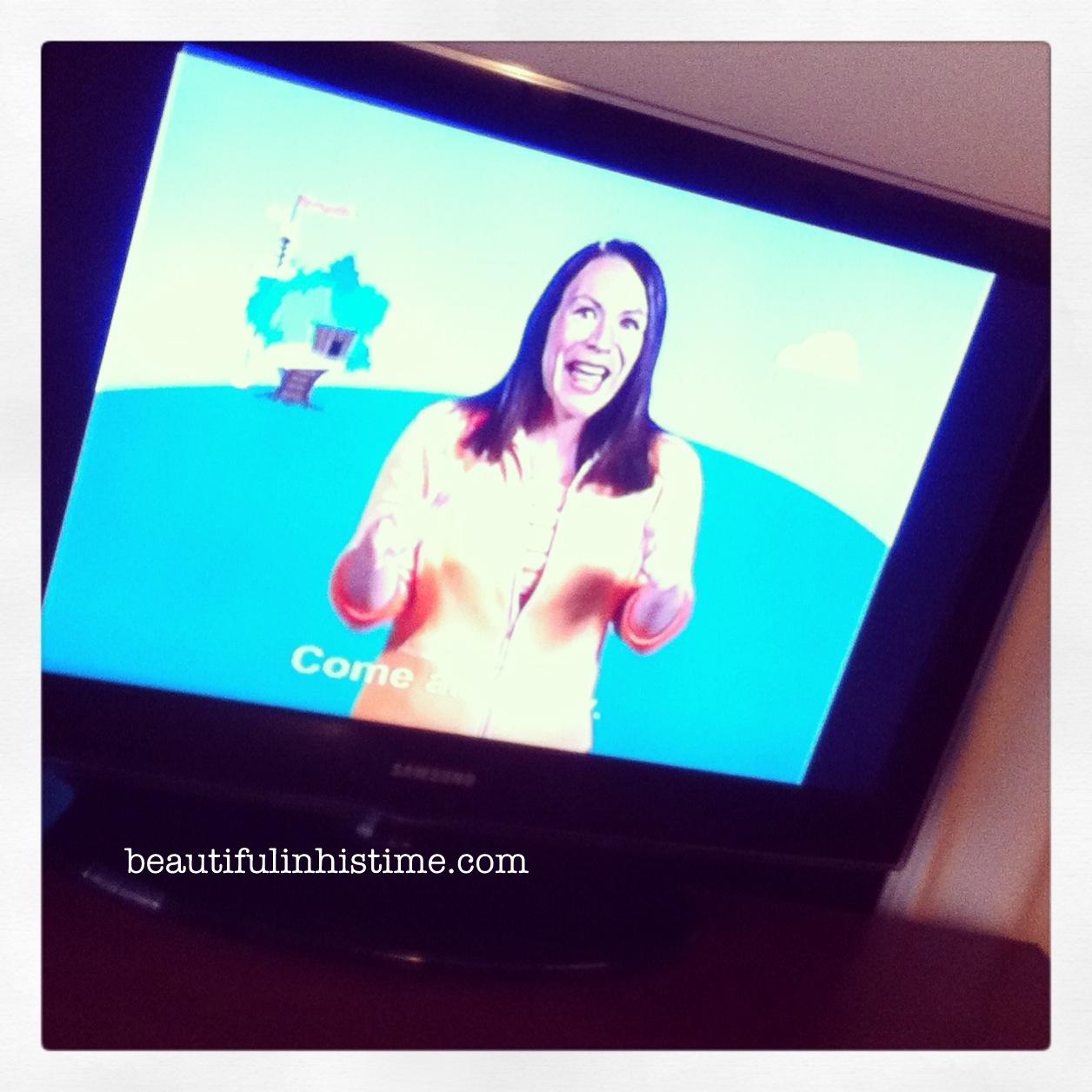 Ezra spelled his very first unprompted word. He called us into the bathroom to tell us he had found the word OX!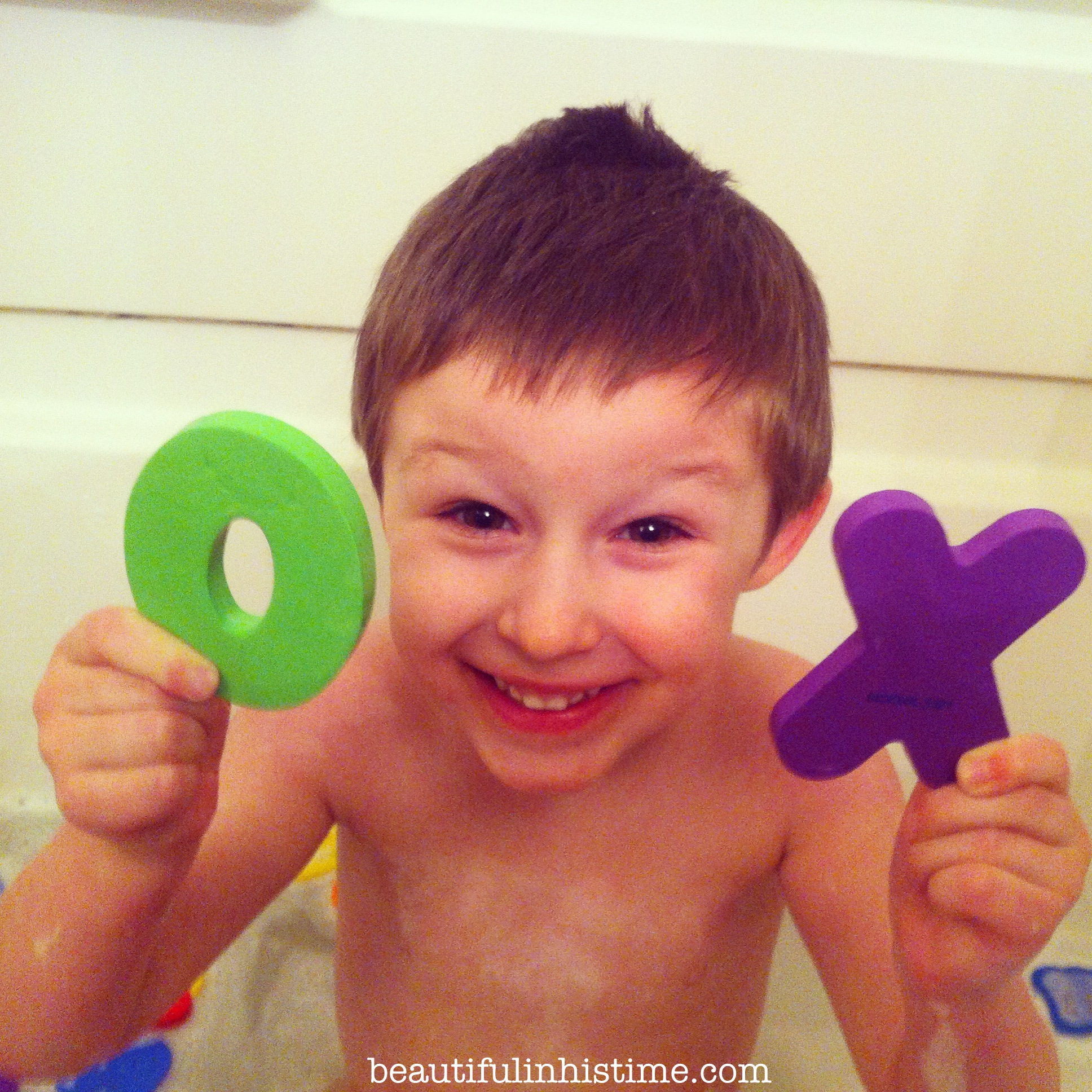 He also taught me that this is actually called "Rainbow Salad." Who knew?!?!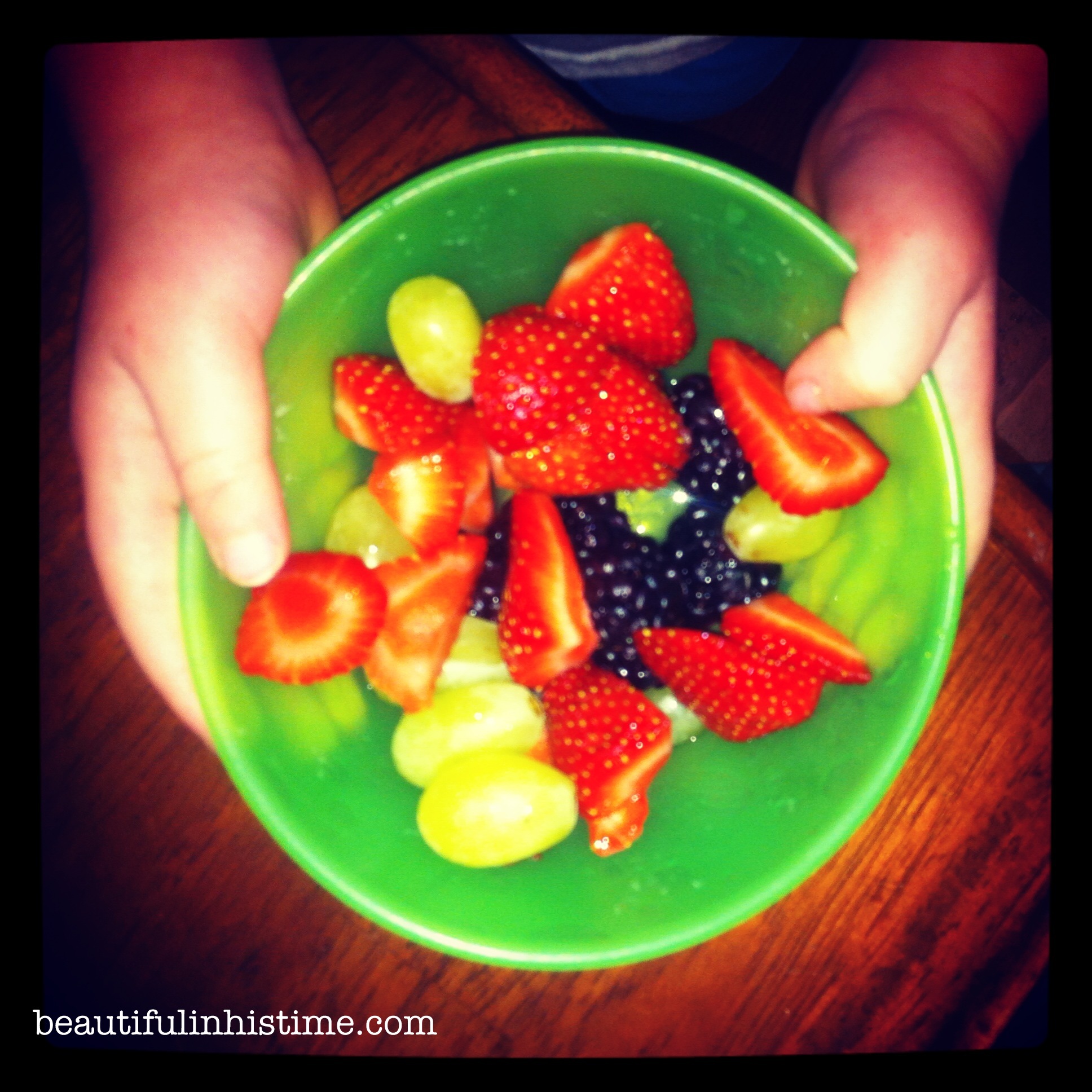 I bought him this new shirt at a consignment sale and I just love it.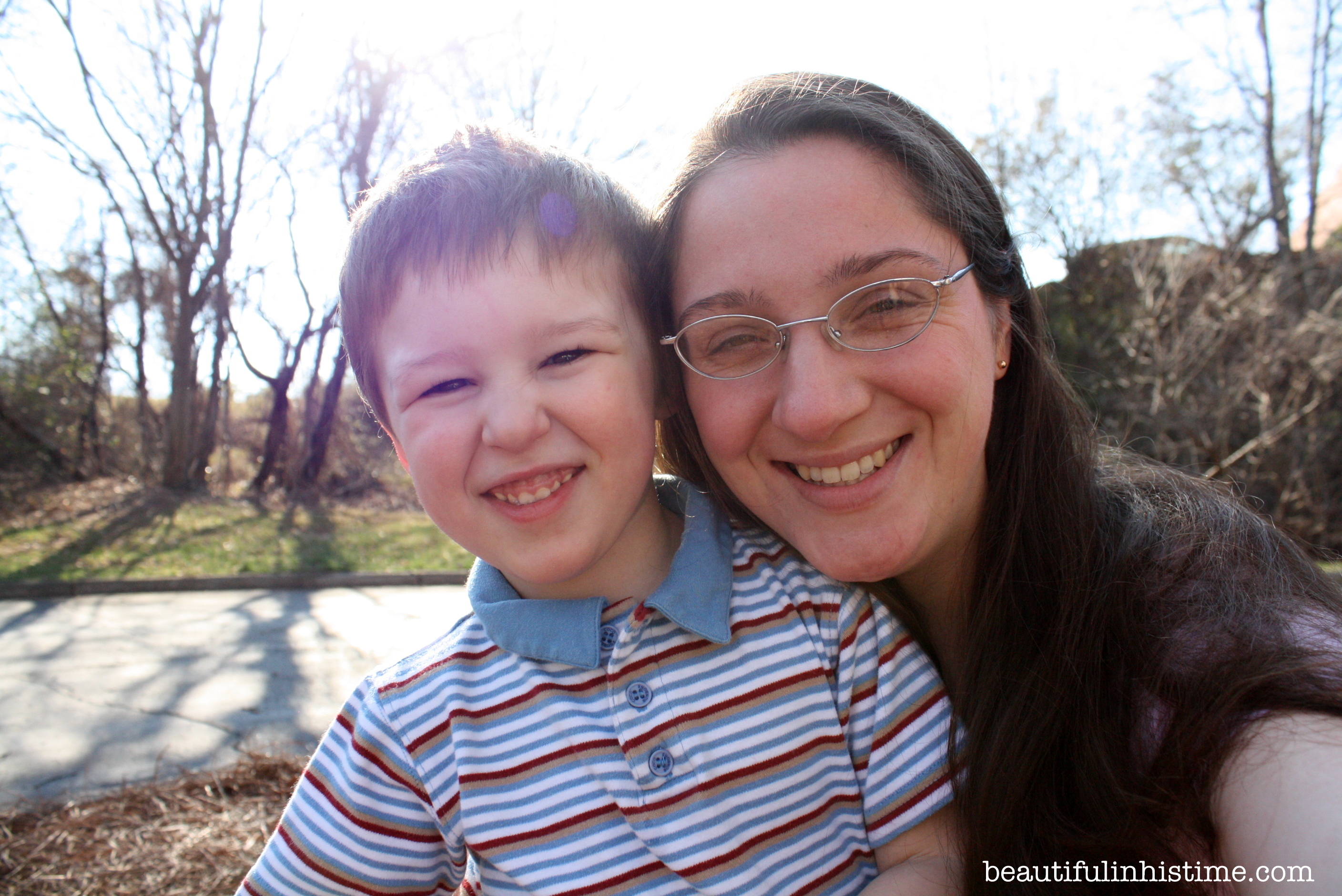 Ezra is still be ornery and defiant and disobedient and not-gentle and sometimes downright mean. It's overwhelming and frustrating but I'm trying to find beauty in it, even though he likes to make mean faces when I'm trying to get nice pictures of him.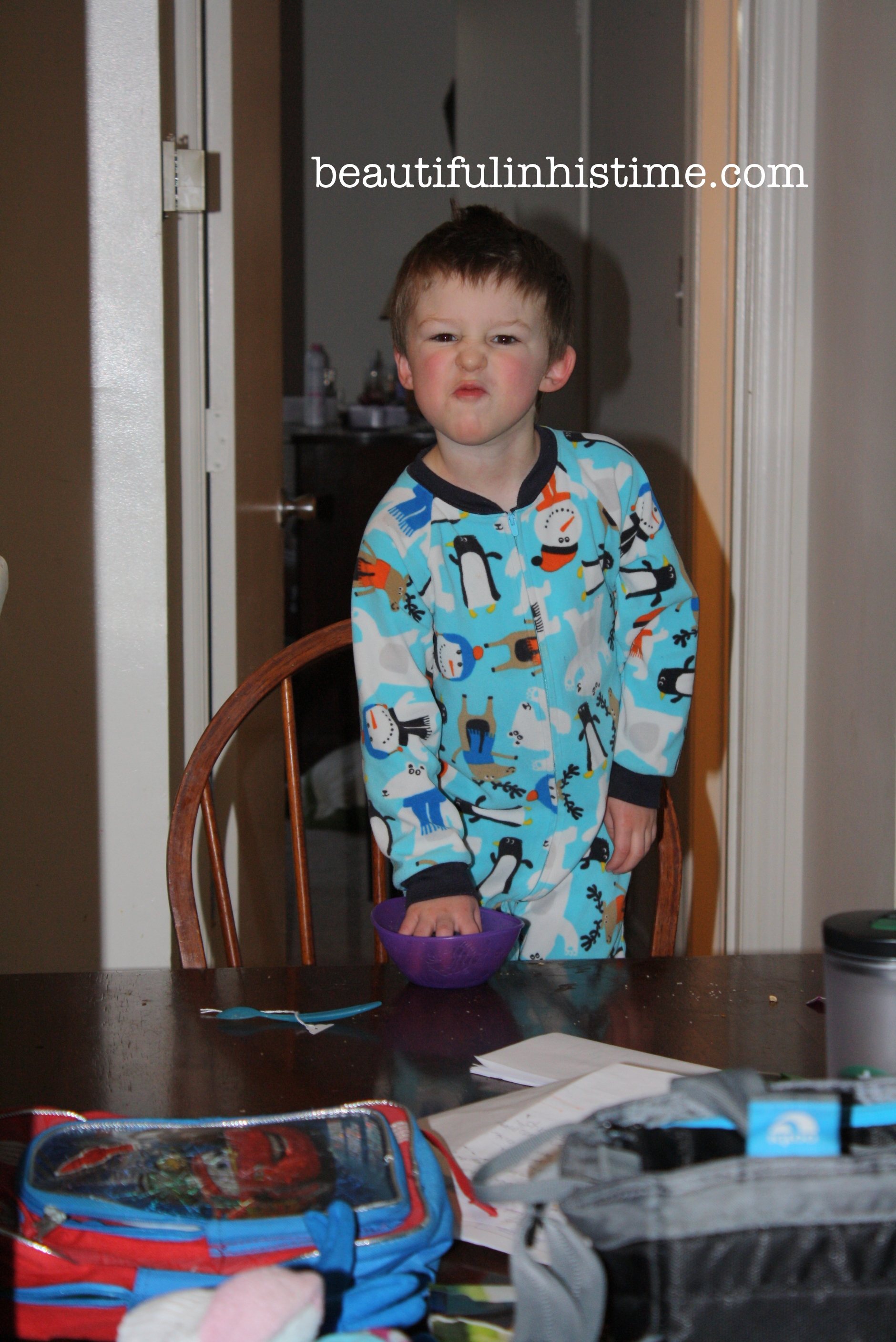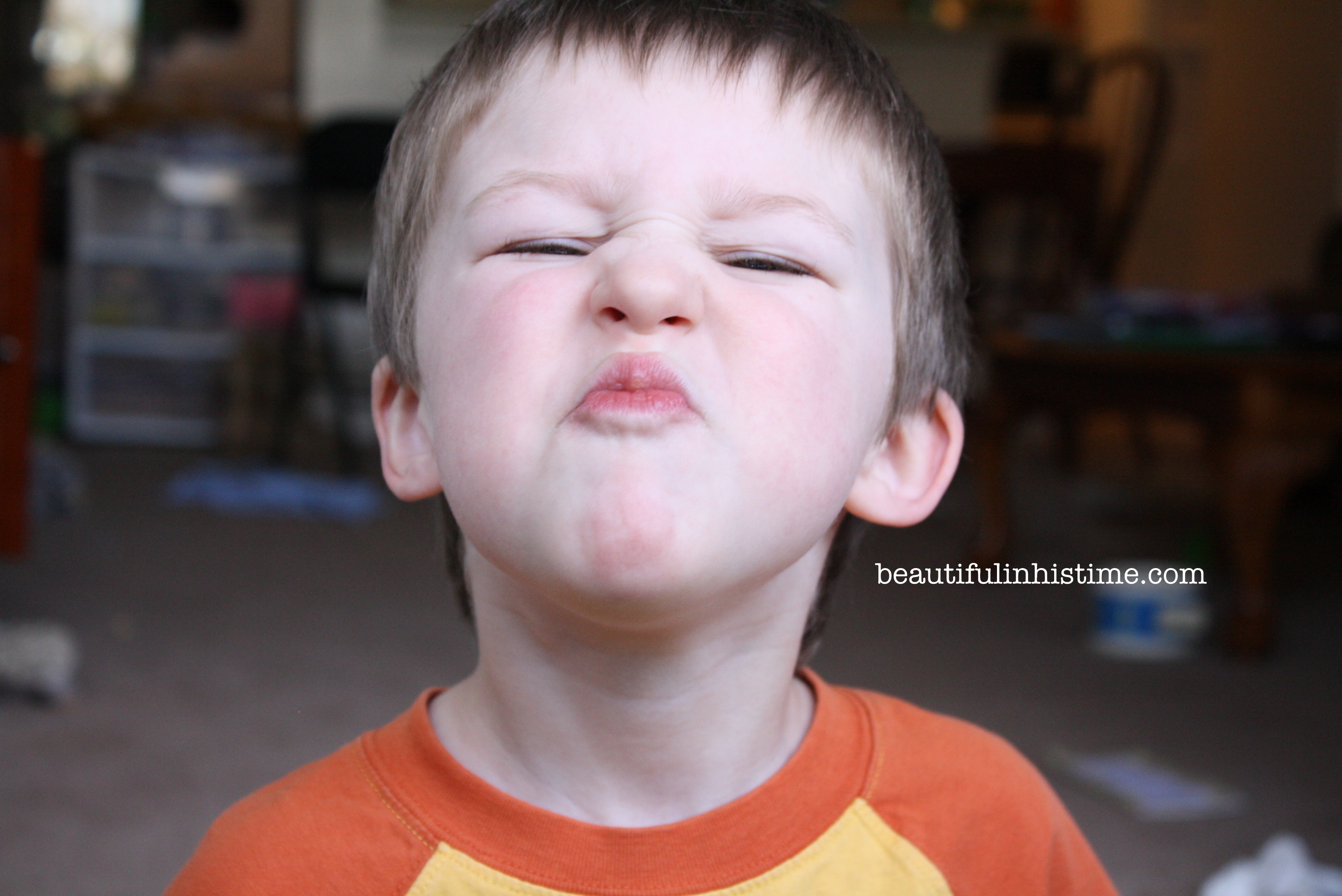 He's also started mooning the camera. Unfortunately, this is a paternal hereditary trait going back at least 2 generations.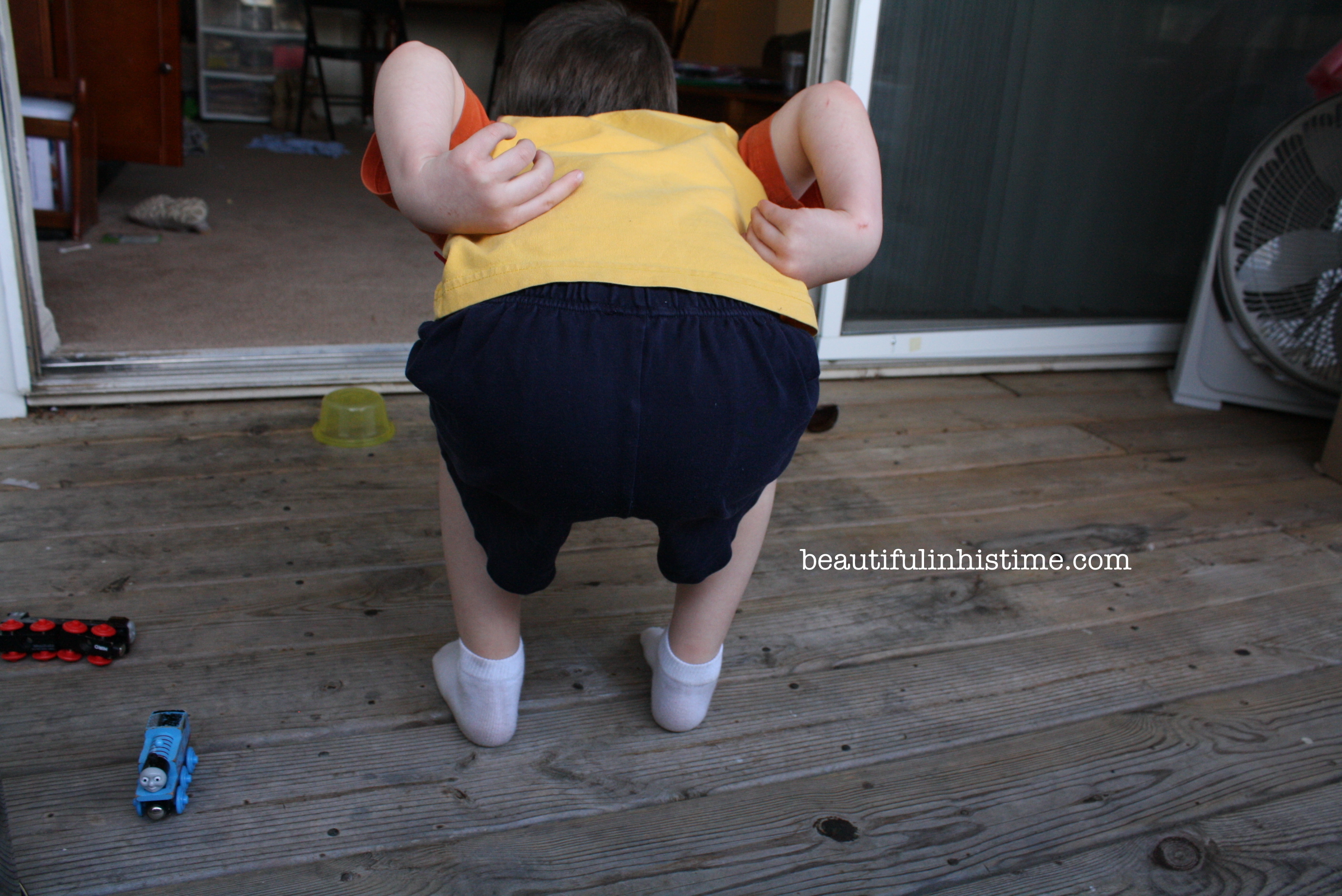 Ahh, finally, a nice picture of my sweet little boy!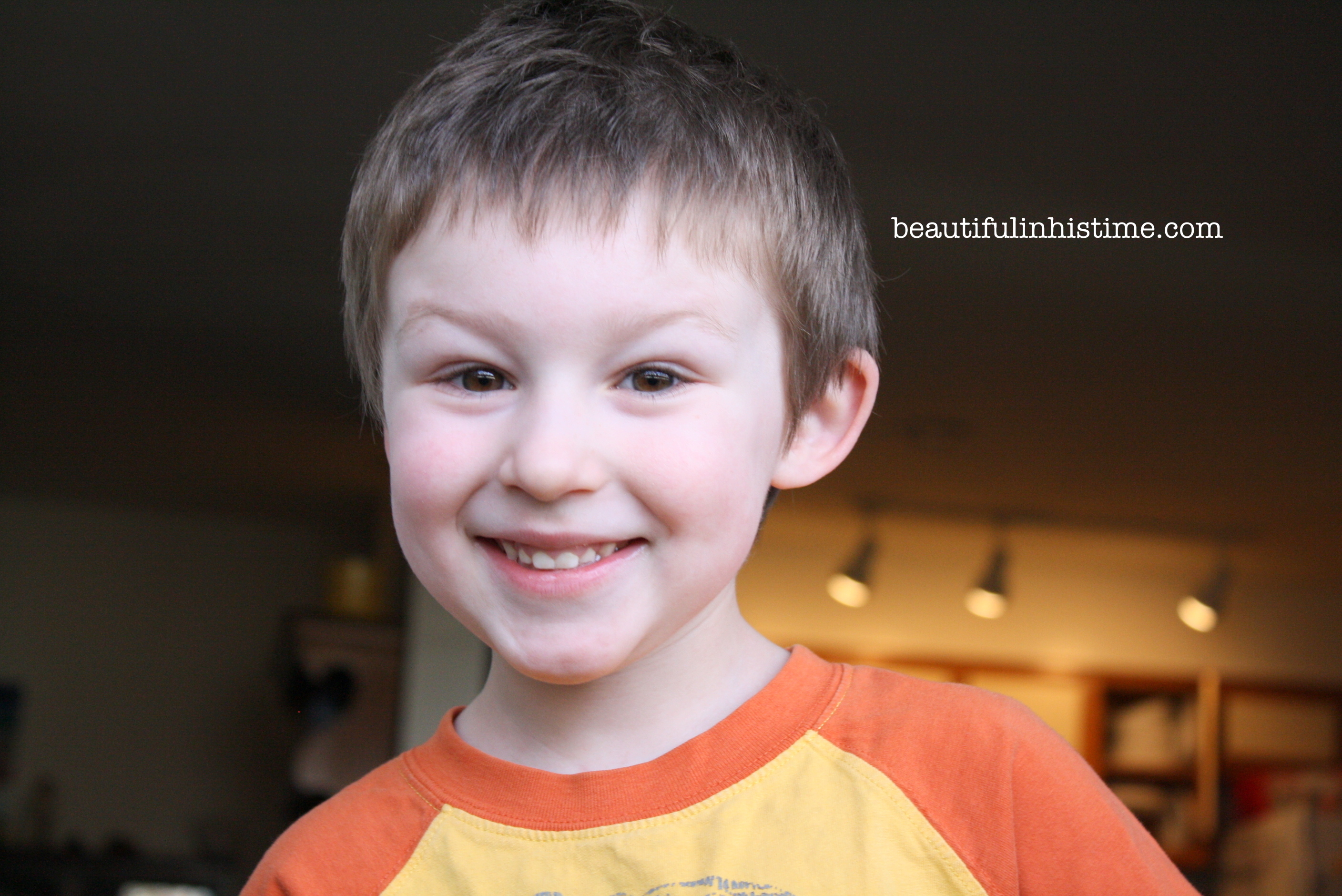 He frustrates me to no end and knows how to push every button (including the ones I didn't know I had), but I love him in spite of it all.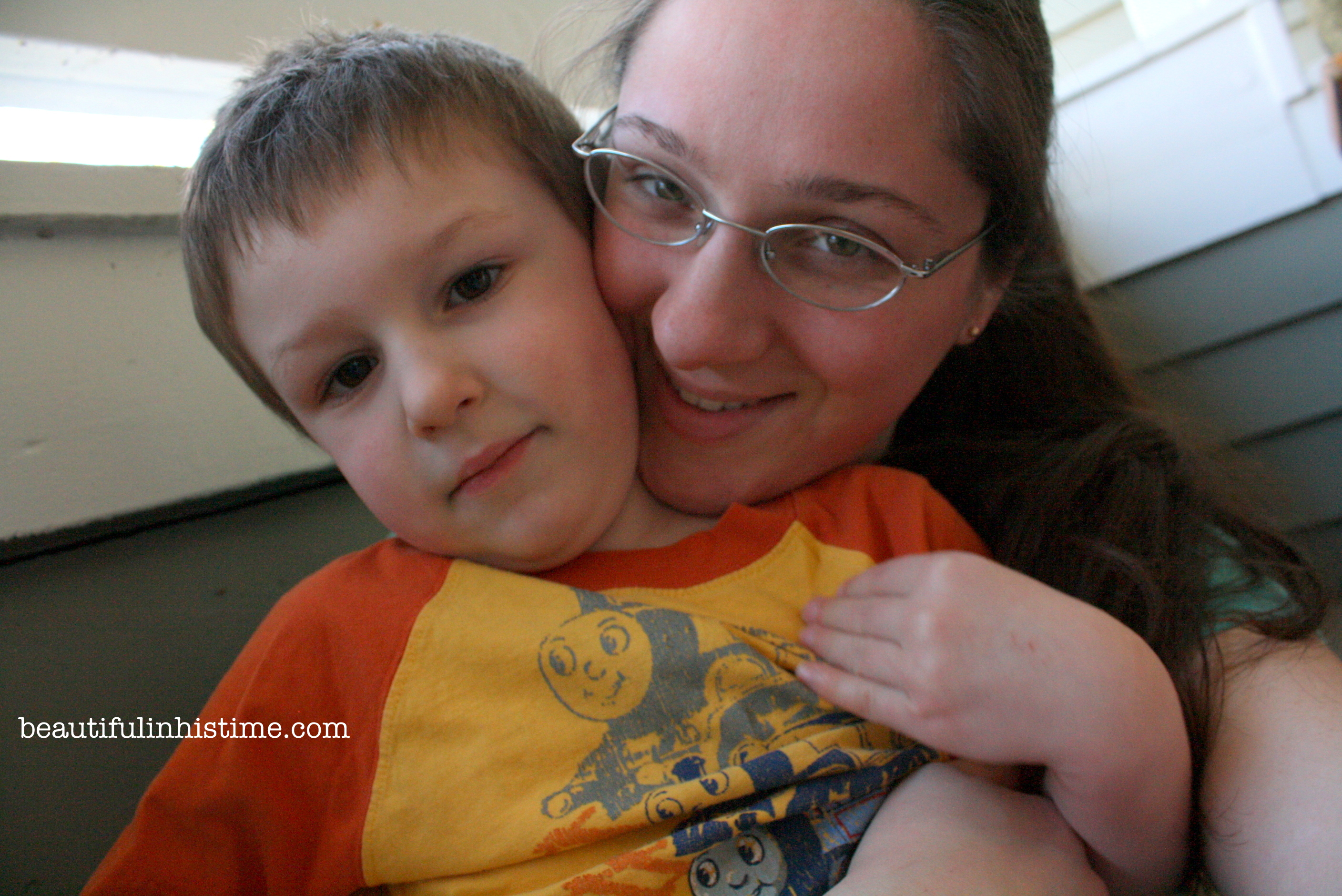 And on a very rare occasion, I actually feel like we are rocking this parenting thing.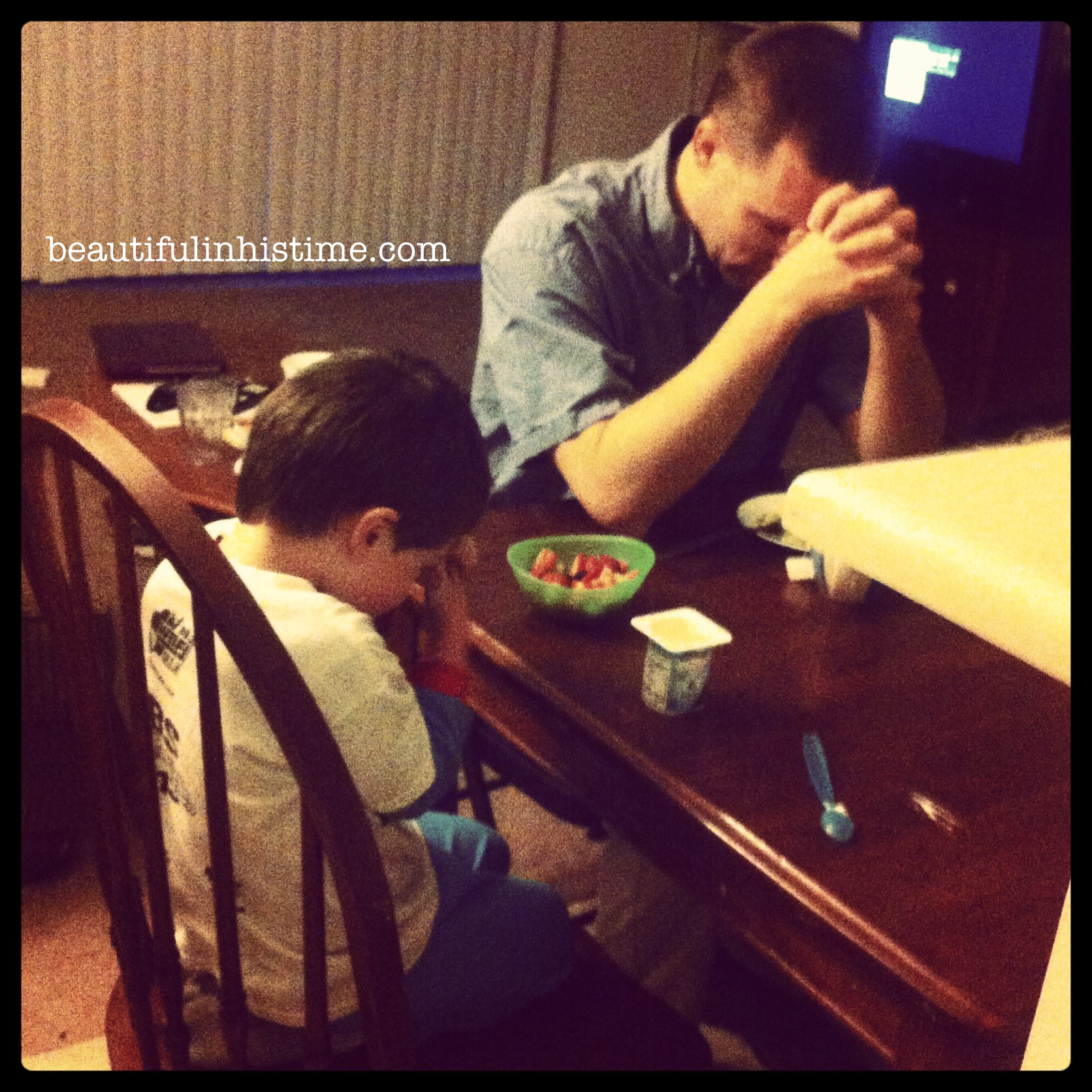 This past week, someone anonymously sent me flowers to encourage me. This quote threw me though. My first thought was, How did Lysa Terkeurst know I was having a hard time? I didn't even know she read my blog! And how did she get my address?!?! 
Well played, friend, well played. For a second there my head was growing!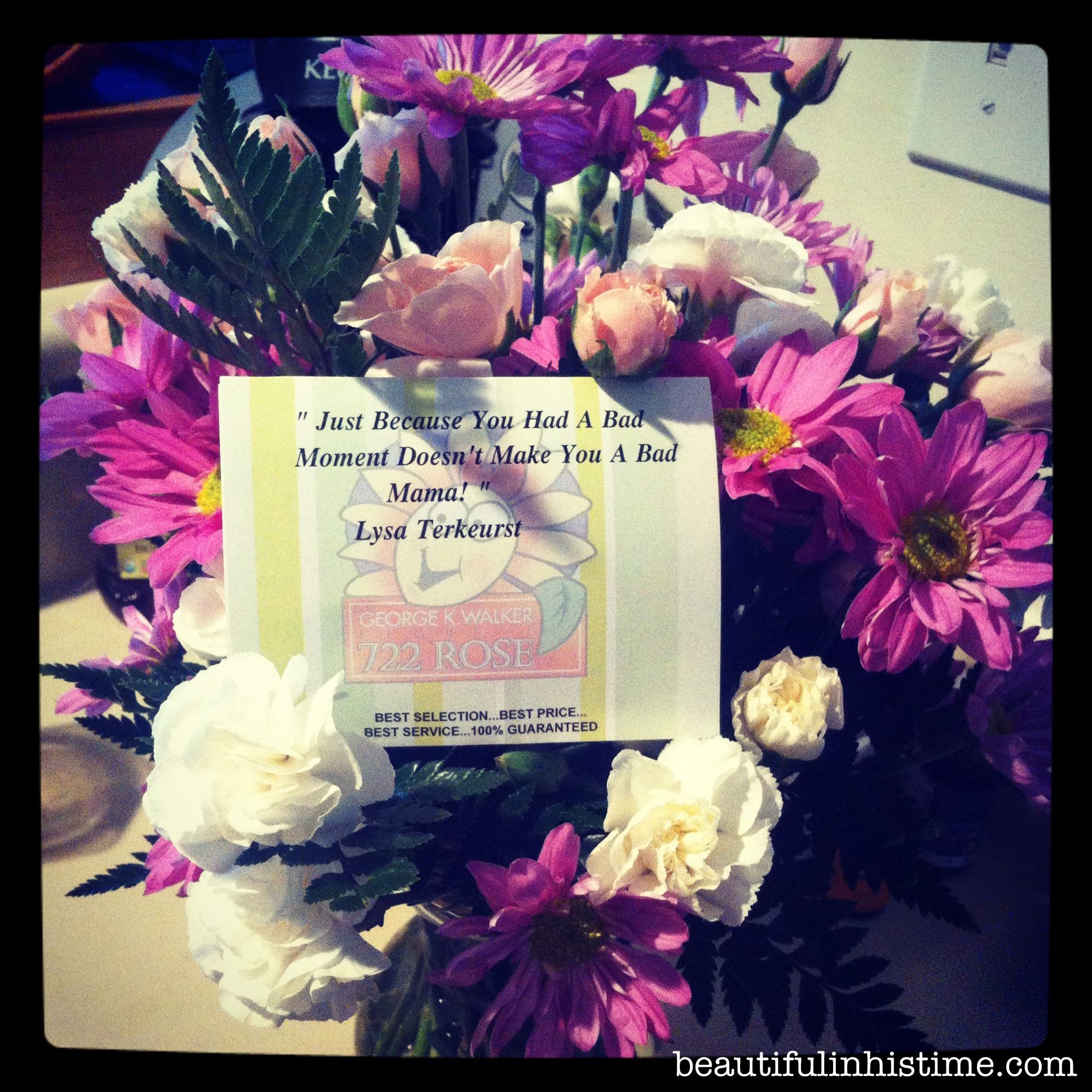 There is beauty in boys and bugs…as long as they stay outside!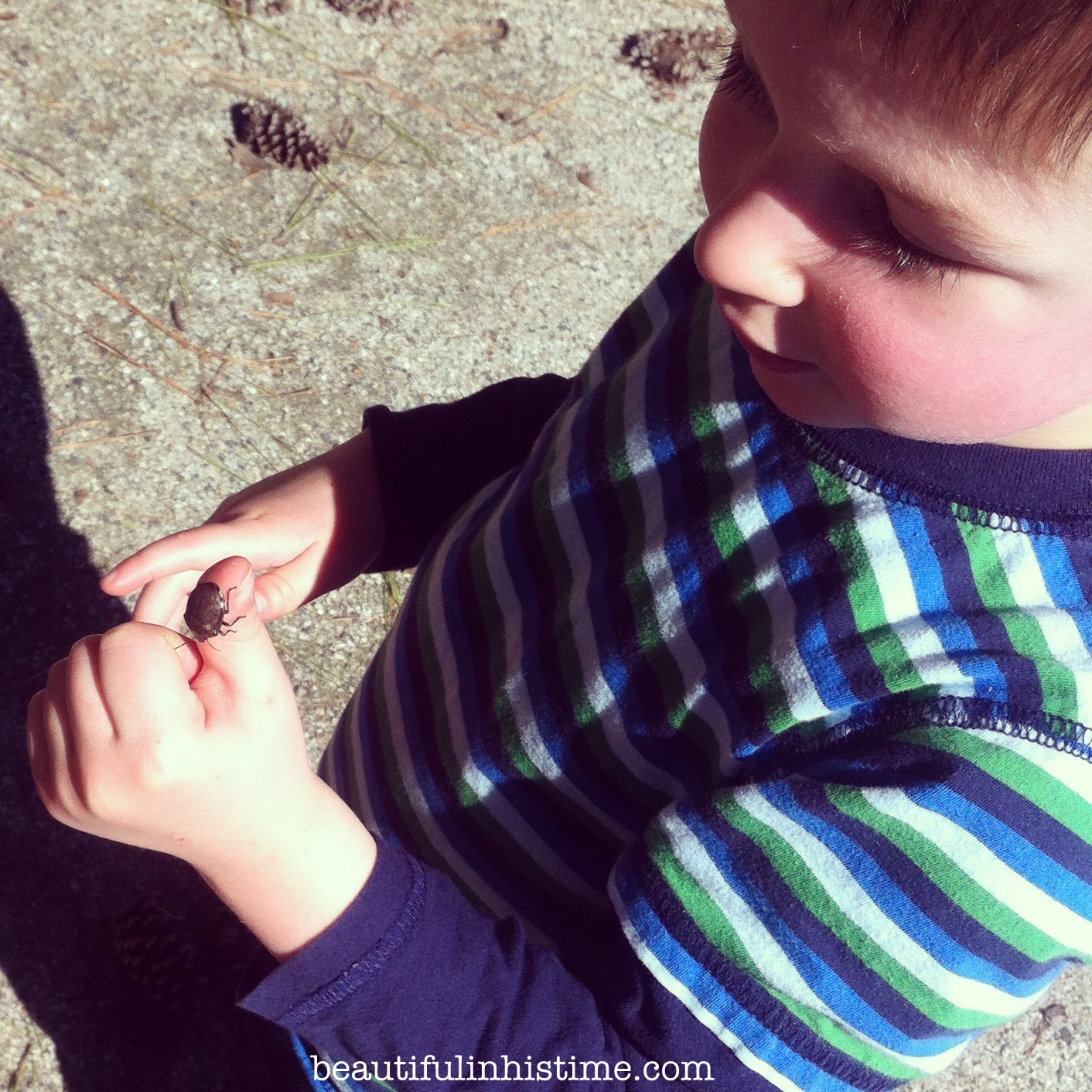 And boys who put pajamas on over their pajamas and make ghosts and volcanoes out of their car tracks: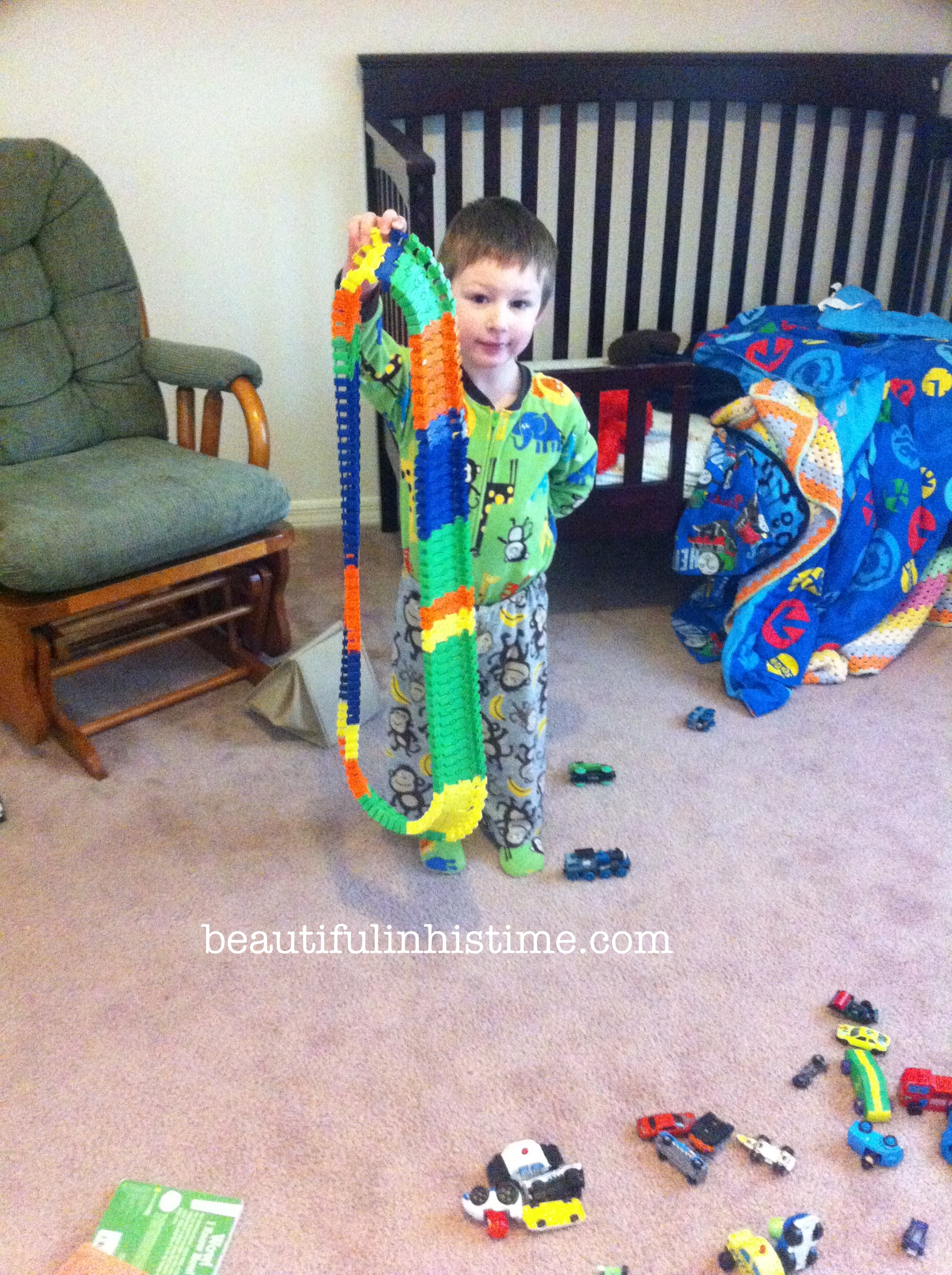 And there is beauty in splurging on your son's first ICEE because you are out shopping and forgot to pack a sippy cup of something healthier (and because, come on, ICEEs are just YUM):
There is beauty in days when you just. don't. go. anywhere because neither of you feel like it. And you stay home and do puzzles and listen to Mahna-Mahna and watch Mary Poppins and eat Chex and apples and snuggle in your pajamas: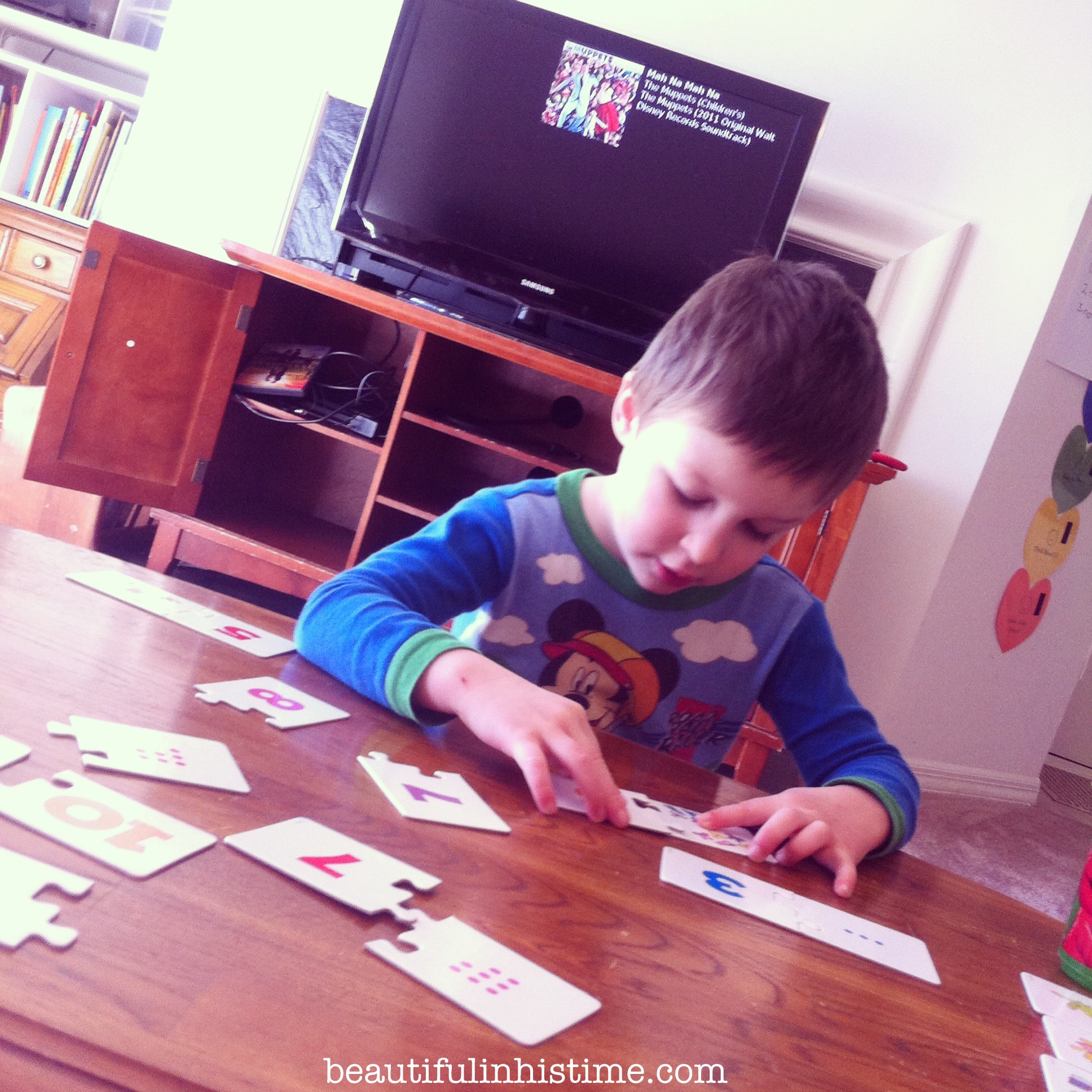 And, lastly, because it's tradition…
There's always beauty in a sleeping baby!