Everything…Beautiful In His Time
Beautiful in His Time is a participant in multiple affiliate marketing programs. The author of this blog may receive commission for purchases or clicks made through links on this website.
---
When I changed the name of our blog in January of 2011, I did so quickly, without a lot of thought. I immediately fell in love with the new name, but I had no idea then how special the title and the verses that accompany it would become to me. Over time I have become more and more transparent on this blog about my personal life and my emotional and spiritual struggles…and with each post I write, the theme beautiful in his time rings more and more clearly. It has become more than a title–it has become a mission statement.
Without much thought, I selected the picture of Ezra painting for a header photo for my new website. I was just messing around with some themes, and I liked the photo. The more I look at it though, the more it means to me. You have there a child, making a mess. The picture was taken at the beginning of August…a day where I set aside some time for Ezra to paint. We weren't painting anything. In fact, I gave him a blank canvas–just to see what he would create. He ended up using EVERY. SINGLE. COLOR. at his disposable.
He used multiple paintbrushes and eventually put the brushes down and used his hands to smear the paint everywhere.
By the time he was finished, the canvas was quite a beautiful mess of paint…as was Ezra.
I let the canvas dry and saved it. At the time, I wasn't sure what I would do with it. It has floated around the guest room for the last 2 1/2 months doing nothing. I thought about trying to paint something on it, but I am not artistic, at all. And I figured that it would turn out horrible. I didn't want to "ruin" his artwork, yet I wanted to save it and display it somehow. With a neat quote or something.
But after I wrote The Why of Blogging, and I realized how special Ecclesiastes 3:11 has become to me and the meaning it has brought to my life, I knew that it was the verse that needed to go on the canvas. So this is what I did this morning:
It really isn't that great. I've never painted text before, and it has a lot of flaws and imperfections. But then again…that's the point. My life is imperfect. Full of mistake after mistake. [In fact, in the midst of writing sections of this post, I tried to do a project with Ezra. When he wasn't interested, I yelled. I completely lost it on him. I had to put him in his crib so that mommy could have a time out. This kind of stuff happens a lot.] My life is messy. I mix the wrong colors together and come up with some random mess. My strokes go crooked, even sometimes when I'm trying my hardest to "paint it right."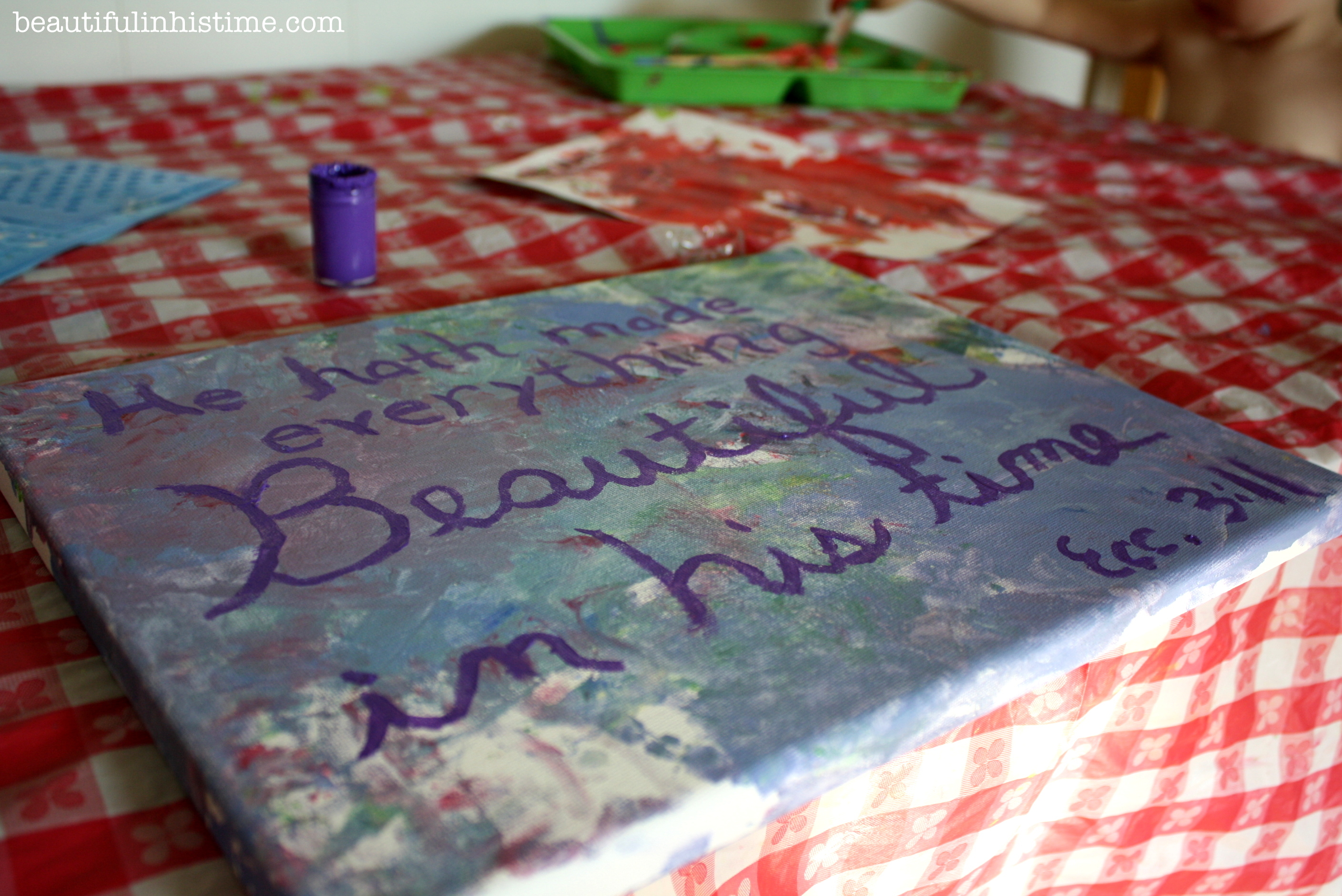 But God sees something beautiful in this mess. He sees a bigger picture than what I can see. And time after time after time he reminds me… Aprille, I know you think it's ugly, and messy, and not worth keeping. But you are not beyond my power to make you beautiful. EVERYTHING can be beautiful in my time. Just be patient. I'm not done with you yet.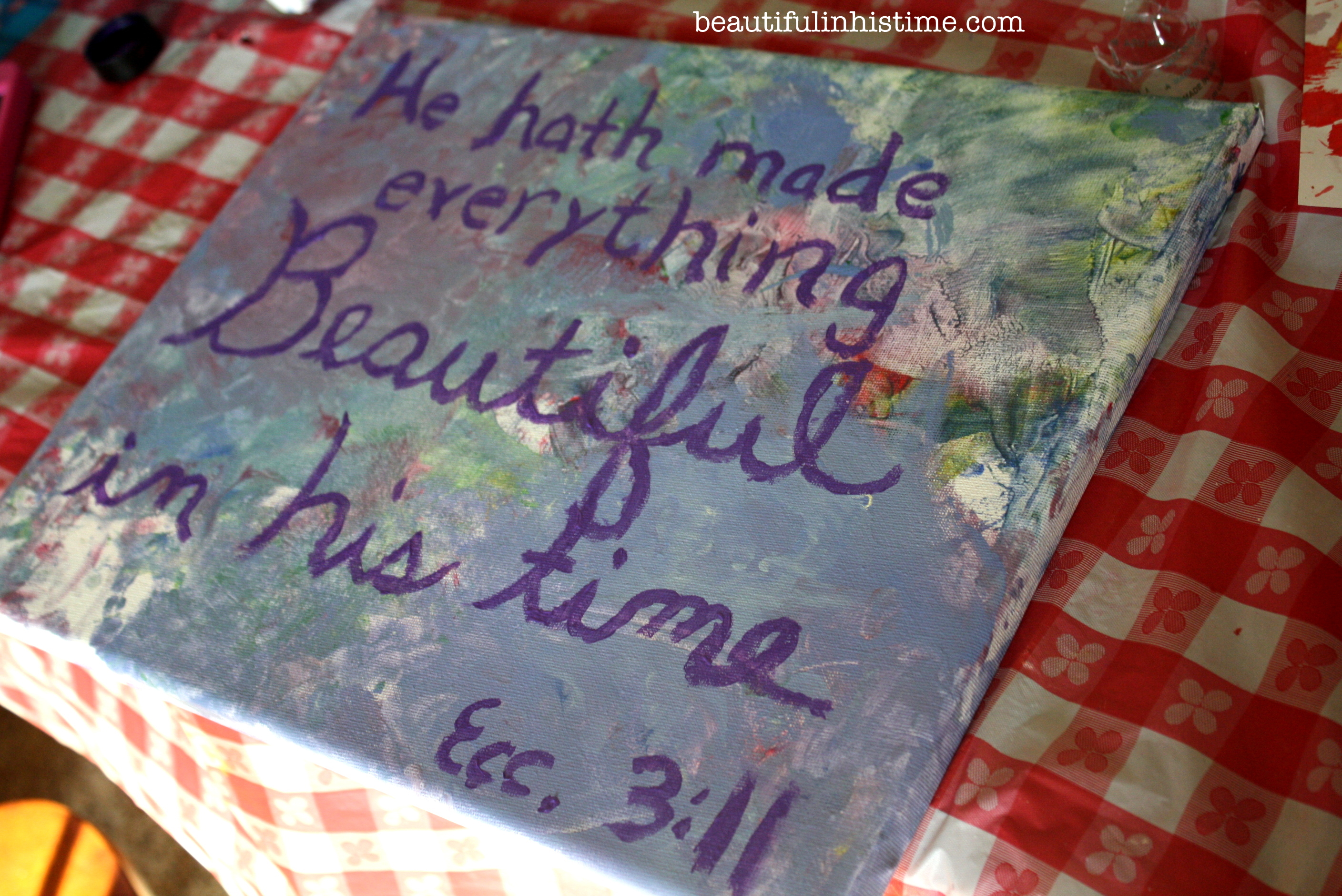 Often I'm a child, playing with paints and brushes with absolutely no clue what's going on. I have to come to him daily to ask for mercy and forgiveness.
But still he reminds me…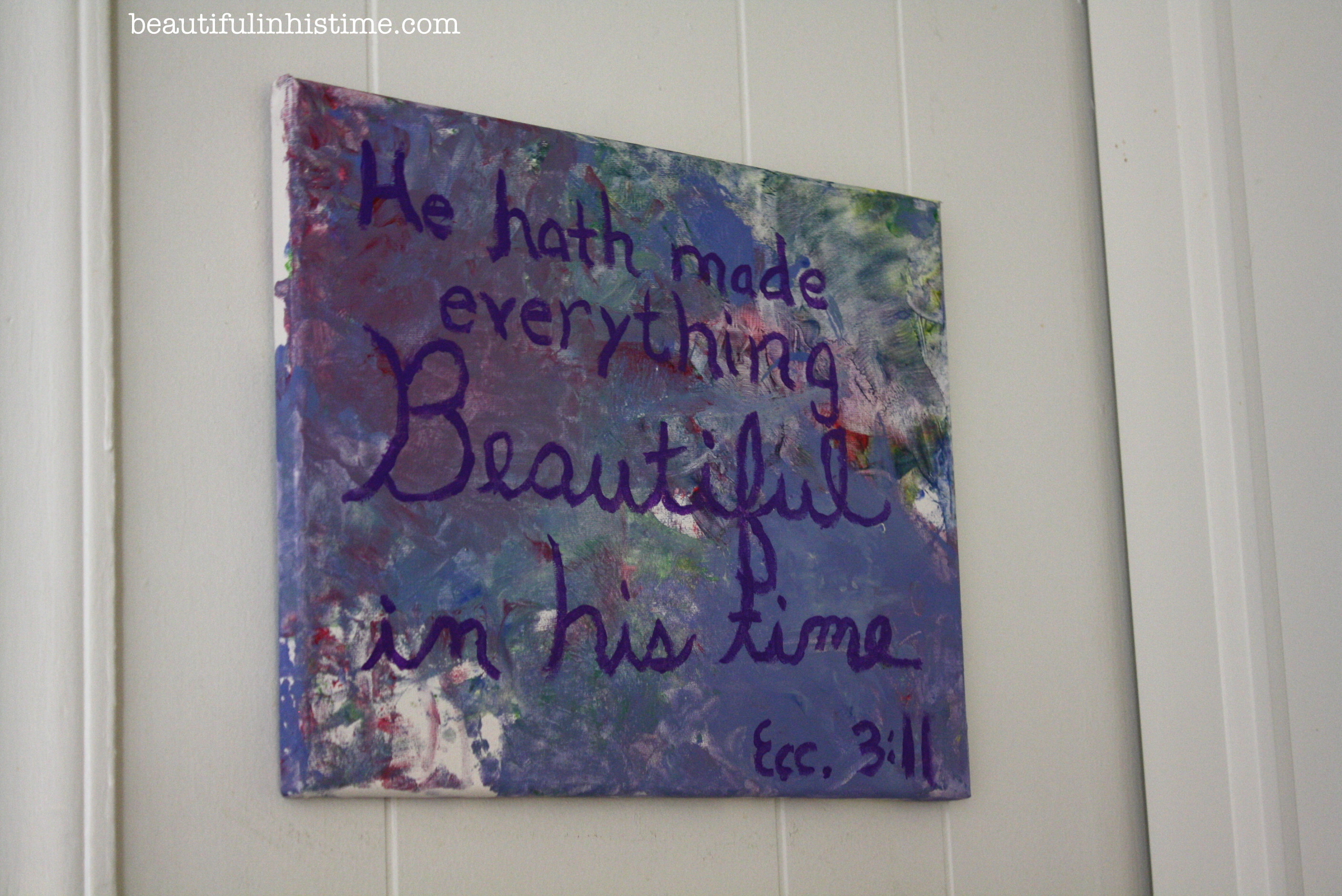 So now it hangs in my kitchen. A daily reminder that, as messy as things are, God is in control. He is working.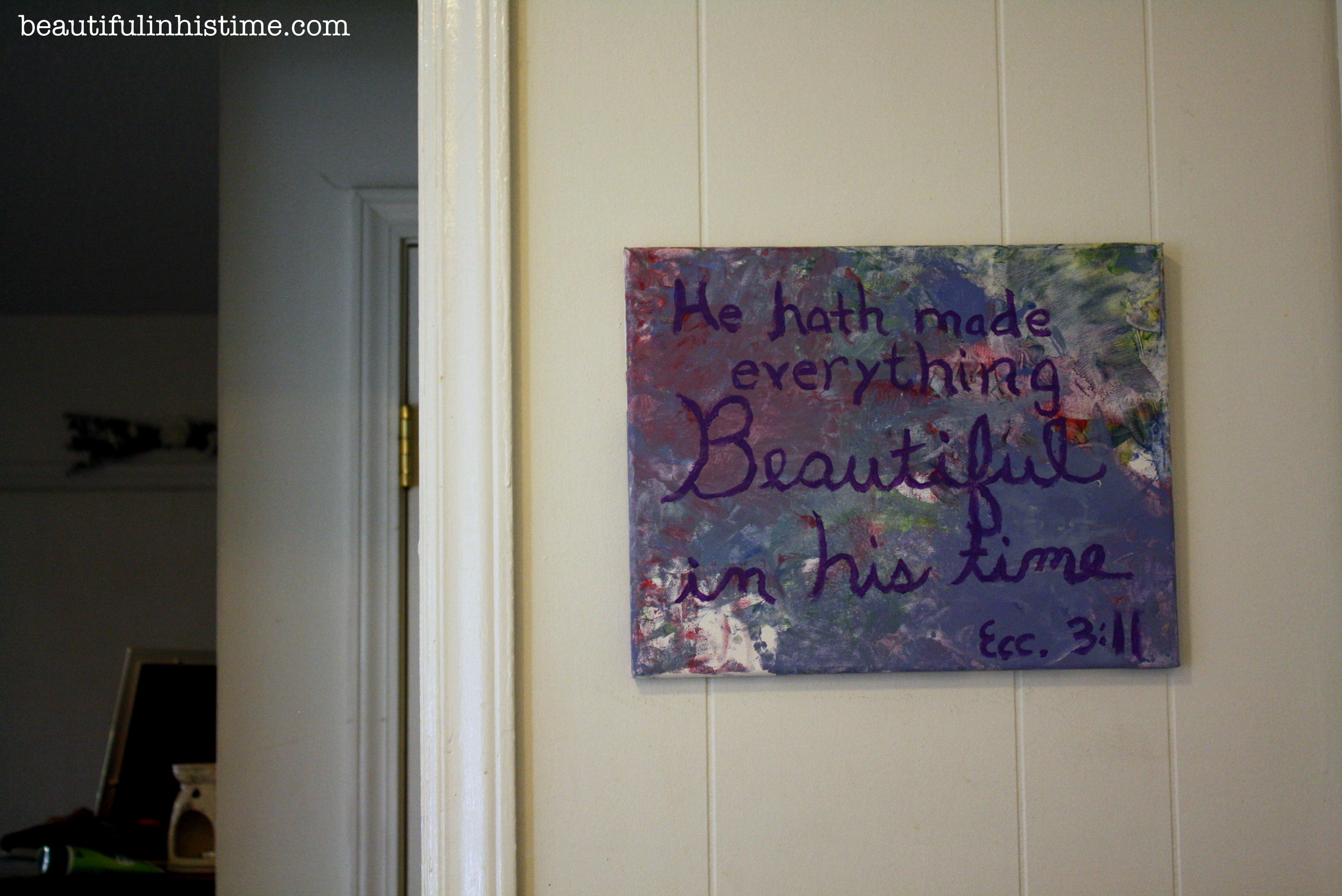 As Ezra grows, I will be able to look up at this painting and know that we created it together at a time when we were both so clueless about so many things. I will be a wiser, better mother. And he will be a mature young man. And we will see how it is all beautiful…with a little bit of time and faith in the Master Painter.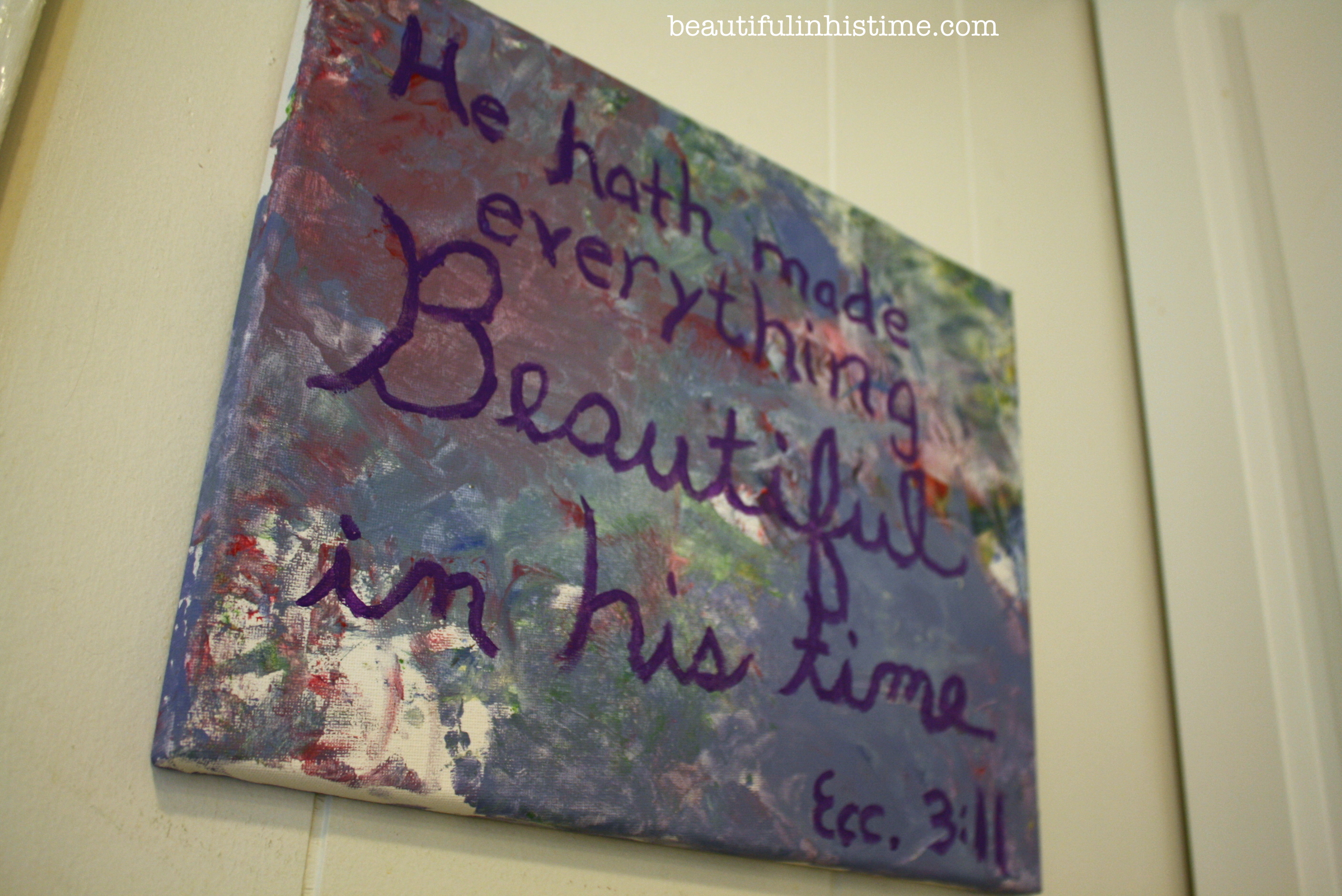 No matter what's going on in your life right now…remember. Everything means everything. No mess is so messy or ugly that God can't do something beautiful with it. Don't give up on yourself…because He hasn't given up on you.