Beautiful in His Time is a participant in multiple affiliate marketing programs. The author of this blog may receive commission for purchases or clicks made through links on this website.
---
When I was a kid, I got a special ornament every year from my mom. Sometimes the ornament would even match or coordinate with ornaments that my brother's got. One year I got Minnie Mouse, Kurt got Mickey Mouse, and Ben got Donald Duck. This ornament tradition continued until we were grown and moved away. Sometimes, my mom still gives me ornaments.
She got me this one, an ornament commemorating the first Christmas I spent with my husband (then fiancé):
(Yes, that was my very first Christmas tree–it was all we had room for in my 550 square foot apartment. And the lights died out about the first week of December. Lovely.)
Christmas 2009 rolled around. I was acting as the Newlywed Ministry Team Leader for Christian Military Wives, an online community. We were trying to get more interaction in the newlywed forum, so I decided to host a giveaway, the prize being a photo ornament from Personalization Mall. The previous year I had ordered some gifts through their website and was very impressed with their products. I knew we wouldn't be disappointed. But, as I was hosting the giveaway, I knew I wouldn't be winning the prize. So I ordered myself one as well, just because I wanted one.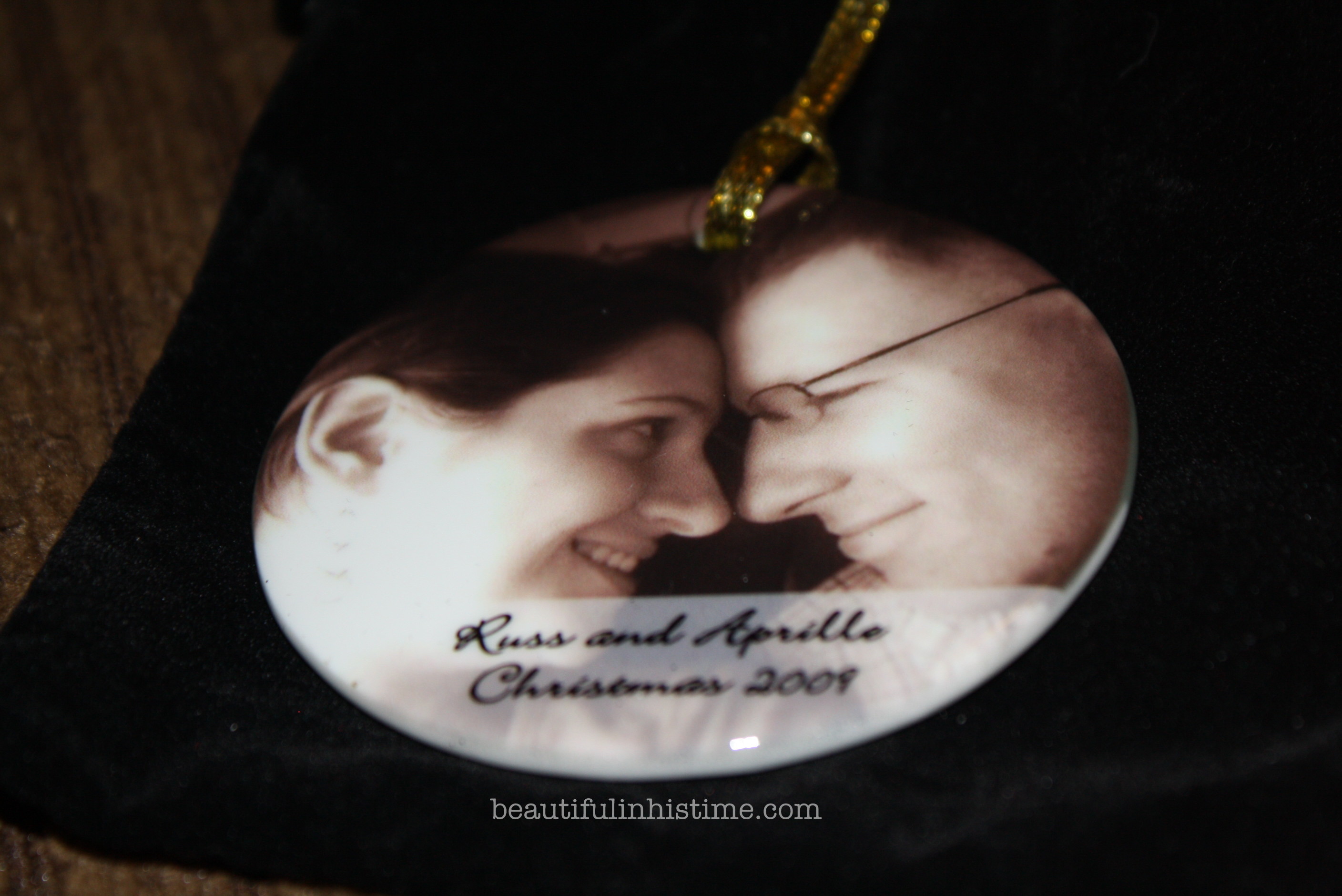 Thus, a tradition was born. I actually didn't order any ornaments in 2010. I don't know why. Maybe the whole I-just-had-a-baby-and-my-husband-is-deploying-four-days-after-Christmas thing had something to do with it. But the tradition wasn't forgotten.
I made up for it in 2011, when I ordered THREE ornaments: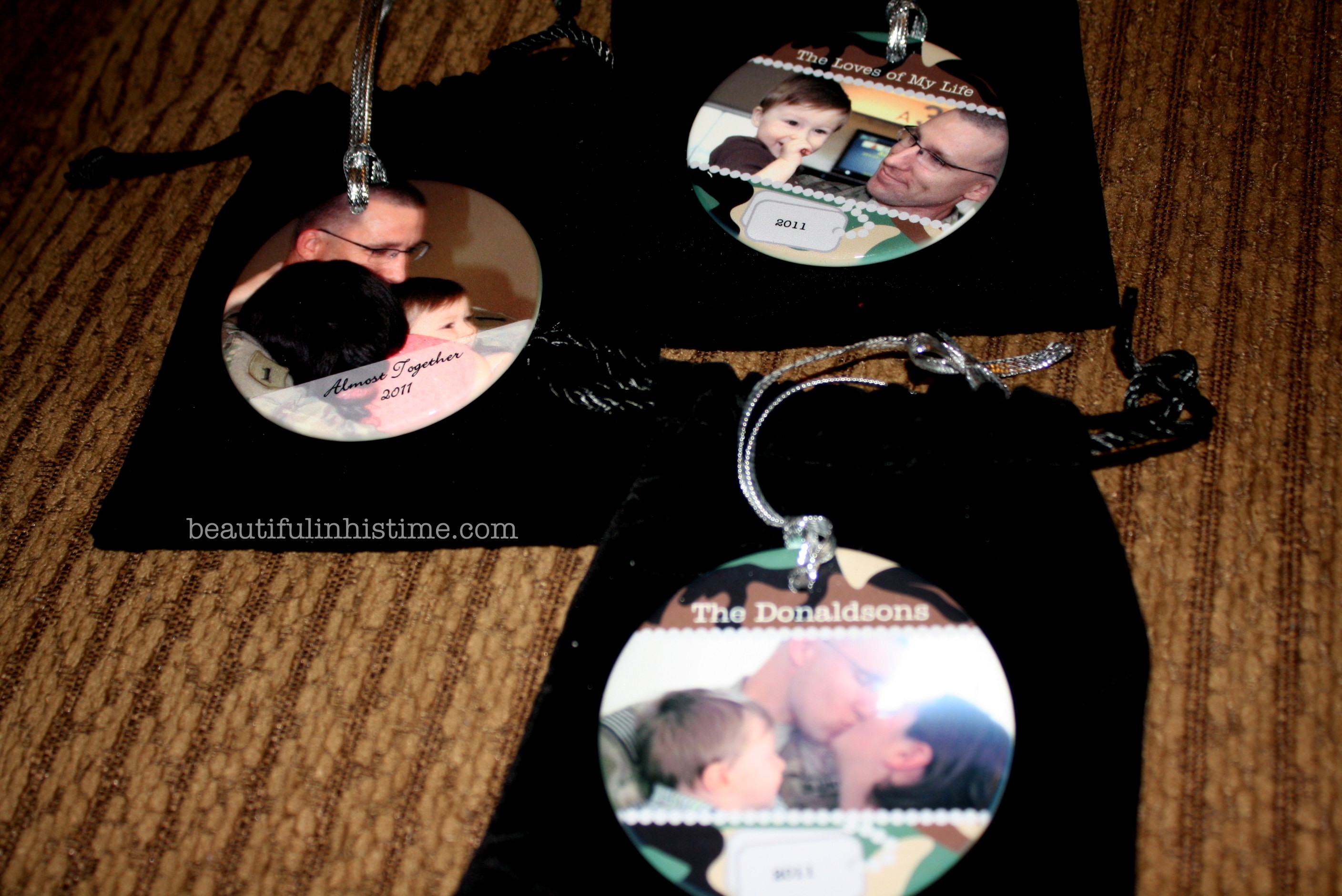 My favorite of the three was definitely the one that says "Almost Together." The picture on the ornament was from our "homecoming" over RnR, three months prior. I was hoping and praying that maybe Russ would make it home in time for Christmas. Hoping and wishing.
He didn't, but he made it home on New Years Day…almost…almost:
This year, I just hadn't gotten around to ordering any ornaments yet. I had been busy with blog archives and several other projects. A friend of mine sent me a Groupon for the website (which sat there unused for a week). But then there was that night when Ezra was painting at the table, and I turned to see that he had put red paint on his nose when my back was turned.
I am so glad I had put it off…there was my ornament. Right there…
But I couldn't stop at just one. I think I may have an addiction.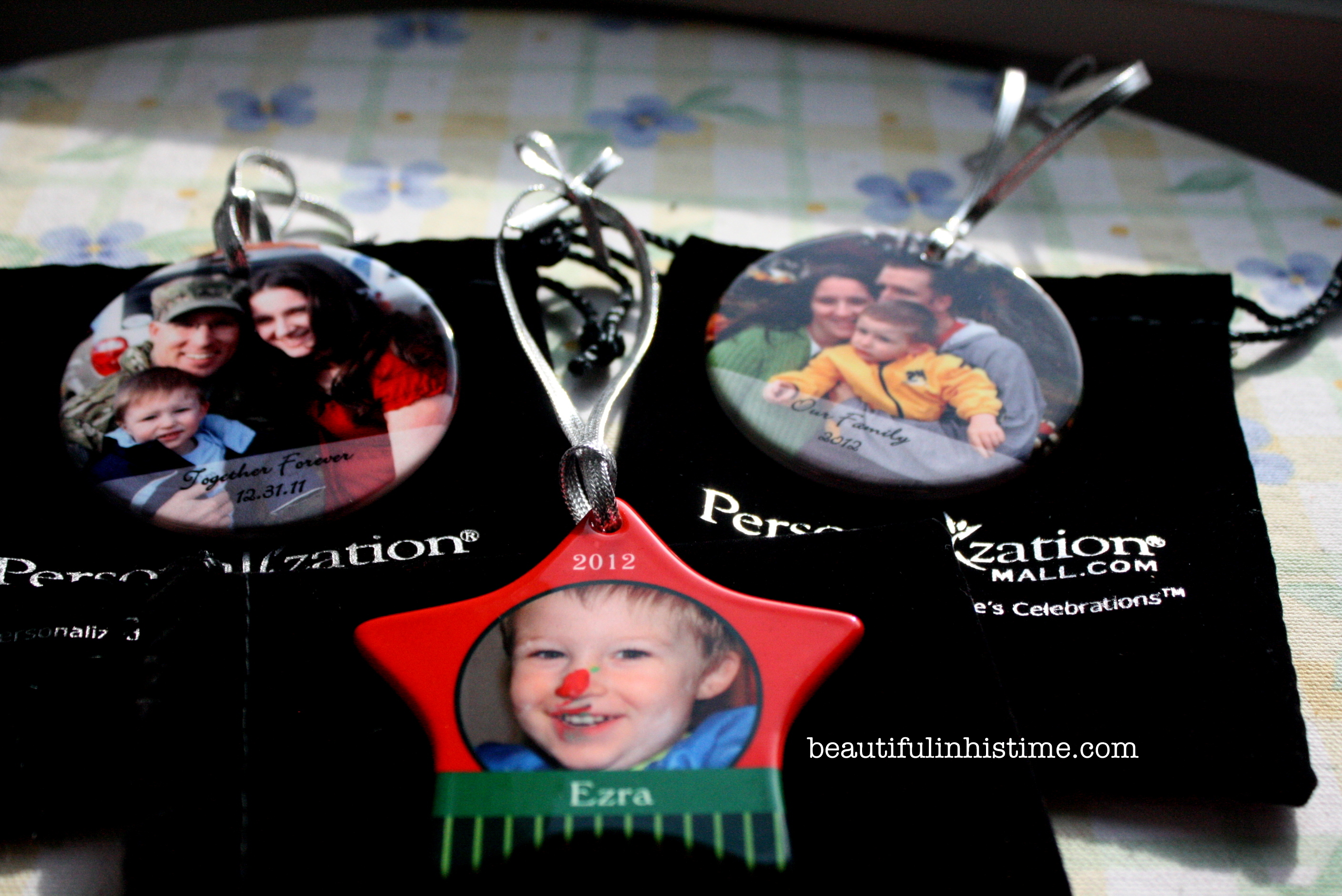 Almost together needed a sequel. Together forever…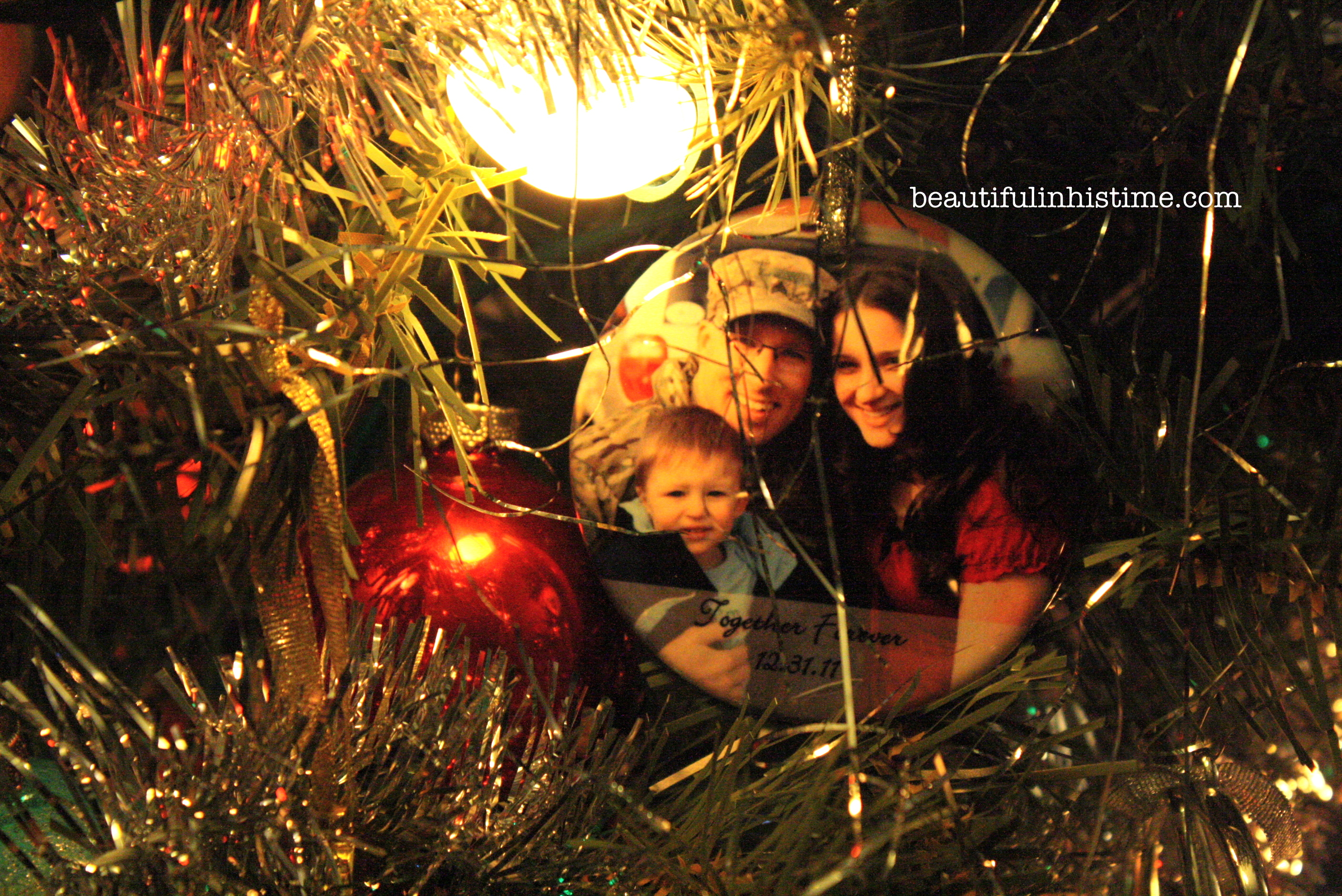 And of course we needed a nice traditional family photo ornament, just because…
So I think from now on, each year, our ornament tradition will be to order one family photo ornament and one ornament for each child. By the time our children are grown we are going to need a whole separate tree just for our photo ornaments.
_____
This post was originally published in 2012, but our family has continued the tradition and ordered ornaments from Personalization Mall every year! One family photo ornament and one ornament of each child per year.
Our 2013 family ornament:
Ezra, with all of his ornaments, Christmas 2014:
Ezra's ornament collection, Christmas 2015
3 Months: 2-Sided All About Baby Photo Personalized Birth Ornament
Age 1: Picture Perfect Star Photo Ornament
Age 2: Photo Personalized Star Ornament
Age 3: 2-Sided Christmas Snowflake Personalized Photo Ornament
Age 4: Photo Memories Snowflake Personalized Ornament
Age 5: 2-Sided My Name Means Personalized Photo Ornament
Our entire collection as of Christmas 2015: