Beautiful in His Time is a participant in multiple affiliate marketing programs. The author of this blog may receive commission for purchases or clicks made through links on this website.
---
My goal is to get one segment of this series posted once a month, but it just hasn't happened that way! I'm sorely behind on my photo-sharing and questing for beauty, but today I need this.
The "mission statement" of this blog is this:
"To see…to remember…the beauty that God makes out of my messes. 
And perhaps, just perhaps
That others could see His beauty in their lives too."
I know that this post is going to be about me. About my family, my kid, my life. But I hope  – whether you read every caption or just scroll through the photos in a hurry – that God brings to mind things in YOUR life that are beautiful. Things you can be thankful for. Blessings you can praise Him for.
_____
But first, a little bit of the mess. Because there's always mess.
Anyone ever heard of that song by Darryl Worley "Sounds like life to me?" Briefly, it's the story of a man "down on his luck" because he feels like everything is going wrong. He's depressed, sitting at a bar, and his poor wife calls an old buddy to go cheer him up. Upon his buddy asking him what's wrong, he goes on a little bit of a "woe is me" tirade and tells him everything that's wrong in his life – the lack of work, money troubles, the cars that won't start, the washer that's broken, and the wife who just found out she was pregnant with yet another mouth to feed.
His buddy, strong on the "tough love" end of things, doesn't offer him much sympathy, but instead responds:
"Sounds like life to me!"
And that's sort of where we are right now. It's life.
My husband and I are both adjusting to our drastic reduction in pay, and we both get discouraged a lot. We are blessed and our bills are paid – but there's absolutely no wiggle room. No room for ChickFilA, Starbucks, clothes shopping, or organic food. It's just not there.
And especially on that last one? The organic food? I lived a few months in denial thinking I could somehow still eek organic food out of our tiny grocery budget. I failed miserably, going far over budget every. single. month.
(Even without buying organic food, it's hard to stay within the budget.)
That's just how it is.
("Sounds like life to me!")
We can't afford even the least expensive health insurance plan offered through my husband's employer. Ezra is now insured through Medicaid and my husband should be (shortly) insured through the VA. Me? Well…I'm just praying I don't get sick or break a bone…or get pregnant (even though I REEEEEEEEEEEALLY want to).
Because ain't nobody got money for dat. 
And thanks to having both of our vehicles decide to quit working at the same time back in August, our precious nest egg savings account has dwindled to under $1000.
("Sounds like life to me!")
Even having predicted that this would happen, I think I underestimated the emotional toll it would take on us, my husband especially.
We have no idea when (or if) my husband will be offered a raise or a better position within the company. It could be this month, or two years from now. And that's really hard on him.
I know God is faithful. I know He is and will continue to take care of us. But, if I'm honest, some days that's a lot harder to believe than others.
So, there you have it. The mess.
_____
But as always, in this thing called life, there is BEAUTY. Gobs and gobs and gobs of it. And so here, in this space – please let me share it.
Let's start off with some smiles from a silly boy, shall we?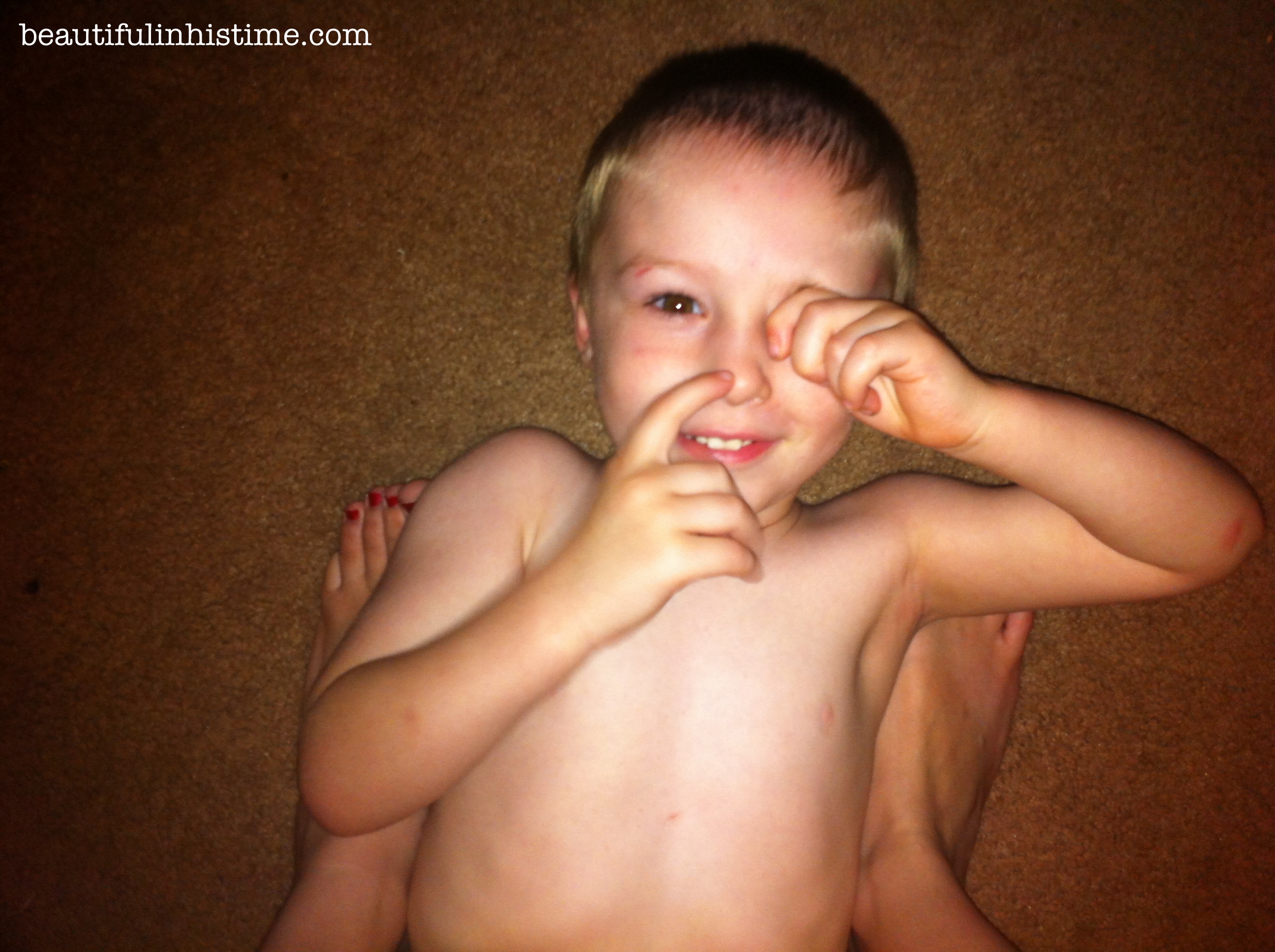 There is beauty in visiting daddy at work, because they have trucks there. BIG trucks. Can't beat that!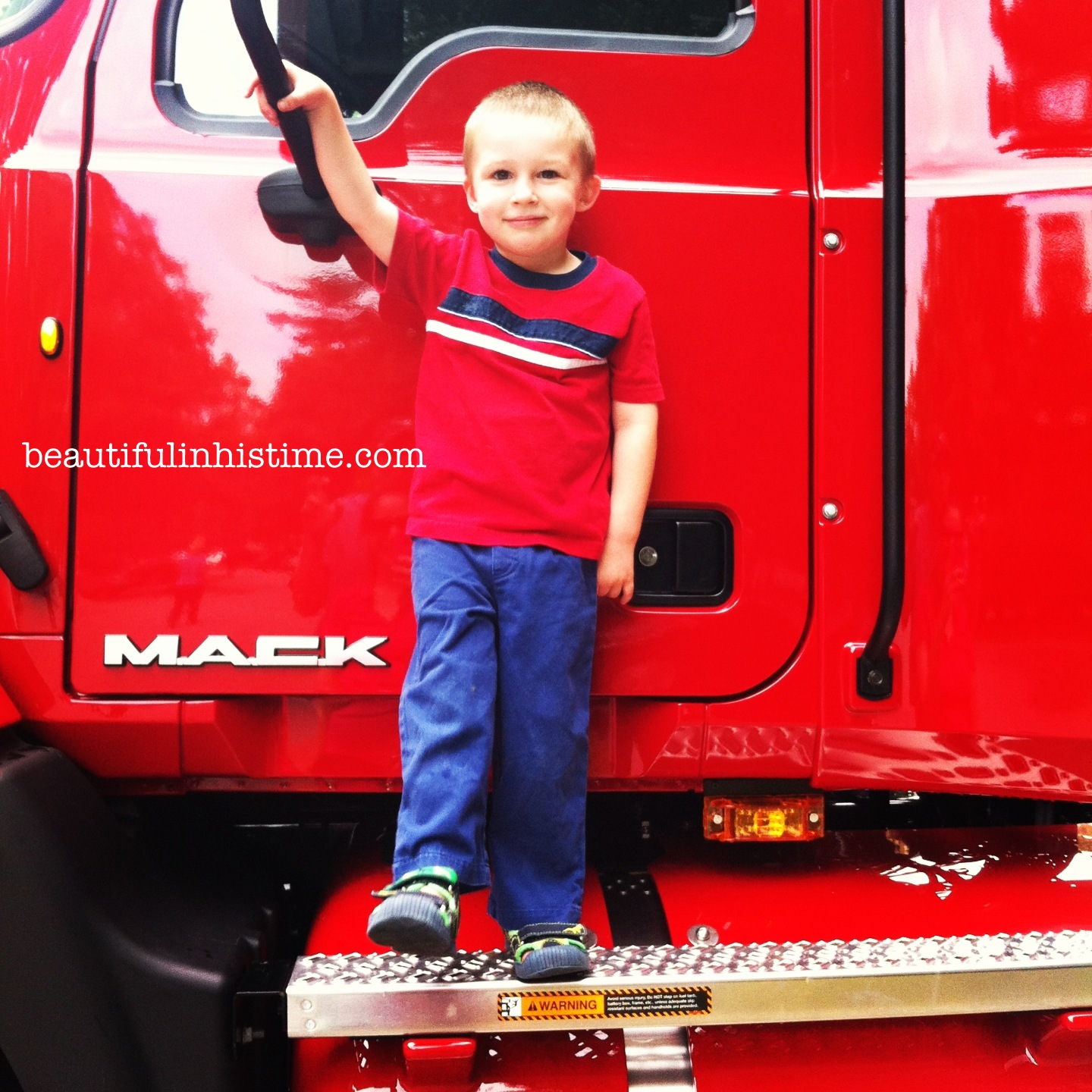 There is beauty in impromptu banana picnics on the "cloth table" in the living room: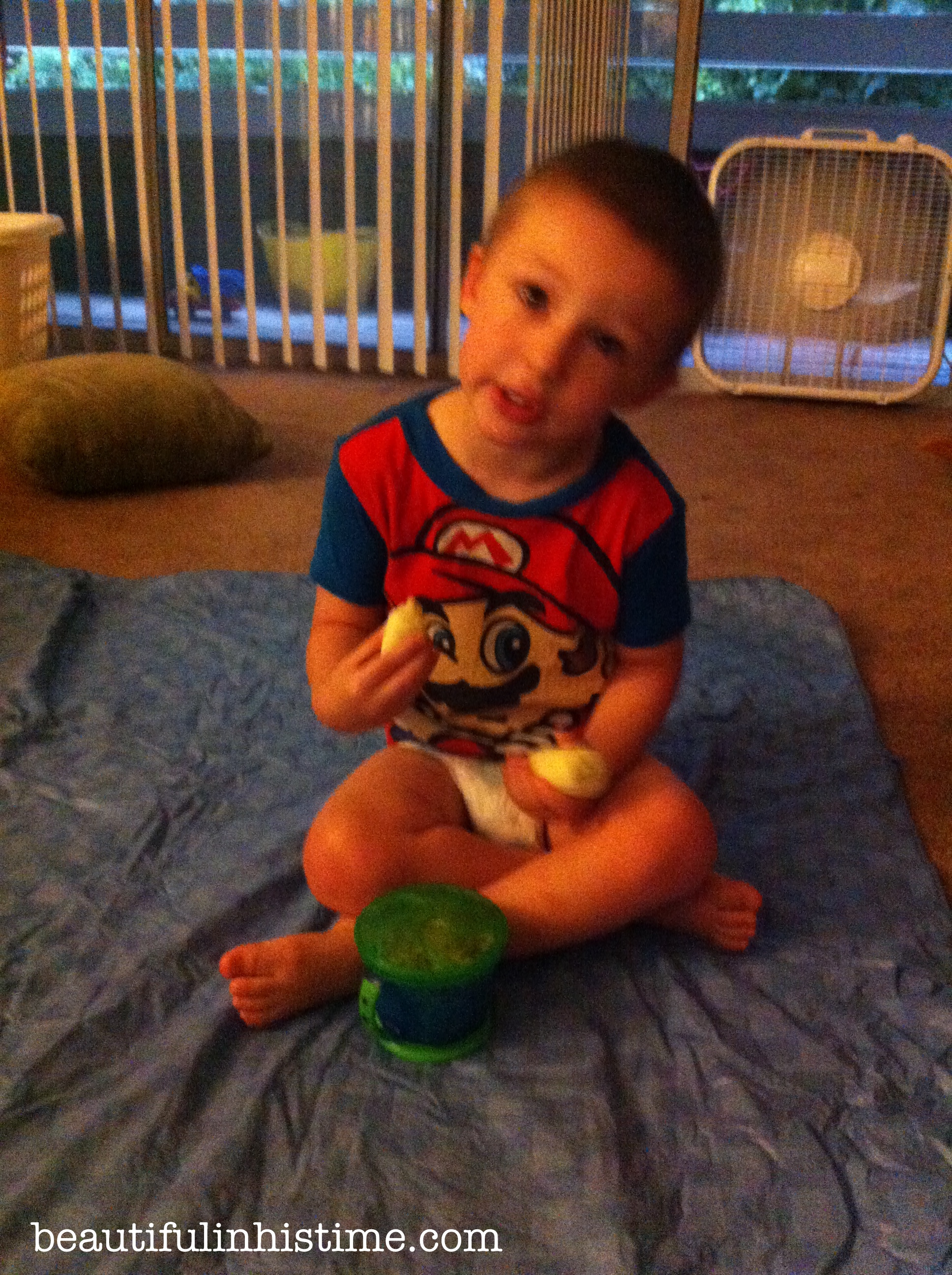 And then the same afternoon seeing Ezra use the very same "cloth table" as a blanket: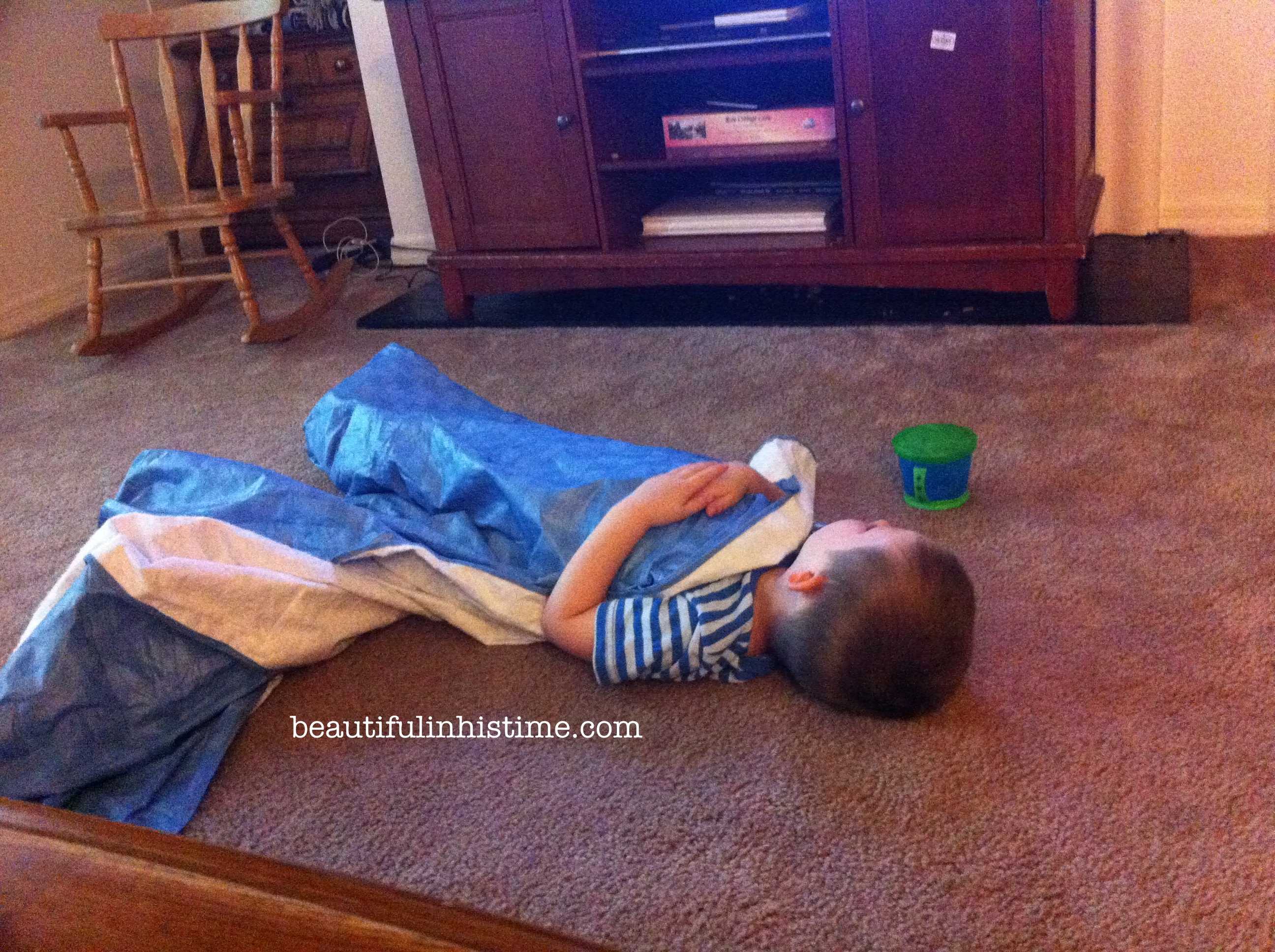 This was one of those days when I gave Ezra a "special bath" so I could have a moment's peace. I heard him get out of the tub and figured he was playing with his toys. Instead I found him, the toilet, the plunger, and the tub covered in green food coloring. And all I could do was laugh at the mess!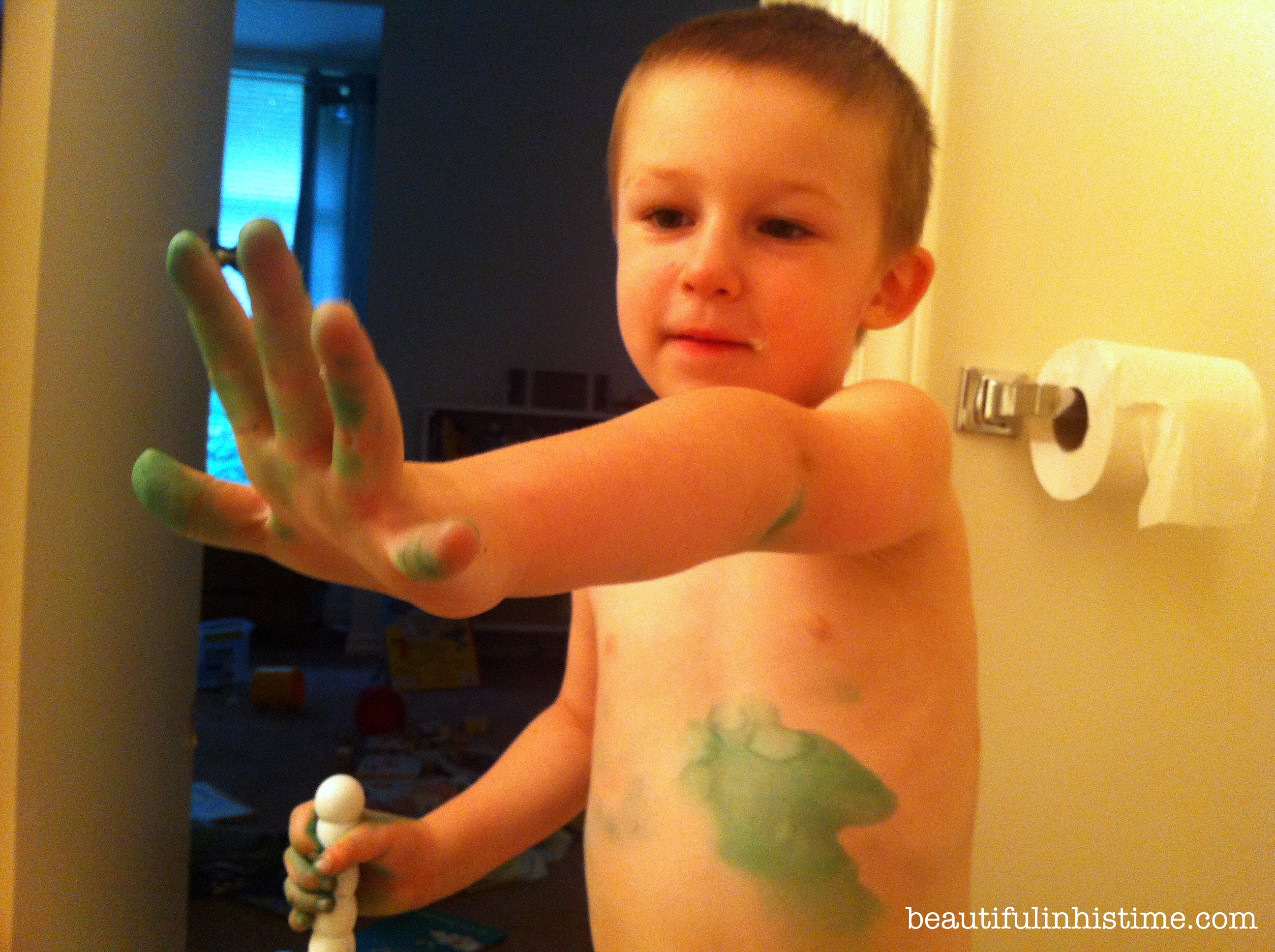 There is beauty in my husband getting to celebrate his birthday at the beach! (And we got to see over 100 sea turtles hatch and make their way to the sea that weekend!) This was a banjo combination cake and ice cream cake that my MIL made for him. It was so messy but so good!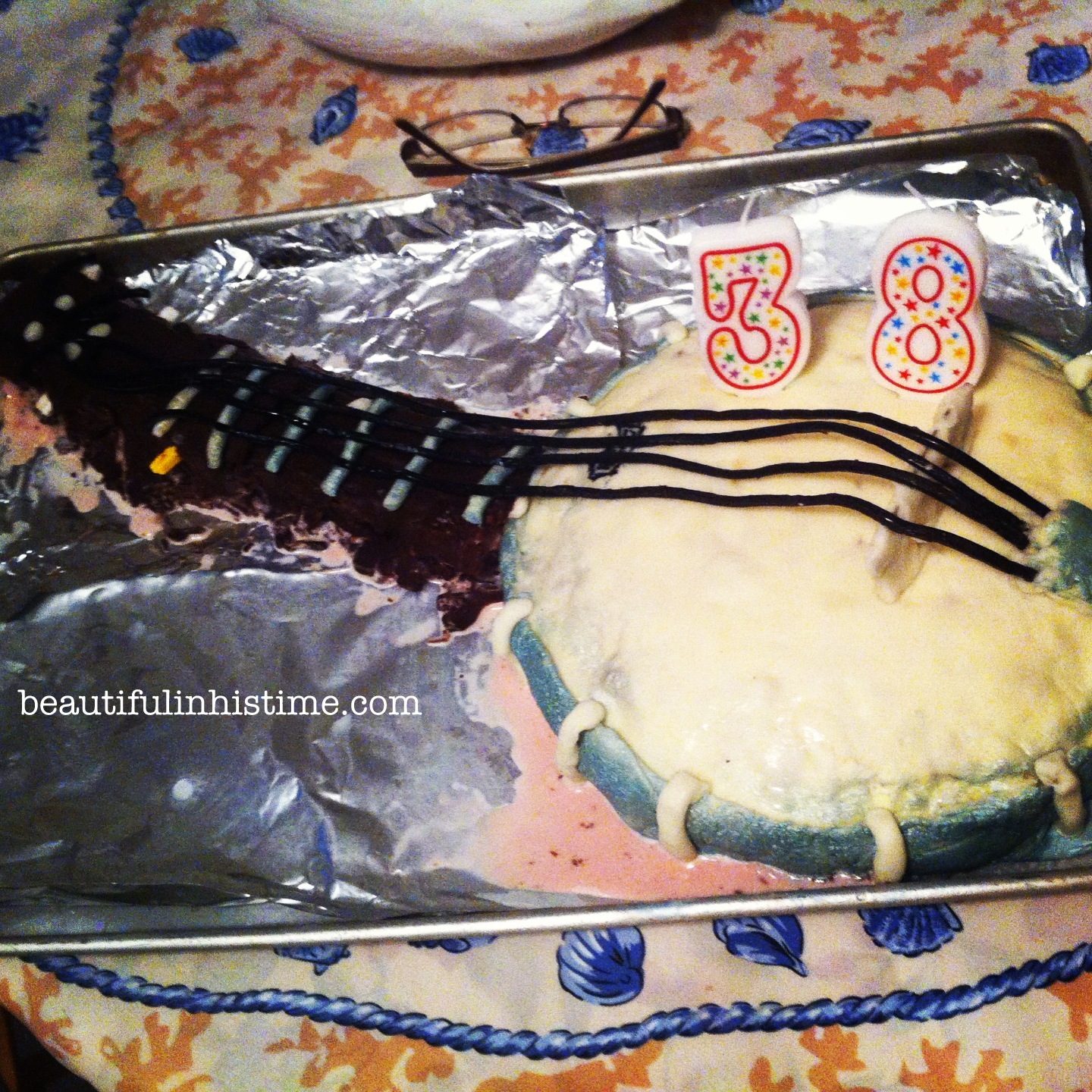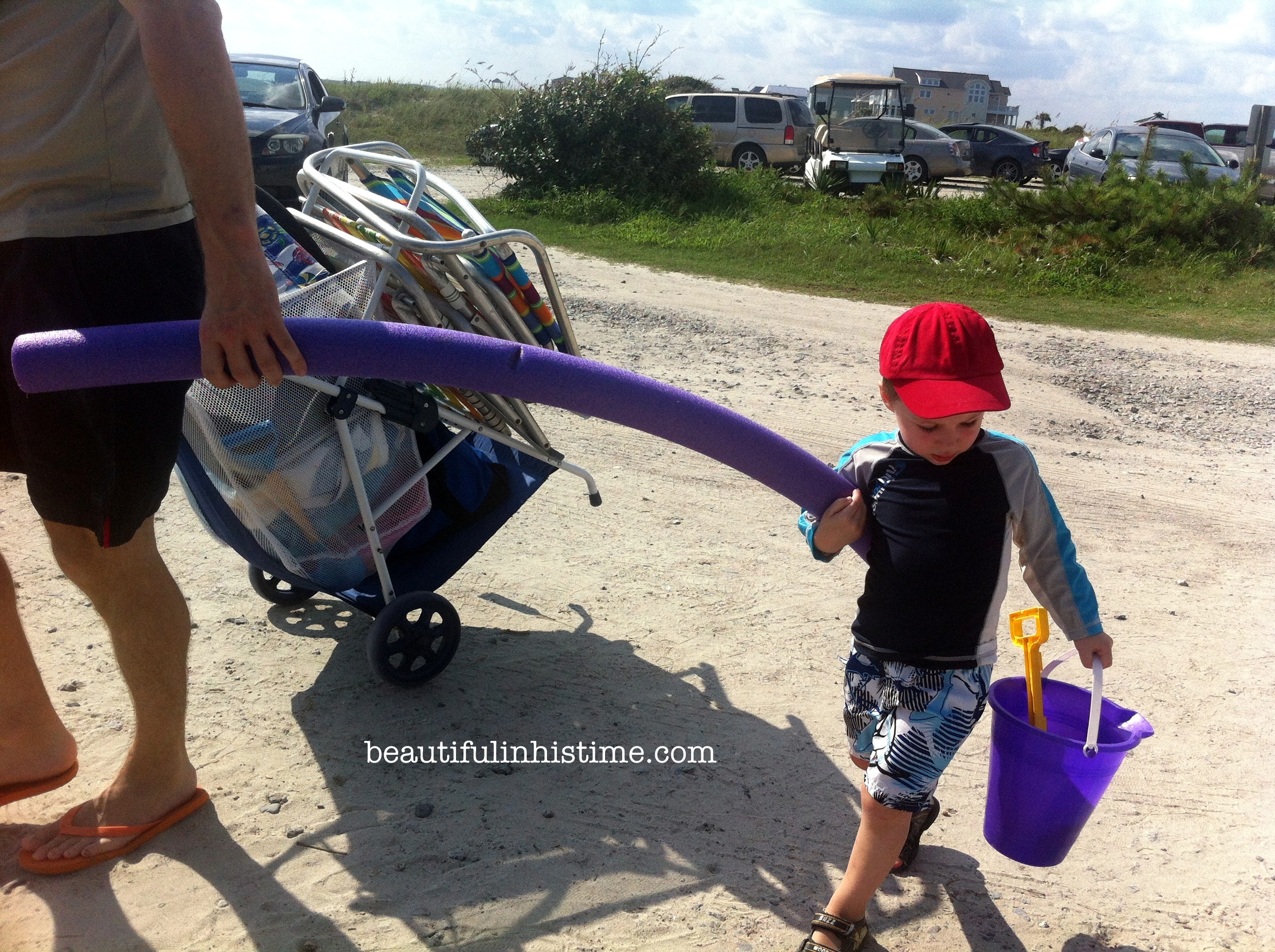 We went to Fort Fisher Aquarium while we were down at the beach, and got this adorable picture of Ezra:
There is beauty in slight improvement in Ezra's pre-writing skills. Ezra would much rather do flashcards or sing the ABCs than do anything that involves putting a writing utensil in his hand, but we are working on it on a rare occasion. It will happen eventually!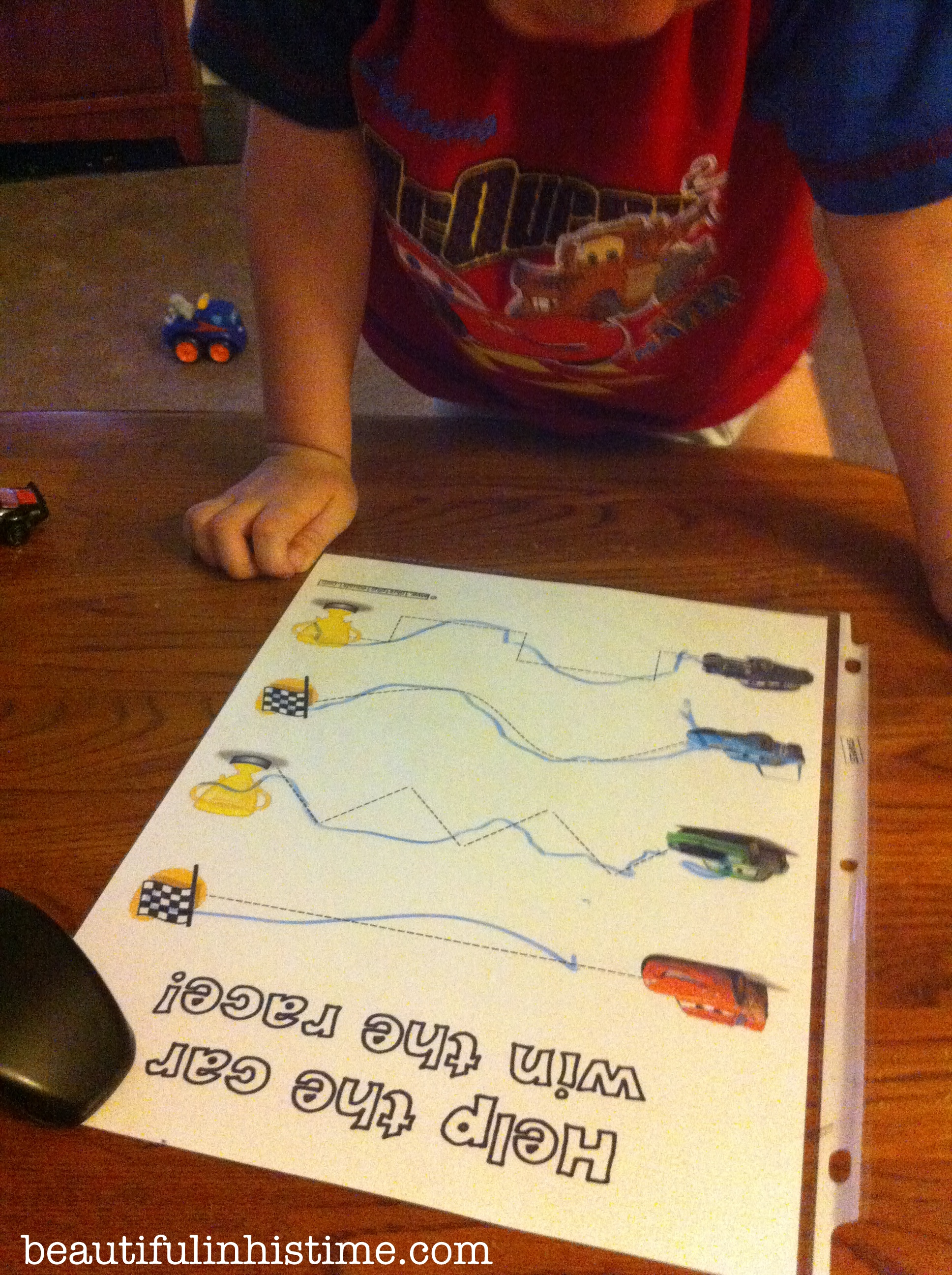 There is beauty in the community that is Allume. And back when I was actually working hard to try to get to know people before the conference (before I gave up control of that to God), I had an afternoon date with Jacque Watkins and the blog that shares her amazing story of how God's mercy found her in her mess.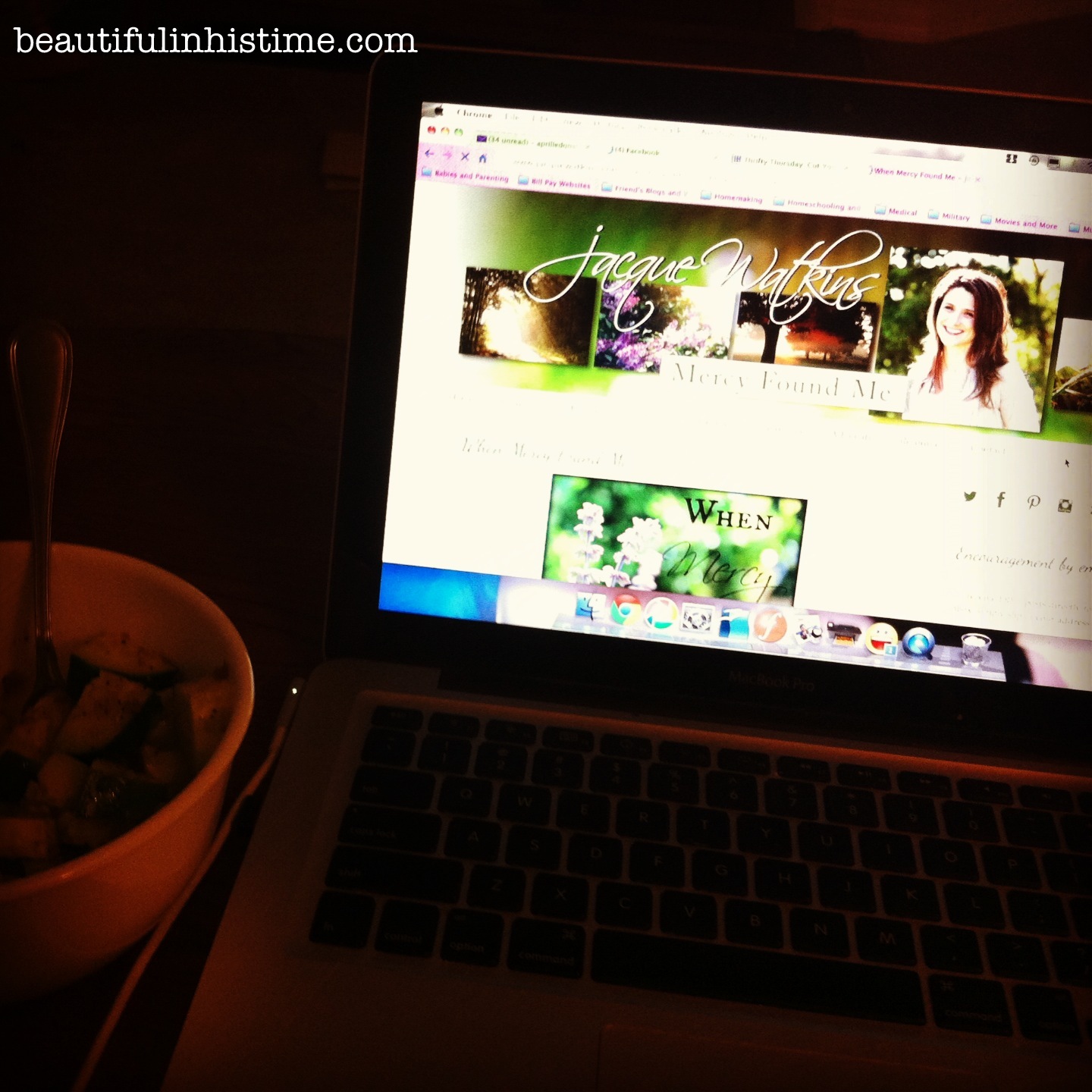 There is beauty in my son's first ever LEGO creation and the sincere pride he took in his work. (Seriously, I thought we had more time before we got to the Lego stage, but if the Duplos at Barnes and Noble are any indication, it will be here sooner than I can blink!)
And P.S. I am now even MORE appreciative of all of the things that Barnes and Noble offers children for free!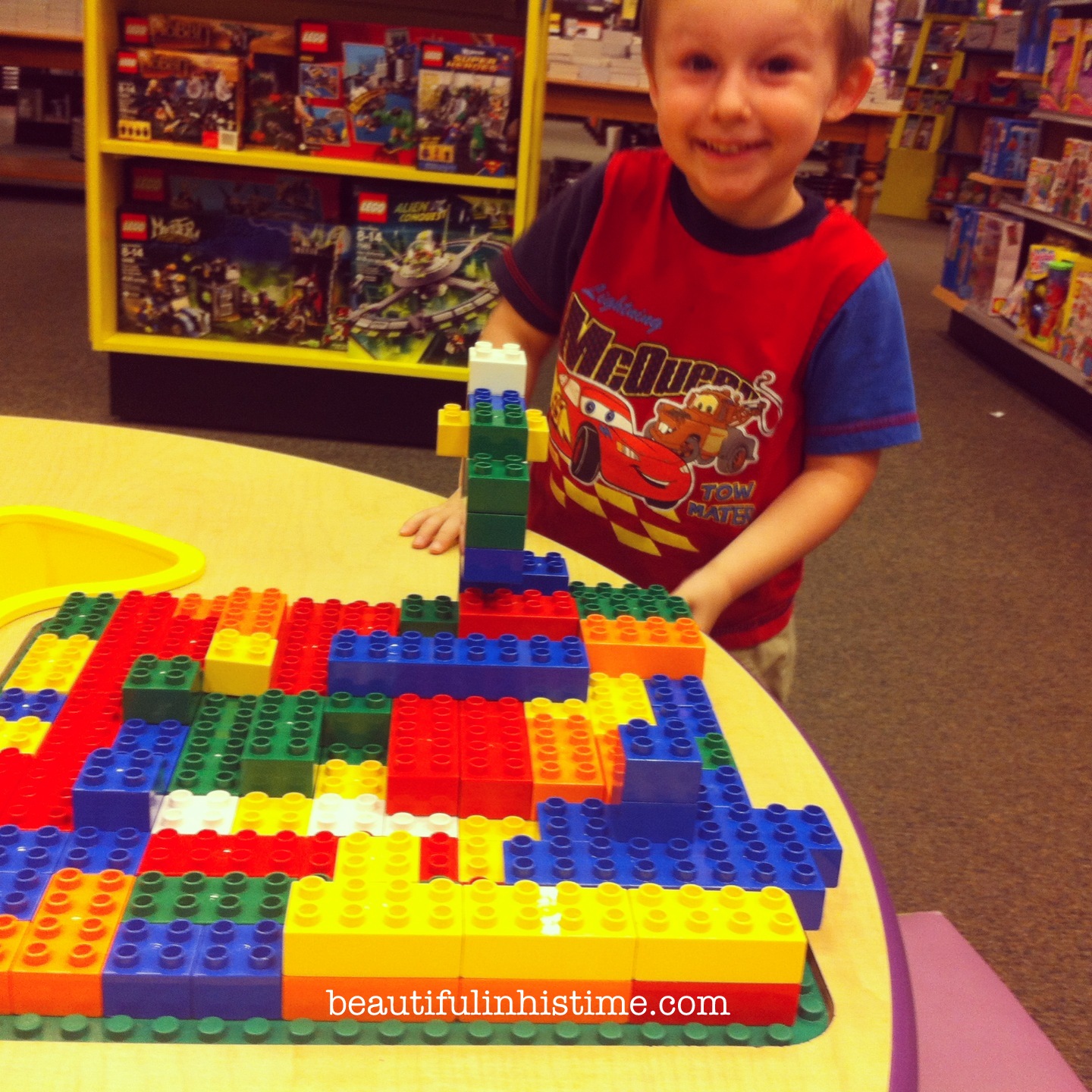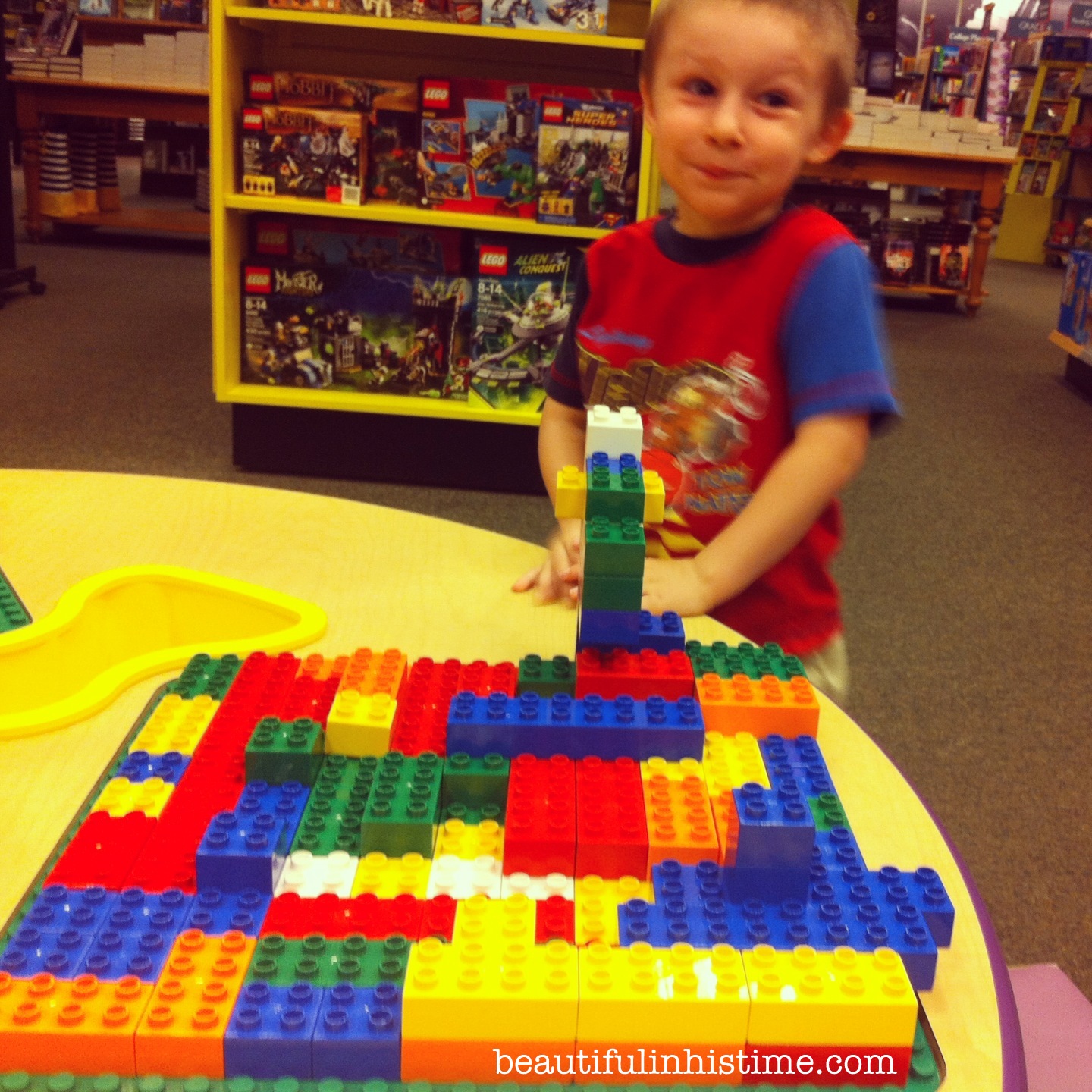 This? This is more funny than beautiful. But one night Ezra fell asleep RIGHT in front of the door. We had to push his little body with the door just to get the door open! We laughed so hard!
There is ALWAYS beauty in couch cuddles. Always.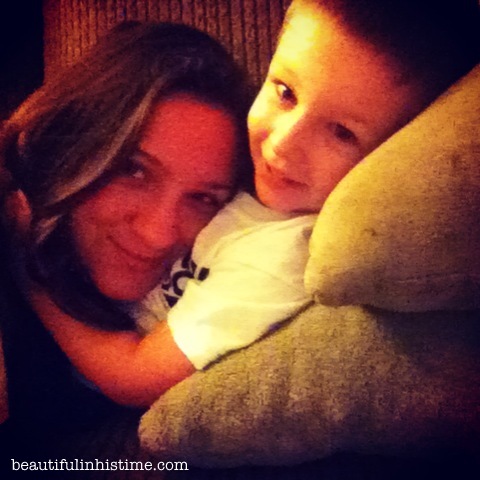 There is beauty in discipline that is finally starting to pay off – in dinner time that (in spite of the following picture) HAS gotten a little bit easier. We are finally out of the "child-refusing-to-eat-unless-threatened-and-coerced-and-bribed-and-begged-to" stage. At least most nights.
There is beauty in this recipe that floated around Facebook for a while: pumpkin pie cheesecake, a combination of two of my favorite desserts into one. I made mine crustless. It stuck to the pan and was very messy but oh. so. good. I ate it for breakfast, lunch, snack, and dinner until it was gone.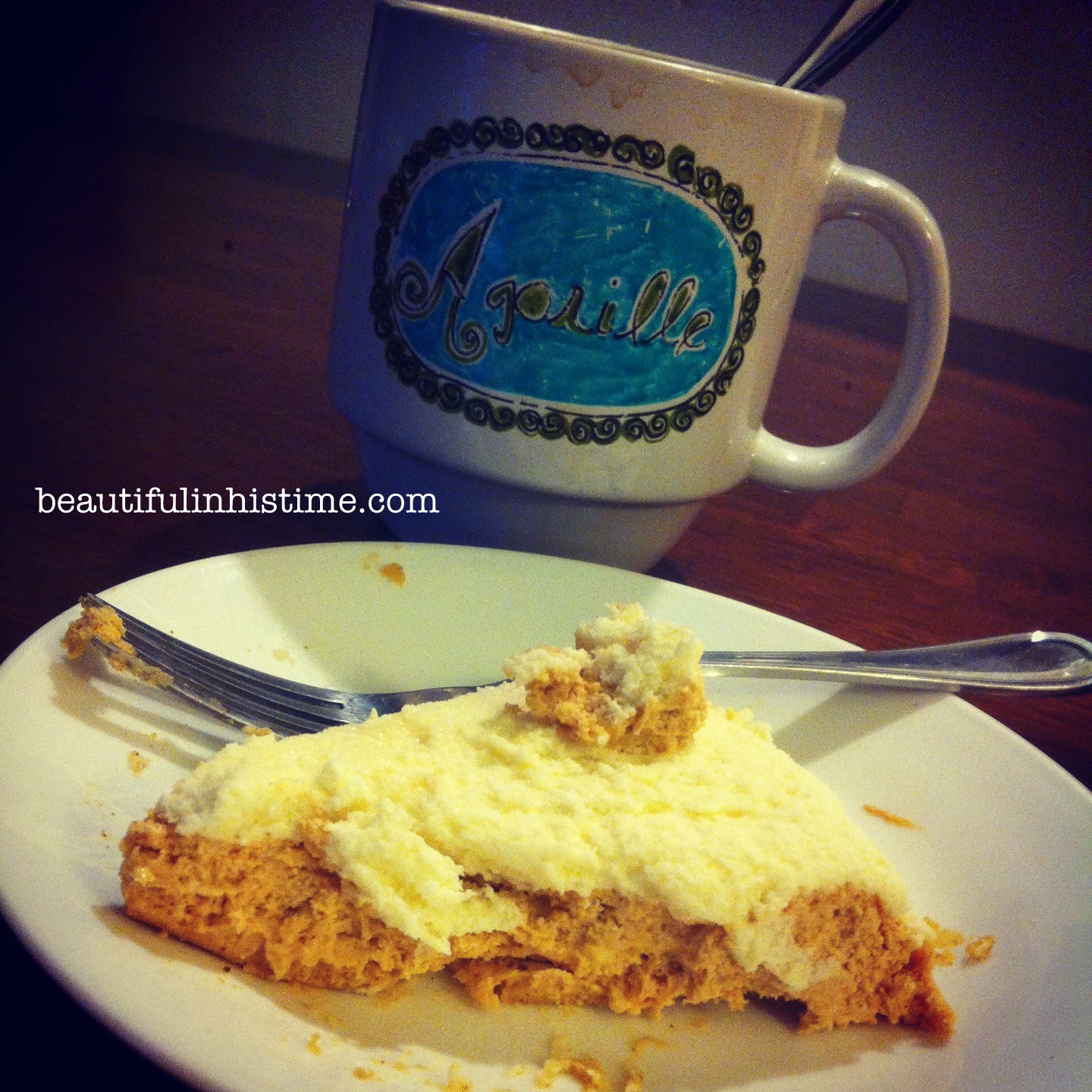 There is beauty in pictures that we take, just because: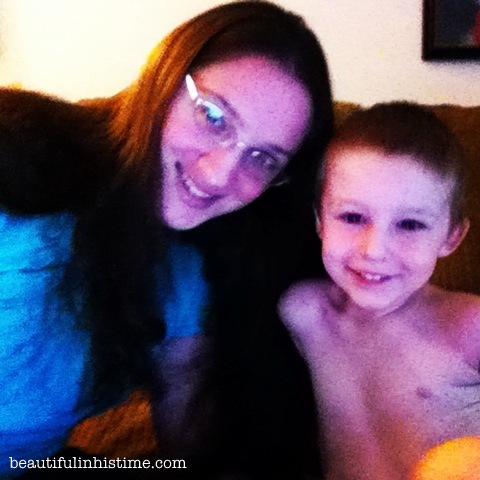 There is beauty in finally having some cooler weather – the first morning we can actually wear JACKETS!
And early morning walks with little boys: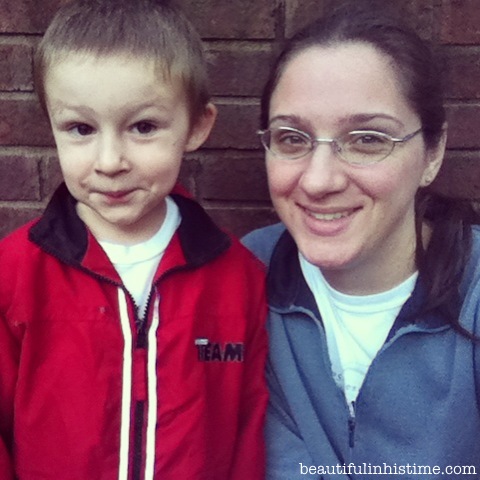 Especially when we discover a neat walking path that we can get to from our apartment complex!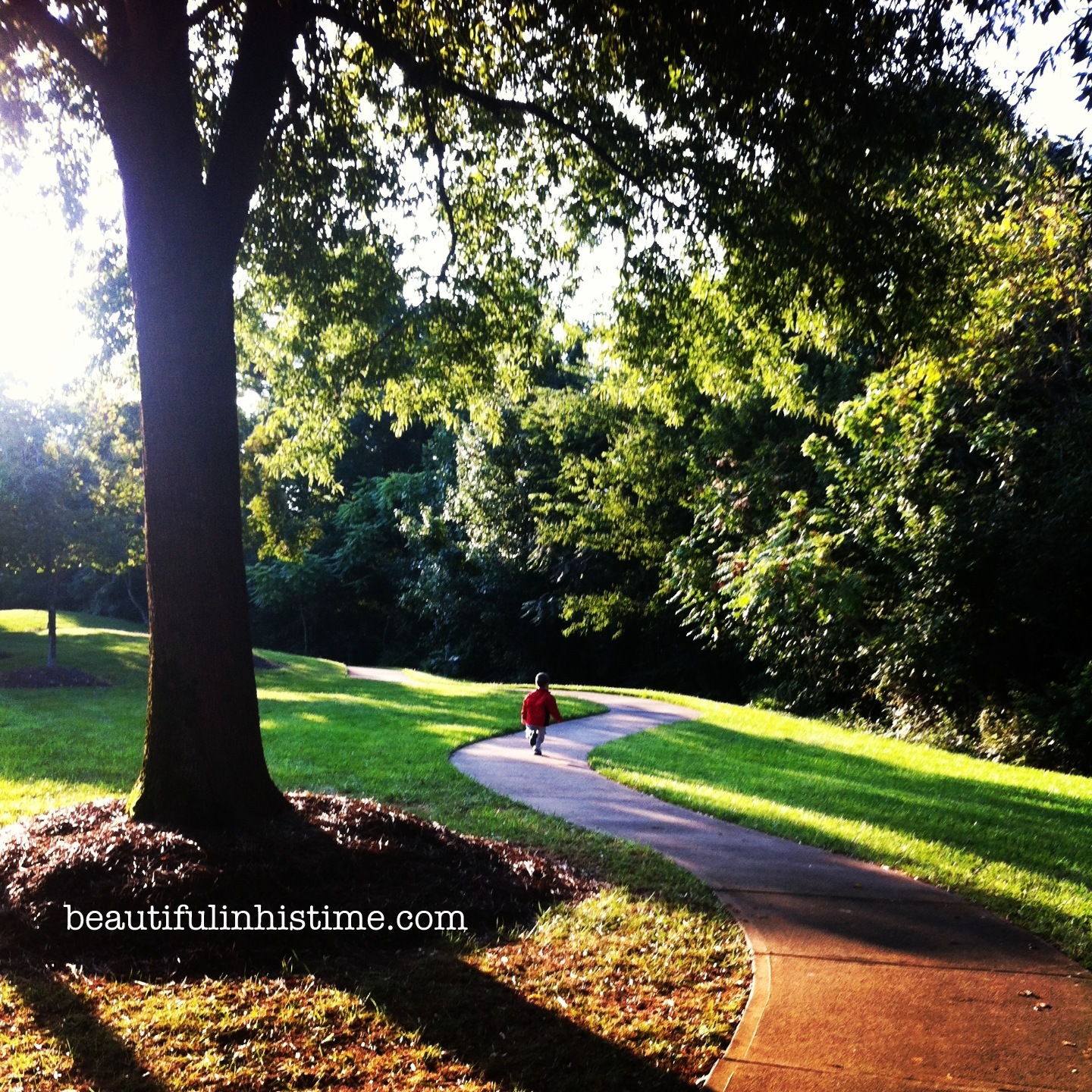 There is beauty in the little boy who picks out his own clothes for church and insists on climbing on the railing at church every. single. Sunday. And there he learns Bible songs and about men called Shem, Ham, and Japeth.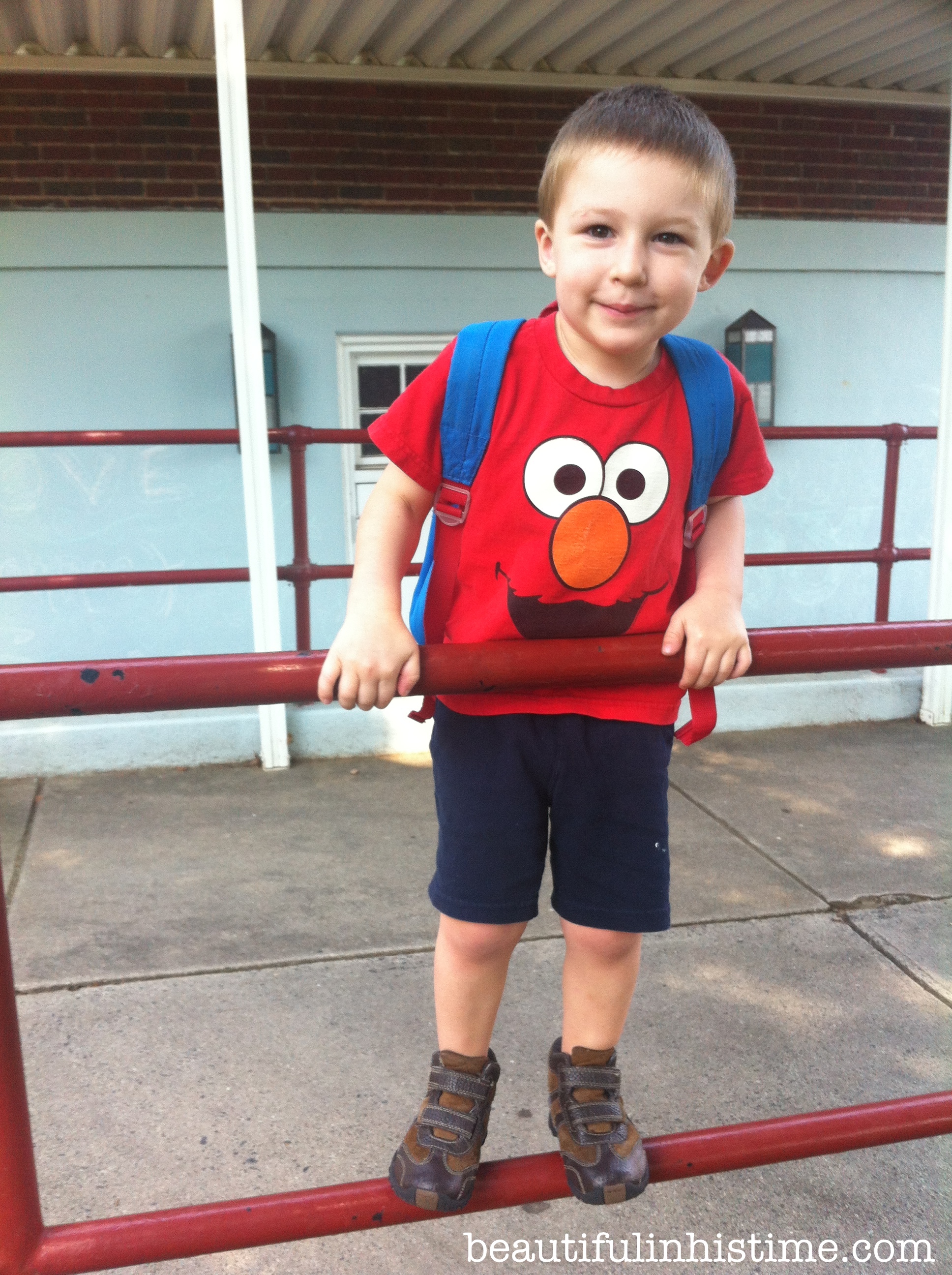 (Speaking of church, we are now officially members at our new church! And THAT is definitely beautiful!)
There is beauty in free Starbucks – a gift from my SIL who graced us with a gift card for Ezra's birthday: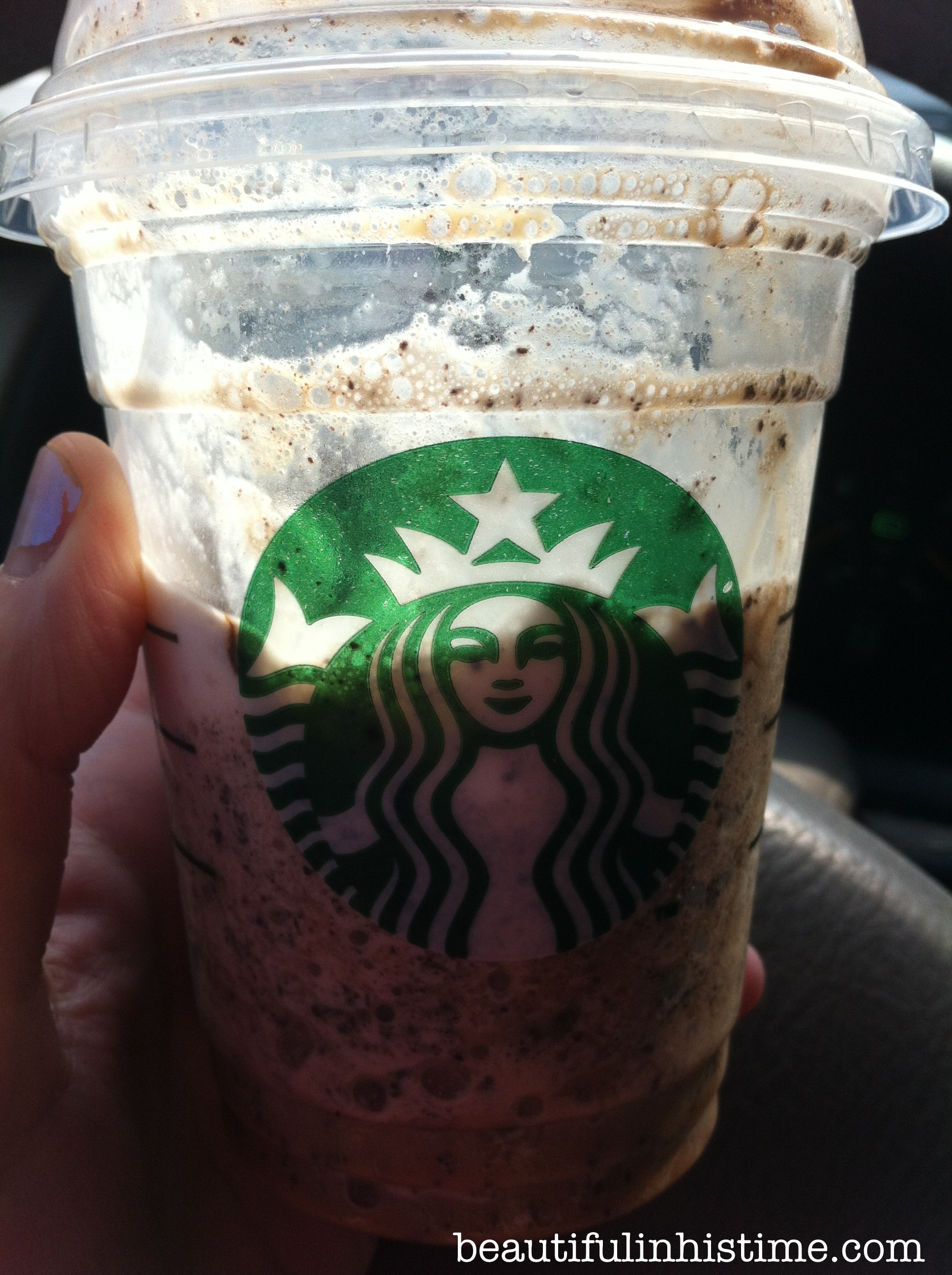 No "Beauty in the Mess" post would be complete without at least ONE picture of my sleeping boy.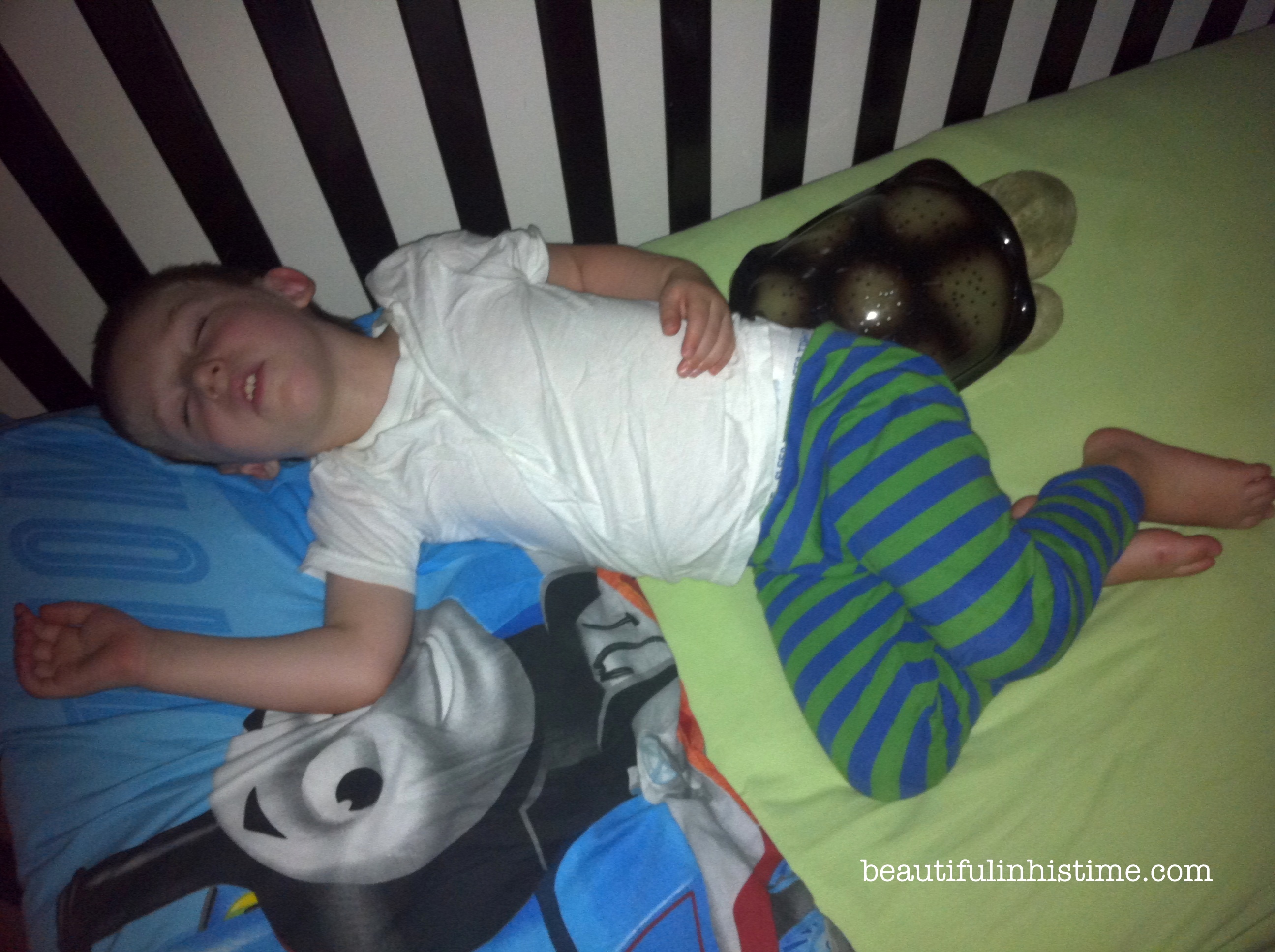 There is beauty in a grab bag sale at the Once Upon a Child / Plato's Closet across the street. (Although, I have to honestly say that I'm still trying to decide if getting all of this for $15 was worth the hassle of trying to wade through bins of disorganized clothes while chasing a fussy three-year-old around a crowded parking lot.)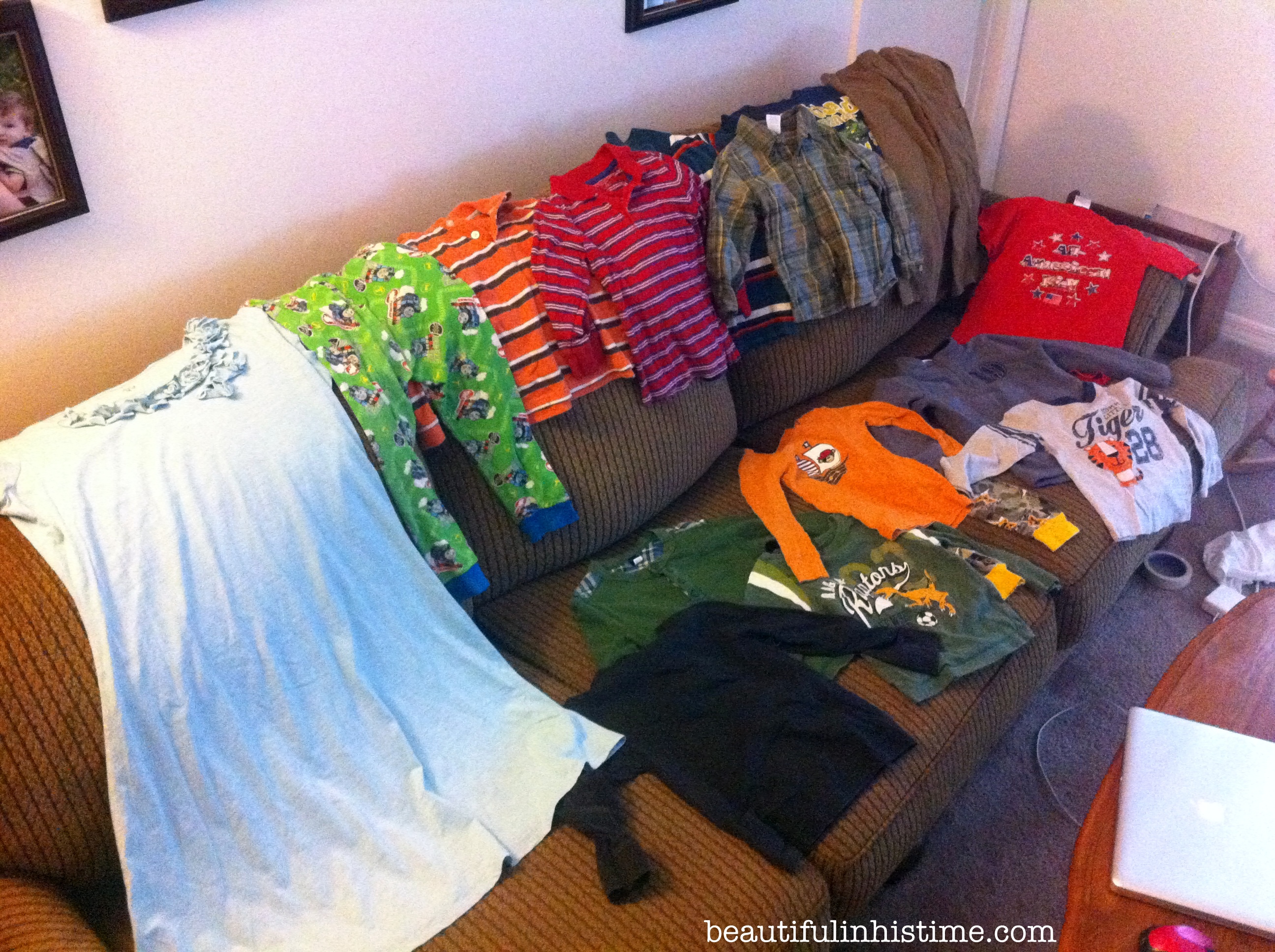 There is beauty in an inexpensive membership (paid out of our savings, when we still had some) that allows us admission all the zoos, aquariums, and science centers in the state. We've already paid for it probably twice over already! 
And this boy naming all of the penguins Shem, Ham, and Japheth.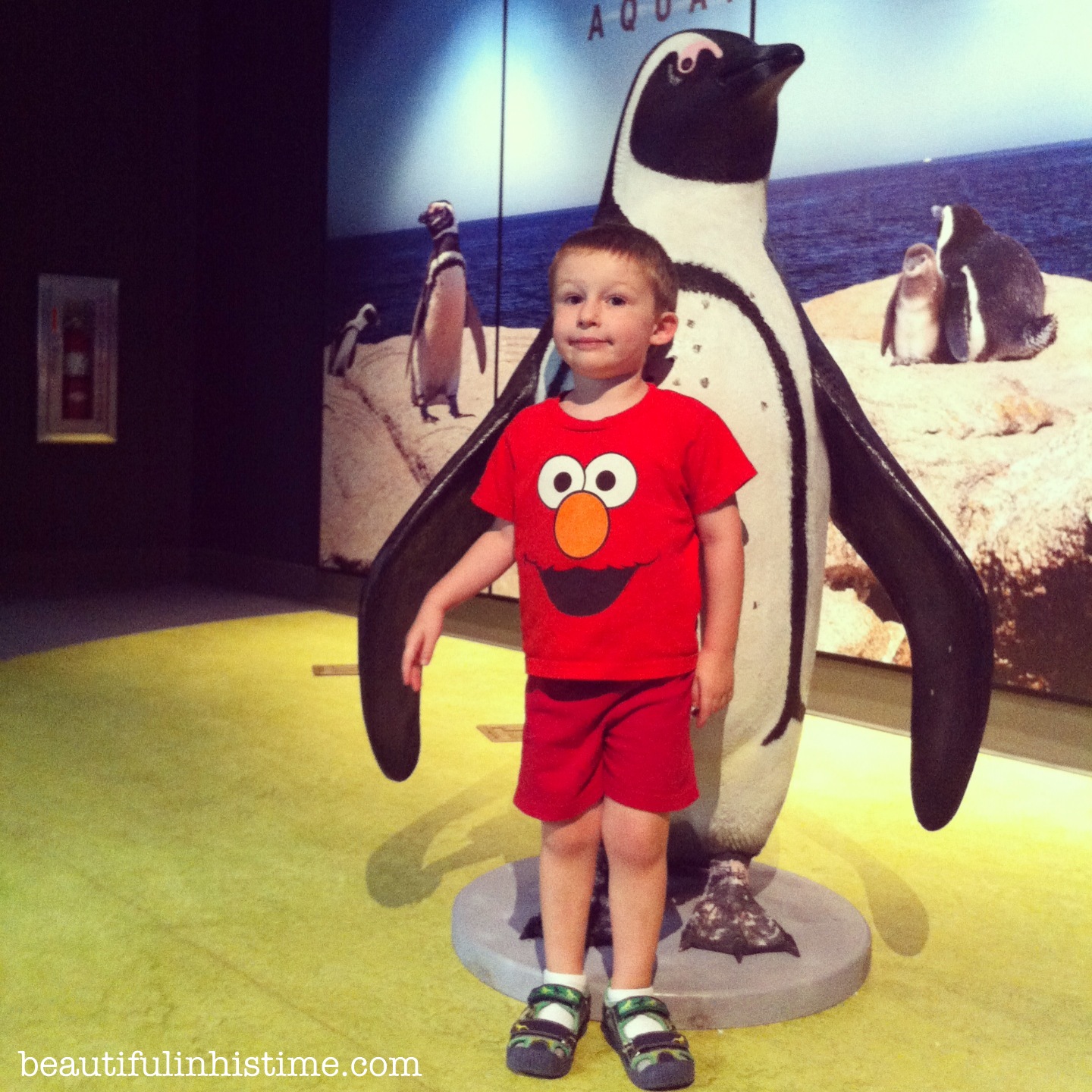 There is beauty in the bravery of my son and his unfailing trust in his father:
There is beauty in these boys, watching funny kitty and doggie videos on Youtube, one of their favorite pastimes:
There is beauty in this cute boy sporting one of his new birthday outfits!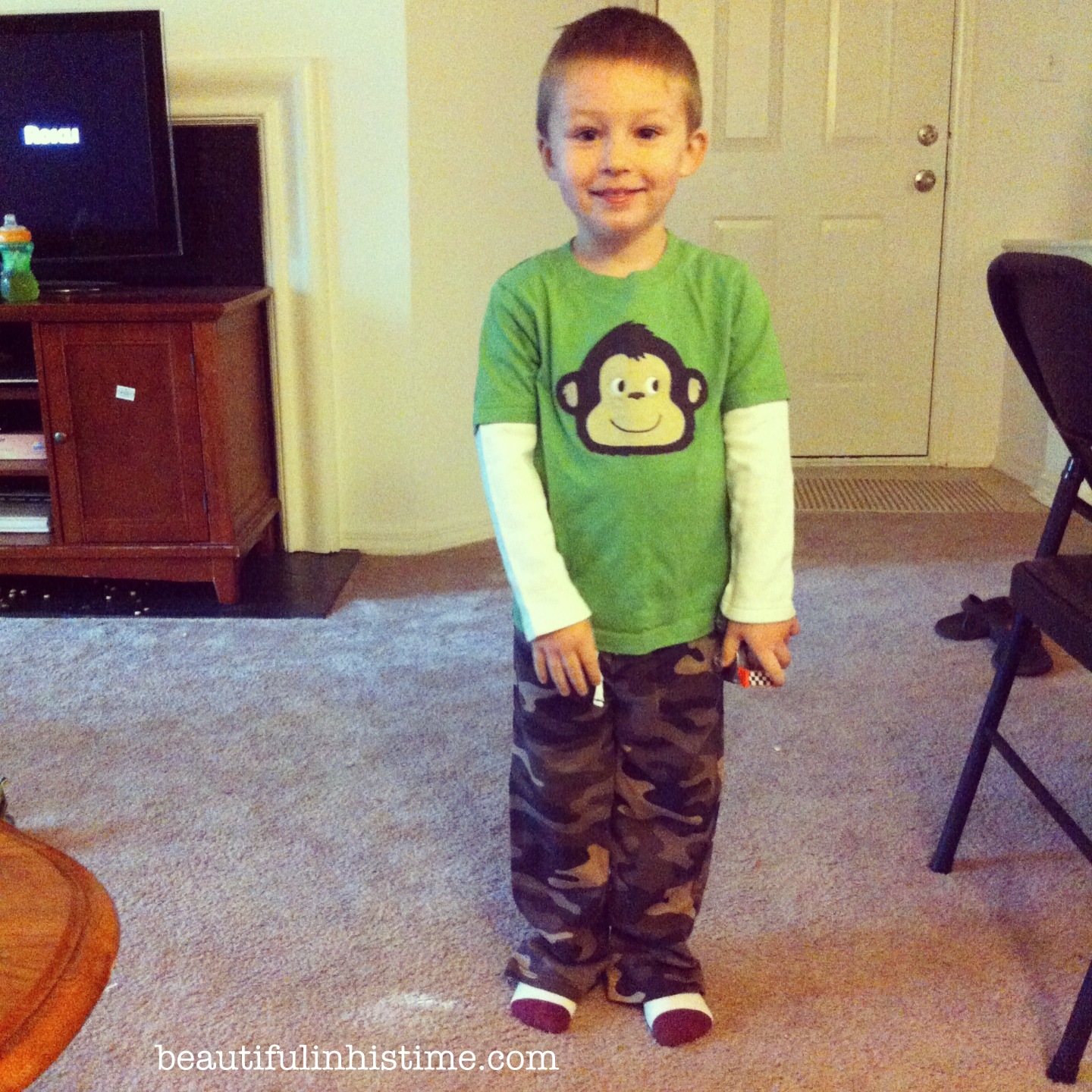 There is SO much beauty in getting to see my grandfather and his wife for the first time in two years. I'm so glad they got to spend some time with their great-grandson Ezra, who is named after my grandpa. They brought Ezra birthday gifts, treated us to lunch at ChickFilA, and Sharon cut my hair for free! So thankful for God's provision, even in the little things!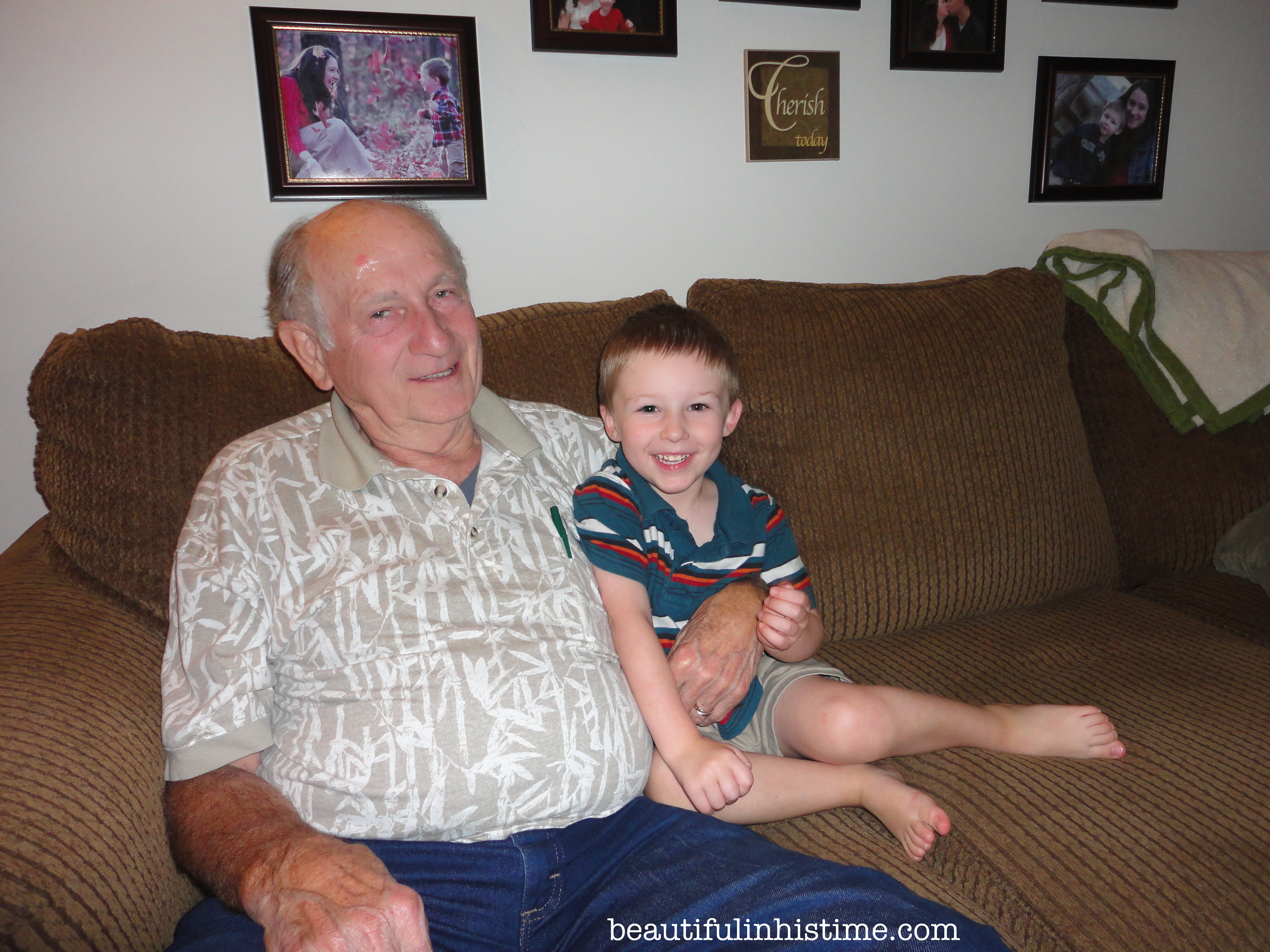 There is beauty in this man. I don't appreciate him enough. I get on his case too much. Sometimes I struggle to know how to encourage him and get frustrated when I can't. But he's a good man, a good husband, a good daddy – and working his way onto being a right-good banjo player. I'm so proud of him taking up a new hobby, sticking with it, and making progress!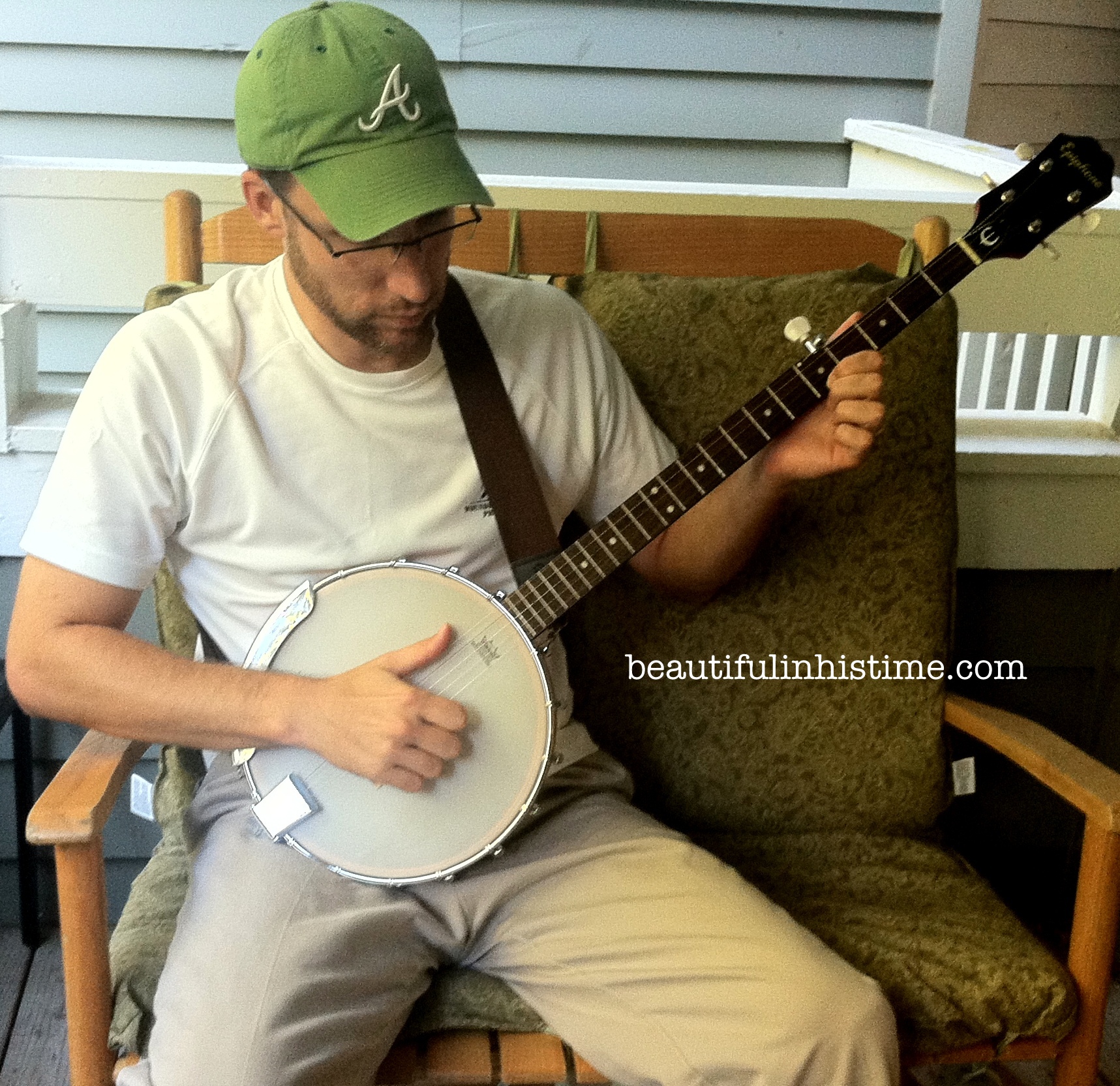 And lastly, there is beauty in simplification. When I started looking on ways to add more margin to my schedule so I am less stressed, I quickly realized that a huge time-killer and stressor was how much time and energy I poured into planning and preparing free preschool unit study materials for Ezra. Between the downloading, deciding, printing, laminating, and cutting, I would often spend HOURS on just one or two units. So, I've decided to give myself (and my inkjet printer) a break from that for a while and reuse old material, dollar store flashcards, and books like these.
I got these at Dollar Tree and Five and Below. Not one of them cost more than $2.50. Right now we aren't writing in them, just doing the activities aloud together and trying to learn things a bit more simply. Ezra is very happy and mommy is a LOT less stressed! Sometimes, you just have to let go of doing everything perfectly!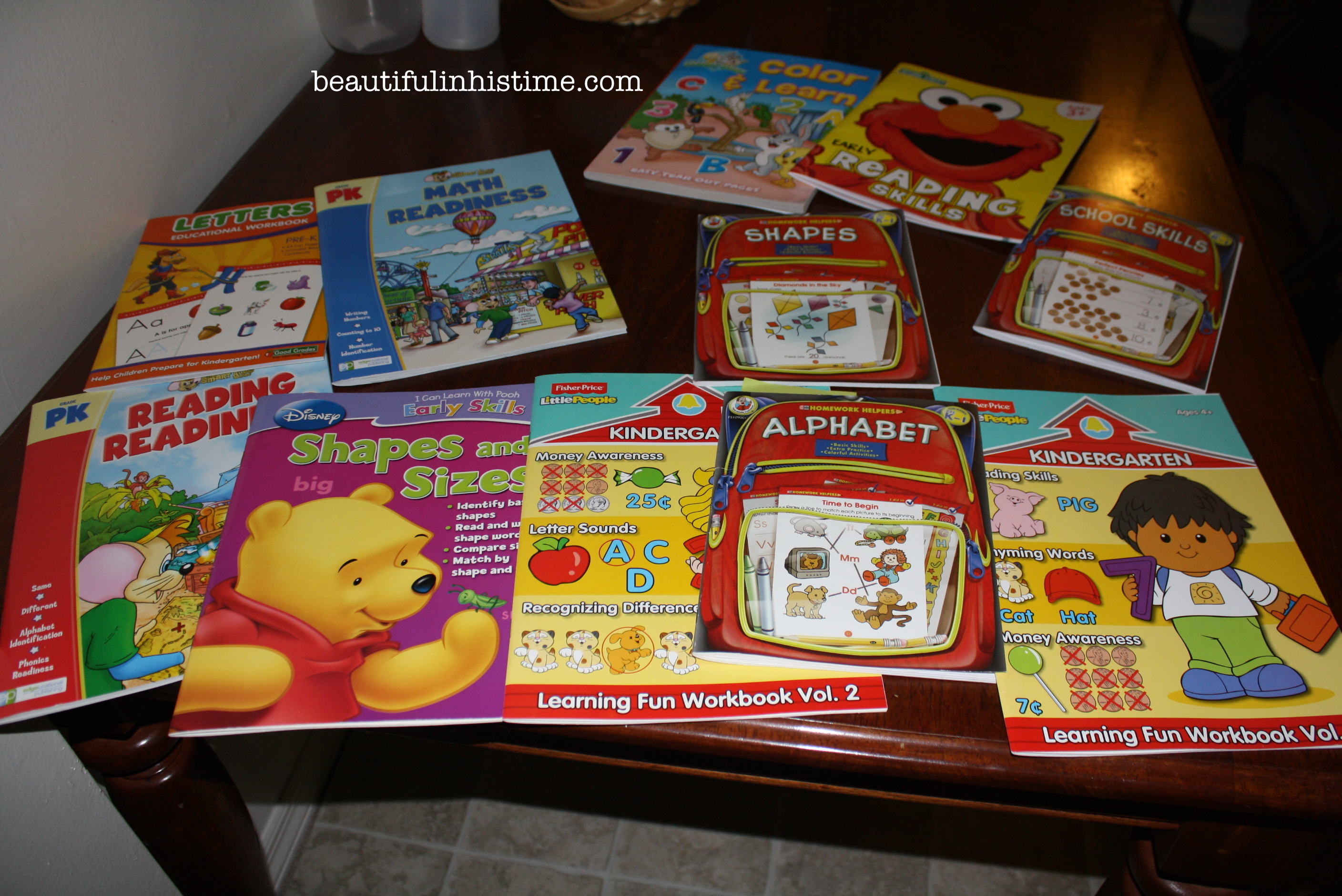 I know that this was lengthly, so thank you for hanging in there with me and enjoying my beauty with me!