Beautiful in His Time is a participant in multiple affiliate marketing programs. The author of this blog may receive commission for purchases or clicks made through links on this website.
---
It's 5:30 PM, Saturday night. You're barefoot and in the kitchen, surrounded by escapee frozen peas and the lid to a cup of applesauce.
You just loaded the dishwasher. Your son is watching Netflix and your husband is sitting on the couch reading an online comic. You are waiting for the in-laws to arrive to pick up your son so you can have an over-night date night with your husband.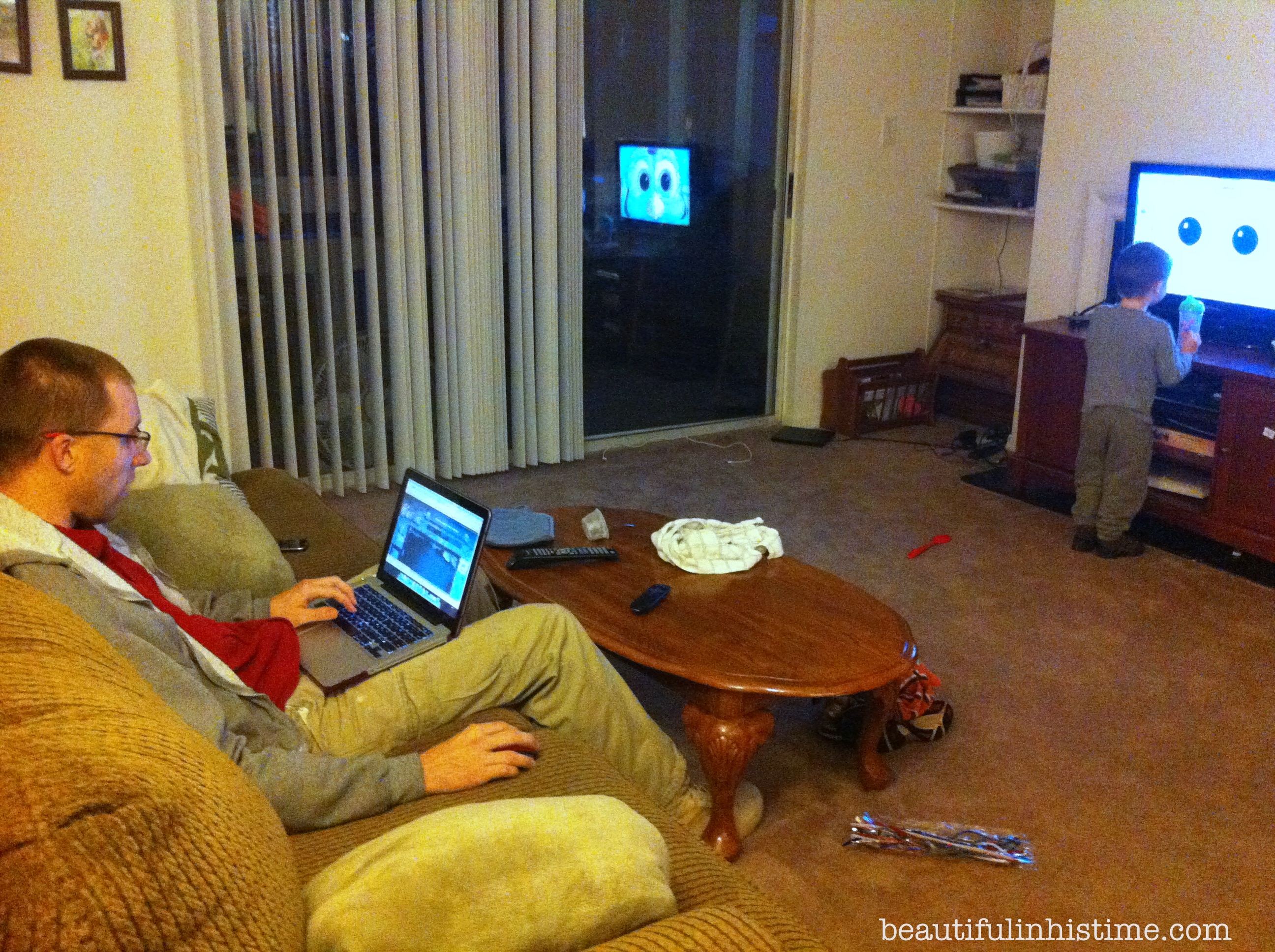 You thought about dressing up – but instead chose a loose knit pale pink top and solid black capri-length pajama bottoms that sort-of pass for cute gauchos. (Or not?) You're wearing your glasses. You got a shower and shaved your legs and sprayed yourself and your hair with his favorite perfume. You even put on lip gloss. He hasn't noticed.
Your bare feet are cold, but you are afraid that putting on your oversized leather slippers might ruin your look.
Ten minutes after showering, you found yourself with a child bent over your knees who was covered in poop. You lost count of the wipes you had to use to clean him up.
You have no special plans. You're almost out of milk, and you really need to go to the store to get a brownie mix so you have something to take to the potluck dinner at church tomorrow.
That potluck, in all honesty, is the reason you are having a date night anyway. Because, you know that potlucks and three-year-old boys are like fire and gasoline. So you are farming him out to Grandma so you and your man can do luxurious things like, you know, getting ready for church in peace and going to potluck dinners.
So you are wondering…
When will they get here to pick him up?
What are we going to do tonight? (Maybe we will be able to watch the 50th anniversary episode of Doctor Who online?)
Should I go to the grocery store? Should we splurge on ice cream?
Do I smell like poop?
Last night, you laid in bed with your husband. He cuddled you and you held his hand. And you heard those words again:
You've come such a long way in giving yourself grace as a mom. In the past you've had Pinterest-induced anxiety about being the perfect mom who is crafty and homeschools and is uber-intentional about ALL. THE. THINGS – but now you've given all of that up.  You've embraced the mundane and decided you are okay with just showing up. You've heard the message and really taken it to heart:
"As long as your kid is clothed and fed and he knows he's loved – then that's enough."
But you wonder…where's THAT message for the tired wife? (And where's the blog post telling you it's okay to wear pajamas on date night?)
You realize that are still feeling guilty and anxious because your date nights don't look like all of those posts on the Dating Divas. You cuddle in bed 19 nights out of 20 – but you are worried because you haven't actually taken a picture with JUST your husband in months.
You are learning to give yourself grace as a mom…but you wonder where's the grace for being a less-than-perfect wife?
Can you set aside the fear that your marriage is going to fall apart if you don't have themed date nights or a weekly game night? Can you just enjoy this evening – whatever it looks like?
Because he's yours. And he's not going anywhere. You are loving and giving and trying and you won't have a three-year-old forever. Maybe some night in the future you will be able to trade your I-hope-they-don't-smell-like-poop pajamas for a cute dress and pumps. Maybe even go to some artsy cafe and see a cute movie.
But tonight is not that night.
So just enjoy tonight for what it is: a break from parenting and time alone with your husband of almost six years.
That is a gift. And it is enough.
I scrawled this in a notebook and purposed in my heart to set aside my expectations and enjoy the evening. We ended up taking our son to Costco where we passed him off to the in-laws and picked up milk and dessert breads for the potluck. We stopped by ChickFilA on the way home where I ordered a kid's meal so I could have some grain-free goodness and free ice cream. We came home, put on pajamas (yes, the non-sexy plaid ones) (and socks and over-sized slippers), and found a place to stream Doctor Who online. We cuddled under the blankets and watched 76 minutes of uninterrupted Who goodness.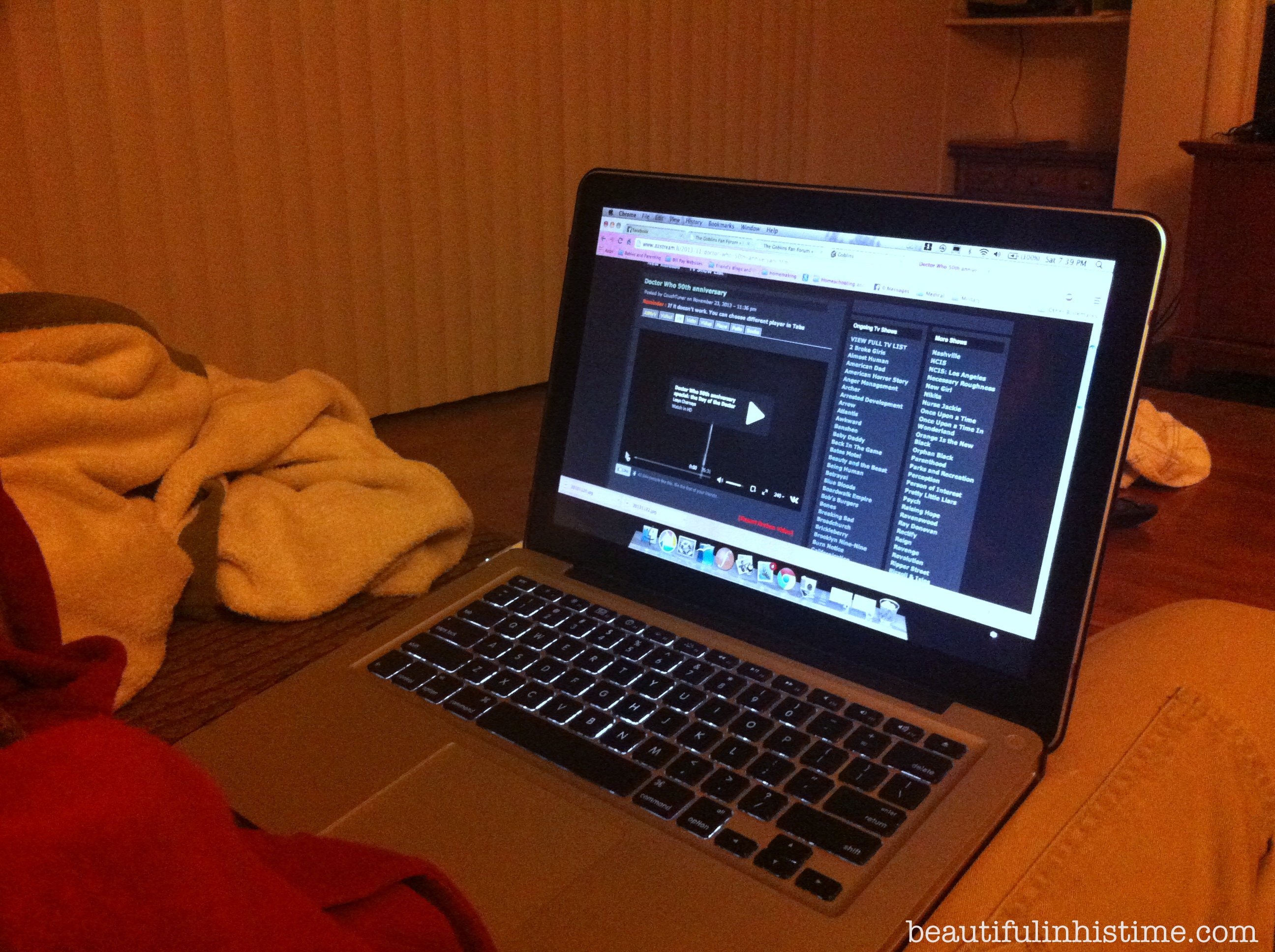 We even took a blurry selfie at 10:30PM. Go us.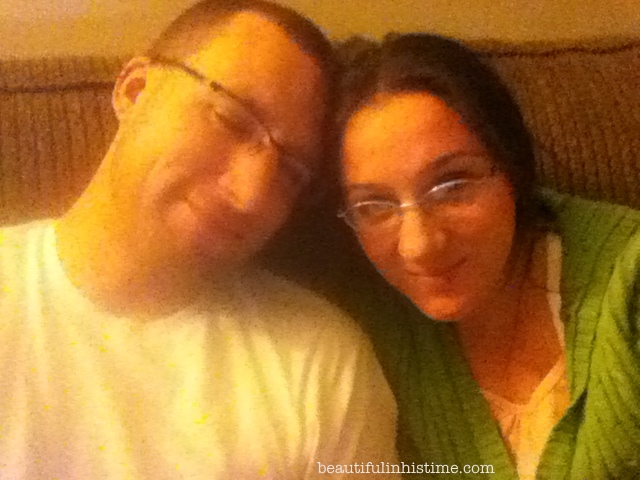 Then we crawled in bed and broke the cardinal rule of dating your spouse: we didn't just talk about our kid – we looked at his baby pictures on the iPhone.
And it was perfect.