The Power of Friendship: 5 Ways to Help a Special Needs Mom
Beautiful in His Time is a participant in multiple affiliate marketing programs. The author of this blog may receive commission for purchases or clicks made through links on this website.
---
My 18-month-old daughter looks to me for reassurance as her big brother's screams echo through the house, "I do want to get dressed! I do not want to get dressed! I do want to get dressed! I do not want to get dressed…!"
I take a deep breath, put my arms around him, and say, "Calm down, Jack. It's ok."
"No! No! Jack does not want to calm down!" his beautiful blue eyes are wild with panic. His little body wracked with anxiety.
"Ok, Jack," I say gently.
"No! Do not say ok! It is not ok! It is ok! It is not ok! It is ok!"
He hurls himself on the couch and bangs his head on the cushions before standing up and crashing back down on the cushions again.
Thankful he is flinging himself on the couch and not on the floor or at a wall, I pin his flailing arms and legs down on the cushions and manage to keep him from hurting himself.
"You have to calm down and put your clothes on, Jack. Screaming is not a choice."
His face flames fiery red as his lungs draw in a deep breath before unleashing another burst of confused rage, "Screaming is a choice!!"
As I watch my precious son thrash and scream, I can feel anger and frustration building in me. All the daily therapies, specialist appointments, mounting medical bills, and exhaustion race through my mind. Images of the piles of dishes, laundry, toys, and household duties flash like a never-ending reel of film that I can't stop. My heart weighs heavy with the struggles my son carries and the confusion my daughter bears. And I wonder how I can keep this up, this motherhood of two little ones who look to me for pure understanding and love when I am angry and confused and heartbroken?
Nerves raw, spirit broken, these words pour from my heart in a desperate plea to the Father: I'm not sure how much more our family can take, Lord. How many more years can we put one foot in front of the other on this rocky, uphill climb? How many more nights can we go without sleep while our son cries in terror from dreams that haunt him and from restlessness that plagues him? How much more must he suffer? How many more meltdowns and struggles must he and we endure? How many more unpaid bills must we chip away at day after day that we cannot afford to pay? How much more heartache can our hearts take? Where are you, Lord?" 
Eventually, Jack stops screaming and curls up in my lap like an injured puppy.
"It's ok, baby. It's ok." I stroke his sandy blonde hair that is now wet with sweat, and hold him while he sobs.
As I cradle my oldest child like a newborn babe, my youngest toddles quietly in the adjoining room. With my husband an hour commute away, working 12 hour days, I feel panic seep in and realize I cannot do this alone. That I must reach out to a friend or despair will swallow me whole.
Friends, both old and new, have carried and continue to carry me through the darkest of times. They have prayed for me, offered to help me, listened to me, loved me, and shared the journey with me. They have blessed me. 
"A friend loves at all times, and a brother is born for a time of adversity." (Prov 17: 17)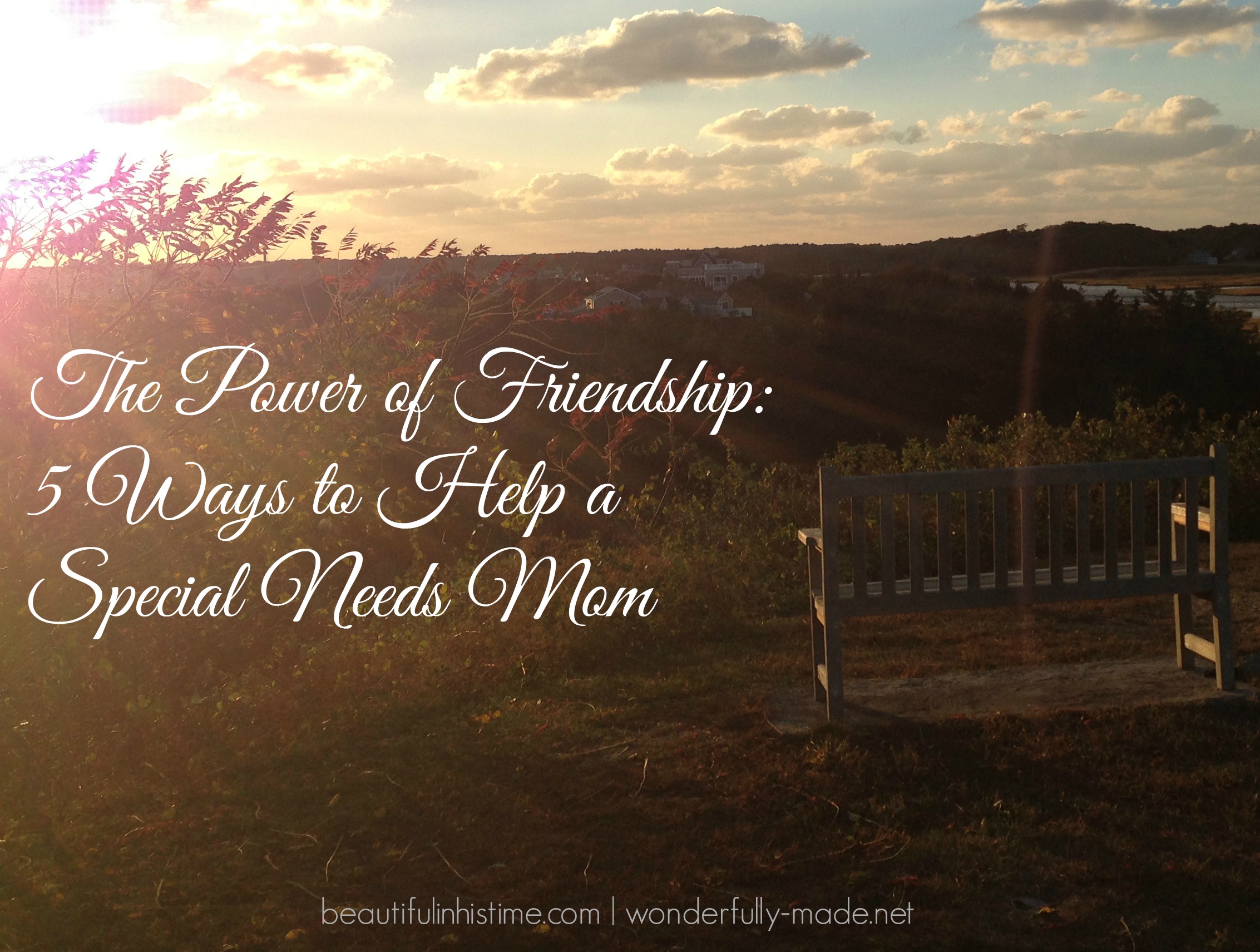 Do you have a friend who has a child with special needs and wonder just what to say or how to help? Here are five ways:
1.     Pray for her. Pray for patience. Pray for rest. Pray for strength.
2.     Offer. Don't wait to be asked for help. Trust that she needs it, and offer with an open heart and an open mind. Be willing to stretch just a bit to lend a helping hand – parents of children with special needs are stretched every moment of every day. Offer to help with seemingly simple tasks – bring a meal, hold the baby, watch her children for an hour so she can grab a cup of coffee and breathe. Seemingly simple activities can feel overwhelming when exhausted, and this is further amplified when parents have a child with special needs.
3.     Listen. Just listen. Sometimes she just needs a good cry. She's tired, worried, and feels buried under a mountain of tasks. She has therapists and specialists telling her every day how to help her child. So unless she asks, don't offer advice on how to handle her life better, how to organize her day better, how to manage her children better. She just wants someone to listen to the things weighing heavy on her heart.
4.     Love. Love her where she is – tired, messy, and doing her very best to make it through each day with thanksgiving and hope. And encourage love between her and her spouse by offering to sit with the children so they can have one hour together out of the house. It is so very rare that parents of children with special needs get any time together, and yet it is so important.
5.     Share. Share with her how much you love and admire her. Tell her she is lovely, that in spite of her exhaustion and her pain she is a beautiful child of God. Tell her it's ok to cry. It's ok to ask "why me?" It's ok to be angry, to reach the end of her rope. Assure her you'll be there to help her tie a new one. Tell her behind her smile, you know she's aching but just doesn't know how to say it, because how could she explain the heartaches of a lifetime in five minutes? Finally, tell her to let you in, and that you're ok with seeing the mess inside her.
This journey of motherhood cannot be taken alone. We need the love and understanding of other women to help us along our path, the path chosen by God according to His design.
For "two are better than one, because they have a good return for their labor: If either of them falls down, one can help the other up." (Ecclesiastes 4: 9-10)
***
Katie is the blessed wife of an Air Force veteran and mother of two precious children. Her oldest child, Jack, age 4, was diagnosed with autism in January 2013. Later that year, Katie felt the Lord calling her to share her family's journey and she launched Wonderfully Made, a blog about her son, her family, and their faith. Though Jack's special needs present many challenges, it is her family's deepest hope and prayer that what they share at Wonderfully Made will open doors to a positive and enriching journey with your children, encouraging you to laugh, cry, learn, accept, and rejoice in what makes them who they are – perfectly and wonderfully made by God. Follow her family's story at www.wonderfully-made.net.