Beauty in the Mess ~ Edition 01.09.14
Beautiful in His Time is a participant in multiple affiliate marketing programs. The author of this blog may receive commission for purchases or clicks made through links on this website.
---
December was a pretty laid-back month for us. You can read all about our Christmas here, but in this post, I'm going to share some of the non-Christmas things that kept us busy and seeing beauty in every day life.
There is beauty in this pouting, hiding-in-denial boy. Yes, no amount of talking would coax him out; and eventually I had to just physically drag him out from his hiding place, but I suppose that a little boy not wanting to leave church is a sign that we are doing something right and that our church does a good job with the kids on Sunday mornings!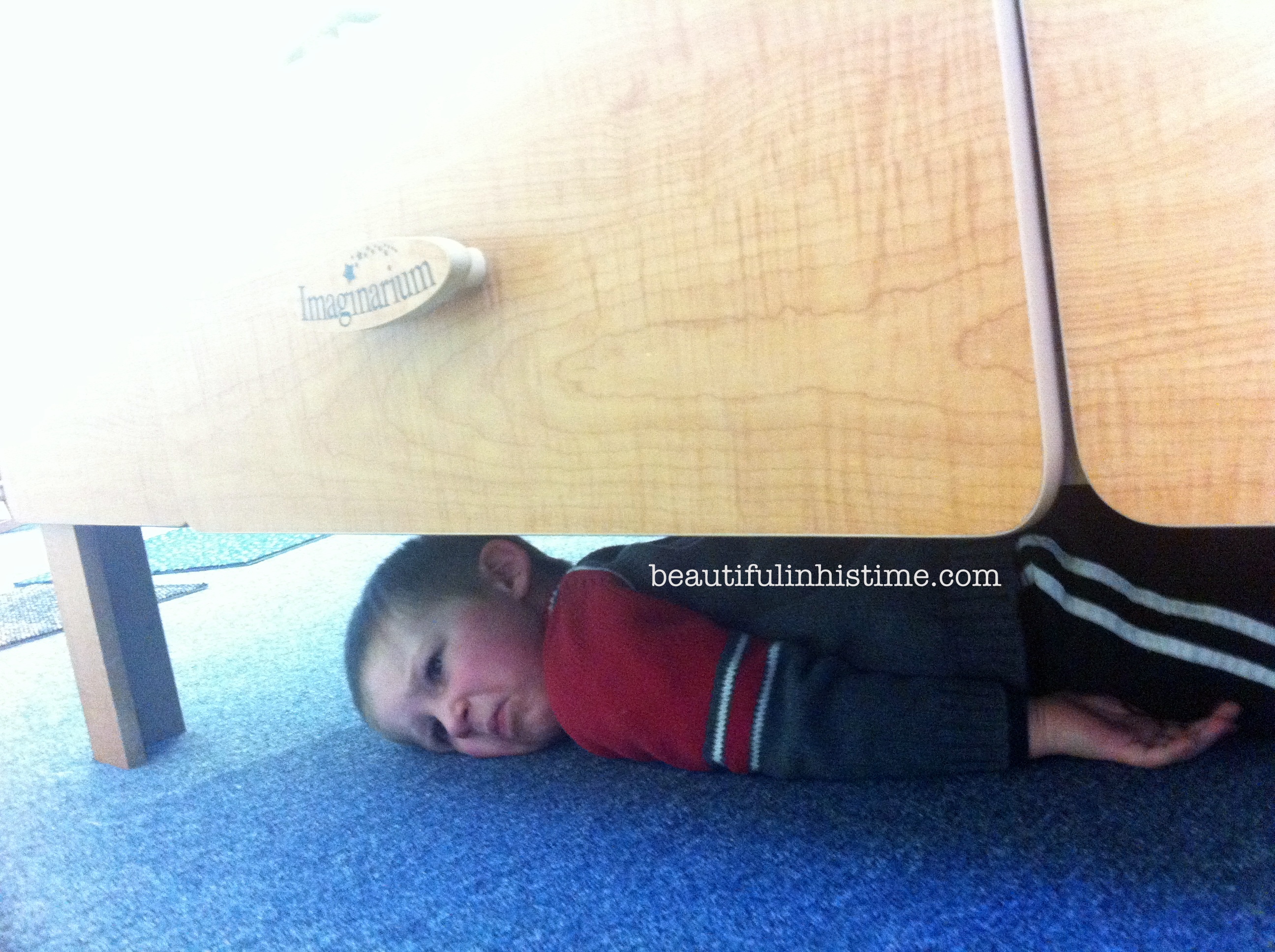 There is beauty in a boy who so loves to help his Daddy and Mommy do things around the house. Especially things that involve tools.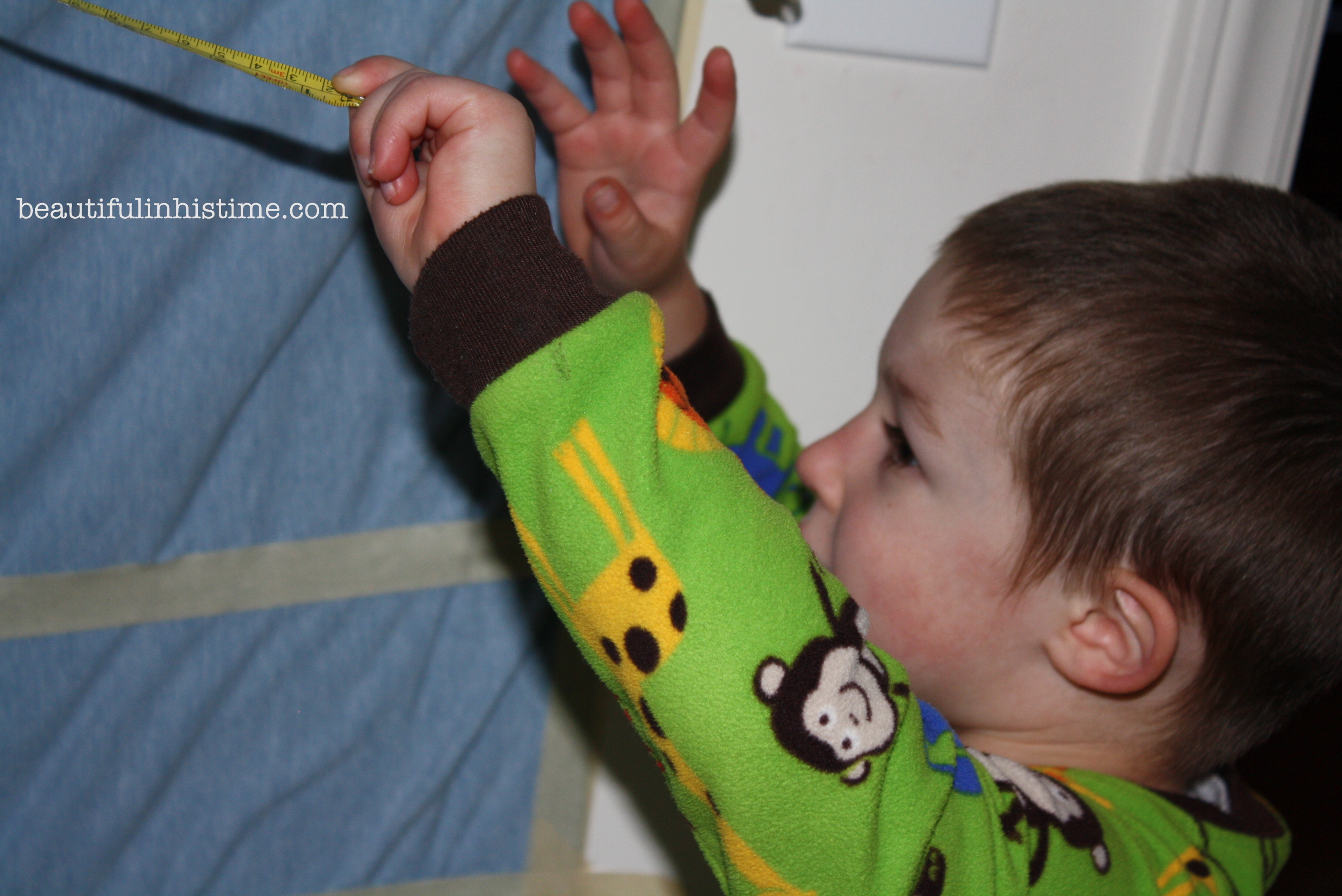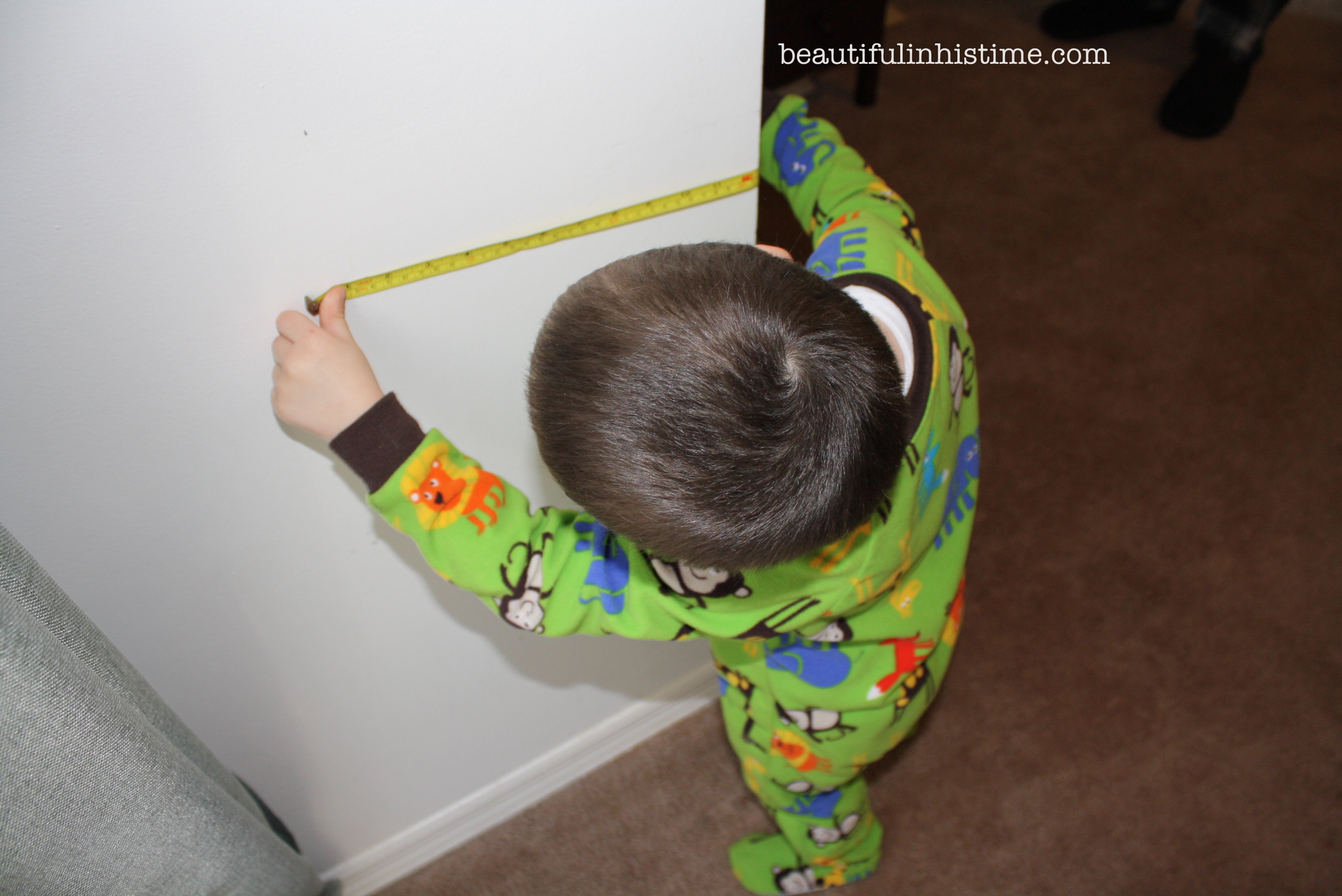 And there is beauty and so much laughter in a boy who would rather play drums on mommy's slippers with his crayons than color.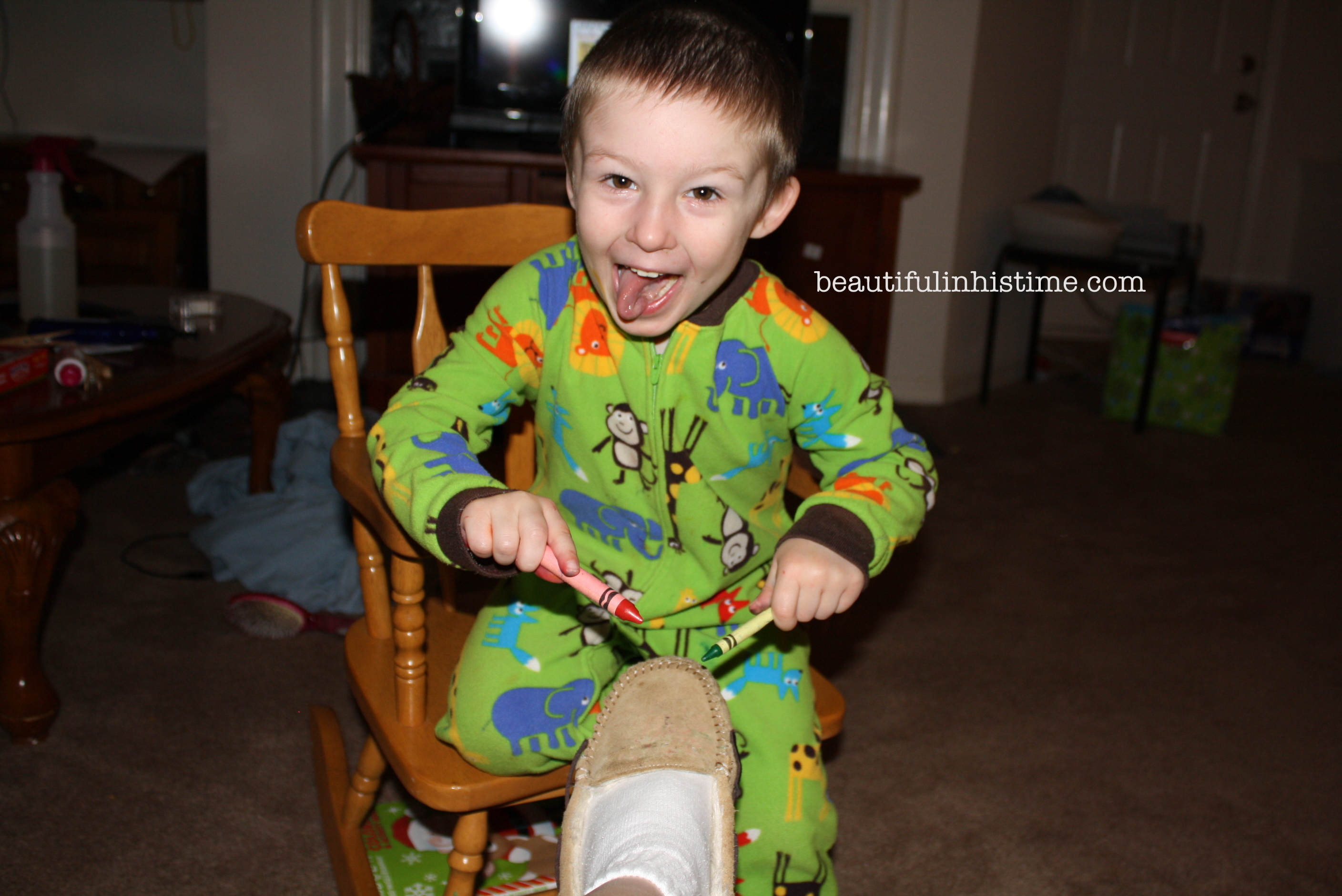 There is beauty in having silly time around the house, running laps around the living room, and hanging out as a family.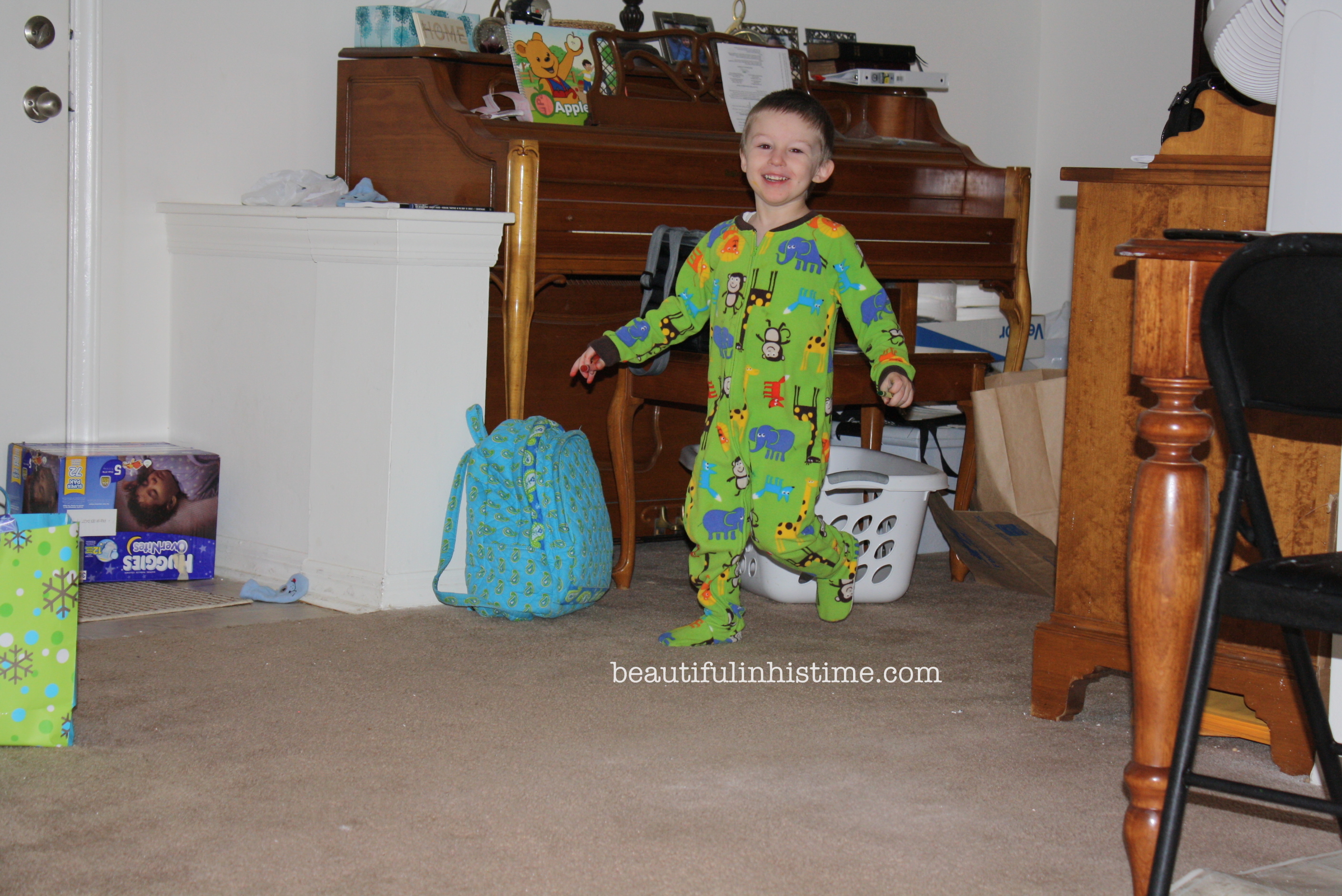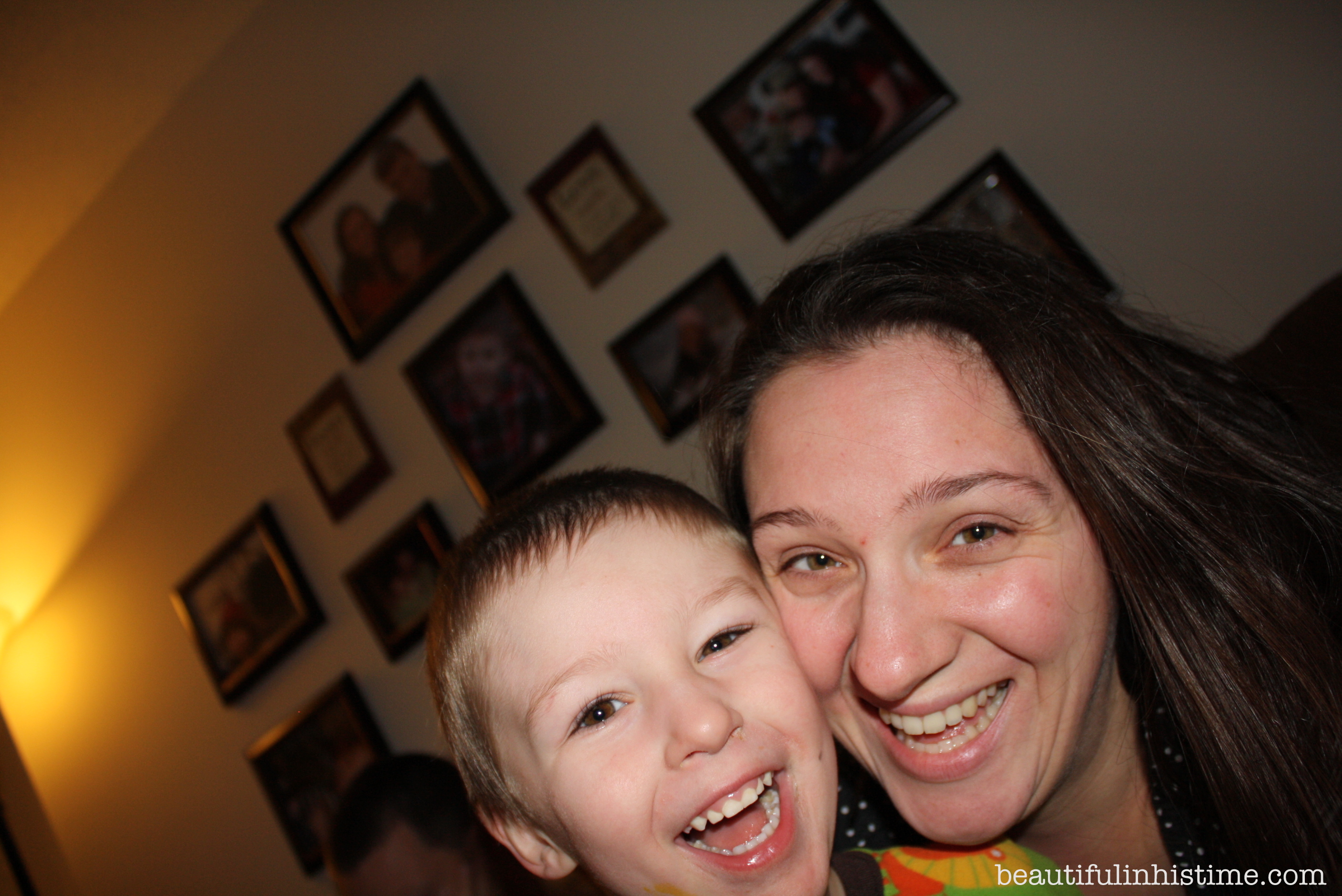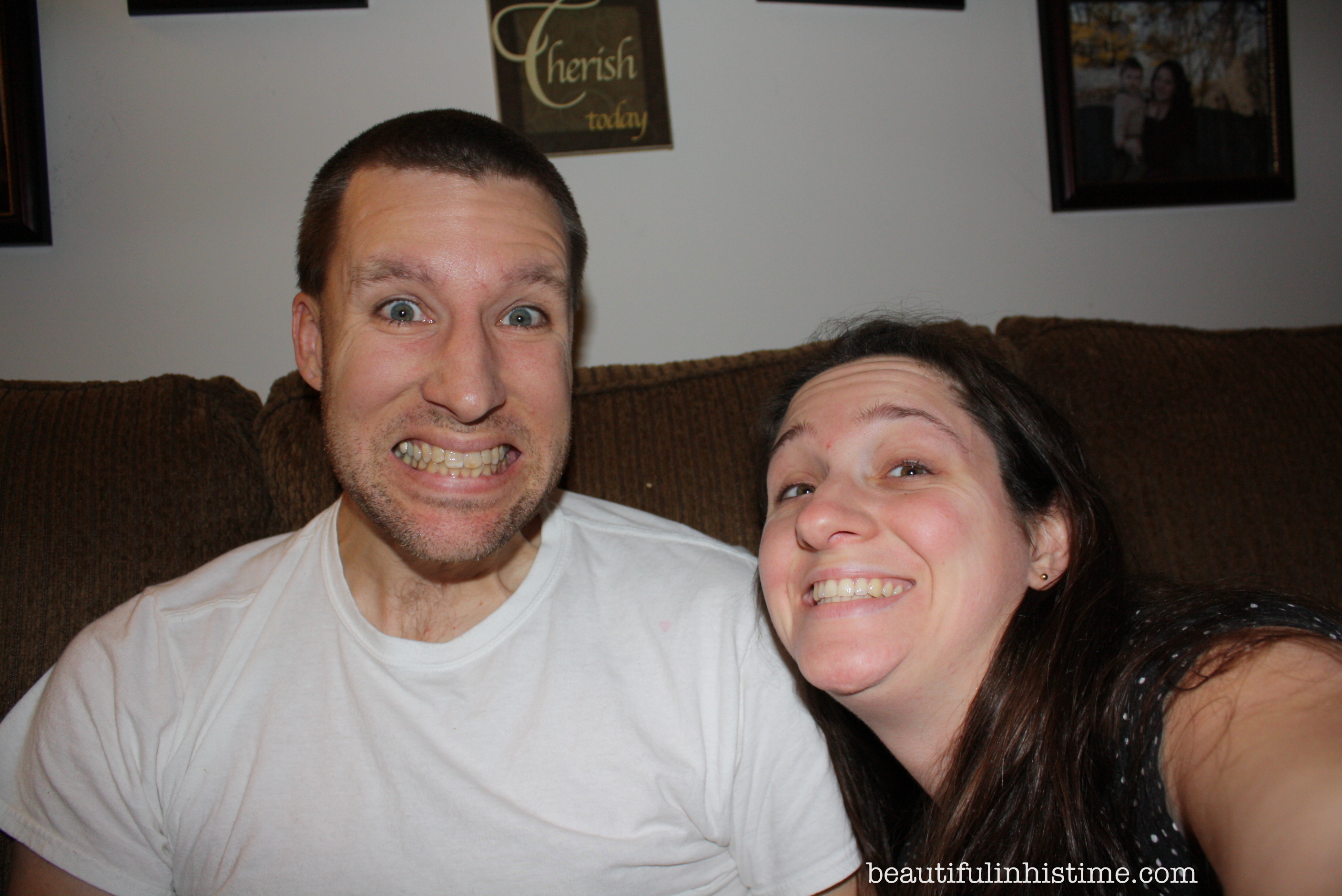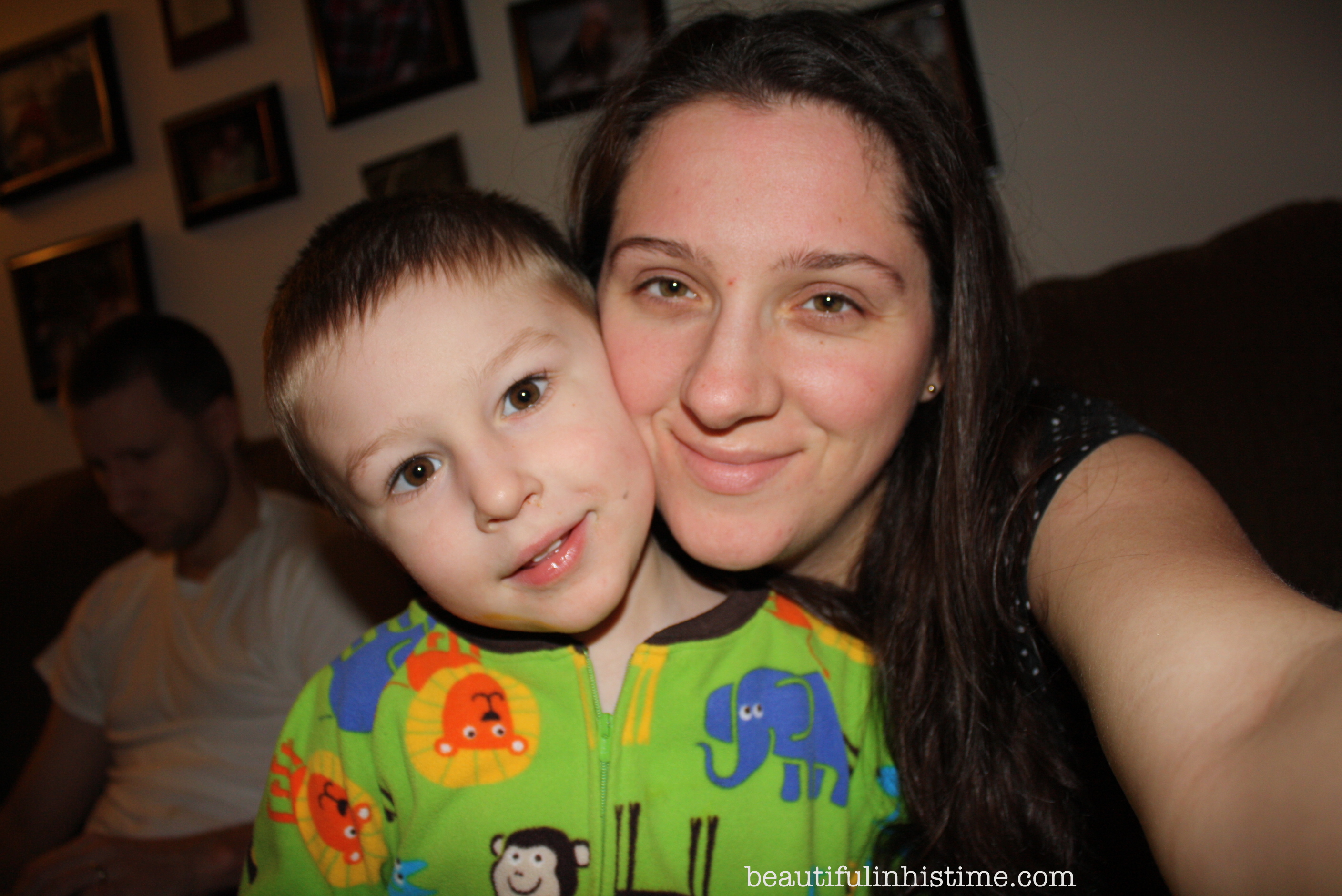 And there is beauty in a yearly tradition of taking a family Christmas photo – even it it's a selfie:
(because we pretty much rock at selfies)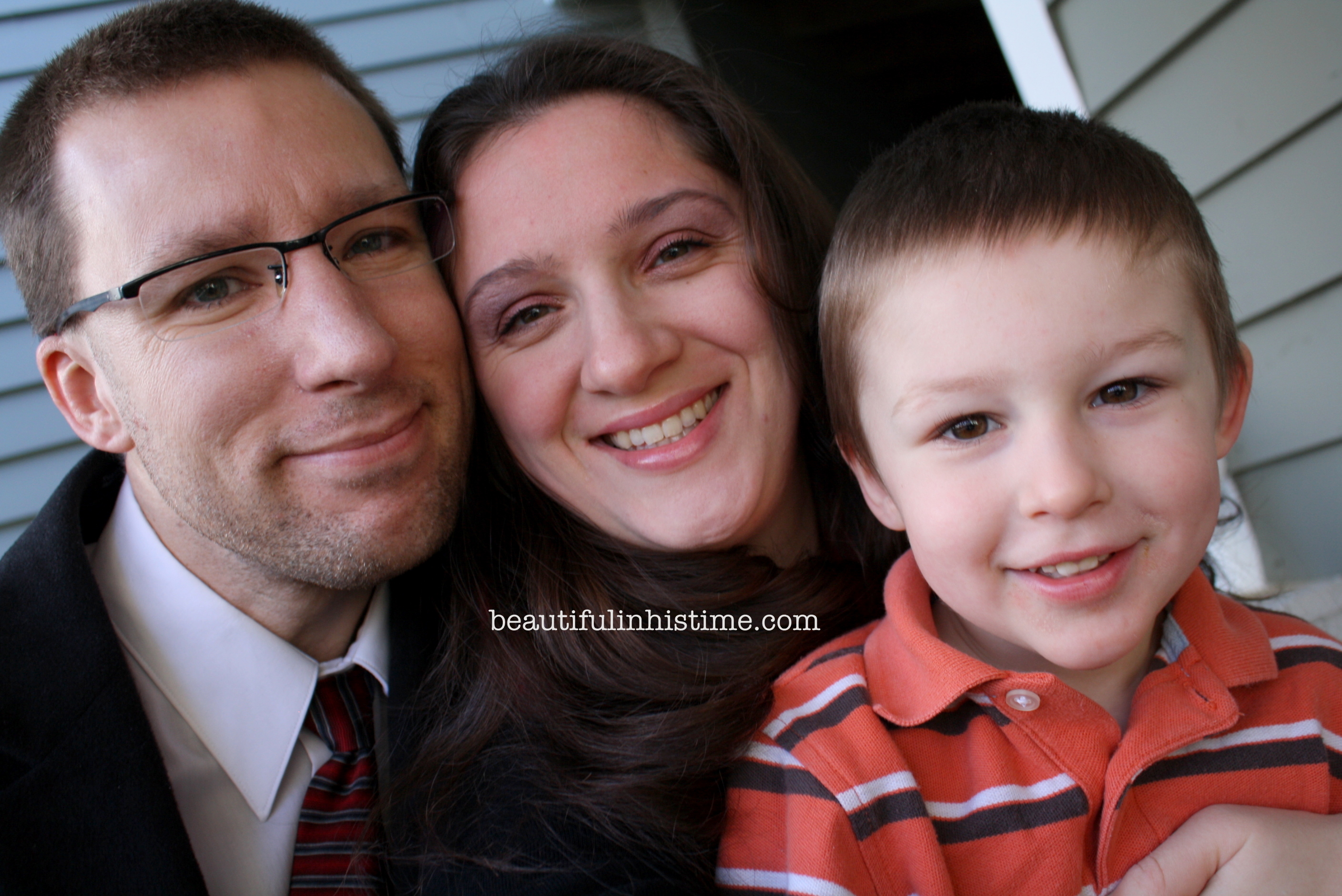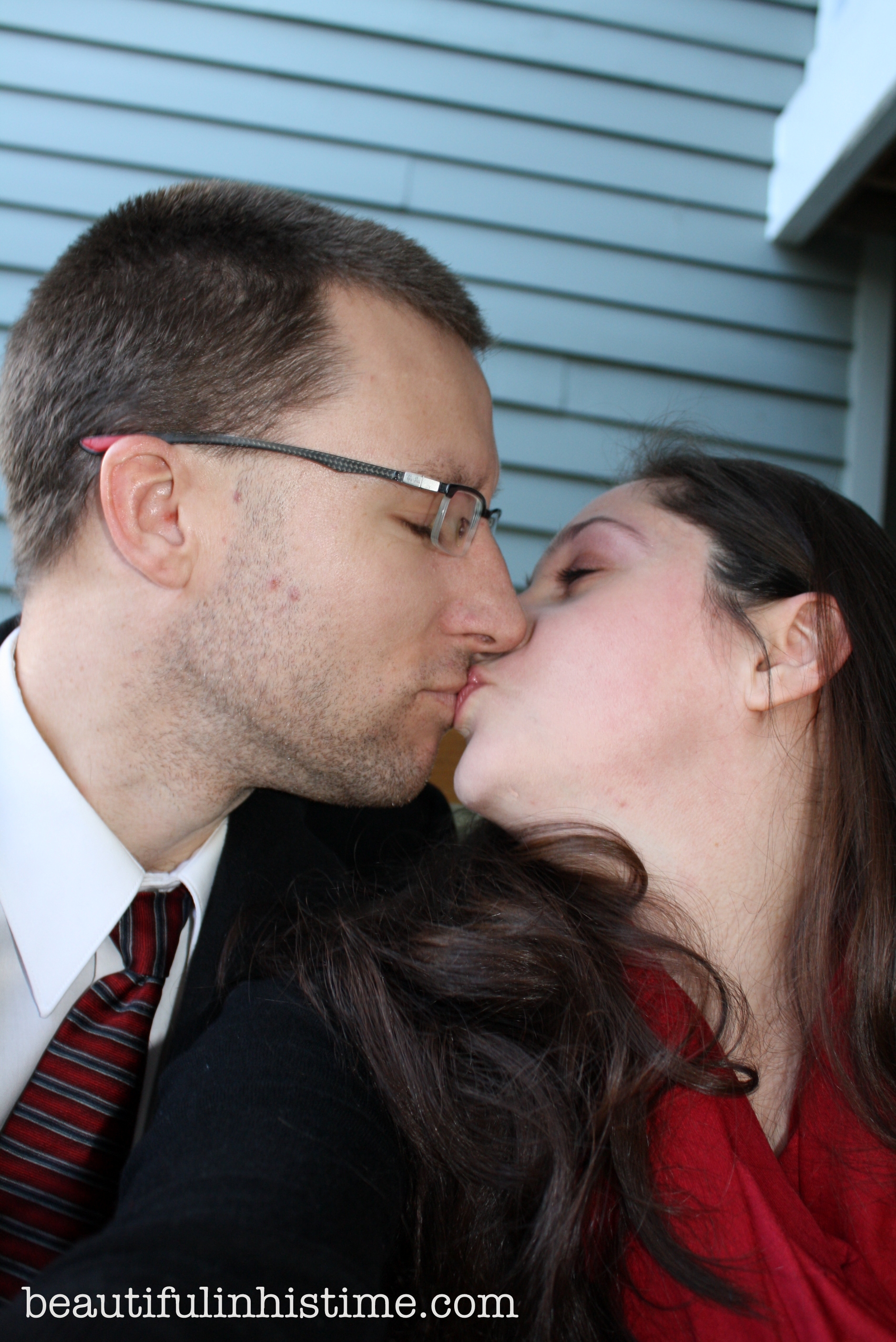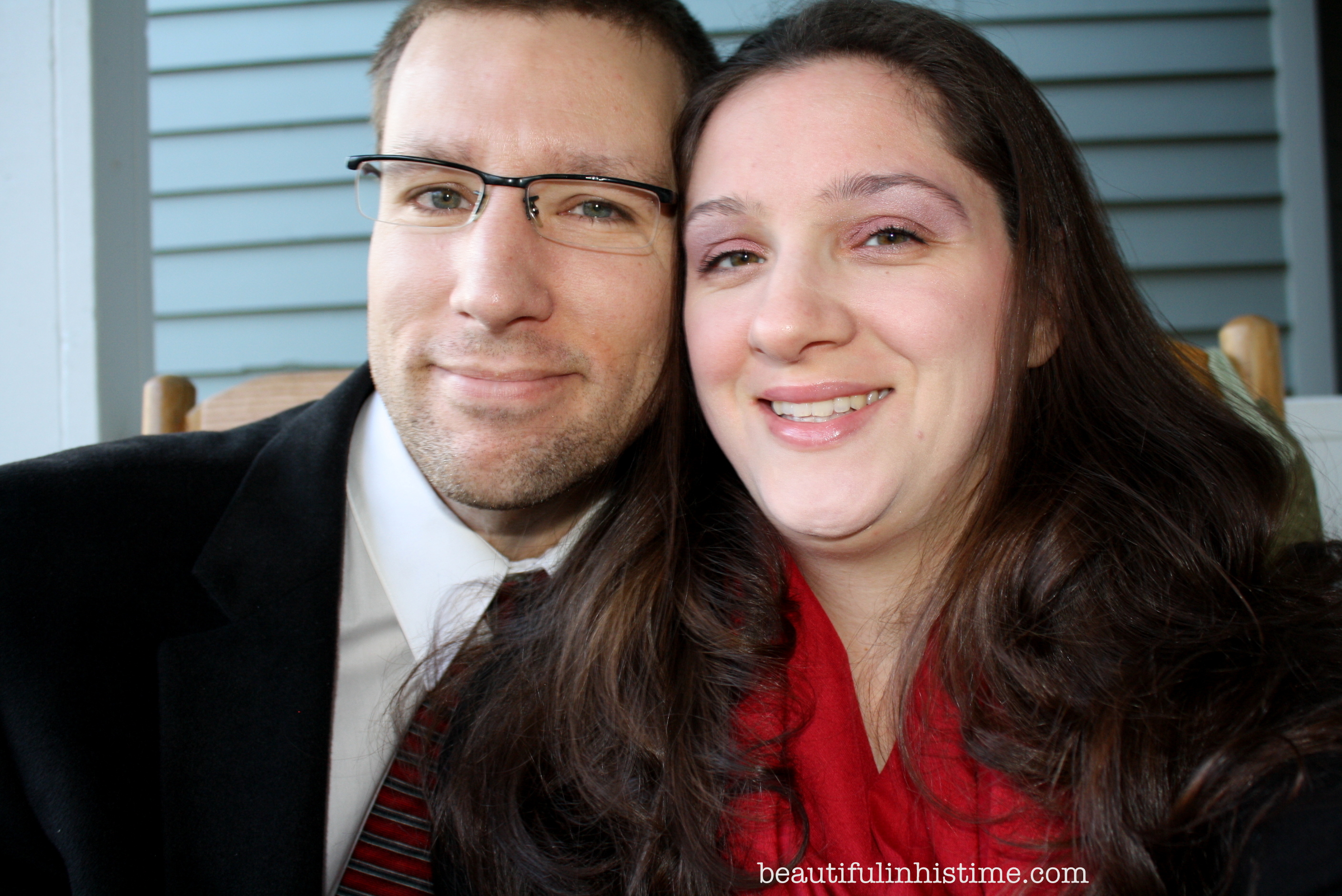 There is beauty in this tender-hearted little boy taking care of his baby Elmo: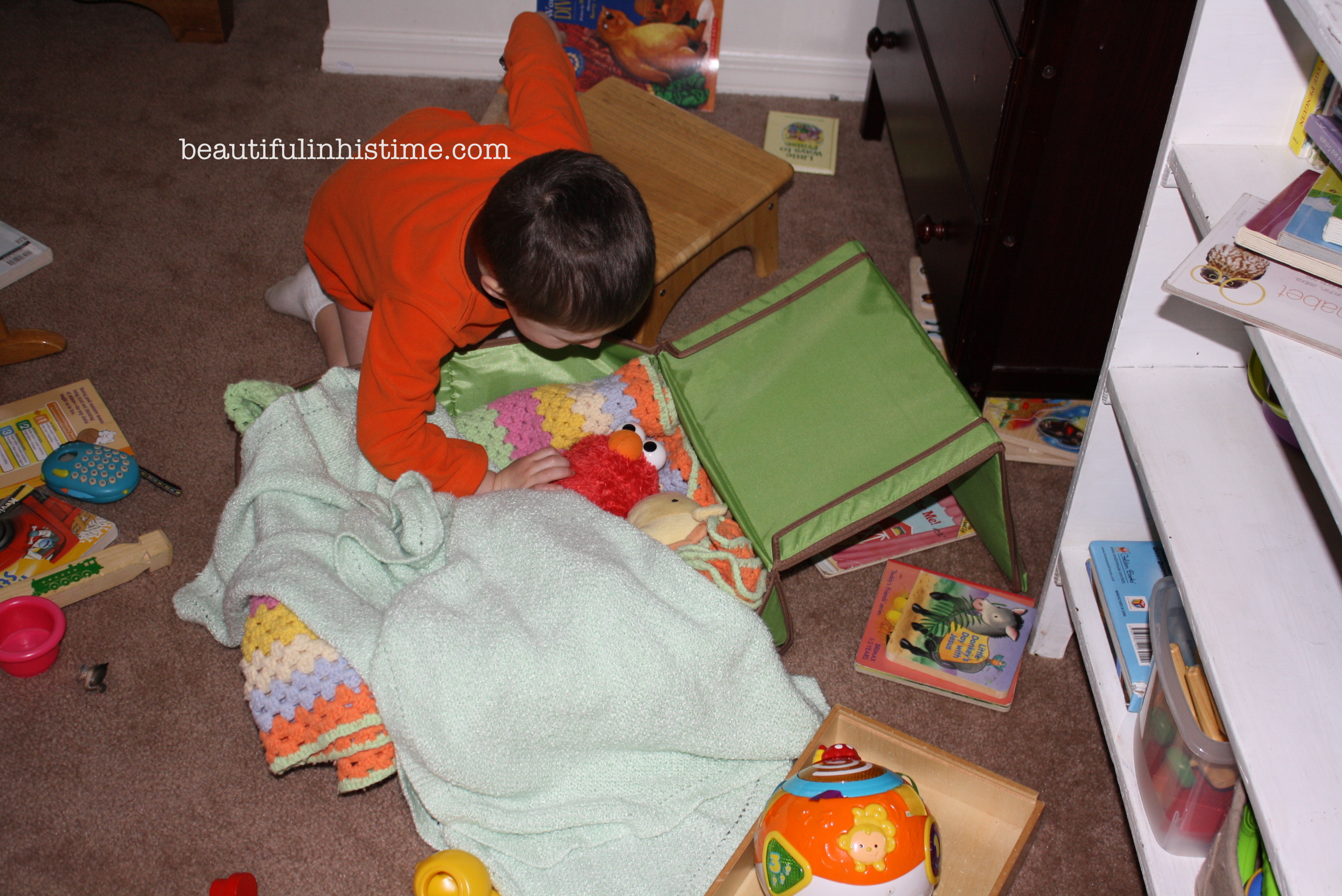 On the other hand, there is also beauty in him moments when he is making messes: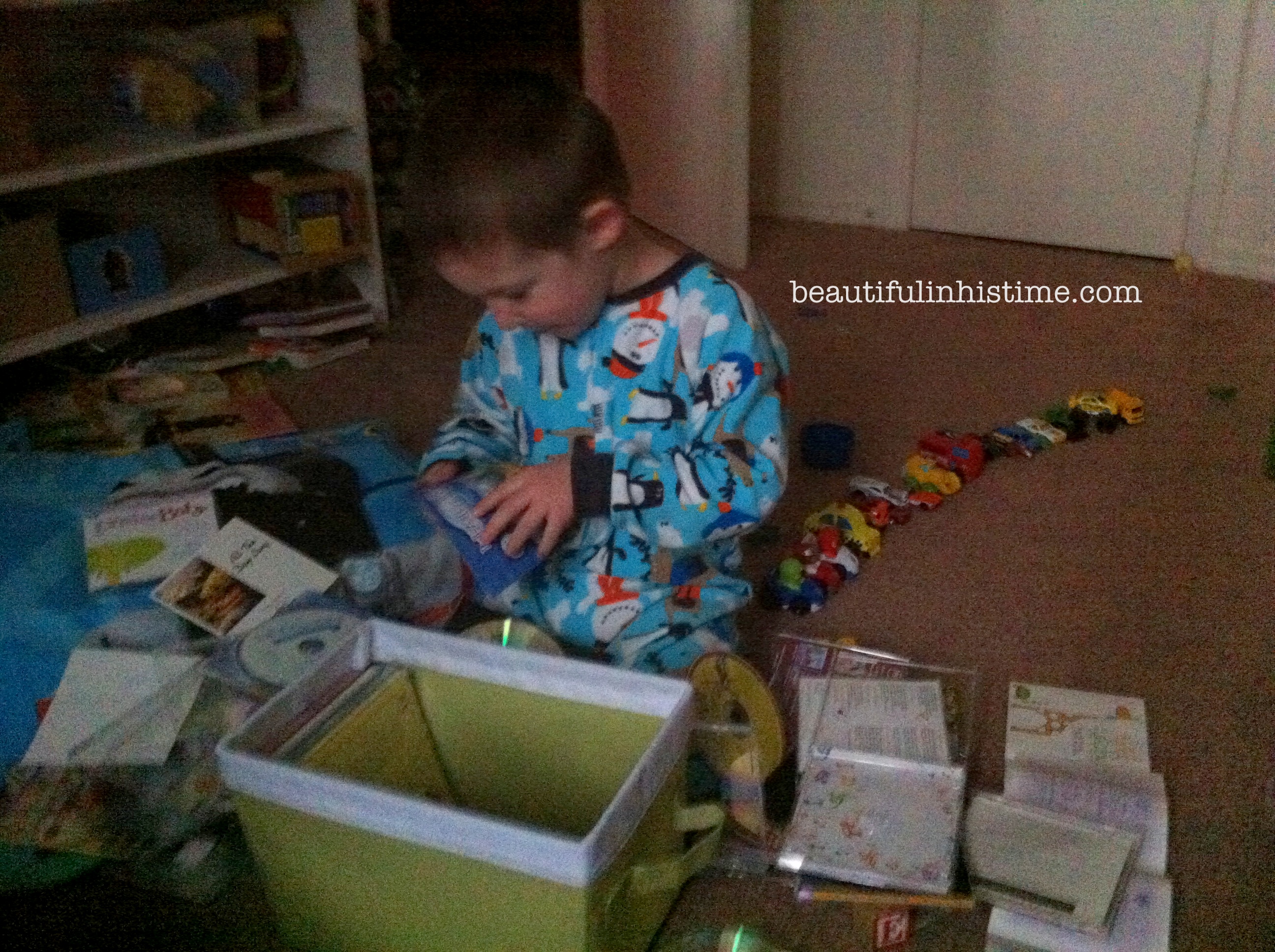 There is beauty in working out at the gym while listening to the How They Blog podcast.
P.S. I love podcasts.
P.S.S. My hair looks like this 85% of the time, even when I'm not at the gym.
Ignore my profile glamour shot. You're welcome.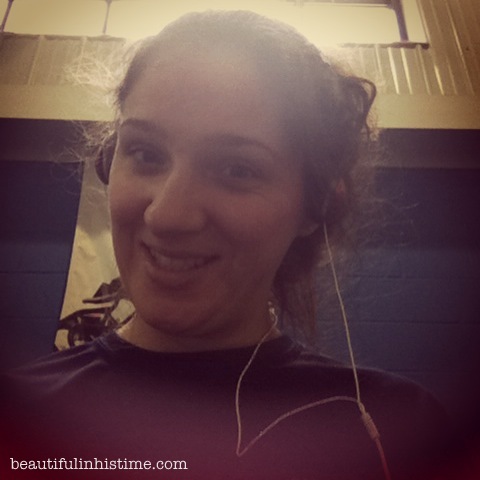 There is beauty in this boy being oh-so-proud that he helped Daddy load the dishwasher: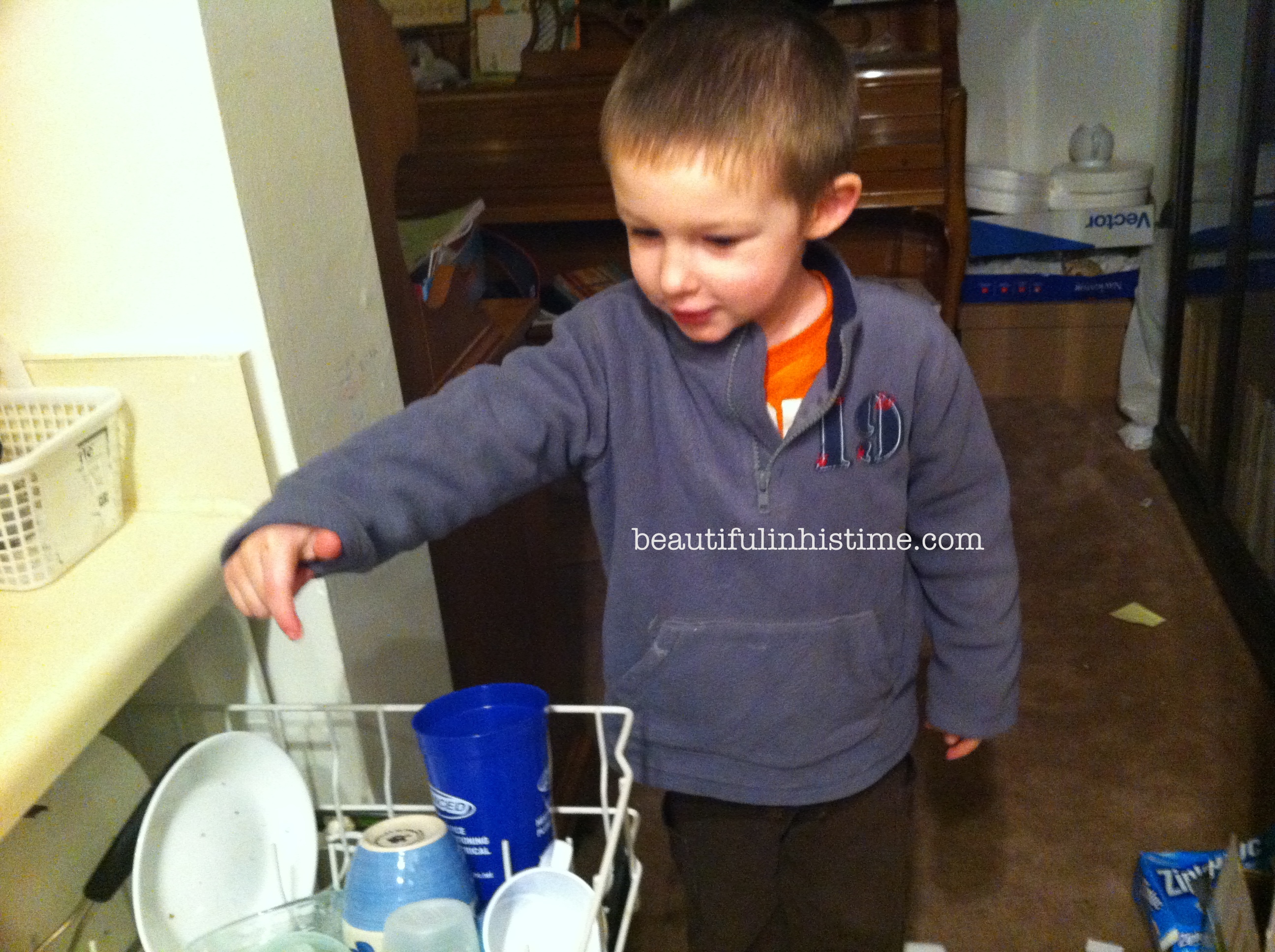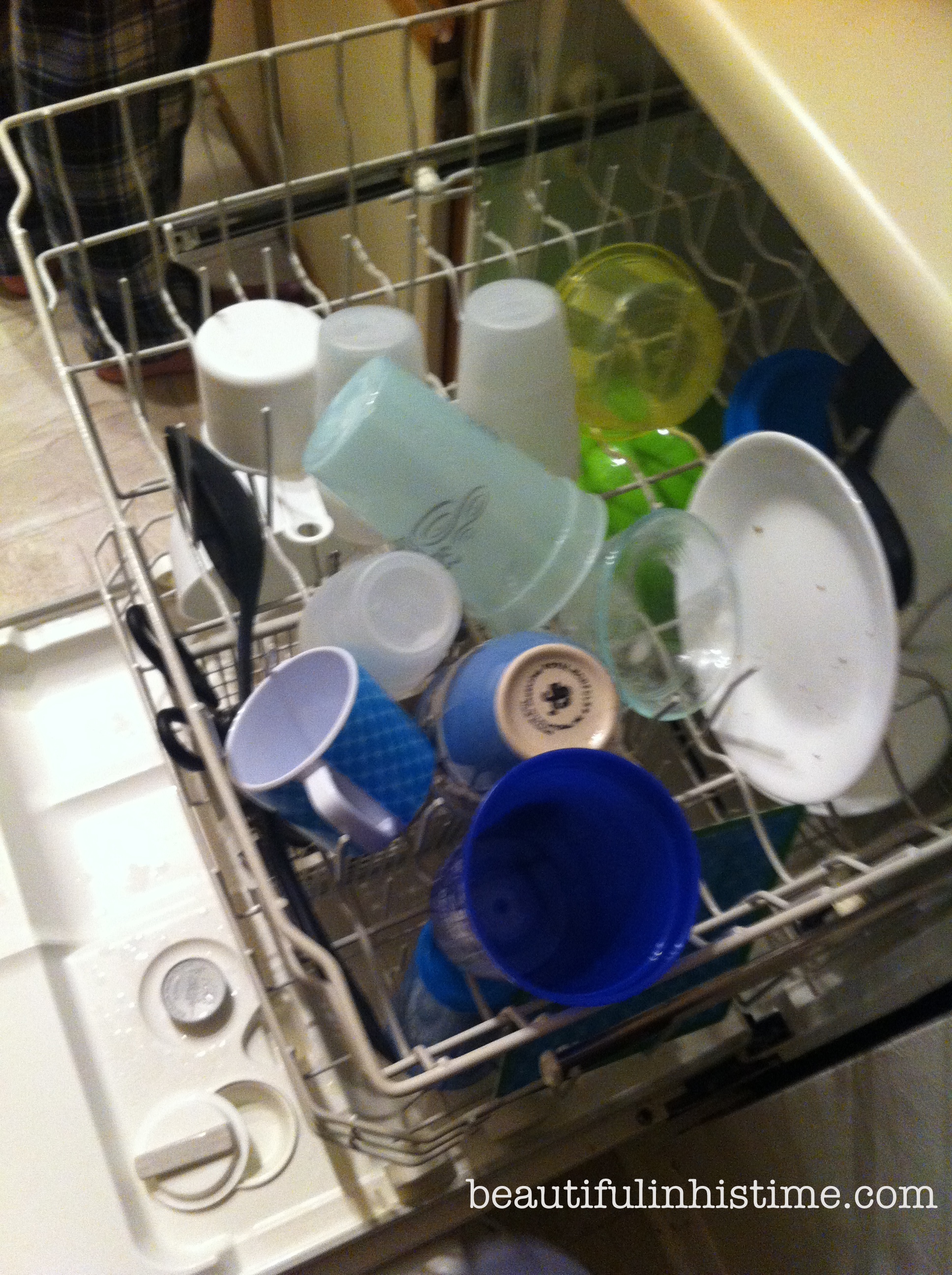 There is beauty in splurging on a yearly membership to the children's museum for Christmas. They are so much nicer and understanding of kids-being-kids than Barnes and Noble is and they have special activities and story times almost every day!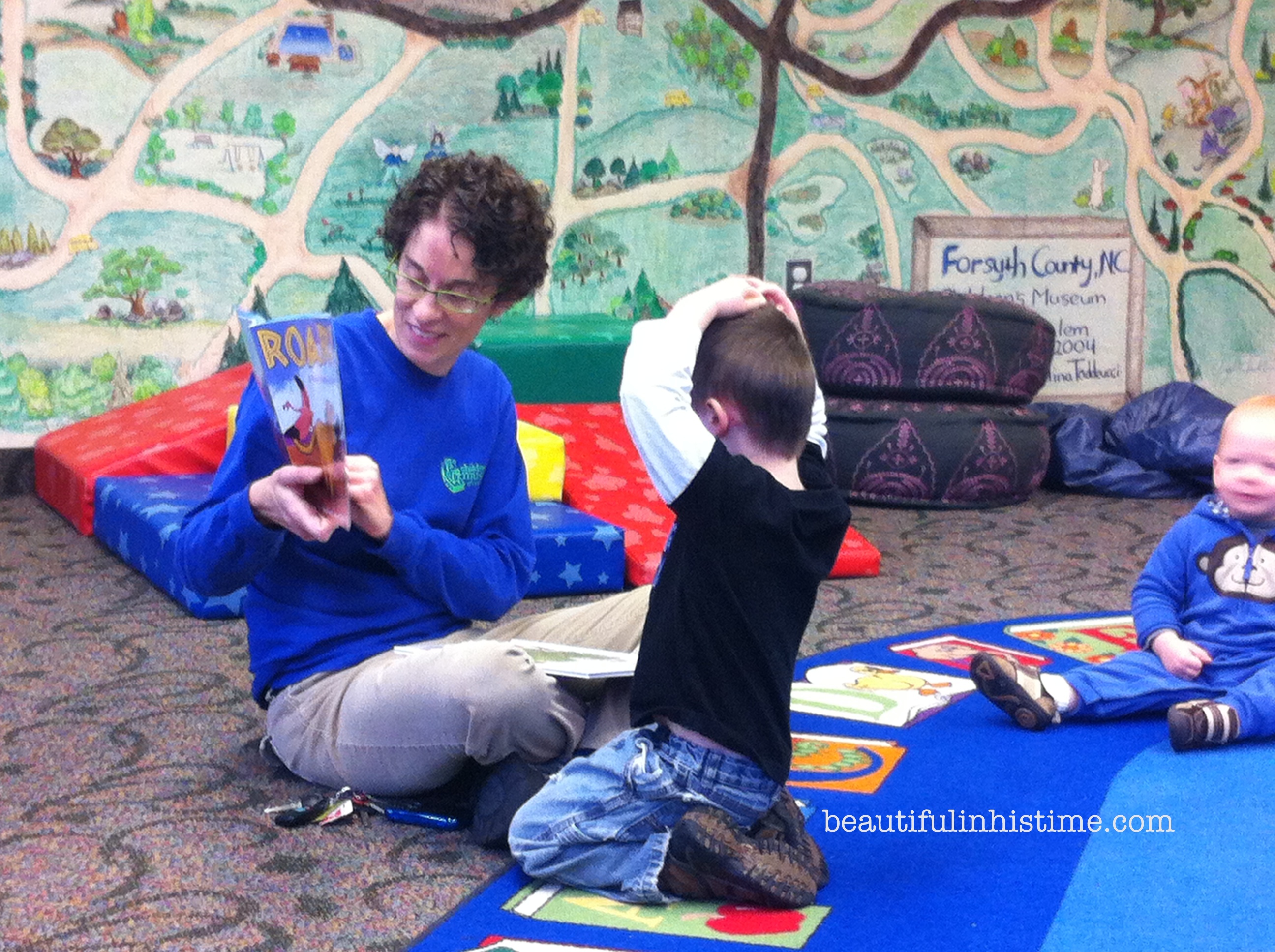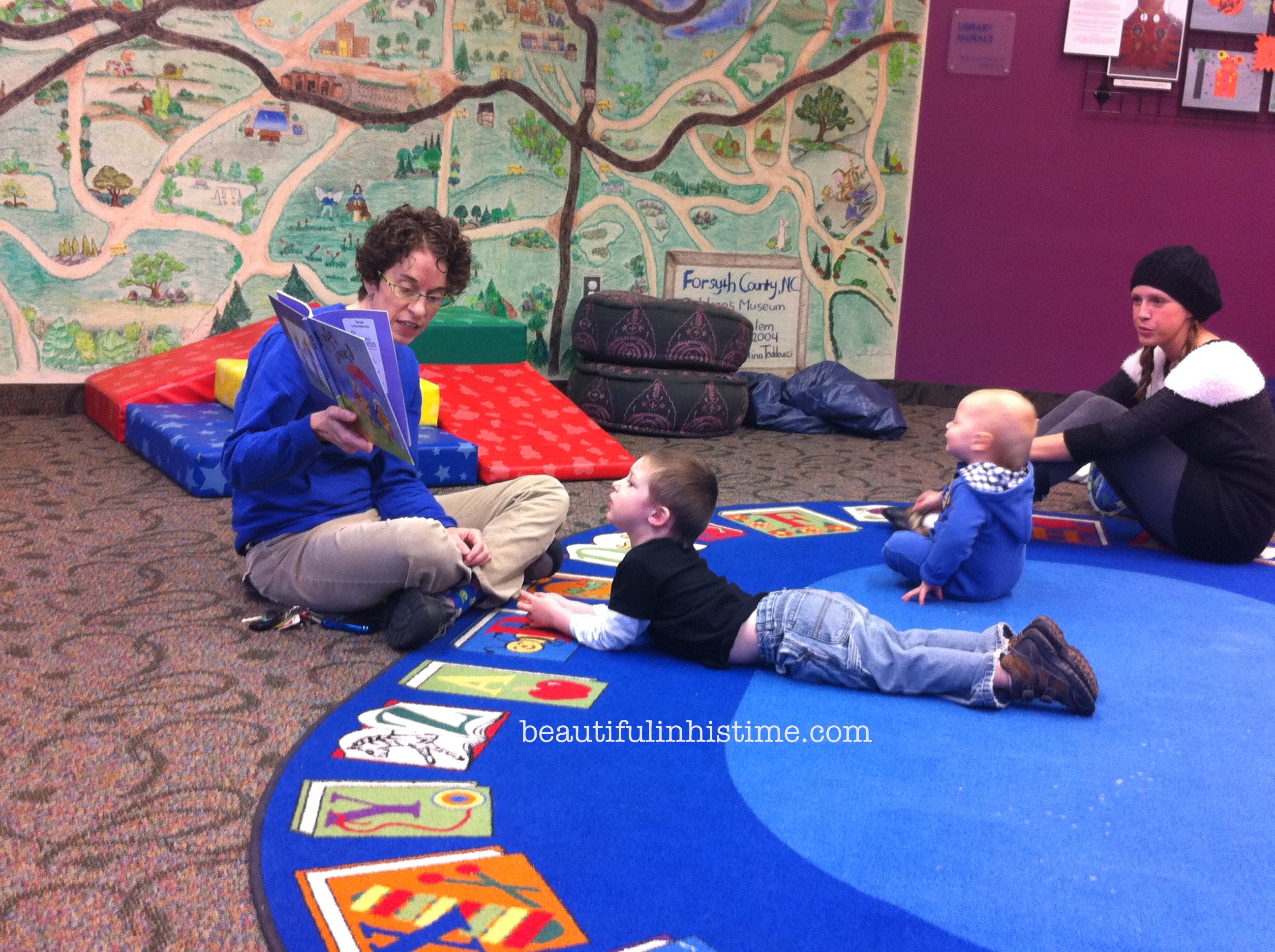 There is oh so much beauty in these boys having some grown-up-boy-bonding-time…
watching funny kitty videos on Youtube.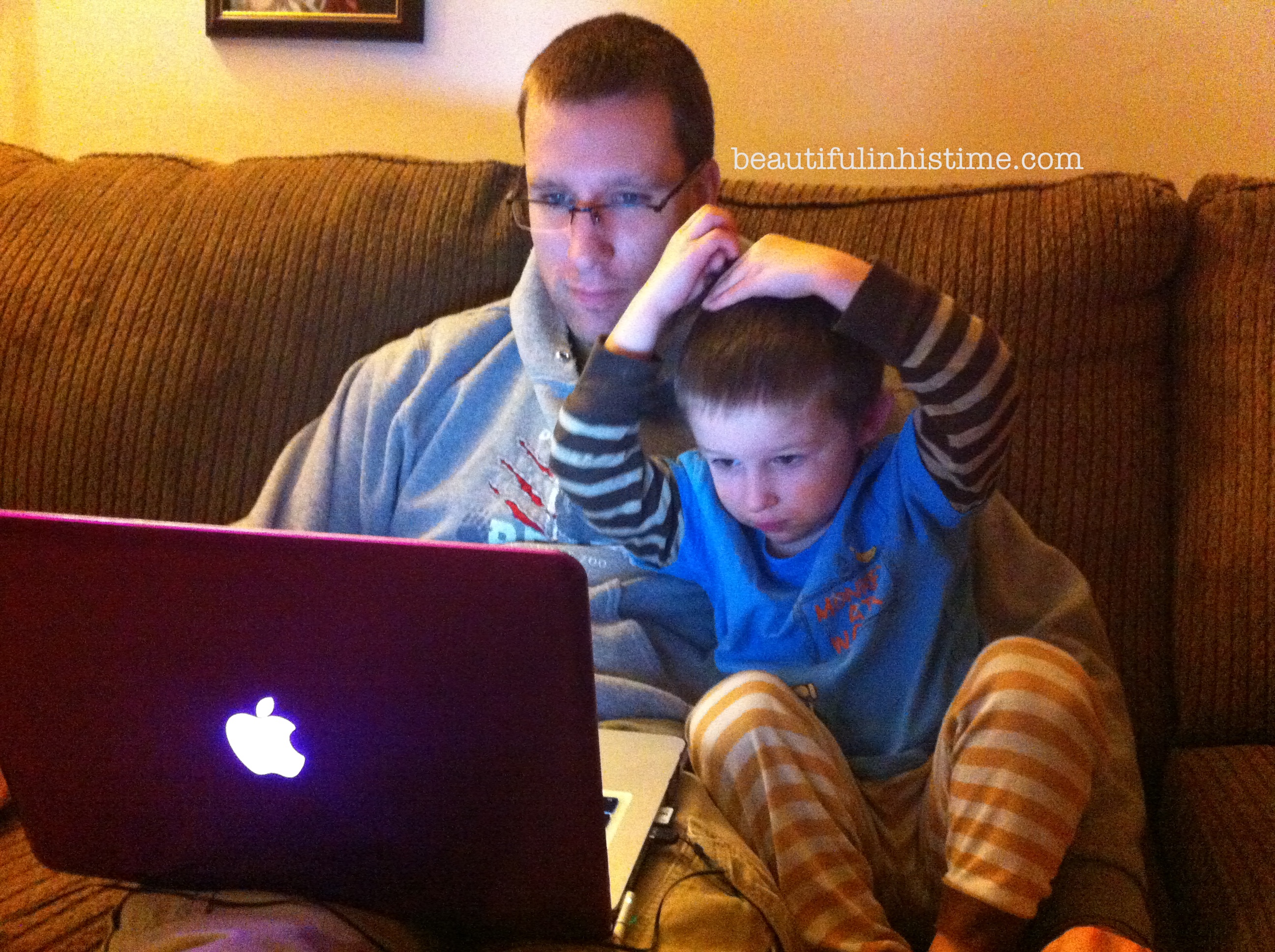 There is beauty in bad mornings. No really. Because then you can put your kid down for a nap and listen to podcasts like How To Be a Good Mom on a Bad Day and How To Make Your Kids Forget You're Mean and you can have the lovely Kat Lee tell you that "You're a mom. You're kind of a big deal. Now go be awesome."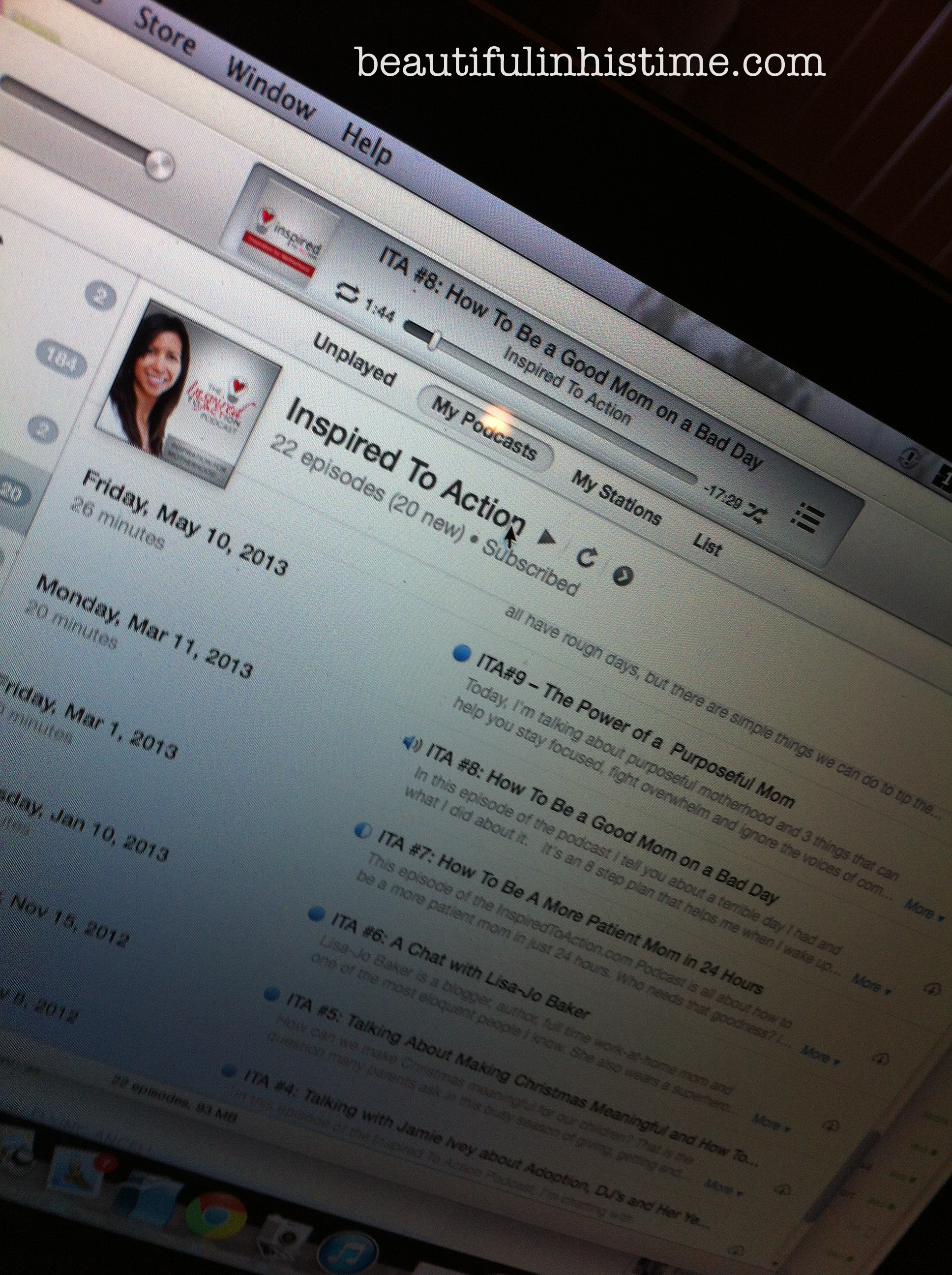 Then you can get your difficult child up and tell him you are sorry for being such a mean mommy; and then you can take him to ChickFilA for ice cream and playtime and see this face which makes the troubles of the morning seem to melt away, at least temporarily: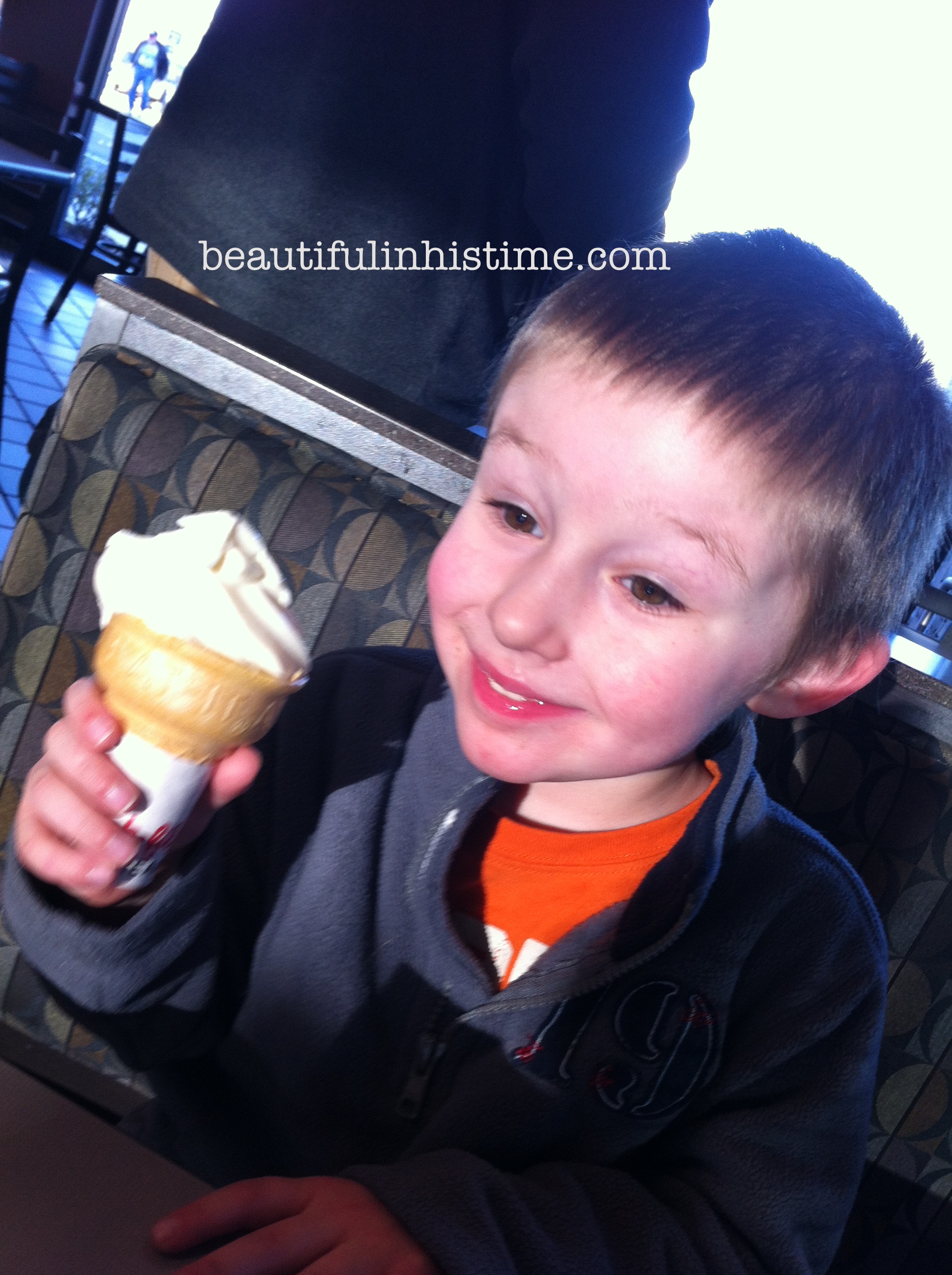 (I won't tell you what happened when it was time to leave CFA…
but at least I was fun mommy for an hour.)
There is beauty in your son actually being old enough to help you cook dinner.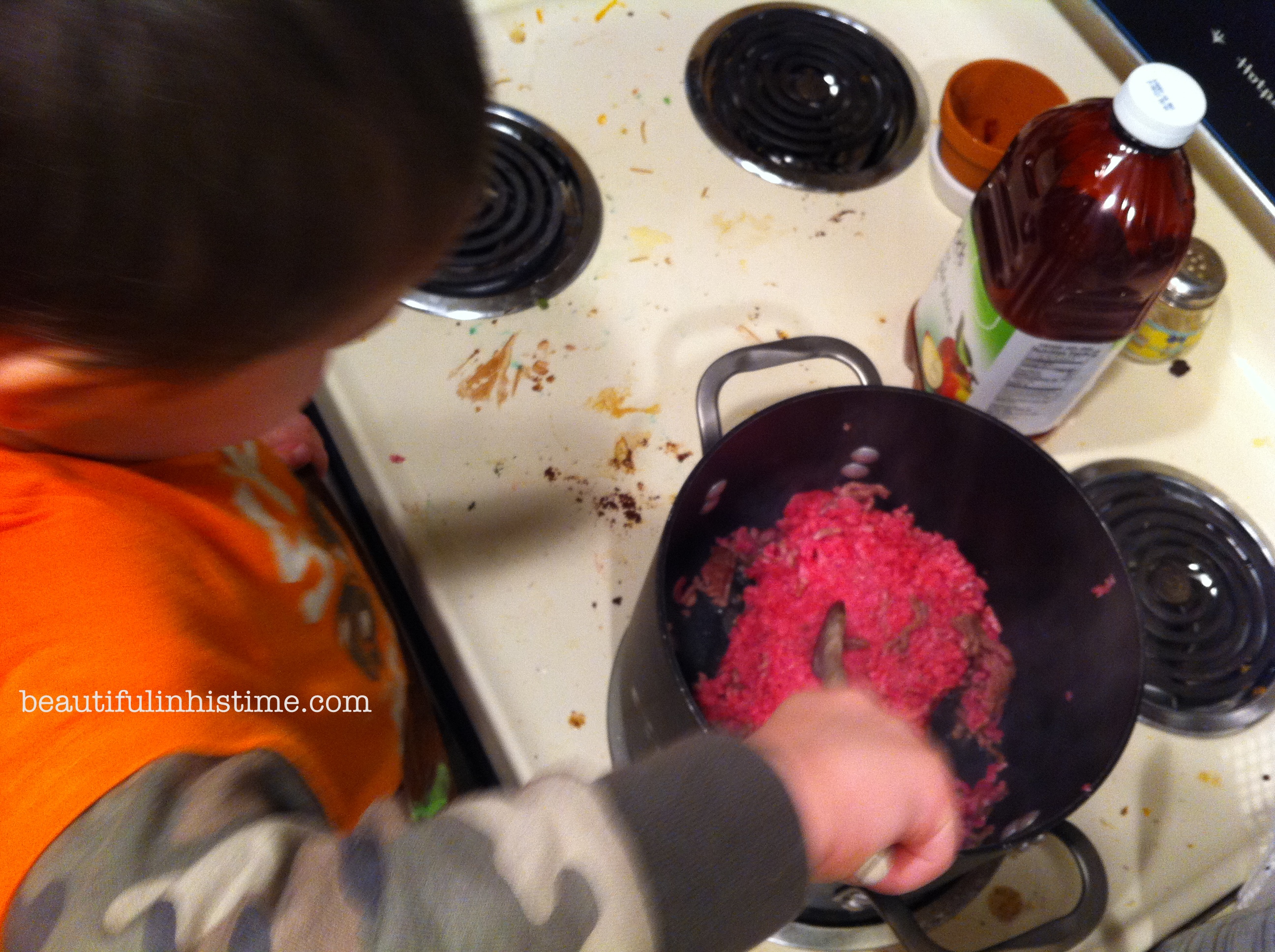 (Ignore the mess on the stove, I was doing more important things like, well, taking my kid to CFA for ice cream so he would forget I was a mean mommy that morning. See above.)
There is beauty in finding your boy asleep, like this: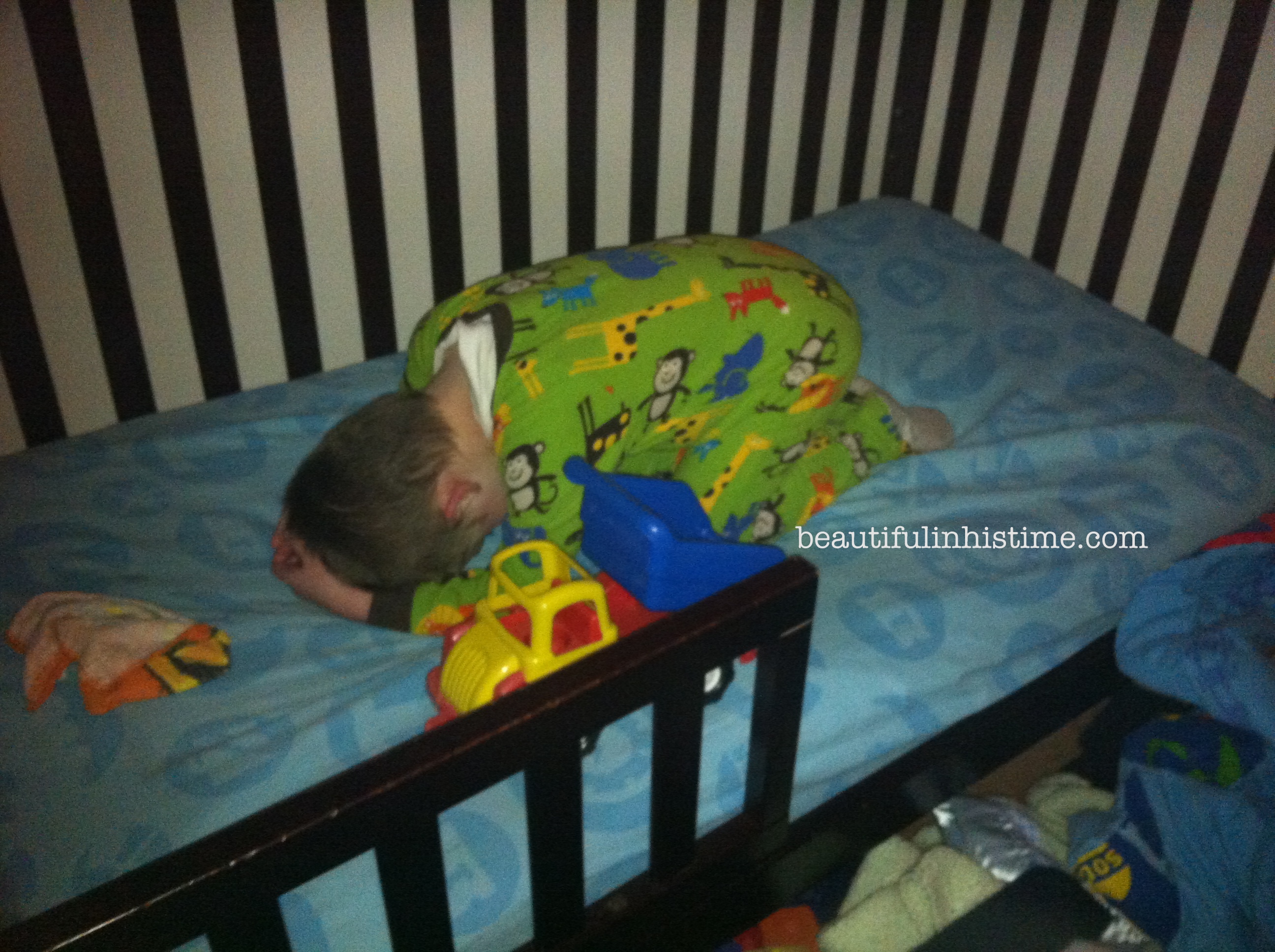 There is beauty in unprompted color matching on the porch on a 70 degree Sunday morning in December: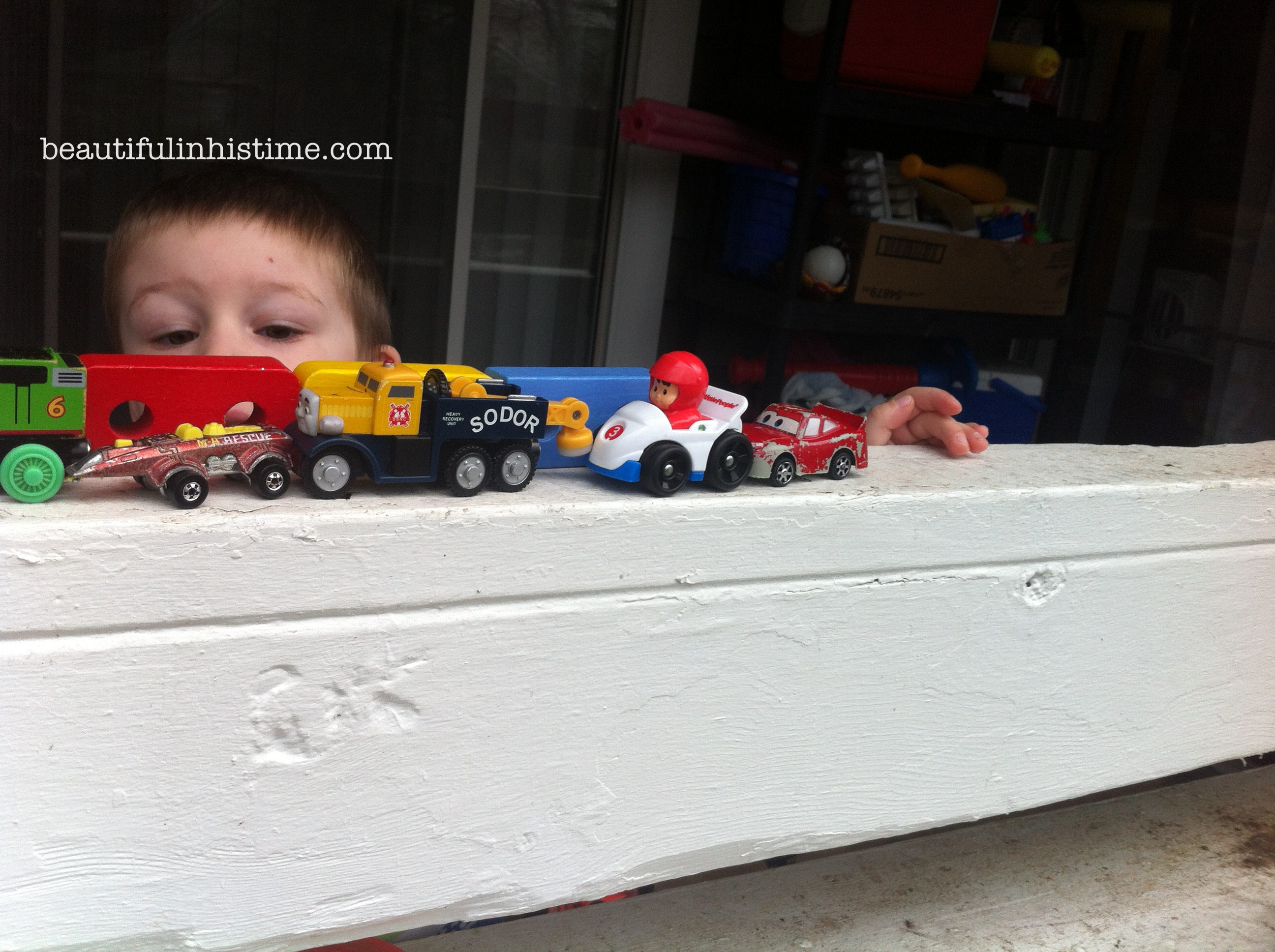 There is beauty, OH SO MUCH beauty, in a doctor's office who has Elmo on iPad on the wall to make the wait more bearable for a three-year-old. And there is beauty in said three-year-old not needing any meds and finally getting over his three-week-long cold. (And there is beauty in having Medicaid so that I can make an occasional not-really-necessary-but-sets-my-mommy-heart-at-ease-because-my-gut-was-right-all-along doctor visits.)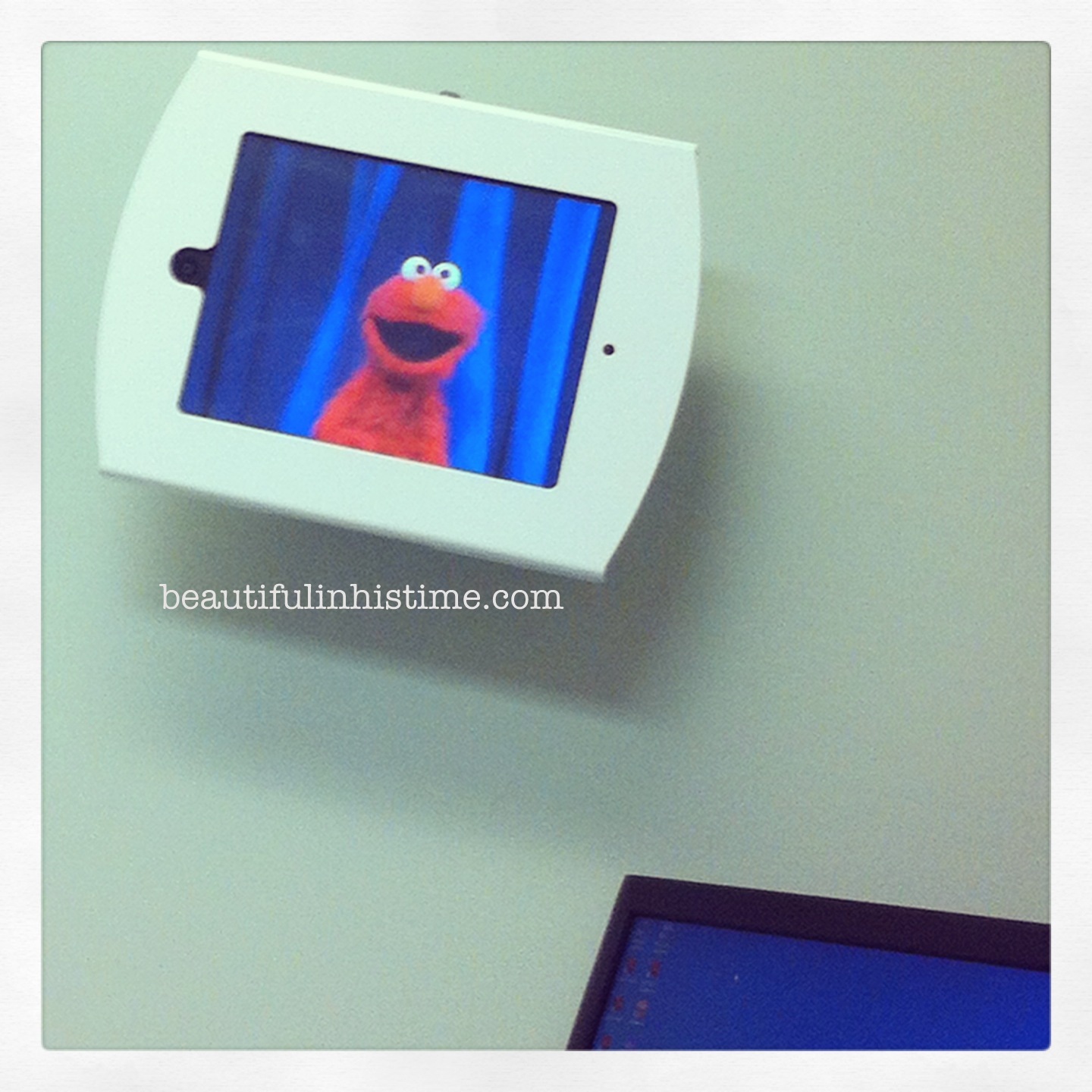 And finally, and perhaps one of my favorites…
There is beauty in finally meeting my friend, mentor, and blogging buddy Dana, even though it was only for a short time at CFA and even though we had to be constantly correcting our 6-days-apart boys who kept being…well…three-year-old boys. Aren't they the cutest?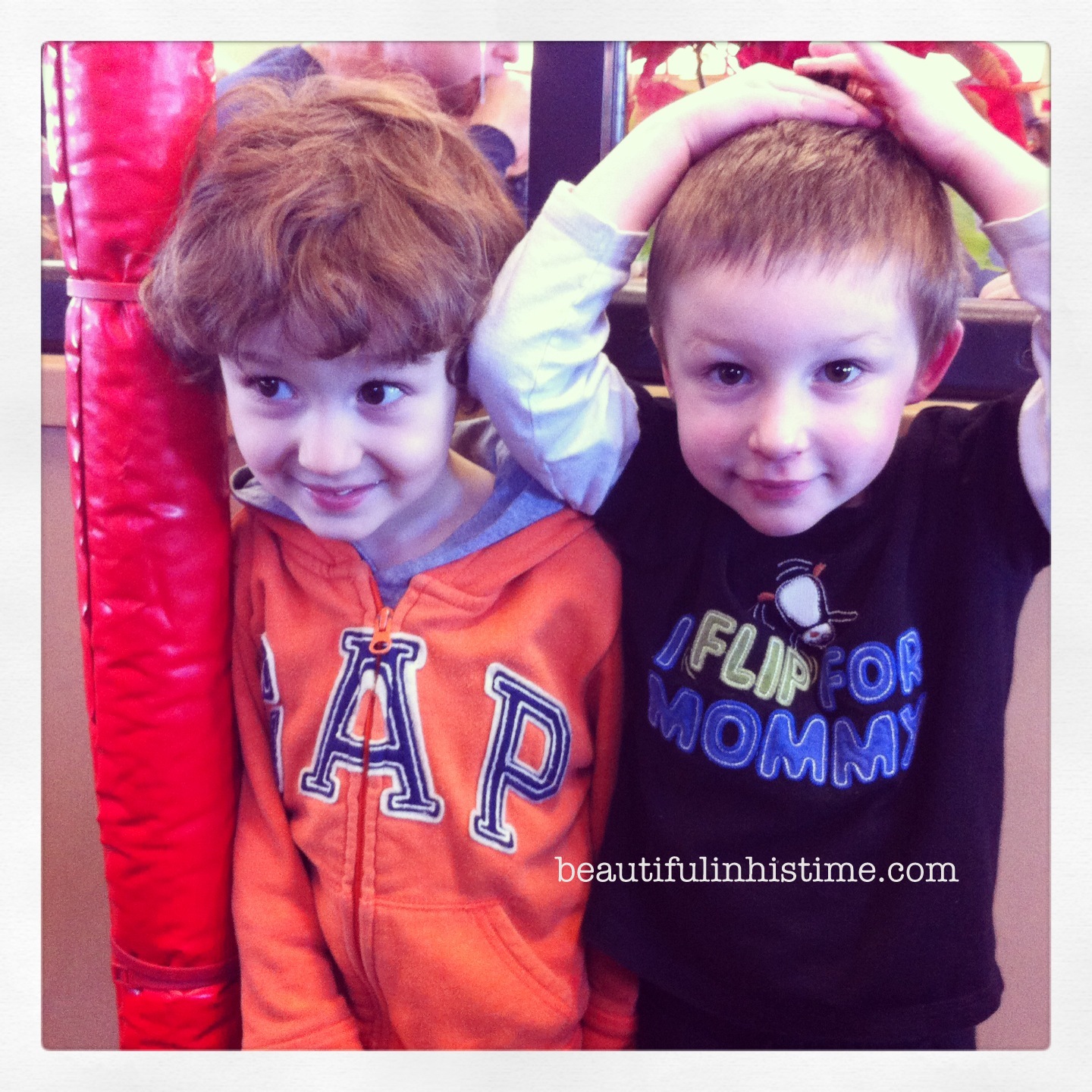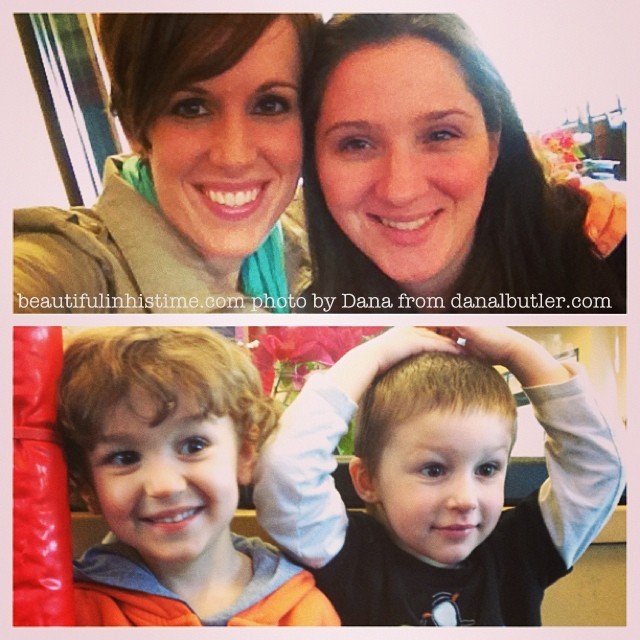 That wraps up this edition of Beauty in the Mess! Share something beautiful about your day (or week, or month!) in the comments!