From legalism into grace: one man's life-changing story
Beautiful in His Time is a participant in multiple affiliate marketing programs. The author of this blog may receive commission for purchases or clicks made through links on this website.
---
This post is part 30 in a blog series that I have entitled "the wilderness between legalism and grace," in which I share how I came to realize that I had an incorrect view of God and self and how I became free of the system of legalism whereby I was trying to earn God's favor. You can view all of the posts in the series here on the series landing page. Today, I am going to tell you the story of someone else who had a life-changing encounter with grace.
_____
I've told you my story. But now, in this post, I want to tell you someone else's story.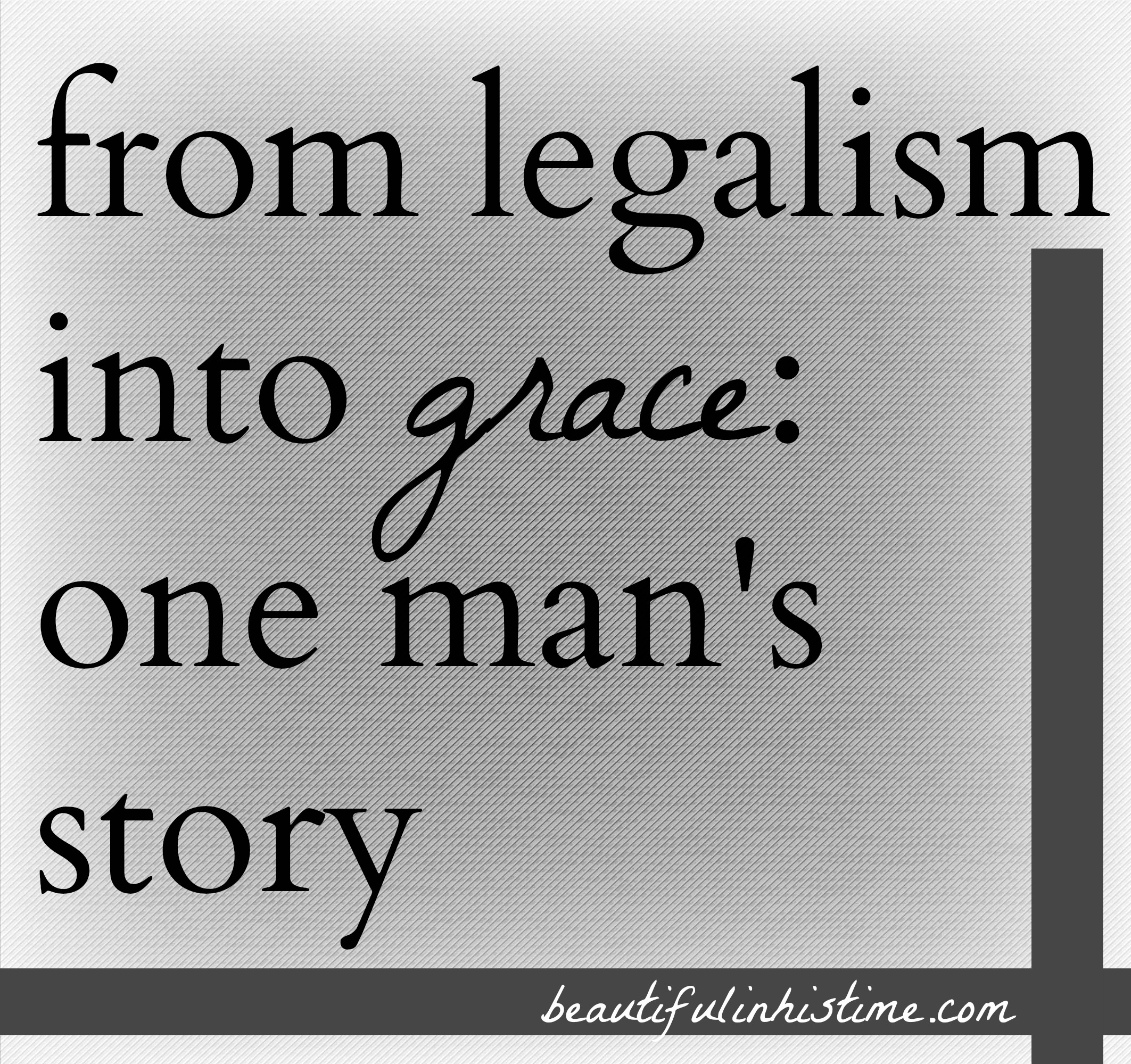 He had a rich and Godly heritage. His parents prayed for him before he was even born, as evidenced by the name they chose for him, which means "prayed for." From his birth his parents brought him up according to the strictest standards they knew of and paid for him to have the best religious training that they could offer him.
Every rule that could be followed, he obeyed. Every standard that could be adopted, he embraced.
He was a model citizen and a staunch right-wing conservative when it came to politics. He wouldn't associate with anyone who believed different. In fact, he was so zealous in his beliefs that he felt that anyone who believed differently was an affront to the God that he loved and worshipped. He took it personally and made it his personal duty and goal in life to stop the spread of what he believed to be fallible beliefs.
Then, he had a life-changing encounter with Grace, and his world was turned upside-down. 
He left everything behind. All the rules, all the standards, all the goodness. He let go of his own righteousness so that he could embrace the grace of Christ. He let go of everything but Jesus – then spent the rest of his life zealously trying to convince the world of the wonder of God's grace.
He explained it this way:
"The very credentials these people are waving around as something special, I'm tearing up and throwing out with the trash—along with everything else I used to take credit for. And why? Because of Christ. Yes, all the things I once thought were so important are gone from my life. Compared to the high privilege of knowing Christ Jesus as my Master, firsthand, everything I once thought I had going for me is insignificant—dog dung. I've dumped it all in the trash so that I could embrace Christ and be embraced by him. I didn't want some petty, inferior brand of righteousness that comes from keeping a list of rules when I could get the robust kind that comes from trusting Christ—God's righteousness. I gave up all that inferior stuff so I could know Christ personally, experience his resurrection power, be a partner in his suffering, and go all the way with him to death itself."
______
The man in this story? You know him better as the Apostle Paul.
It's only been recently, in the studying I have done for this series, that I have realized how much of a "recovering legalist" he was.
When people who have never really experienced legalism speak harshly against it, it's hard to take them seriously. But when I encounter someone who has been there, done that, and bought the t-shirt? My ears perk up and I want to find out how they did it – how they let go of the legalism, how they embraced grace; what their life looked like before, and what it looked like after. The best example of it all has been staring me in the face since I was old enough to read.
One of the things I'm growing to love about Paul is how frank and transparent he is about his legalistic past. He never quit telling his story:
I am verily a man which am a Jew, born in Tarsus, a city in Cilicia, yet brought up in this city at the feet of Gamaliel, and taught according to the perfect manner of the law of the fathers, and was zealous toward God, as ye all are this day.
And I persecuted this way unto the death, binding and delivering into prisons both men and women. (Acts 22:3-4)
My manner of life from my youth, which was at the first among mine own nation at Jerusalem, know all the Jews;
Which knew me from the beginning, if they would testify, that after the most straitest sect of our religion I lived a Pharisee.
I verily thought with myself, that I ought to do many things contrary to the name of Jesus of Nazareth.
Which thing I also did in Jerusalem: and many of the saints did I shut up in prison, having received authority from the chief priests; and when they were put to death, I gave my voice against them.
And I punished them oft in every synagogue, and compelled them to blaspheme; and being exceedingly mad against them, I persecuted them even unto strange cities. (Acts 26, portions)
If any other man thinketh that he hath whereof he might trust in the flesh, I more:
Circumcised the eighth day, of the stock of Israel, of the tribe of Benjamin, an Hebrew of the Hebrews; as touching the law, a Pharisee;
Concerning zeal, persecuting the church; touching the righteousness which is in the law, blameless. (Philippians 3:4-6)
For ye have heard of my conversation in time past in the Jews' religion, how that beyond measure I persecuted the church of God, and wasted it:
And profited in the Jews' religion above many my equals in mine own nation, being more exceedingly zealous of the traditions of my fathers. (Galatians 1:13-14)
But he always ends his story by telling of his life-changing encounter with Jesus and his grace.
But by the grace of God I am what I am. (1 Corinthians 15:10)
But when it pleased God, who separated me from my mother's womb, and called me by his grace, To reveal his Son in me, that I might preach him among the heathen;  (Galatians 1:16)
After his conversion, Paul let down his barriers and got out there to touch the world. He went to the gentiles…the "unclean," the less comely and honorable. He started calling himself by his Gentile name, a name which means small, humble.
He became all things to all men – trying to reach people on both sides of the aisle. He didn't forget his roots and tried to reach the legalists just as much as the liberal gentiles.
And unto the Jews I became as a Jew, that I might gain the Jews; to them that are under the law, as under the law, that I might gain them that are under the law;
To them that are without law, as without law, (being not without law to God, but under the law to Christ,) that I might gain them that are without law.
To the weak became I as weak, that I might gain the weak: I am made all things to all men, that I might by all means save some. (1 Corinthians 9:20-22)
The whole book that was written to the church of Galatia was Paul's attempt to share his story of grace with a church full of legalists.
I have to wonder what happened to all of the people from his past. Those who admired him, looked up to him, thought he was a God-following individual. The very same people that judged and imprisoned him once he was transformed by grace. I'm wonder what else Paul had to leave behind when he forsook legalism and accepted grace? I'm sure there were many people who didn't understand. They didn't want to understand. All they could see is that guy going off the deep end and forsaking the law of their God.
His response?
For do I now persuade men, or God? or do I seek to please men? for if I yet pleased men, I should not be the servant of Christ. (Galatians 1:10)
Paul new what it meant to be steeped in legalism. And he knew what it meant to leave it all behind. For him, it cost him his life, but the sacrifice was worth it:
Yea doubtless, and I count all things but loss for the excellency of the knowledge of Christ Jesus my Lord: for whom I have suffered the loss of all things, and do count them but dung, that I may win Christ,
And be found in him, not having mine own righteousness, which is of the law, but that which is through the faith of Christ, the righteousness which is of God by faith:
That I may know him, and the power of his resurrection, and the fellowship of his sufferings, being made conformable unto his death; (Philippians 3:8-10)
_____
That I may know him. 
Dear Readers: I hope by now it's blatantly obvious that leaving behind legalism and accepting grace is not about giving up on your faith or living a life of sinful pleasure. 
Leaving legalism behind is about knowing God – winning Christ – embracing him and him alone. Intimacy with God is the ultimate goal and the only thing that matters. But intimacy with God does not come through our own goodness. It can't. It doesn't come through rules, standards, or convictions.
It comes through grace. 
_____
Paul is my newest role-model. I want his passion for Jesus. I want his depth of understanding of grace. I want his willingness to forsake everything in this life and do anything for Jesus. I want his God-empowered boldness to speak out against legalism and shed grace abroad into the hearts of believers worldwide. I hope that you will take some time, to read and study his story as it is found in the pages of Scripture –  to gain wisdom from his experiences, to glean knowledge from his understanding of doctrine, to be encouraged when it's hard, and to be empowered with boldness to speak when you would rather stay silent. 
_____
To view all the posts in this blog series, visit the landing page.
Next post, part 31: Grace in the wilderness: the blessings of legalism
You May Also Like
December 21, 2022
September 26, 2014
July 26, 2013