Cheating on my church: God is bigger than our denominational boxes
Beautiful in His Time is a participant in multiple affiliate marketing programs. The author of this blog may receive commission for purchases or clicks made through links on this website.
---
This post is part 14 in a blog series that I have entitled "the wilderness between legalism and grace," in which I share how I came to realize that I had an incorrect view of God and self and how I became free of the system of legalism whereby I was trying to earn God's favor. You can view all of the posts in the series here on the series landing page. In this post, I open up about my experience with crossing church denominational lines.
_____
I pulled into the parking lot and looked for a spot that wasn't easily viewed from the highway, hoping that no one I knew would recognize my vehicle if they happened to drive by.
In the same moment my hand instinctively reached for the volume dial on the radio to turn down Taylor Swift's You Belong With Me before anyone could hear it through my closed windows. Such was my habit every time I entered the premises of a church.
It was Wednesday night, and I was cheating on my church with another church across town. And it wasn't another good independent, fundamental, KJV-only Baptist church either.
Then I internally laughed at myself as I realized that no one here would probably think twice about me listening to country music in the church parking lot. It just wasn't that kind of church.
I went in timidly and found my friend Stephanie who made room for me in her row. We sang songs  I didn't know with a simple guitar and keyboard accompaniment while people around me raised their hands in worship to God. I wondered if the rolling in the aisles or speaking in tongues was coming next. 
There was music, prayer, and then a simple down-to-earth Bible message from the pastor who was wearing a Hawaiian flowered shirt.
_____
A lot had happened in the last few months. I had quit my full-time job because I was really struggling to keep my life together. A 40 hour work week, five piano students, middle-of-the-night IM conversations with the husband, and trying to make it to church three times a week was just proving to be a little bit too much. I wasn't functioning well and I had gotten very sick in January and February. Quitting my job seemed like the logical answer.
With my schedule now freer, I had a lot more opportunities to find emotional and spiritual support. I was able to attend a military-wives Bible study at my own church, and I started spending more time online meeting friends through Christian Military Wives. My new friends from CMW friended me on Facebook and started inviting me to their social functions. Like dinner at Colleen's house (where I was about to run for the door when they brought out a bottle of wine) and weekly meetups at Starbucks.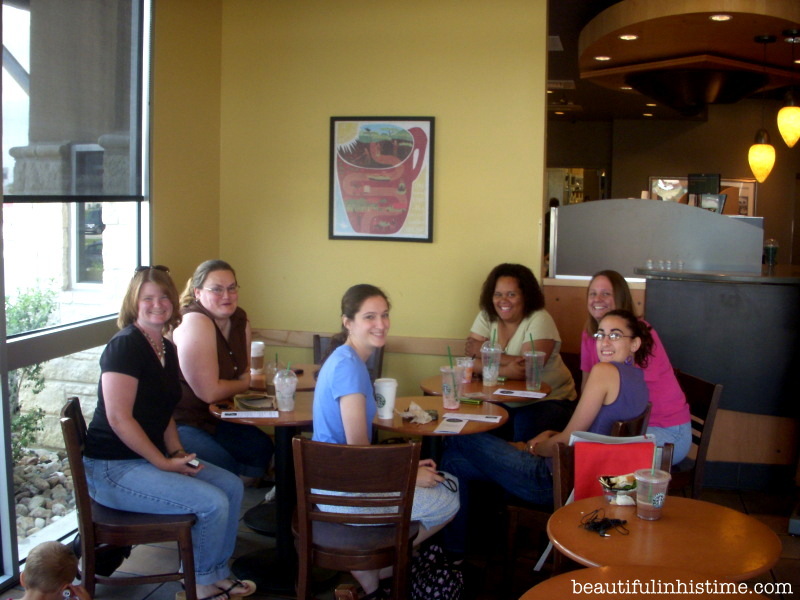 Colleen invited me to attend PWOC (Protestant Women of the Chapel – a multidenominational Bible study for military wives held on military installations), but I declined, saying "I'm a Baptist, not a Protestant." But then they invited me to their church for a military wives Bible study called LIFE group. And finally, I went.
LIFE group was amazing. There was food, coffee, hugs, and smiles all around. I was overwhelmed with kindness and acceptance that seemed different from what I was used to. I could be real about my frustrations and my anger.
A few weeks prior I had also started attending a ladies Bible study at my own church – a study of Debi Pearl's Created to Be His Helpmeet. During our first class, the discussion turned toward respecting your husband. I don't remember exactly what my question was, but I was trying to ask about a practical application of the concepts in regard to my own marriage. I was honest and transparent, but it wasn't accepted very well. I was given a "good" answer in return, but it didn't really help. It was a situation in which "my good answers didn't fit my real-life problem" of a very difficult long-distance marriage. I felt like my honesty was interpreted as disrespect toward my husband (and I honestly believed that it was for a long time). I left frustrated and didn't ever go back to that Bible study.
My closest friend asked me a few weeks later why I wasn't attending the Bible study at our church, and I told her quite frankly why:
"I already know all of that stuff – I've been taught it my whole life. But what I need is stuff that relates specifically to ME and MY marriage. My husband isn't like other guys. He's different. And those good answers just aren't helping me or my marriage all that much." 
When I told her that I was meeting with friends at a Bible study at another church that was more helpful to me, she cautioned me – that I take care to make sure that they don't pull me down spiritually.
_____
I only attended LIFE group for a few weeks before they broke for the summer, and only visited on Wednesday nights maybe 2 or 3 times. My husband returned from Afghanistan in June of 2009 and, now that he was home, wanted to stick with our own church.
But that very brief time that I spent at that church didn't pull me down. In contrast, it really opened my eyes to a lot of things:
I realized that the body of Christ is much bigger than I thought.
I realized that God could be found in places where I thought I should never dare show up.
I realized that pastors who wear Hawaiian shirts can be spirit-filled and speak the truth of God.
I realized that women who have tattoos and drink wine can still care about God and even encourage me spiritually.
I realized that God isn't limited to skirts, suits and ties, the old hymns, and the King James Version.
_____
I'm hesitant to write this post at all, because I fear that it will seem that I am promoting that church membership is not important. I believe that it is, which is why my husband and I are in the process of aligning our membership to a new church even now.
But I think that God is a lot bigger than church membership.
I was 22, my husband was in a war zone, I was hurting and lonely, and I needed something that my church simply wasn't giving me. I needed love, and acceptance, and the ability to be transparent. I needed more than just the "good" church answers that I had known my entire life. I needed to see God worshipped and exalted in a new way. And so, I found it in the church across town.
But though it all, I felt guilty. I felt ashamed. I felt like I was doing something wrong.
I heard my friend's warnings ringing around in my ear. I hoped no one else would find out. I was finding God in new ways, but I felt like I had to hide it – because I was sure that they would judge me instead of understanding why.
This is where legalism fails:
Legalism says that obeying this set of rules (our interpretation of Scripture) is the way to please God. And because that church across town doesn't obey this set of rules, they are a bad church. They aren't pleasing God. To even visit such a church is "compromise." I've heard pastors preach against other churches who have different standards for music, dress, and Bible version time and time and time again. They focus on all of the differences in the set of rules that automatically exclude the other church from pleasing God – all the while ignoring all of the things that the other church gets right.
But look what the Bible says in I Corinthians 12:
But now hath God set the members every one of them in the body, as it hath pleased him.

And the eye cannot say unto the hand, I have no need of thee: nor again the head to the feet, I have no need of you.

Nay, much more those members of the body, which seem to be more feeble, are necessary:

And those members of the body, which we think to be less honourable, upon these we bestow more abundant honour; and our uncomely parts have more abundant comeliness.

For our comely parts have no need: but God hath tempered the body together, having given more abundant honour to that part which lacked:

That there should be no schism in the body; but that the members should have the same care one for another.
I think there are a lot of ways in which the most fundamental sects of Christianity are the "comely parts" of the body of Christ. They look at the other parts of the body with disdain. "You know, those ecumenical Christian-rock lovin' compromisers? (bless their poor souls…) They lack so much doctrine! All they do is talk about love love love, let's just LOVE everybody. They stand around and hold hands singing Kumbaya and ignore doctrine. They lack so much truth! And thank God we have the truth right here in our King James Version! AMAHN!!!" 
And in some ways, Fundamentalists, you are right. Not every church outside of your bubble of IFB Christianity gets everything right like you do. So go ahead and pat yourself on the back right now for how comely and honorable you are. Now go back and read 1 Corinthians 12 again: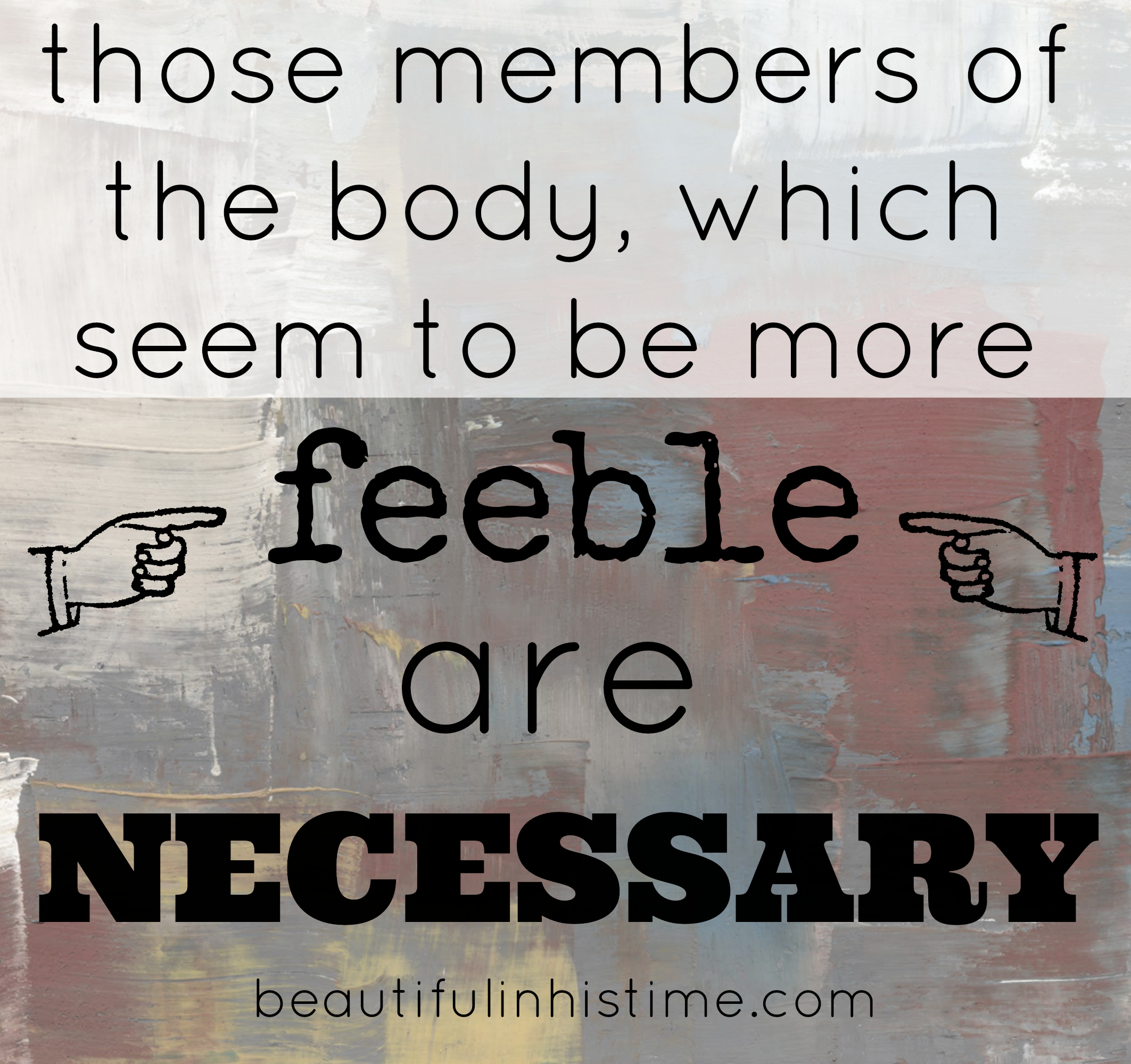 (even those wine-drinking, pant-wearing, NIV-reading ones…)
"And those members of the body, which we think to be less honourable, upon these we bestow more abundant honour; and our uncomely parts have more abundant comeliness."
Perhaps I am grossly misinterpreting this passage of scripture, but what I'm hearing is this:
"You lovely, put-together, got-all-your-doctrine-ducks-in-a-row Christians? Yeah, I'm talking to you. You sure look pretty in your suits and ties and frilly dresses. But you know what's prettier to me? The outsiders. The ones who seem to be feeble. The ones you think are less-honorable. The ones who are lacking your goodness. The ones whom you can't lower yourself to be around. The ones with the tattoos and the ripped jeans. And not only are they prettier? They are necessary to my plan. I'm going to use them. I'm going to grow my church through them and honor them. You pretty, spotless Christians? I don't need you nearly as much as you think I do."
_____
God used Christians that I thought to be "less honorable" than I to teach me about love and grace. To help me in my marriage. To be my friends. I can't help but tear up when I think about what these women, many of whom I still interact with daily, mean to me and what they have done for me spiritually. They are some of the most honorable, abundantly comely Christian women I know.
I'm not advocating that "cheating on your church" is what every Christian stuck in legalism needs to do. There are a lot of churches out there that don't teach the Bible, and visiting other churches should be done with care.
But what I am saying is that there are a lot of good people out there in churches of other denominations than yours. They love God. They depend on Jesus for their salvation. They are our brothers and sisters in Christ. They are a necessary part of the body of Christ. We need them, and they need us. We can learn from them, and they from us.
What I'm asking us to do in this post is to consider that perhaps God is bigger than the denominational box that we put him in. I'm asking us to do a lot less finger pointing and a lot more loving. I'm asking us to reach out to people that our hurting – in our own denominations, and in the "less honorable" ones too.
I'm asking us to see the body of Christ in all of its beauty and comeliness, regardless of what we think about the hand or the foot that doesn't measure up to our standards of goodness.
I'm asking us to make our issues of contention a little bit smaller and our Jesus a lot bigger.
Readers, can you tell me about a time when people you had before viewed as "feeble" or "less honorable" showed you Christ in ways you had never seen him before? Have you ever found God in an unlikely place? Please share!
_____
To view all the posts in this blog series, visit the landing page.
Next post, part 15: Can you hear Jesus calling?