creating #whitespace for our family
Beautiful in His Time is a participant in multiple affiliate marketing programs. The author of this blog may receive commission for purchases or clicks made through links on this website.
---
Earlier this week I shared a brief profile of our family to explain why I feel whitespace is such a desperate need for our family.
In this post, I'd like to share some of the ways I have already begun to create whitespace in our home and with our family.
1. Extended sleep and quiet times. 
Russ is up by 0600 and gone before 0700. Over the last six years, I have always made getting up with him and spending the morning together a priority (including my making him breakfast and a sack lunch and helping him get his things together). I did this because that's what good wives do of course. (I may or may not have been unknowingly trying to earn my husband's love and even judged my friends who did not make this a priority.)
Over the past few months, I've let that go. I make Russell's sandwich the night before and he *gasp* packs his own snacks. He also takes care of his own breakfast (cereal, instant oatmeal, English muffins, organic pop-tarts).
And then, I sleep. He kisses me before he leaves and I sleep.
This month, for the first time, I have let go of the guilt. Sleeping instead of doing "the good wife thing" has been hard, but I have let go of perfection and realized that I am, in actuality, giving my husband a gift by being more rested (which enables me to do everything on my plate better).
This doesn't work every morning. Some mornings Ezra wakes up before Russ leaves for work, crying or poopy or just needing more immediate care, so we will get up as a family and I will make Russ breakfast. But if Ezra sleeps in, or if he's awake just playing contentedly in his room, then I stay in bed until I feel ready to face the day.
Most mornings that means I'm climbing out of bed after 8am. Often I will brew a cup of coffee and check my email in peace while Ezra stays in his room. Ahhhh….blessed whitespace! 
On mornings when we stay home instead of heading to Bible study or the gym, I have also been giving Ezra a second quiet time in his room, in addition to our afternoon nap and quiet time.
2. Teaching independent play skills to Ezra and increasing together play-time. 
This is an area where, right now, it feels like a lot of work (the opposite of whitespace) – but hopefully in the future we can get more whitespace because of it. Ezra is highly extroverted and dislikes doing anything on his own. His independent play skills are highly lacking (due to overuse of TV). Over the past few weeks, I have shifted my focus onto creating more opportunities for him to self-entertain. We have been keeping Netflix off, listening to music instead. In addition to quiet times where he is confined to his room, I'm working hard to teach him to play by himself throughout the day (through use of a timer) and then rewarding him with special playtime, school time, or reading time with me. We have also purchased more puzzles and read-along storybook CDs so that he can develop his reading and comprehension skills, and develop his imagination and creativity.
This does NOT come easy to either of us, but I am seeing improvement. Limiting the TV and turning on music instead has helped keep the atmosphere of the home a little bit less stimulating. I feel like this "project" has helped me put more thought and intention into mothering him.
3. Changing how I view housework.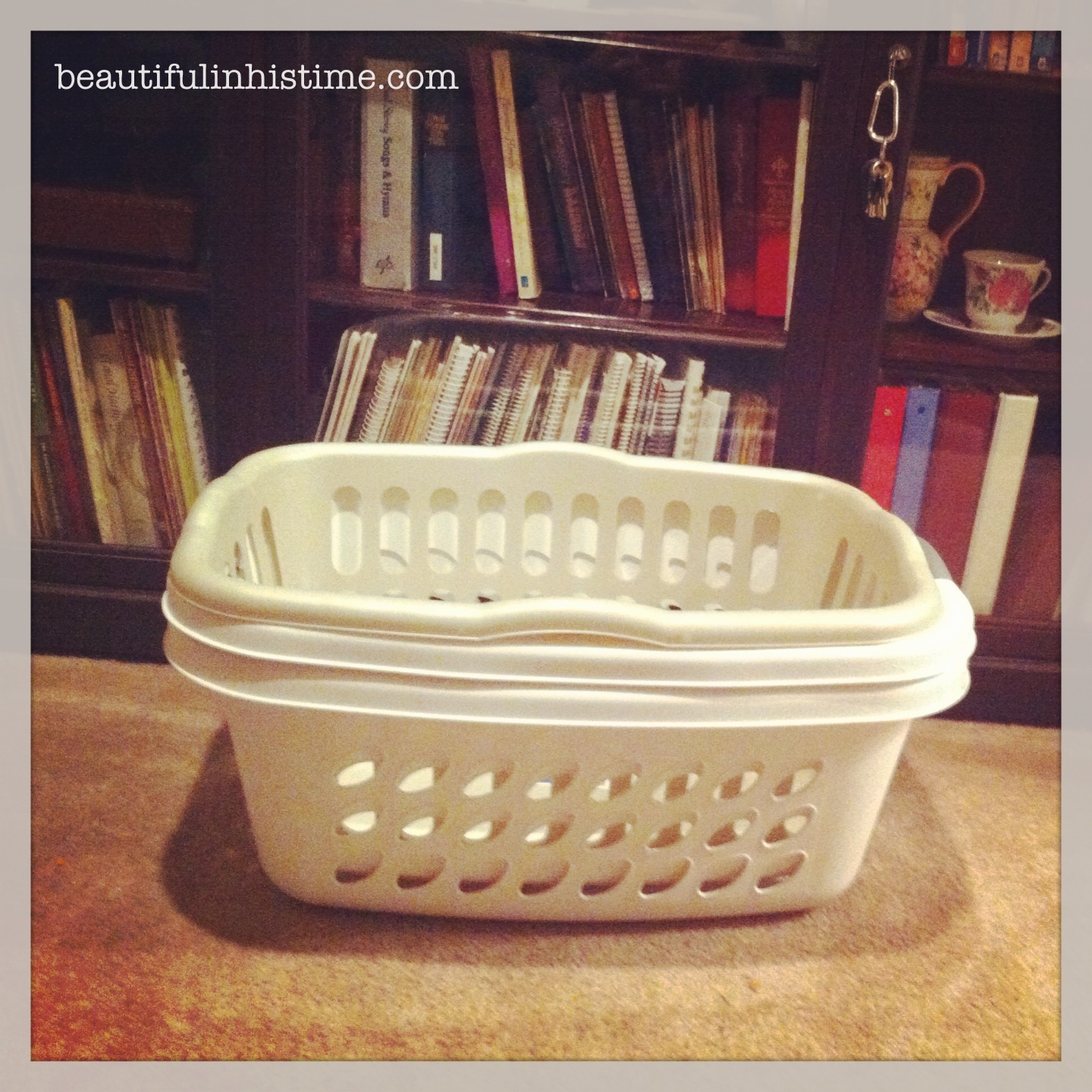 Shortly after I started this whitespace experiment, I had a burst of energy and in one evening I was able to get all of the laundry folded and put away. Then I took this picture, saying how I had "created whitespace." I didn't think that much of it, but since then I have realized how powerful that shift in focus is.
I really don't enjoy housework, cleaning, laundry. It feels like a never-ending drudgery that I just don't have energy for.  But when I view housework as a creative process, an expression of my creativity, and something that will give us more space in the home for quality time – it energizes, motivates, and inspires me.
It's slight, and laughably semantical, I know. But the mind-shift helps.
4. Reading fewer blogs. 
Well, actually, not reading blogs. I'm taking a month off from reading blogs.
I love love love reading blogs. I'm pretty much an addict. I currently follow 61 blogs on Bloglovin. 61 my friends! I haven't read any of them in a week and I have 241 unread posts in my queue. Wow.
Okay, I'm going to try to forget about the number of amazing posts beckoning me. This is hard. Really hard. So many of these women, these writers, I know and love and I don't want to miss out on their words. Heck, I write here and I want people to read my stuff, so I try to do the same for the other writers in my life.
But…when I zoom out and put it all in perspective, I realize that that's yet another standard of "doing things right" (aka being a good blog reader, or a good friend) that I have to let go of – because I am just one person with lots of needs to meet and limited time to do so.
I'm not sure what all I am going to do with all of that…I know I need to pare down that list desperately, but I just am not sure where to start because I love them all. So for now, I am giving myself a break from it completely. After a month I will re-evaluate each one, try to think about which ones I missed reading and which ones I didn't.
I still love the encouragement I glean from other bloggers, so to fill that gap, I've been listening to podcasts while I do housework! This allows me to still feel connected to other bloggers and inspired and encouraged, but doesn't keep me tied up in front of the computer. It also makes the housework go faster.
5. Limiting media in general.
For the month I'm also taking another break from Facebook, but with a lot of grace. I'm allowing myself to check my notifications and messages throughout the day, as well as post and read posts in my blogging mastermind group and a few other private groups that I am a part of. But I am not reading through my news feed. (Because, yes, I am in probably the 1% of people that actually reads through their entire news feed, every day, throughout the day.)
Letting it go… *sigh* another hard one!
I'm limiting other social media usage strictly to sharing my own blog posts (which means no Five Minute Friday party or Pinterest browsing.)
~~~~
I feel like there is a lot more I could share here, but this post is getting lengthly so I'm going to stop. I am keeping whitespace a focus throughout every day and have been so pleased with the results. Thank you for letting me put some of these thoughts on "paper" because it helps me to process them – and I'm hopeful that maybe I've given you some ideas to help you de-clutter your brain, heart, and home as well.