perfection is not possible
Beautiful in His Time is a participant in multiple affiliate marketing programs. The author of this blog may receive commission for purchases or clicks made through links on this website.
---
This post is part 7 in a blog series that I have entitled "the wilderness between legalism and grace," in which I share how I came to realize that I had an incorrect view of God and self and how I became free of the system of legalism whereby I was trying to earn God's favor. You can view all of the posts in the series here on the series landing page.
College #2. It's where I did a lot of crying. It's where I nursed a broken heart. It's where I struggled between judging its lack of standards and experiencing relief that I could breathe easy for the first time in a long time.
College #2 exhausted me in ways I didn't know were possible.
As a church music major with a piano emphasis, I was required to practice 15 hours per week for my private lessons, an additional 2 hours per week for a technique class and 3 hours per week for a hymnplaying class.
If you need help adding, that's 20 hours per week, the equivalent to a part-time job. 
I was also carrying a 17.5 hour credit load.
As I am a perfectionist by nature, working hard, and then harder, was my default, and always had been. All of the hurt and anger I was feeling got transformed into determination as I threw myself into doing my best at this new school where musical excellence was the standard.
Freshman piano majors were required to work toward completion of a piano "platform" – a set of music, one song from every era of classical music as well as one sacred piano arrangement, performed by memory before a panel of music instructors.
As a freshman transferring in from a school where there were no such requirements, I had my work cut out for me. I practiced every minute I could possibly squeeze in, both at home on the weekends and on campus.
Exhaustion. Fatigue.
On top of grief and a boatload of brokenness.
The end of the semester came, and I was able to perform my platform adequately. It wasn't perfect, but it was darn good, and all by memory.
I had accomplished in one semester what most freshman had two semesters to complete. And I had done it well.
But I got a B.
I was a straight A student, and I always had been. I don't like Bs.
My piano teacher informed me via email that the only reason I got a B was that I had not fulfilled all of the practice time requirements. Week after week I had fallen short of meeting the 15 hours necessary for that course. Regardless of how well I had performed on my platform, I hadn't worked hard enough, long enough, to warrant the A.
She also informed me, via email, that I seriously needed to evaluate whether or not I could continue with the program since I couldn't seem to keep up. She mentioned my going home every weekend as a huge distraction and probably what kept me from getting my practice time in.
All the work, all the exhaustion, on top of everything I had been going through emotionally, and it still wasn't good enough.
If I were to stay and succeed, I was going to have to work harder, practice longer, sacrifice more, and get more serious.
While this was not nearly the emotional blow that I had experienced at college #1, it just reinforced the lies that had become so easy for me to believe:
You aren't working hard enough.
You aren't good enough.
Try harder. Do more. Or you aren't worth our time.
Once again I couldn't measure up to the expectations placed upon me.
But at this point, I was far too tired – physically, emotionally, and spiritually – to care.  
_____
While this part of my story isn't inherently about legalism, there is much that can be said about the correlation between perfectionism and legalism.
Legalism says that God demands perfection:
"Be ye therefore perfect, even as your Father which is in heaven is perfect." Matthew 5:48
And it's true. God does demand perfection.
But God also knew that no one was capable of it. That's why Jesus HAD to die. He was perfection in our place. And HIS perfection is enough to satisfy God's demands.
We cannot be perfect, or even attempt to be perfect, without relying on Christ and his grace.
But that part is simply forgotten or left out. Sometimes it's even talked about in legalistic environments, but the message that "rules trump intentions" drowns out the sound of God's grace.
It doesn't matter how much "you can do all things through Christ" and "without me you can do nothing" is preached. When spiritual authorities tell Christians that how well their actions measure up to your expectations of success are all that really matters, the message of reliance on God's grace gets completely lost. 
Legalism is nothing but spiritualized perfectionism. <—tweet this!
Only the ones who try the hardest, stay the cleanest, work the longest, and do the best win at the game of pleasing God.
Legalism preys on the perfectionist. She is an easy target. So easily ensnared because being perfect before God just makes sense. The perfectionist is the one who gets rewarded and applauded the most for her actions.
As a perfectionist growing up in a strict and sometimes legalistic environment, legalism was a natural outcome. I tried to be the best at everything. God stuff (Bible reading, Scripture memory, prayer, church attendance, modesty, submission, obedience, "holy living") was just another one of the many things that I tried to excel at. And for most of my early life I succeeded.
I lived for external praise and affection – from my teachers, my pastors, and my parents. And the love and praise abounded. For me, it was like a drug – and I quickly became addicted. So I continued working harder for the hugs and kisses, the certificates and ribbons, the smiles and the straight As, and the special rewards.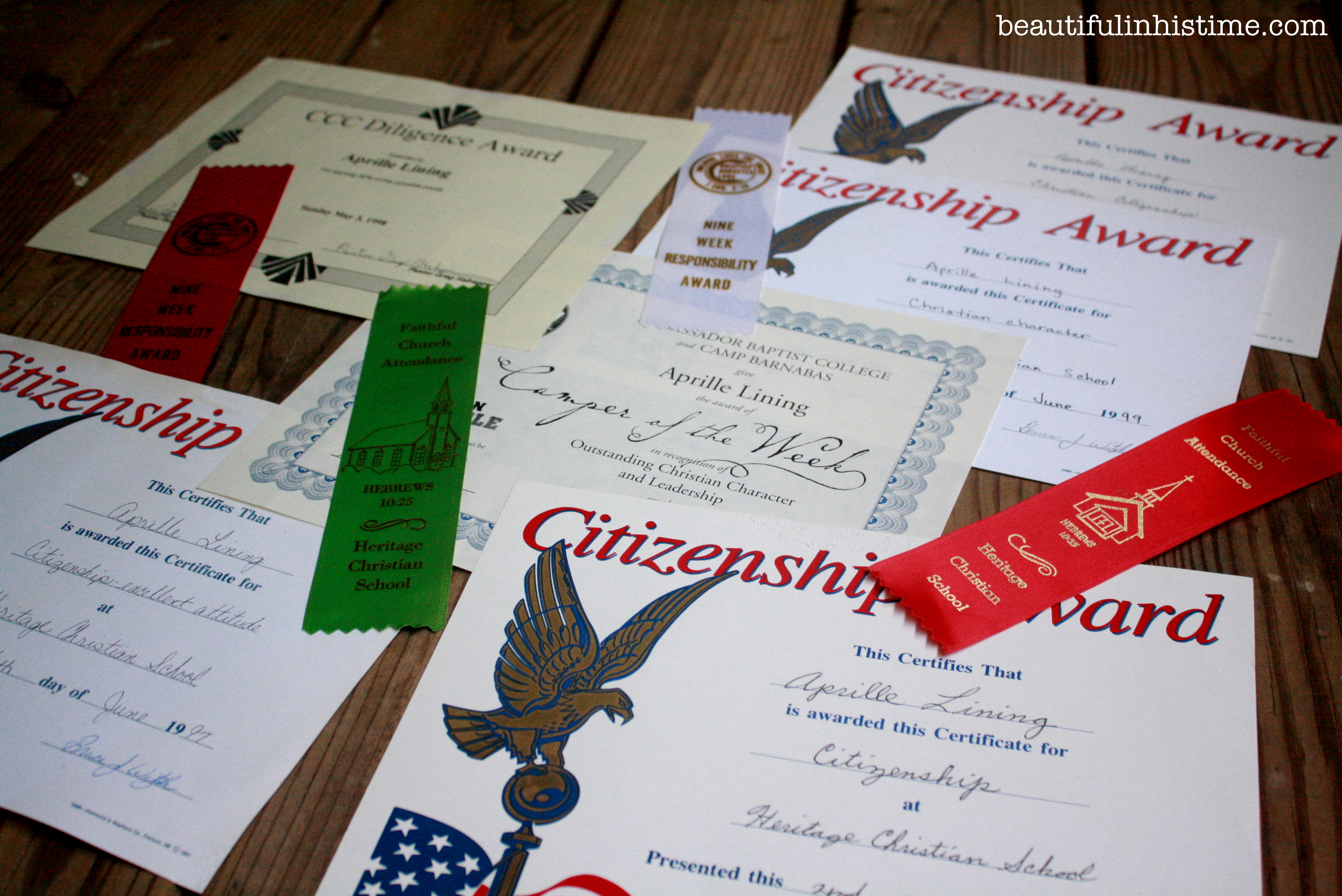 I wish that there had been fewer Bible memory and sword drill competitions to win. I wish there had been fewer "Christian Character Awards" and "Citizenship Awards" to earn. I wish there was no such thing as "Christian Camper of the Week." I wish that there had been fewer "reward outings" for getting X amount of points for Bible reading and Scripture memory in our teen girl's group.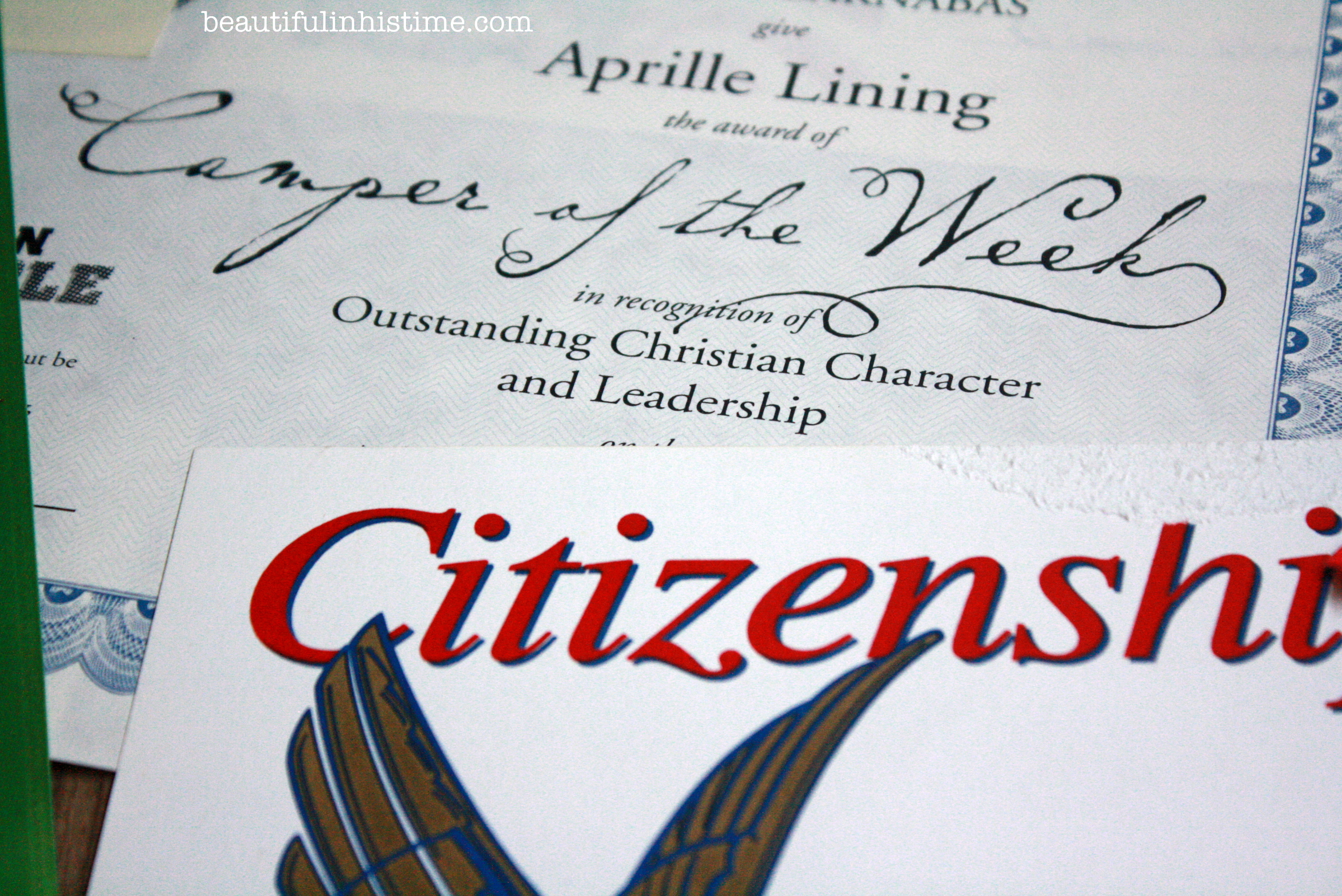 Every time I opened my precious engraved-with-my-name Bible I was opening a book I had won – because I had done the best in a Bible knowledge competition. It was a prize for being the best, for knowing the most – not a gift to remind me how desperately I needed God.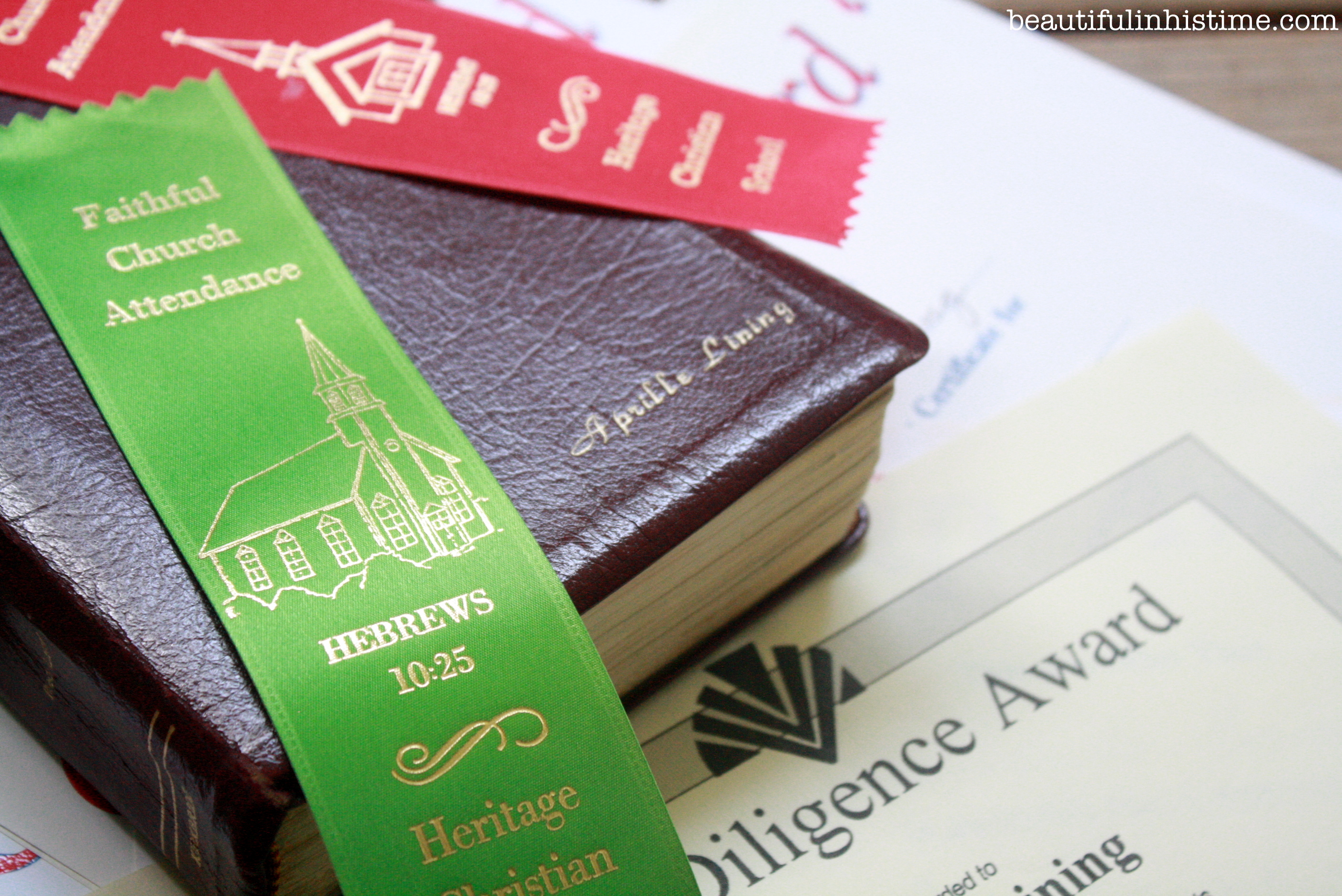 The other day I searched the hashtag #legalism on twitter and found some really awesome tweets. This one from Nick Orduna (@coacho22) held my attention longer than the others:
"The problem with #legalism is that it isn't legalistic enough. It dumbs down God's law to make it do-able, negating the need for Christ." 
For me for a time, keeping God's law was do-able. And approaching it like everything else in my life, it was easy and natural. And I didn't need much, if any, help from him.
What my first year of college taught me is that perfection – whether in your spiritual life or academic – is not possible, no matter how hard you try.
That's why we need Jesus.
That's why we need grace. <—tweet this!
That's why we need to fall on our faces with hands lifted high, open, to Christ saying "God, I am nothing without you. I cannot do this thing called life and do it in a way that pleases you. Take me in all of my ugliness, in all of my imperfection. Take me and shower me with your grace."
_____
Let's talk. Was there ever a time when you really came to the realization that you simply can't be good enough? How are perfectionism and legalism similar? Do you think that rewarding people for their actions can make it easier for them to fall into the trap of legalism? Are you a recovering perfectionist who is also recovering from legalism? I'd love to hear from you!
_____
To view all the posts in this blog series, visit the landing page.
Next post, part 8: finding healing and freedom in secular music